VyStar Credit Union wants to add 5,749 square feet of retail, glass storefronts and redesign the facade of its proposed Downtown parking garage.
The credit union applied for a design modification with the Downtown Development Review Board, which will vote on the changes Oct. 8.
The DDRB approved the previous design for the garage at 28 W. Forsyth St. in December 2018 when it was part of SouthEast Development Group of Jacksonville and The Molasky Group's proposal for the Laura Street Trio adaptive use project.
VyStar's changes would bring retail space in the garage to 19,516 square feet, add glass storefronts facing Main Street and replace screening with glass cladding, according to the DDRB staff report released Oct. 1.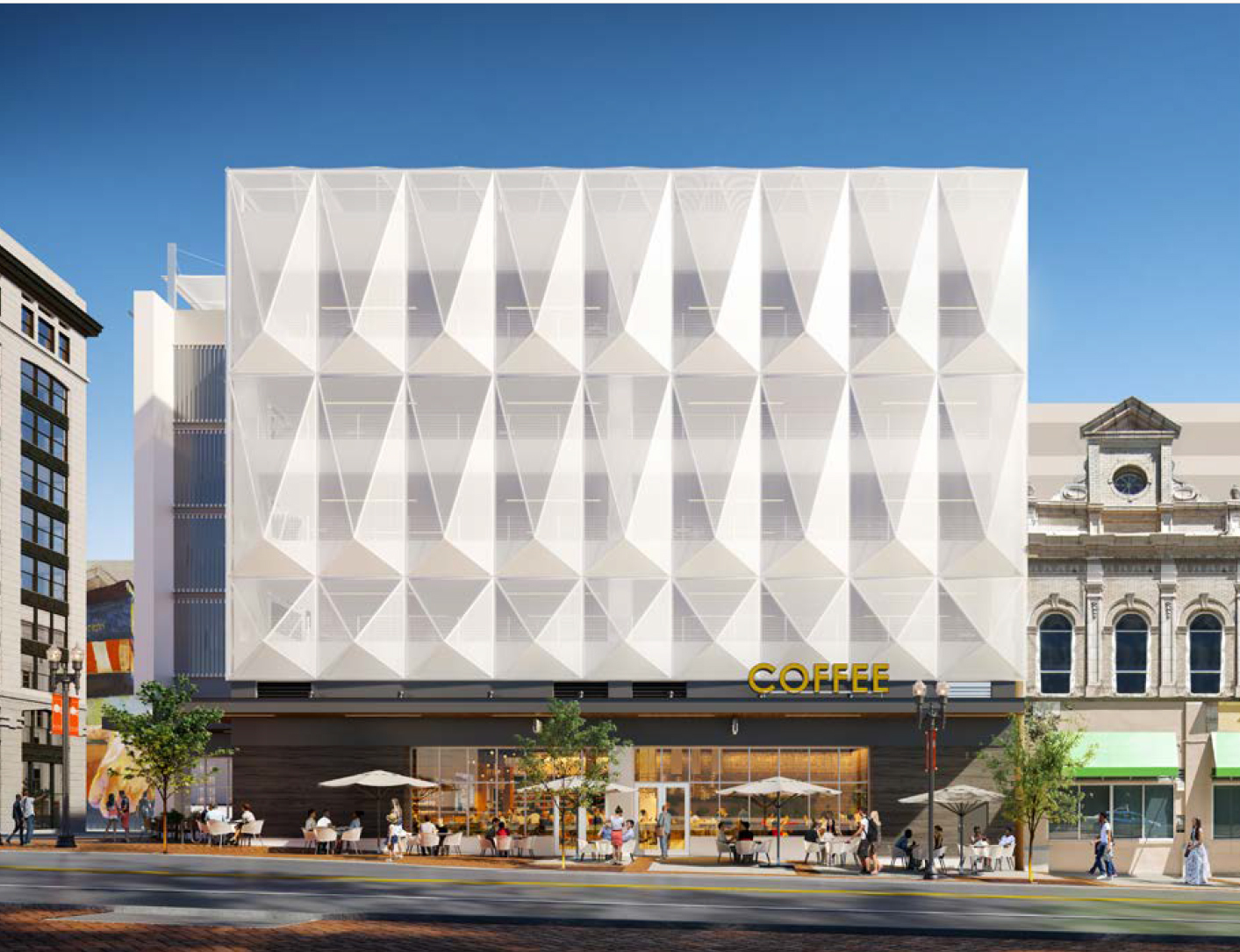 DDRB staff recommended the board approve the design.
"The new cladding creates visual interest and helps deemphasize and disguise each level of the parking deck and the cladding along Laura Street has been updated utilizing material that is modern and sleek," the DDRB staff report states. 
VyStar agreed to build the seven-story parking garage in September 2019 after the Laura Street Trio developers did not meet their commence construction deadline under a city redevelopment agreement.
The garage will support the 1,000 employees VyStar is relocating to its headquarters campus Downtown.
The credit union bought the 23-story VyStar Tower at 76 S. Laura St. in July 2018 for $59 million. It acquired an adjacent parking garage and is renovating a seven-story building next door at 100 W. Bay St. 
The 293,929-square-foot garage will have 798 spaces, VyStar Email Marketing Manager Christina Weber said by email Sept. 15. She said 250 spaces will be leased to the city.
City Council unanimously approved an agreement Feb. 25 to sell the adjacent 0.77-acre city-owned lot to VyStar for the parking garage. The credit union has not closed on that property, according to Duval County Clerk of Courts records.
VyStar confirmed in September it entered into contract with Regions Bank to buy a 0.26-acre parking lot at 54 W. Forsyth St. for the parking garage design expansion.
Weber said Sept. 15 that the acquisition is in the due diligence phase.