The Jacksonville Jaguars and Mayor Lenny Curry's administration released details Oct. 5 and announced a deal to finance team owner Shad Khan's $450 million proposed development at Lot J near TIAA Bank Field. 
The deal, which needs City Council approval, would provide more than $200 million in city-backed incentives to build a mixed-use project with hotel, class A office space, residential units and retail space neighboring the stadium. 
"Jacksonville deserves an iconic urban core," Curry said in a news conference at the Jaguars flex field with Khan and Jaguars President Mark Lamping.
"Our Downtown has been stagnant for decades, and we need to build on the momentum of my administration and City Council has created over the last five years," he said.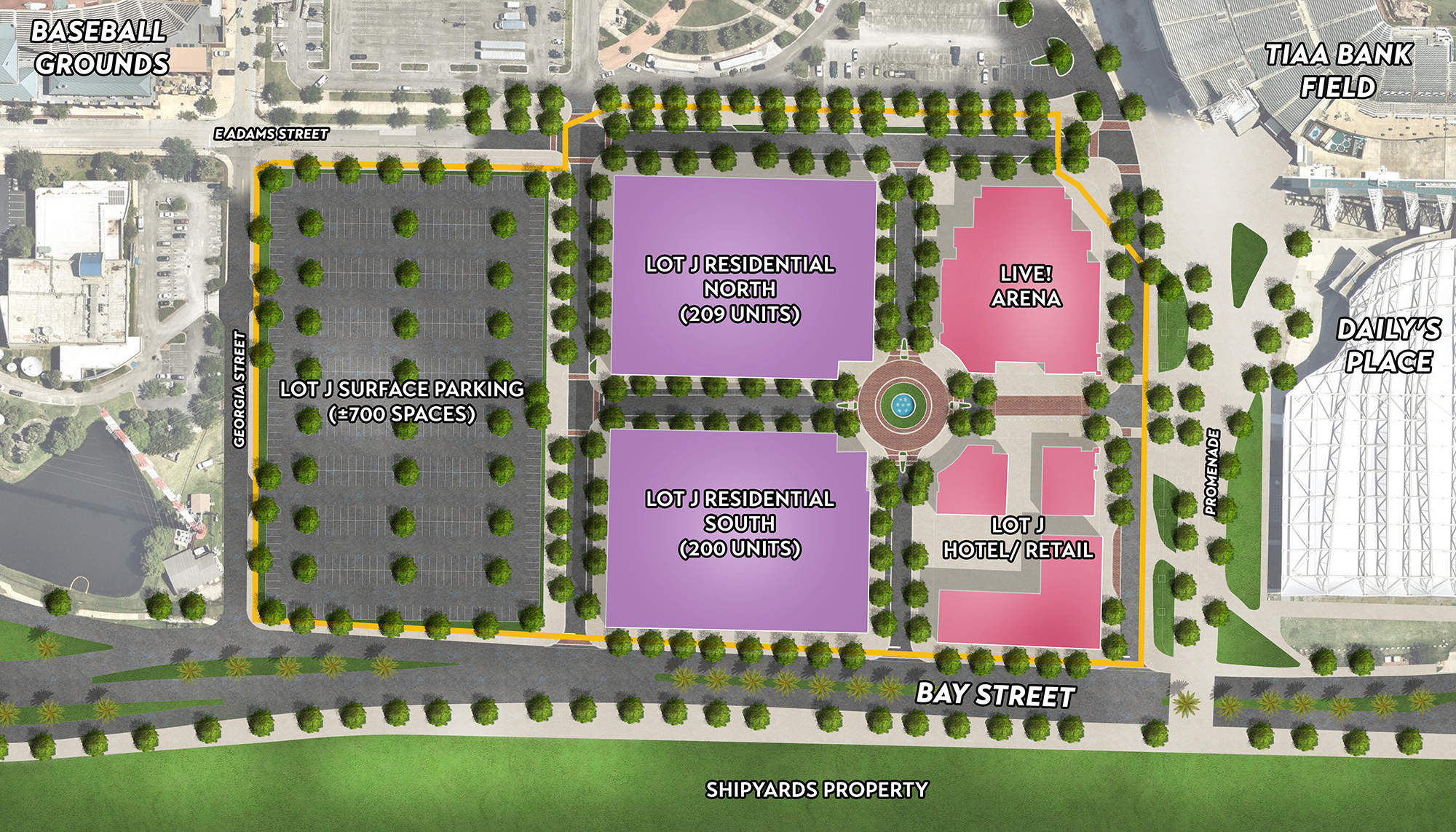 The final plan is nearly identical to a March presentation Zed Smith, chief operating officer for Jaguars development partners The Cordish Companies, gave to the Meninak Club of Jacksonville.
It includes two residential buildings with 400 total for-lease residences; a 150- to 200-room hotel; 75,000 square feet of street-level retail space; 40,000 square feet of class A office space; and a 100,000-square-foot Live! District entertainment center with bars, restaurants and indoor and outdoor facilities.
The plan calls for a 750-space surface parking lot and two 350-space parking garages that the city will own. The city also will retain control of the Live! District and the infrastructure at the development.
 "Jacksonville's ceiling is high, remarkably so," Khan said. "That's particularly true here in Downtown, and it's imperative that we have the ambition and the vision to answer this calling once and for all. In fact, if Jacksonville wants to be everything we can be, this project is just the beginning and it's time we begin."
What changed is the amount of public money the mayor's office wants to invest. The $218 million Curry outlined in his Oct. 5 announcement is $14.8 million less than the initial term sheet his administration released in August 2019.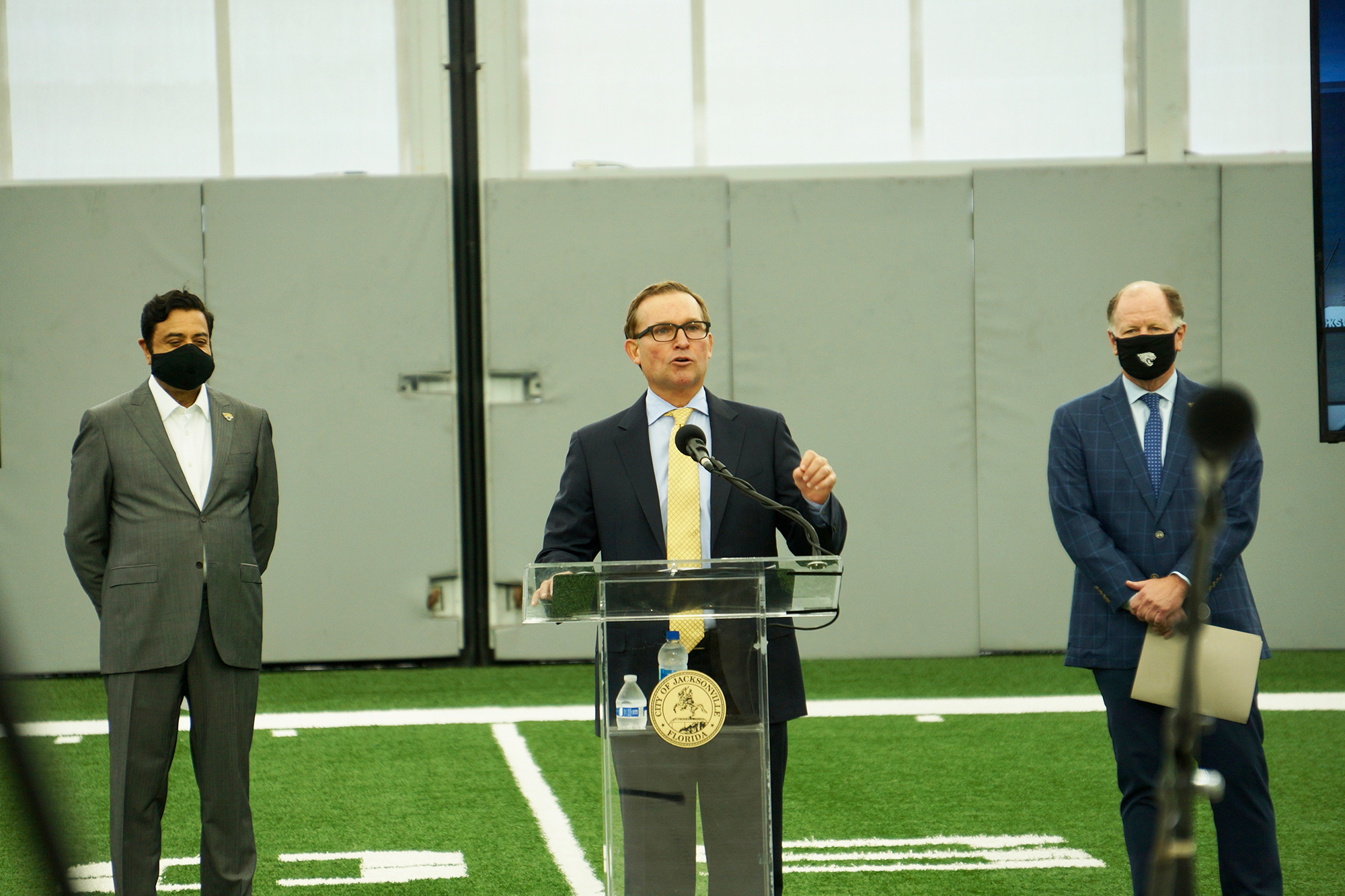 Curry proposes the city pay for its portion during construction with revenue bonds. The city would spend no more than $50 million for the Live! District under the deal and $77.7 million in the project's infrastructure.
No more than $25 million in incentives would go toward the hotel and residential development. That comprises a mix of grants and completion payments.
Curry's administration also wants to provide Khan's development team with a $65.5 million construction loan, which he said would be secured by a $13.1 million deposit into a city trust.
Baltimore, Maryland-based Cordish and Jaguars subsidiary Gecko Investments LLC are equal partners in the Lot J project, operating as Jacksonville I-C Parcel One Holding Company LLC.
Curry said Oct. 5 that legislation for Council has been drafted and will be filed as early as this week. 
Lamping said site work could start in early 2021 and construction will take 36 months. The Jaguars and city said there will be 2,300 construction jobs to build Lot J and 1,000 permanent jobs.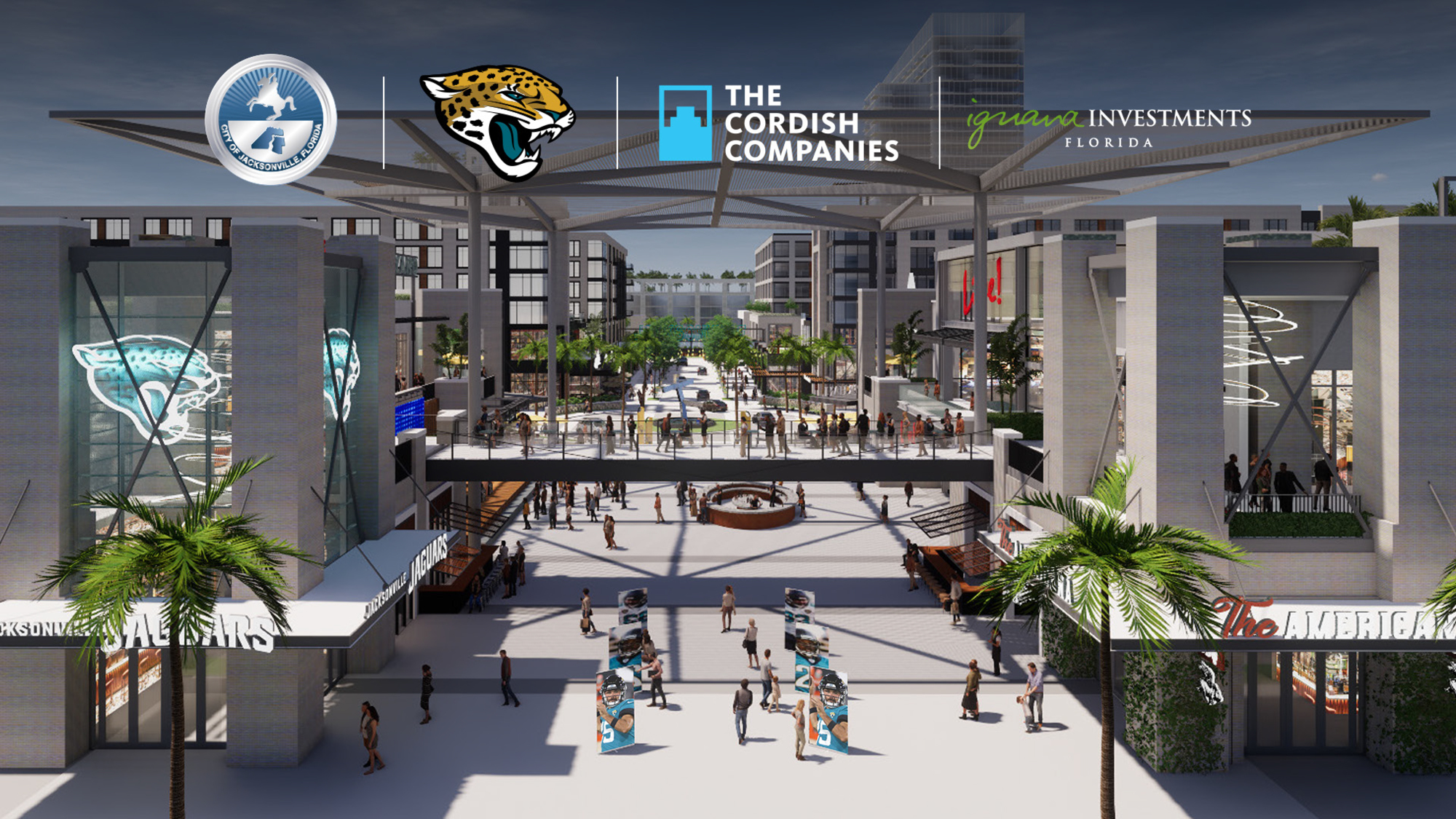 Several Council members attended the event.  Council President Tommy Hazouri did not attend but gave his support for Lot J in a written statement read by Curry.
"The unprecedented project at Lot J will further enhance Jacksonville's growing reputation as a world-class destination for citizens and visitors alike," Hazouri said in his statement. "I'm grateful to Mr. Khan for his passion and steadfast commitment to the city of Jacksonville." 
The team canceled its annual State of the Franchise event in April, where Khan and Lamping historically have made big announcements, because of COVID-19.
Khan first announced his intention to build at Lot J in April 2018. 
At that time, the Jaguars billed Lot J as the first phase of a broader proposal to develop the city-owned Shipyards property southwest of the stadium. Khan's development goals for both sites have been estimated at $2.5 billion.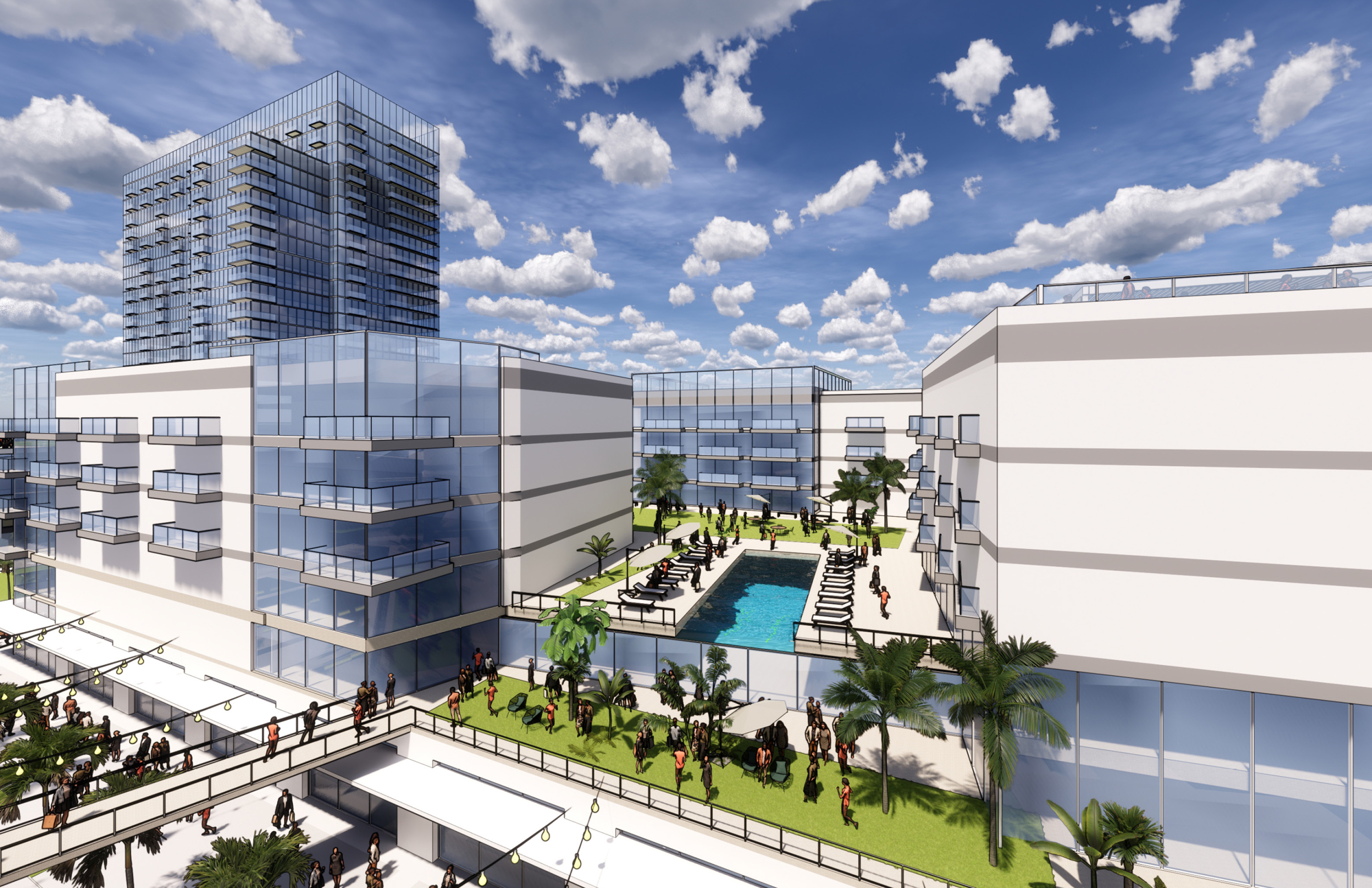 Iguana's development rights at the Shipyards expired in August. DIA CEO Lori Boyer said Sept. 9 that Iguana representatives said they plan to submit a new development proposal focusing on the adjacent Metropolitan Park that only incorporates a small portion of the Shipyards. 
Lamping said conversations with international consultants resulted in the change to the Jaguar's broader development plans to focus on scale.
He did not provide specific information to reporters Oct. 5 about when the Jaguars will submit the next bid for the Shipyards or Metropolitan Park property or what type of development will be the driver.
However, Lamping said the latest pitch to the DIA would free more than 30 acres for riverfront parkland. 
"You're much better off focusing on the eastern end of the Shipyard rather than along the entire St. Johns River. So that's what we've done," Lamping said. "What we discussed with the DIA in terms of scale of that Shipyard project will end up being greater in every metric compared to what we originally chose to do – larger project, more expensive, more residences, more hotel rooms, more office space."
 The DIA board signaled it wants Boyer to engage the National Park Service to consider trading Metropolitan Park, which is federally controlled, for the city-owned Shipyards property.
Before the COVID-19 pandemic, Smith said in March he expected a final development agreement with the city to be ready for consideration by the DIA and Council by the end of May.