The city issued a permit Oct. 19 for tenant build-out for Amazon.com's new Imeson Park fulfillment center shell building at a cost of almost $58.1 million.
Evans General Contractors LLC of Savannah, Georgia, is the contractor for that as well as for the almost 1.1 million-square-foot shell building the city approved Sept. 23 for almost $41.2 million.
So far, online retailer Amazon.com Inc.'s new Imeson Park fulfillment center is at least a $106.1 million project.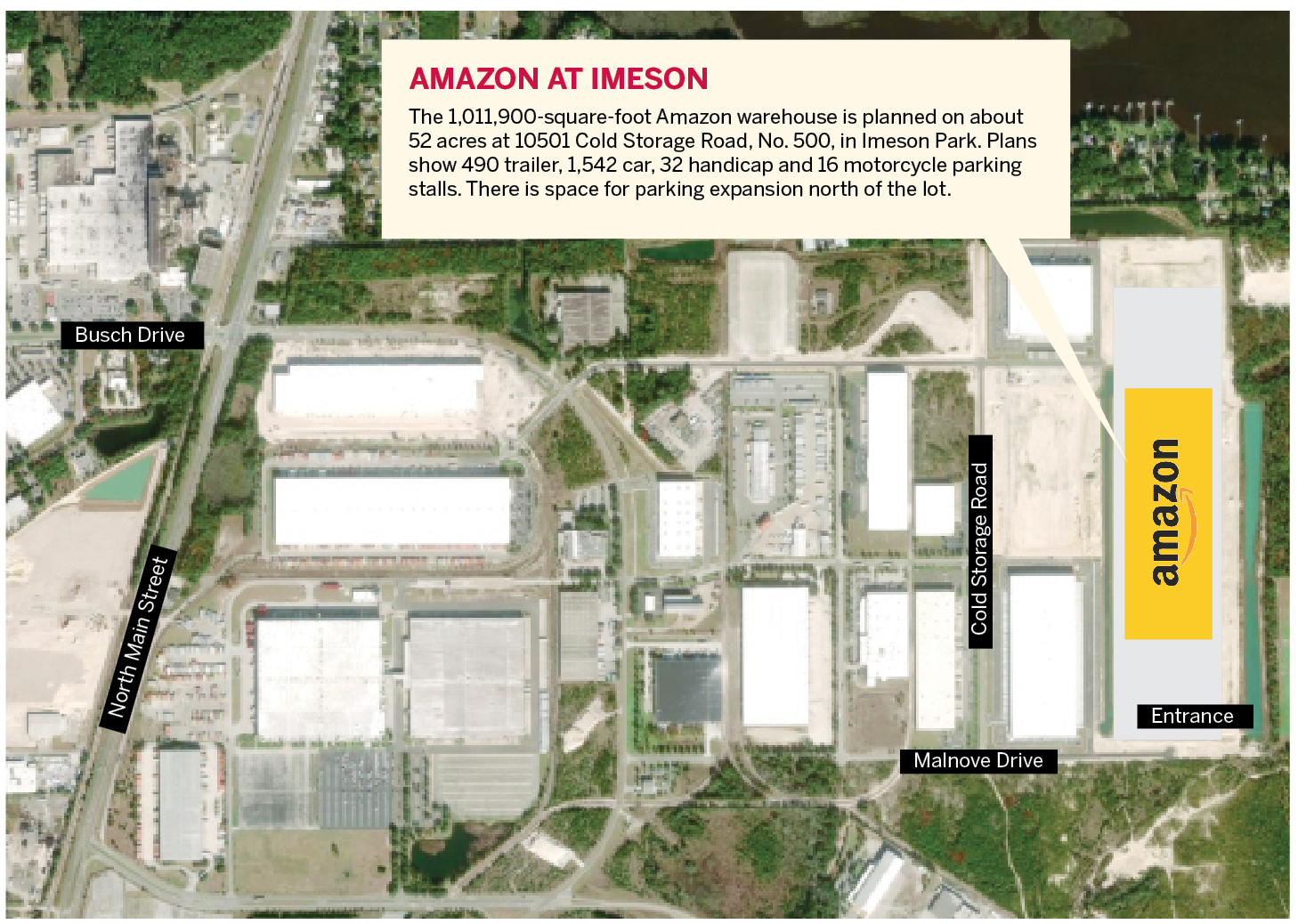 Building and related permits show the e-commerce facility will cost that amount and there likely will be further investment as conveyors and other equipment are installed.
Seattle-based Amazon announced Sept. 2 that it will open a 500-job fulfillment center in fall 2021 at 10501 Cold Storage Road in the North Jacksonville industrial center.
Construction plans call it a Softlines fulfillment center. Amazon said the center will pick, pack and ship small items, including apparel, accessories and footwear.
JI Imeson Industrial Building E LLC is developing the project. The entity is part of VanTrust Real Estate LLC of Kansas City, Missouri. It has a regional office in Jacksonville.
VanTrust Real Estate is developing the building for Amazon on about 51 acres in Imeson Park, at northeast North Main Street and Zoo Parkway. 
VanTrust owns Imeson Park.
Permits issued so far include site work, foundation, electrical, plumbing, fire system, shell construction and tenant build-out.
England-Thims & Miller Inc. is the civil engineer. Atlas Collaborative near Atlanta is the architect.
The Imeson Park center is among the retailer's nine Northeast Florida projects built or announced in three years.
On Oct. 13, the city issued a permit for Amazon.com's ninth identified area facility, a 477,946-square-foot package delivery hub in North Jacksonville that is being built-out for $15 million.
That facility is under construction in a new warehouse at 250 Busch Drive E. in Imeson International Industrial Park, not far from the new fulfillment center.