When Landstar System Inc. reported its second-quarter earnings two months ago, the Jacksonville-based trucking company was expecting reduced freight traffic to continue through the third quarter.
But at a transportation company virtual conference last week sponsored by Cowen and Co., Landstar CEO Jim Gattoni said the market changed suddenly after that report.
"As we rolled toward the end of July and started heading into August, we saw things significantly start to pick up," Gattoni said.
"It looks like it continues to strengthen into September," he said.
Landstar had the second-highest gross profit for August in the history of the company, Gattoni said.
In mid-July as it gave its second-quarter report, Landstar was forecasting revenue of $885 million to $935 million and earnings of $1.11 to $1.17 a share for the third quarter. 
Gattoni said last week the company has significantly raised its forecasts.
Landstar now projects revenue of $1.02 billion to $1.06 billion with earnings of $1.40 to $1.46 a share. That will beat the 2019 third-quarter results of $1.01 billion in revenue and $1.35 per share in earnings.
"It's all driven on just the demand that was totally unexpected," Gattoni said.
Landstar also is benefiting from reduced capacity in the trucking industry, which gives the company an opportunity to gain market share.
Gattoni said some drivers are reluctant to return to work because of COVID-19 risks.
 The industry also was affected by low pricing in the spring during pandemic-related shutdowns in the economy and high insurance costs, which drove some smaller carriers out of business, he said.
Gattoni said he doesn't mind that Landstar's original third-quarter forecast was so far off.
"I love being wrong in this direction," he said.
CSX also sees activity rising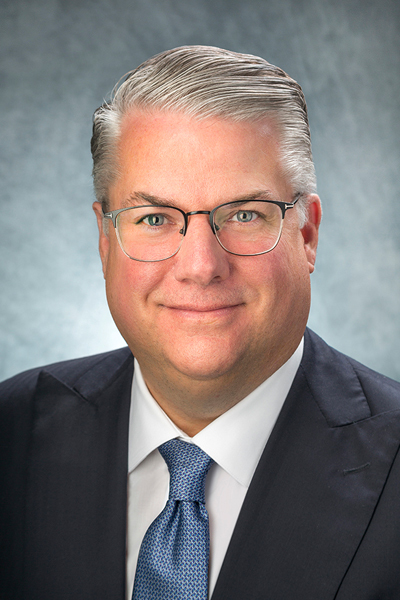 Mark Wallace, CSX Corp. executive vice president of sales and marketing, also spoke to the Cowen conference and said activity is increasing.
Wallace said freight volume started to pick up at the end of the second quarter, which has helped the Jacksonville-based railroad company's intermodal business.
"Our domestic volumes really started to rebound as we were sort of coming out of the shutdowns and people staying at home," he said. 
"People are coming back to work and the economy was sort of coming back to life a little bit."
Wallace didn't give a forecast but said freight volumes are stronger than CSX expected.
"Clearly, the consumer is back. The consumer is spending. Inventories were depleted. People are buying things," he said.
"Freight fundamentals across all modes are strong, with retail and consumer packaged goods restocking of inventories a major driver of the current spike in demand," Cowen analyst Jason Seidl said in a report after the conference.
American Eagle Outfitters opening Jacksonville hub
As it reported second-quarter earnings last week, American Eagle Outfitters Inc. said it is opening a regional hub this month in Jacksonville to improve its supply chain transformation.
Chief Operations Officer Michael Rempell said the Jacksonville operation joins regional hubs in Boston, Los Angeles and Chicago, according to a transcript of its quarterly conference call posted by the Pittsburgh-based apparel retailer.
"Working in conjunction with our primary fulfillment centers, these hubs will provide improved delivery performance, cost benefits and sufficient capacity for us to manage digital demand for the back half of the year," he said.
Rempell gave no other details on the Jacksonville site, and the company's communications office did not respond to voice and email messages asking for more information.
Latitude 360 securities revoked
Latitude 360 Inc. has been out of business for more than four years. However, its stock was still registered with the Securities and Exchange Commission until last week.
The SEC issued an order Sept. 10 revoking the registration of the securities for failing to file required periodic reports.
Latitude 360 was a Jacksonville-based company that operated a large entertainment and dining venue on the Southside near The Avenues mall.
It had similar venues in Indianapolis and Pittsburgh and announced plans to expand to other cities after going public in 2014.
However, the company shut down all three venues in early 2016.
The SEC order said Latitude 360 had not filed a quarterly report since 2015, when it reported a net loss of $12.9 million for the first six months of the year.
Despite not filing reports and having no operations, Latitude 360's stock continued to be quoted on OTC Link, part of the OTC Markets Group Inc., as of July 2019, the SEC said.
The SEC said it revoked registration of the securities after the company failed to respond to inquiries about its financial reports.
Academy Sports targets Jacksonville
Academy Sports and Outdoors Inc. is targeting Jacksonville as a market for expansion, according to a filing last week for an initial public offering.
Katy, Texas-based Academy has 259 stores in 16 states mainly in the Southeast, including three in the Jacksonville metropolitan area.
Its IPO filing touts Jacksonville as one of six infill markets where it already has an established presence and has opportunities to expand into "surrounding metro areas and more rural locations."
The other infill markets identified are Dallas-Fort Worth, Atlanta, Raleigh-Durham, Charlotte and New Orleans.
Academy had sales of $2.7 billion in the first six months of fiscal 2020, according to its filing.
Natural disasters affect Rayonier
Jacksonville-based Rayonier Inc. said in an SEC filing that recent natural disasters are impacting some of its timberlands.
Hurricane Laura, which made landfall Aug. 27, damaged about 10,000 acres of timber in Louisiana, the company said.
The Sept. 14 filing came as the Gulf Coast region was bracing for the impact of Hurricane Sally this week.
Meanwhile, wildfires in Oregon had affected about 10,000 acres which Rayonier manages and owns a partial economic interest.
The company said while it is assessing the damage, it does not expect a material impact on its finances from the storm or the fires. 
The affected properties represent a fraction of Rayonier's 2.7 million acres of timber that it owns or manages in the Southeast and Northwest U.S. and New Zealand.
In a separate SEC filing last week, Rayonier issued financial statements showing the impact of its recent acquisition of Pope Resources, which added 124,000 acres of timberland in Washington state to the company's portfolio.
Rayonier completed the acquisition May 8 but said if the deal had been completed Jan. 1, Pope would have added $31.3 million to its sales in the first half of 2020, bringing total revenue to $486.1 million.
The deal also would have increased earnings by 1 cent per share to 22 cents.
International Baler reports loss
International Baler Corp. last week reported a net loss for the third quarter ended July 31, despite an increase in sales.
The Jacksonville company, which makes balers used for recycling and disposal of a variety of materials, said in an SEC filing sales rose 10.7% to $2.67 million. 
The sales increase resulted from a $1.38 million order from one customer.
International Baler had a net loss of $47,794, or 1 cent a share, in the quarter, reversing a profit in the third quarter of fiscal 2019.
Last year's profit included a crime insurance claim related to an employee theft case, the filing said.