For the third straight year, CSX Corp. plans a virtual annual shareholders meeting.
The Jacksonville-based railroad company filed its annual proxy statement last week telling shareholders they can access the annual meeting through a live webcast May 7.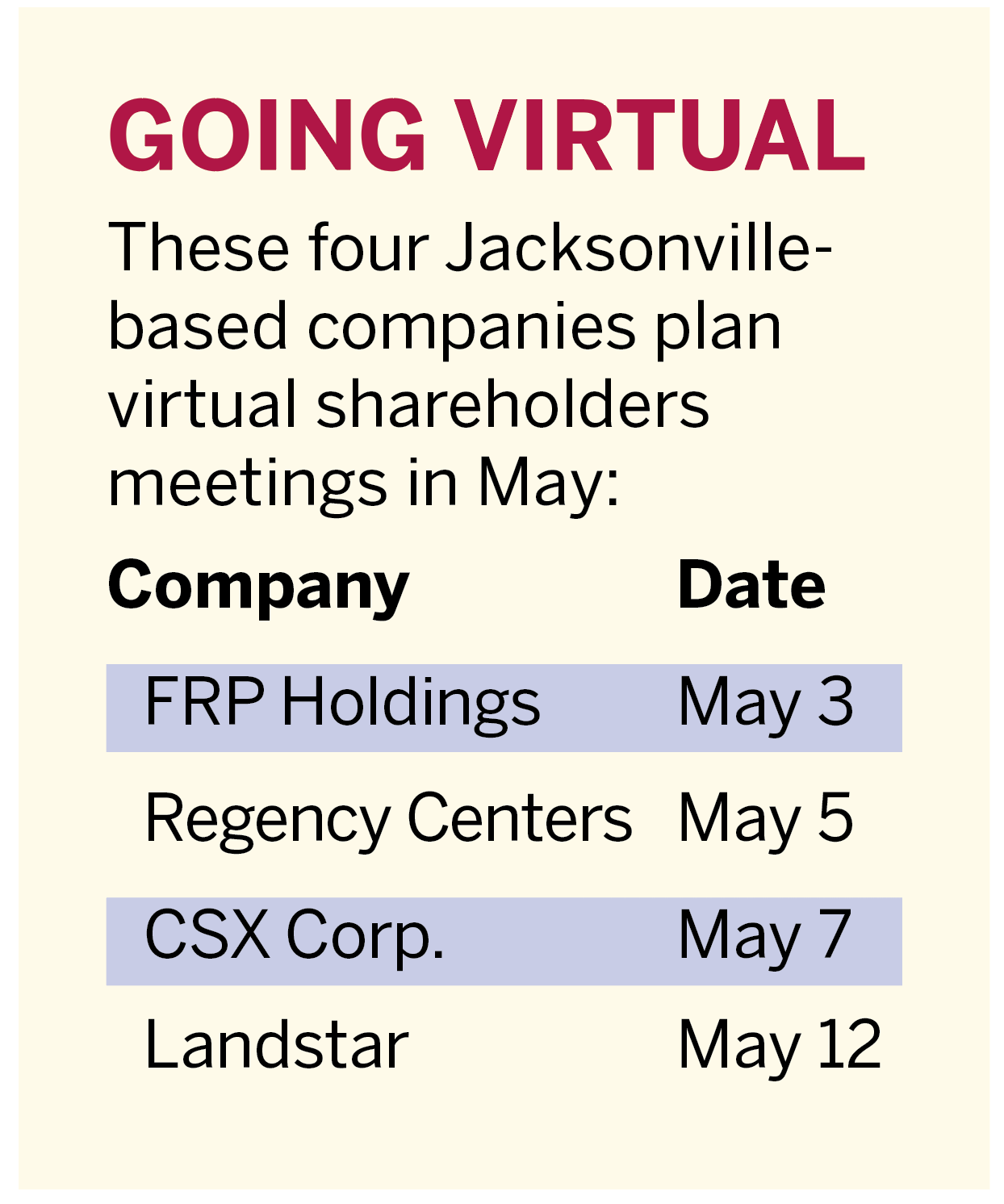 "Given the ongoing impacts of the COVID-19 pandemic, you will not be surprised to learn that again this year, the CSX Annual Meeting of Shareholders will be conducted in a virtual format," CEO James Foote said in a letter to stockholders filed with the proxy.
Of course, CSX first decided to hold an Internet-only annual meeting in 2019, a year before the pandemic. 
Foote's letter said the company considers this format the right way to go.
"Our collective familiarity with virtual meeting technology and its ability to support increased participation is one of the few positive aspects of this unusual time. Like CSX's business itself, we all continue to demonstrate resilience in the face of challenges arising from disruption," he said.
With the pandemic continuing, you can expect just about every public company to hold meetings virtually as the spring annual meeting season kicks in.
Three more Jacksonville-based companies have filed proxies for virtual shareholders meetings in early May. Real estate developer FRP Holdings Inc. scheduled its meeting for May 3, shopping center developer Regency Centers Corp.'s meeting is May 5 and trucking company Landstar System Inc.'s meeting is May 12. 
Shoe Carnival beating forecasts
The pandemic has made life difficult for retail stores, but Shoe Carnival Inc. reported record fourth-quarter sales and earnings last week.
The footwear chain controlled by former Jacksonville Jaguars owner Wayne Weaver said sales for the fourth-quarter ended Jan. 30 rose 5.8% to $253.9 million and sales at stores open for more than one year rose 6.4%.
Earnings of 52 cents a share more than doubled the 24 cents in earnings in the fourth quarter of fiscal 2019.
"With consumer shopping habits upended by the pandemic, our team quickly shifted to meet customer needs by exponentially growing our e-commerce business and re-opening our stores safely by early June," CEO Cliff Sifford said in a news release.
Shoe Carnival said fourth-quarter sales also were helped by the $600 federal stimulus checks sent to U.S. taxpayers at the end of 2020 as it saw a sales increase correlated to those payments.
Sifford, who is retiring in September, said the positive trends are continuing into fiscal 2021.
"To date, our fiscal first quarter 2021 results are shaping up to show continued momentum and are on track for record first quarter sales and earnings," he said.
Shoe Carnival is projecting first-quarter earnings of at least $1.40 a share, well above the consensus analyst forecast of 99 cents, according to Nasdaq.
With the promising forecast, Shoe Carnival's stock jumped as much as $7.82 in the two days after the earnings report to a record high of $61.79 on March 26.
Weaver is chairman of Shoe Carnival and its largest shareholder, along with his wife, Delores. They control about 29% of the company's stock.
Shoe Carnival operates 383 stores in 35 states and Puerto Rico.
Duos Technologies revenue falls 41%
Before the pandemic, Duos Technologies Group Inc. was projecting a big year of growth in 2020.
However, the Jacksonville-based company, which provides intelligent security technology for railroads and other businesses, ended the year with a sharp decline in revenue.
Duos last week said fourth-quarter revenue fell 34% to $3.78 million and revenue for all of 2020 dropped 41% to $8.04 million.
The company was projecting revenue of $20 million at the beginning of last year.
With the drop in revenue, Duos ended 2020 with a net loss of $6.7 million, or $2.03 a share.
With the pandemic easing, Duos is projecting revenue to jump back up to $18 million in 2021 and a break-even or better bottom line.
That forecast does not include a project win announced last week for an unspecified amount to provide technology for Amtrak.
"With the backdrop of a tentative global economic recovery underway and a return to more normalized business conditions, we believe the next year will see Duos return to growth as we build for scale and sustained profitability," CEO Chuck Ferry said in a news release.
Clearsense gets $30 million investment
Jacksonville-based Clearsense said last week it received $30 million in financing from a partnership led by Health Catalyst Capital.
Clearsense provides data management and analytics technology for the health care industry. Health Catalyst Capital is a fund manager that invests in growth-stage health care technology businesses.
"Our advanced data platform technology is architected specifically for healthcare, and we aim to improve patient care at all levels of the organization," Clearsense CEO Gene Scheurer said in a news release.
"The investment and partnership with HCC enable our continued growth and bring a strategic partner with a healthcare focus," he said.