A JWB Real Estate Capital LLC subsidiary was issued two mortgages Nov. 22 totaling $8.092 million for its mixed-use renovation of the historic Florida Baptist Convention and neighboring former Federal Reserve buildings in Downtown's North Core.
The development company, led by President Alex Sifakis, borrowed the money through 218 W Church LLC from nonprofit Self-Help Ventures Fund, according to the mortgages recorded Nov. 29 with the Duval County Clerk of Courts. 
The larger of the loans is for $5.878 million. The Daily Record reported Nov. 30 that the JWB subsidiary received the $2.214 million mortgage.
The city issued a permit July 1 for Auld & White Constructors LLC to begin renovating the five-story, 25,991-square-foot structure at 218 W. Church St. at a cost of $5.8 million.
Sifakis said in September that the Federal Reserve project at 242 N. Hogan St. would have a total cost of $9.85 million.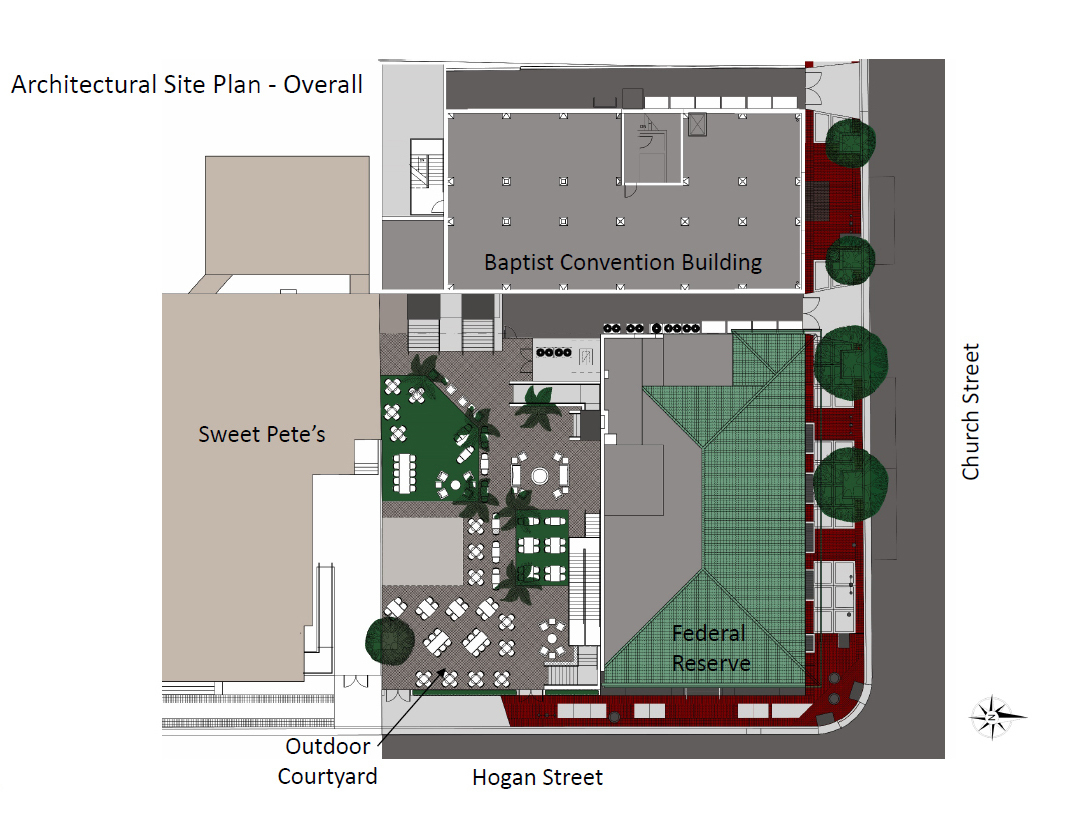 JWB expects an $18.5 million renovation of both historic properties that will include a courtyard connector to JWB's Seminole Building, home of the Sweet Pete's candy shop.
The mortgage documents say the loans will be repaid over 20 years, and the attached exhibits show the money was borrowed against the 218 W. Church St. and 242 N. Hogan St. properties.
The Downtown Investment Authority board and City Council also treated the historic renovations as a single project when they awarded JWB $8.62 million in forgivable and deferred principal loans through the city's Downtown Preservation and Revitalization Program.
Durham, North Carolina-based Self-Help Credit Union operates Self-Help Ventures Fund.
According to its website, the fund manages the credit union's "higher-risk business loans, real estate development and home loan secondary market programs." 
JWB bought the 97-year-old Baptist Convention property Aug. 26, 2020, for $675,000. 
The company's redevelopment proposal includes a restaurant space in the basement and ground levels, two mercantile suites at the ground-floor entrance and 24 studio and one-bedroom apartments on the upper floors.
JWB paid $1.75 million for the Federal Reserve Building for Aug. 3, 2020, and plans to convert the 99-year-old, 18,000-square-foot structure into restaurant and event space.