Jacksonville Jaguars owner Shad Khan's company will have access to the Shipyards property and Metropolitan Park's former Kids Kampus site for environmental and geotechnical testing as it considers development in the area.
The Downtown Investment Authority Board voted 9-0 on Feb. 17 to grant Iguana Florida Investments LLC entry to the city-owned riverfront property on East Bay Street as Khan considers the site for a Four Seasons hotel and mixed-use development.
The resolution excludes a 14.32-acre Metropolitan Park parcel that is restricted by a 1981 National Park Service grant.
However, the DIA board will allow Iguana access to the more than 8-acre former Kids Kampus, which is part of Metropolitan Park's 24.7-acre footprint, and the adjacent Shipyards site. 
DIA staff members said Feb. 17 they received 51 emails and voice messages opposing Iguana's access to any portion of Metropolitan Park.
Before the board vote, Boyer told community members that the access agreement with Iguana is not a development deal. 
Boyer said the DIA has not received a "definitive proposal" for the site, although Iguana's Nov. 12 public presentation to the board for Khan's estimated $535 million hotel, medical campus and mixed-used residential project shows it on the Metropolitan Park and Shipyards site.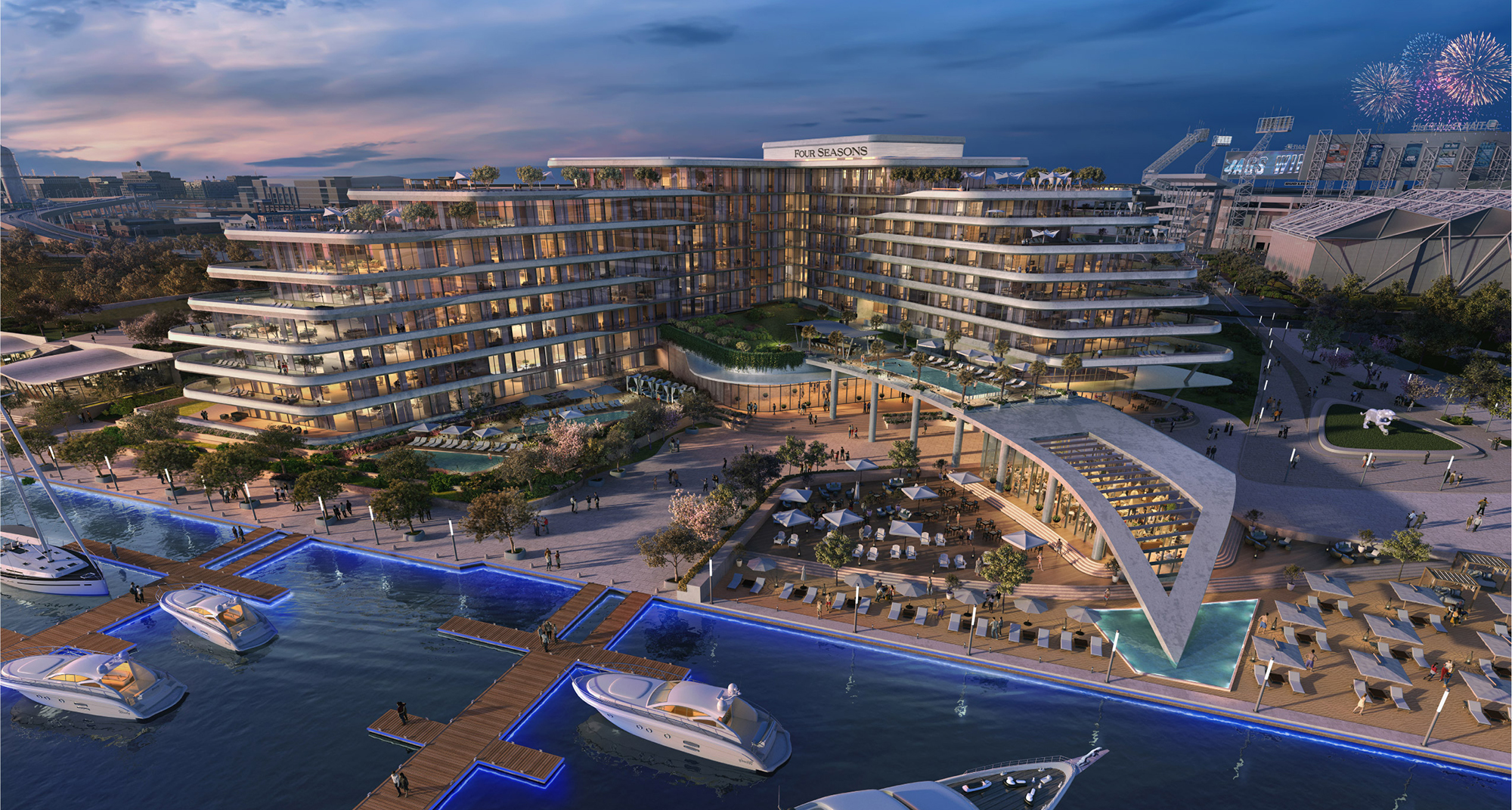 "DIA has previously stated and continues to take the position, consistent with the (city) ordinance code, that if any parkland is considered for redevelopment it must be released by equal or greater acreage of parkland," Boyer said.
"Our bid plan expressly contemplates a landmark public park that connects to the core of Downtown," she said.
The DIA is scheduled to hold a Downtown riverfront development community workshop at noon Feb. 23 to release the agency's outline for public parks and private development along the St. Johns River.
Nancy Powell, executive director of the nonprofit advocacy group Scenic Jacksonville and a Riverfront Parks Now member, told the board Feb. 17 that the organization opposes any development at Metropolitan Park or giving Iguana access.
She referred to DIA plans in 2019 that called for upgrading the existing park footprint.
"You all have considered it as one park. The community considers it as one park, so we feel like it is a unified park," Powell said. 
"It should be intact and shouldn't be given up for development. Because any other park is then subject to the next developer who wants to use it and we don't think that is a good practice." 
Powell called the DIA's planned riverfront development workshop a "great step toward a community conversation."
She said Riverfront Parks Now will keep pushing for private development and public park space with access to the St. Johns River to be part of an integrated plan.
Iguana will pay for the testing and will provide its findings to the city at no cost, according to DIA officials.
DIA board members said that information would be beneficial to the city regardless of the land's future use. 
"I do think, if ever we were to take the scenario that none of this were to be developed and it becomes a full-fledged, 100% park, I think having this information that they're going to do at their cost is probably a good thing even in that event," said board member David Ward.
"I don't see how having more information about this land, a vital piece of land, harms the city," he said. 
Boyer met with Iguana representatives Jan. 21 after the National Park Service denied the city's proposal to swap Shipyards land for Metropolitan Park.
In a phone interview Jan. 26, Boyer said the conversation included the possibility of "sliding" Khan's proposed Four Seasons and mixed-use development design toward the west and leaving Metropolitan Park untouched. 
Boyer said one option would be to "enhance" Metropolitan Park but she said nothing has been decided.