While SouthEast Development Group LLC Managing Director Steve Atkins was on stage June 1 at the Florida Theatre presenting a $1.1 billion master plan to the Northbank riverfront to Downtown stakeholders, his staff emailed the pitch to Downtown Investment Authority leadership. 
Atkins wants to build 1.8 million square feet of space comprising commercial office uses; mixed-use multifamily and for-sale condominiums; retail; an "entertainment-oriented" hotel; a food hall; and a convention/events center plus 15 acres of public park and plazas from the former Jacksonville Landing to the vacant The Ford on Bay.
Atkins said he has given progress updates on his proposal over the past two years to DIA and city officials. June 1 was the first date a full breakdown of SouthEast's plan was presented. 
The proposal includes a requested $536 million taxpayer investment in the public-private partnership with the DIA and city to supplement a $559 million private developer investment.
Atkins compared his plan for the 25-acre stretch of mostly city-owned property to other master-planned proposals for Downtown, like Preston Hollow Capital LLC's 32-acre RiversEdge on the Southbank and the Jacksonville Jaguars' estimated $535 million vision for the Shipyards near TIAA Bank Field.
All three properties were, or are, publicly owned land on the St. Johns River. RiversEdge previously was named The District and the property was used for a JEA generating station.
"We only have one opportunity to get this right," Atkins said. 
"So it is important that we work collaboratively with the city and the community to put together a plan that works for everyone."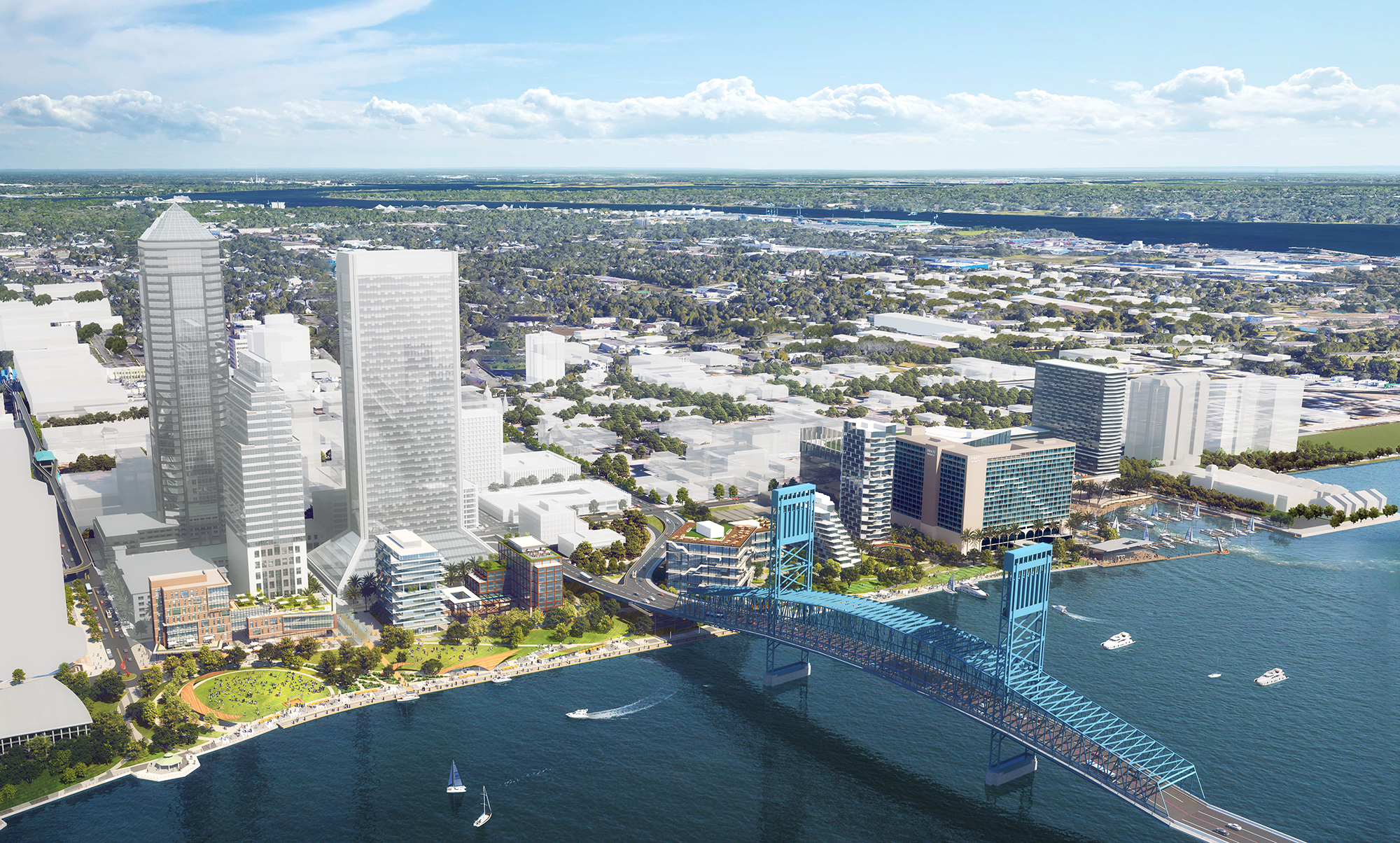 Cautious city response
Atkins said June 1 that the list of city officials he has briefed on his proposal includes Mayor Lenny Curry's Chief Administrative Officer Brian Hughes and Chief of Staff Jordan Elsbury.
Elsbury said that SouthEast's plan needs to go through the DIA process. He acknowledged the "major" firms and companies working with Atkins on the deal.
SouthEast's development team includes architectural firms Gensler, Nelson Worldwide Inc. and SWA Architects along with investment banks Goldman Sachs and Piper Sandler Companies.
"Companies that were not a part of Downtown development are now looking at opportunities Downtown," Elsbury said.
"Steve (Atkins) has done his part keeping us abreast and keeping the public abreast through what he did today."
DIA board Chair Ron Moody said June 1 that the city agency does not want to discourage ideas about Downtown planning, but the authority has development decisions pending on some of the sites in Atkins' master plan.
In February 2020, DIA committed to The Ford on Bay with New York City-based developer Spandrel Development Partners LLC for a $136 million mixed-use retail and multifamily development. The site is where the former Duval County Courthouse and City Hall Annex were demolished.
At the site of the demolished Jacksonville Landing, final results are expected in October for an active design competition for a 4.5-acre public park.
"I think an overall plan is important for our city, but at the DIA we've been following a plan to move our city forward," Moody said. 
"We have procedures we have to follow and do things the right way so it doesn't become haphazard and it is effective for our Downtown."
Atkins said that under his plan, the city would pay for and own the proposed 500,000-square-foot exhibition/convention hall that would sit on The Ford on Bay's 220 E. Bay St. parcel.
"It will be up to the city whether or not they choose to move forward with that component," Atkins said. 
Including a convention center in the master plan is a response to Hyatt Regency Jacksonville Riverfront parent company Westmont Hospitality Group Inc.'s contractual right of first refusal for the city-owned property and the hotel leadership's desire for such a facility at the site.
In an emailed statement June 1, Hyatt Director of Sales and Marketing Kate De Master confirmed the hotel supports the Atkins plan. 
"As a proud member of the riverfront community, Hyatt Regency Jacksonville Riverfront supports the continued development of the riverfront area and proposed development plans, which will help drive more awareness of and business to the area," she wrote.
DIA CEO Lori Boyer said June 1 that Spandrel recently requested changes to its multifamily proposal at The Ford on Bay that could change the terms of its deal enough to require the DIA to issue a 30-day notice of disposition for other private offers for the property.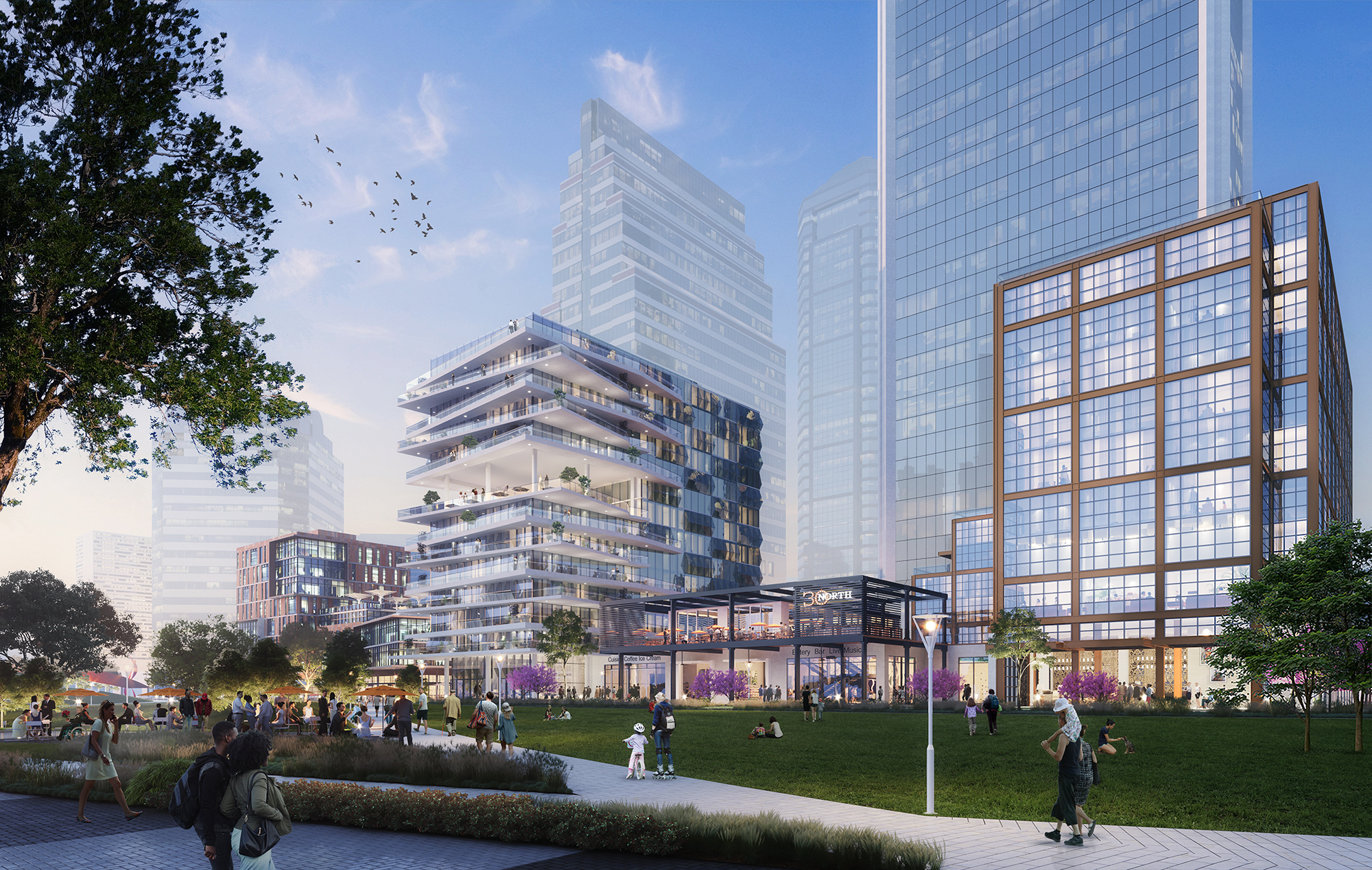 Boyer said the DIA board could decide to amend Spandrel's deal or terminate it and put the site back on the market. No decisions have been made, she said. 
Boyer said a DIA-commissioned study show the Duval County jail property as the most optimal for a convention center, but she said the agency welcomes all private development interest in Downtown. 
 Spandrel representatives did not return phone calls for comment June 1 on the status of its project. 
Who pays for what
Elsbury said the city has not talked with SouthEast about the financial structure of Atkins's desired public-private partnership.
Atkins said site infrastructure is the only public investment he has discussed with the city. He said June 1 that all the vertical construction would be funded by the private sector. 
"We have not had that conversation yet in terms of any other types of incentives or financial arrangements. We're just not there yet," Atkins said.
He said the public infrastructure could include the public parks and the 3,000-space subterranean parking garages that double as storm surge water capture systems.
District 7 City Council member Reggie Gaffney, who represents the Downtown Northbank, said he has been working with Atkins and supports the concept. 
Gaffney was an advocate on Council for Jaguars owner Shad Khan's proposed $450 million entertainment complex on Lot J near the stadium and a requested $245 million incentive package before it failed to reach a needed 13-vote majority in January.
"I do not want this to be another failed project. The city needs to make an investment," Gaffney said.
"We need to be able to meet the needs of investors who want to come in and do a partnership with us." 
Atkins said SouthEast would consider working with other developers on vertical construction and he was considering long-term leases or sale of the land to private owners, should Southeast succeed at acquiring those sites from the city.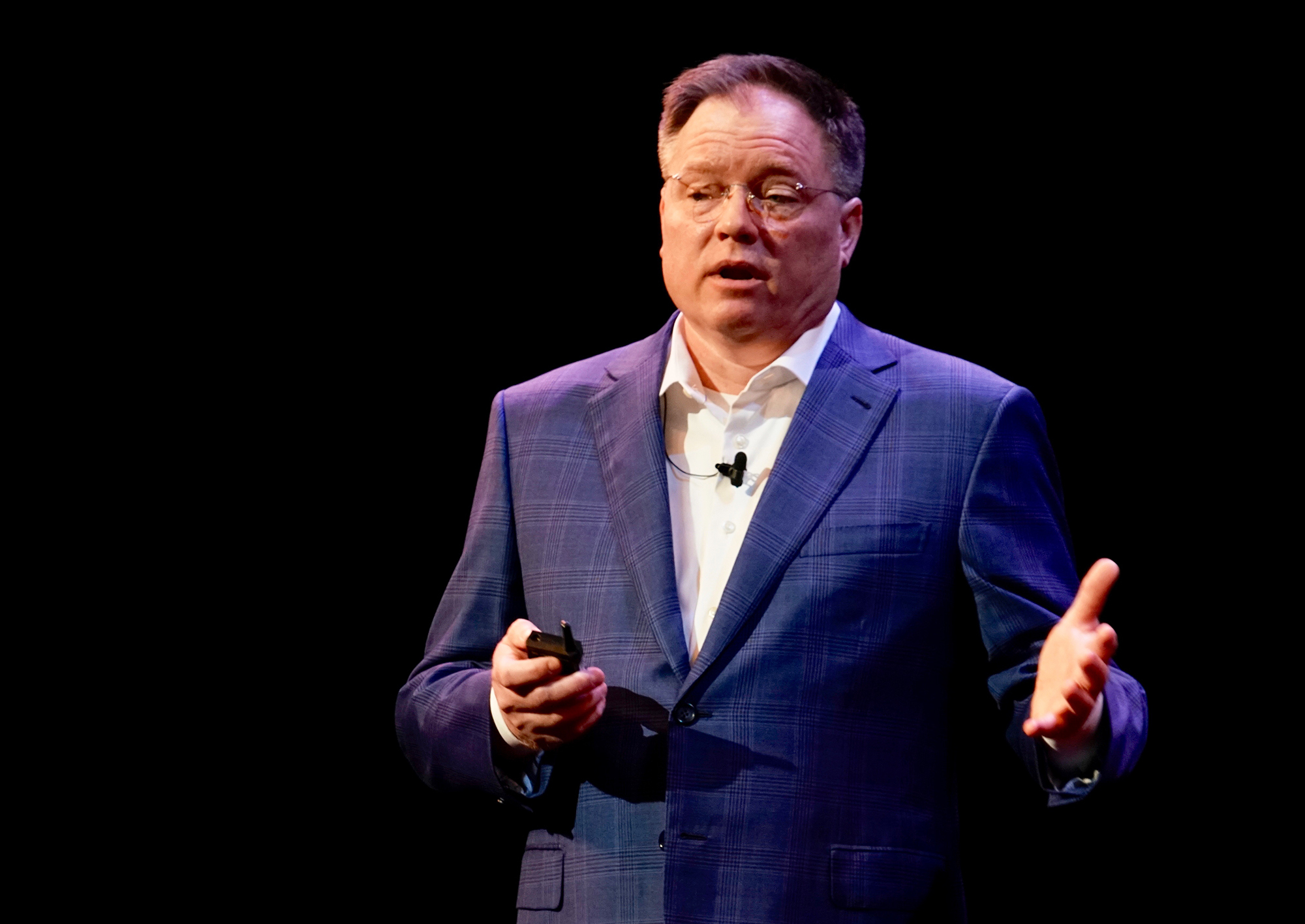 "Naysayers"
Atkins told the Florida Theatre crowd that he plans to approach the DIA in July with an official development pitch. He told news reporters it will be a public presentation. 
Atkins recognized what he called likely "naysayers" who will push back against the project's viability. He referred to his work restoring the historic former Barnett National Bank Building and the Laura Street Trio Downtown.
"There are always folks who will say it won't work. It's impossible. You'll never be able to make the Barnett and Trio work. Well, I love when I hear that because nothing motivates me more than for someone to say it won't work."
Other developers who have tried large-scale development in Downtown Jacksonville understand the potential roadblocks Atkins could face.
Chase Properties Inc. CEO Mike Balanky is a Northeast Florida retail developer who had an ownership stake in The District, now the master-planned RiversEdge, on the Downtown Southbank until he sold his stake in the project in 2016.
After seeing SouthEast's presentation, Balanky said Atkins' biggest challenge is proving to DIA "he can pull it off."
"I think it's the right approach from a critical mass standpoint if you can get all of that going at one time. He's going to have a lot of challenges," Balanky said. 
"He's going to have to convince them (city officials) that his (plan) is better than what they're talking (about) now. But it is an amazing plan. You have to give the guy credit."
Staff Writer Katie Garwood contributed to this report.