The Jacksonville City Council is expected to take final votes June 22 on three taxpayer-backed incentives deals totaling about $31.15 million, including a $21 million package to bring Dun & Bradstreet Corp.'s headquarters to Jacksonville.
Another would authorize an $8.6 million forgivable and deferred principal loan package for JWB Real Estate Capital LLC's plans to renovate and restore the Florida Baptist Convention Building and Old Federal Reserve Bank Building Downtown, while the third deal would approve a 10-year, $1.556 million Recapture Enhanced Value Grant for the Vista Brooklyn Apartments at 200 Riverside Ave.
Council committees unanimously approved legislation this week.
Dun & Bradstreet
The Council Finance Committee voted 4-0 on June 15 to advance Ordinance 2021-0346  that would authorize three grants to secure the international financial services and data management firm's headquarters move from Short Hills, New Jersey.
The Rules Committee voted 5-0 in favor of the deal.
On May 20, Dun & Bradstreet CEO Anthony Jabbour announced the company's desire to relocate its headquarters and create 500 full-time jobs in Northeast Florida. Jabbour also leads Jacksonville-based Black Knight Inc.
Details in the city's negotiations with Dun & Bradstreet released a day after the announcement include a:
• $12 million Headquarters Retention Grant paid in $600,000 increments over 20 years. 
• $6 million Relocation Grant paid over three years.
• $3 million Target Industry Grant at $6,000 per job paid in $1,500 increments over four years.
The state is committing a $4 million High Impact Performance Incentive Grant, boosting the assistance to $25 million.
After the vote, city Office of Economic Development Executive Director Kirk Wendland would not say if Dun & Bradstreet is considering the Town Center Two office building in South Jacksonville near St. Johns Town Center as its Jacksonville headquarters. 
The building has available space and it last sold for $64.52 million in 2020, near Dun & Bradstreet's expected $67 million real estate purchase cited in the project summary filed with the legislation.
According to Wendland, Dun & Bradstreet has not made its headquarters location official.
"To my knowledge, they have not actually closed on any purchases, so I assume they're still evaluating their options," Wendland said.
Florida and Jacksonville taxpayers are paying about one-third of Dun & Bradstreet's estimated $75 million capital investment in the project, comprising the purchase price and $8 million in IT, furniture, fixtures and improvements.
The bill requires 100 of the 500 jobs created to be filled by Duval County residents.
The Finance and Rules committees unanimously approved an amendment June 15 by Council member Brenda Priestly Jackson that requires those local employees to have lived in Duval County for at least two years. Those hires include college students residing in the county. 
Wendland said Dun & Bradstreet's leadership agreed to the stipulation.
According to a May 20 memo from Wendland, the company was considering other U.S. cities for the project and the incentives were a factor in Dun & Bradstreet's decision. 
City Chief Administrative Officer Brian Hughes said May 24 that recruiting Dun & Bradstreet "was not a slam-dunk."
Council member Randy DeFoor abstained from the Finance Committee vote June 15 because her employer, Fidelity National Financial Inc., shares board members with Black Knight Inc., a company with investment ties to Dun & Bradstreet.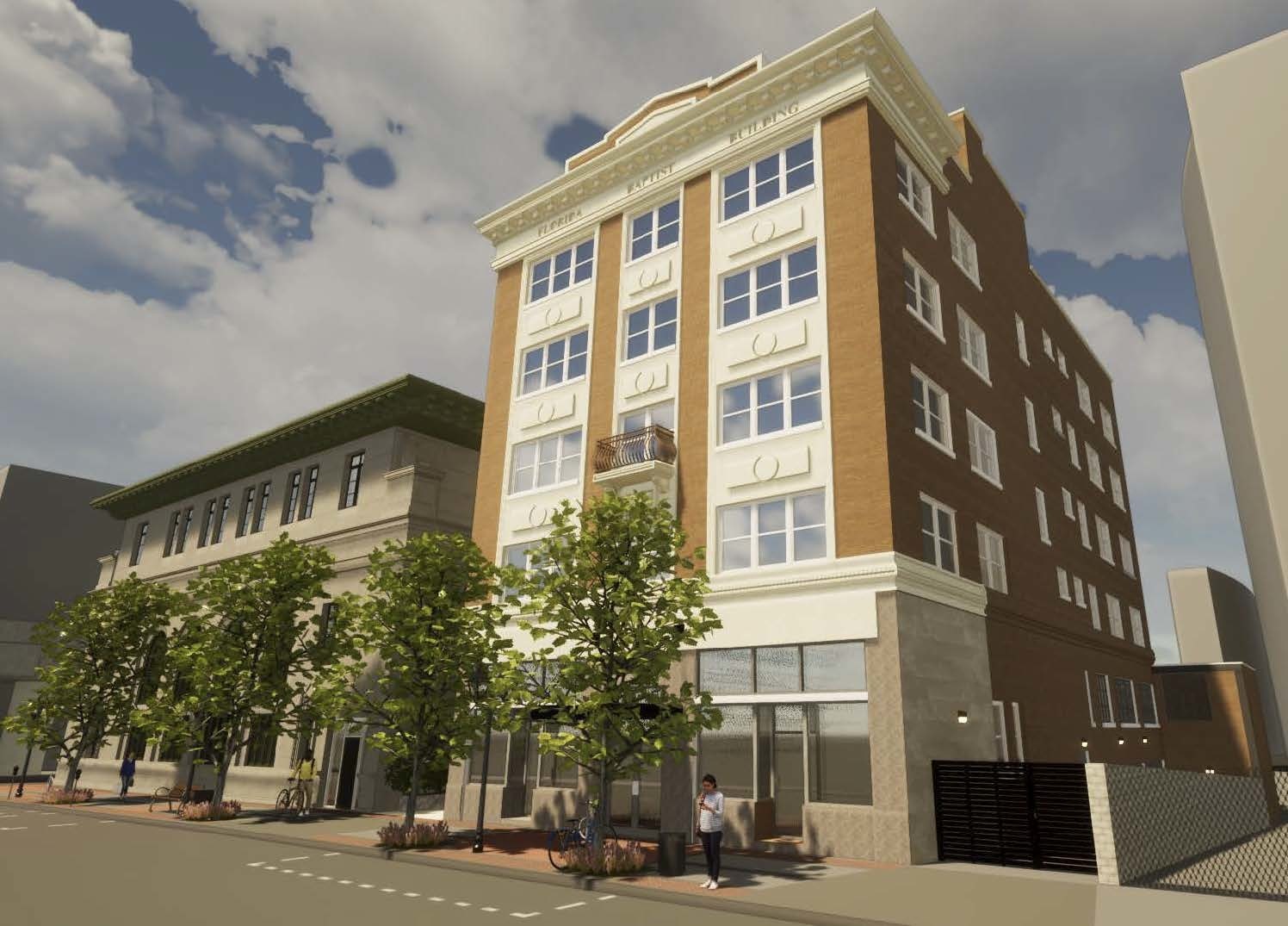 JWB historic restoration
JWB plans 24 studio and one-bedroom market-rate apartments and 5,330 square feet of restaurant and retail space in the Baptist Convention building at 218 W. Church St.
The developer also wants to renovate the adjacent Federal Reserve building at 424 N. Hogan St. into two restaurant spaces of 4,500 square feet on the first floor and 2,900 square feet in the basement.
The second and third floors of the property each will offer 9,000 square feet of event space.
The loans would come from the Downtown Investment Authority's Downtown Preservation and Revitalization Program and include a $3,596,630 historic restoration forgivable loan; a $3,299,827 code compliance forgivable loan; and a $1,727,864 deferred principal loan.
JWB President Alex Sifakis told JAX Chamber's Downtown Council on May 21 that the company will break ground within two months on an estimated $18.55 million renovation and restoration.
The Council Neighborhoods, Community Services, Public Health & Safety Committee voted 7-0 on June 14 to advance the incentives to Council. 
The Finance Committee voted 4-0 in favor, with Council member Ron Salem abstaining because of a financial tie to JWB.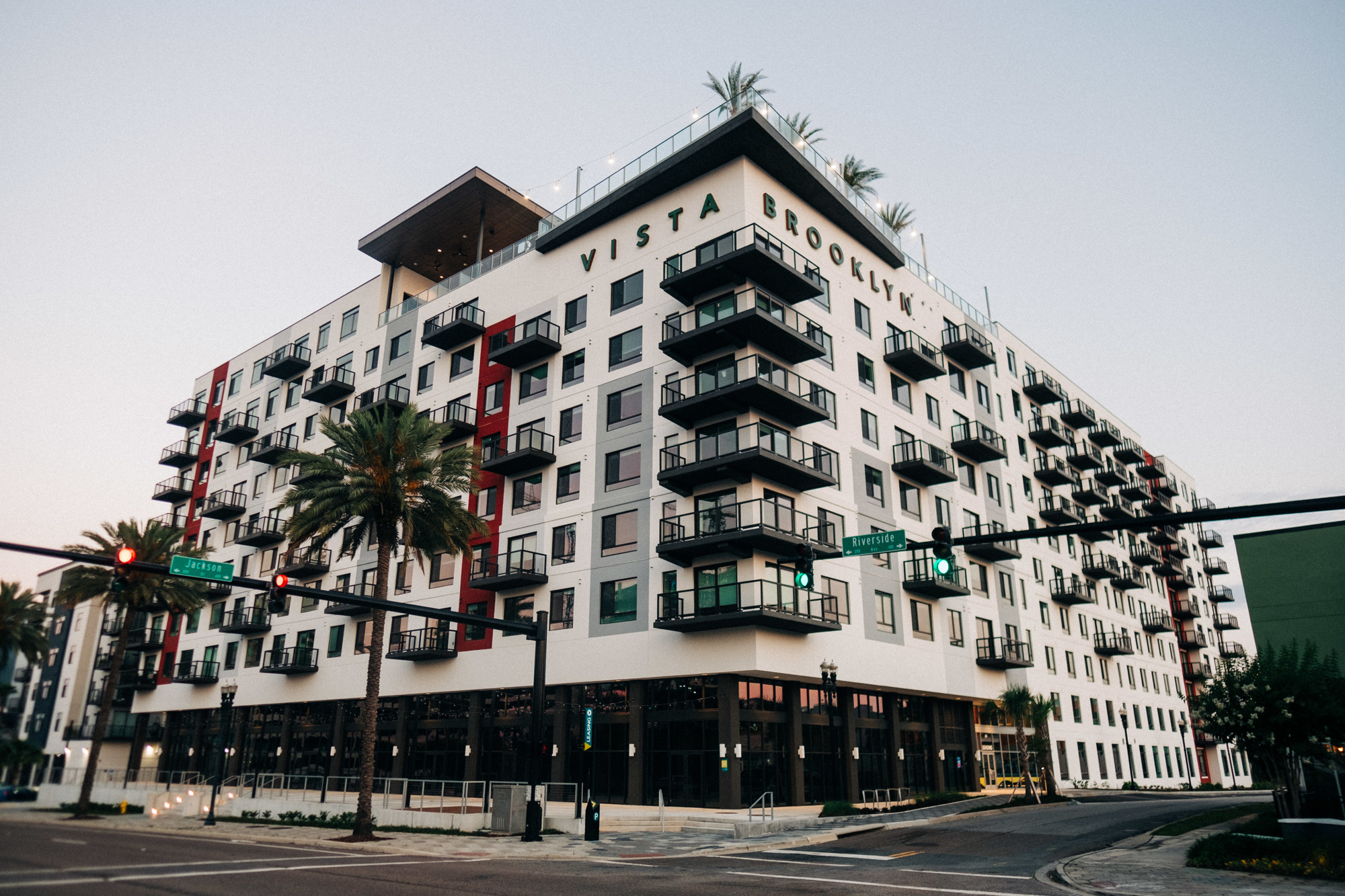 Vista Brooklyn
Apartment developer HP-BDG 200 Riverside LLC, comprising Hallmark Partners and Bristol Development Group, told the DIA in January it is seeking an additional $1.55 million REV grant to mitigate the pandemic's negative impact on the retail spaces for lease in the 308-unit apartment.
HP-BDG is required to keep retail in at least 50% of the 12,969 square feet of ground-floor commercial space to qualify for the REV grant. Only space filled by retailers will be eligible for the REV grant benefits, according to a legislative fact sheet filed with the bill.
NAI Hallmark is building-out 5,627 square feet of space on the ground floor to relocate its headquarters from the Southpoint area. That is about 43% of the space. 
Ordinance 2021-0311 would amend the city's 2017 economic development agreement for the 10-story mid-rise apartment building that opened last week.
The Council Transportation, Energy and Utilities Committee approved the legislation 6-0 on June 14 and the Finance Committee voted  4-0 in support June 15.