Winner, $2 million to $15 million | 2020 Revenue: $3.48 million
Traveling the world in the U.S. Army showed Jesus Garay transportation and logistics on a global scale.
"I saw how dependent the United States government was on civilian contractors or civilian companies providing services," Garay said. 
"That was kind of an 'aha!' moment to me." 
Garay's Jacksonville-based trucking company, Global Freight and Commerce LLC, found its inspiration from U.S. military operations.
The 49-year-old founded Global Freight in 2012 in Oklahoma, operating as a brokerage between product owners and shipping companies.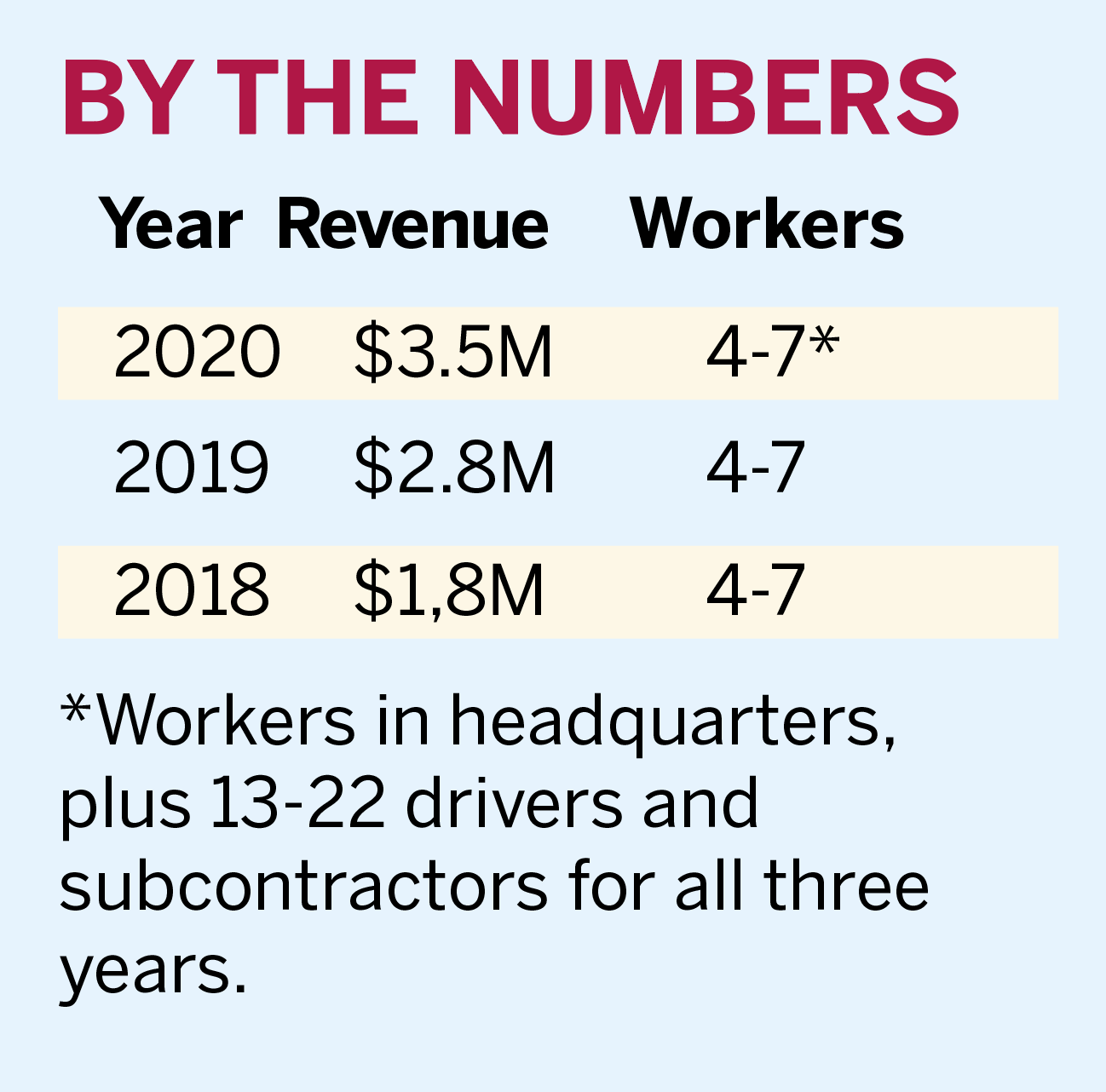 Garay said he found a market with military families who frequently would be relocated but did not want to sell their cars, trucks or SUVs, which often were sold in on-base "lemon lots."
"Instead of having to sell their car, I'd offer them discounted services to ship it nationwide," he said.
In 2015, Garay shifted Global Freight from a brokerage hauler to a transportation company focused on general freight. 
Garay said the change partially was in response to growing competition from Uber Freight and Amazon, services he feared would "squeeze the little guys out."
Garay is from the Bronx in New York City, but he said his family "escaped" to Jacksonville when he was 6 years old. He now lives in Fleming Island in Clay County with his wife and two teenage children. 
He retired from the Army as a first sergeant in 2014 after five deployments to Iraq, a year in Bosnia and five years on the Korean Peninsula.
In April, Global Freight neared completion on a more than $100,000 office space build-out in three suites at 1550 Normandy Village Parkway, relocating from a smaller Westside location. 
The property allows semitractor-trailer parking, and Garay said he plans eventually to buy the full office park. 
Global Freight made the move despite a temporary pandemic-related slip in revenue.
Garay said when ports in New York City and Los Angeles closed beginning in March 2020, it created an "accordion effect" in the supply chain. 
Drivers were scared to travel, and port and warehouse workers were not operating at 100% capacity, he said.
That followed a tough market for freight haulers in 2019 when commodity imports slowed because of the U.S. trade war with China, Garay said.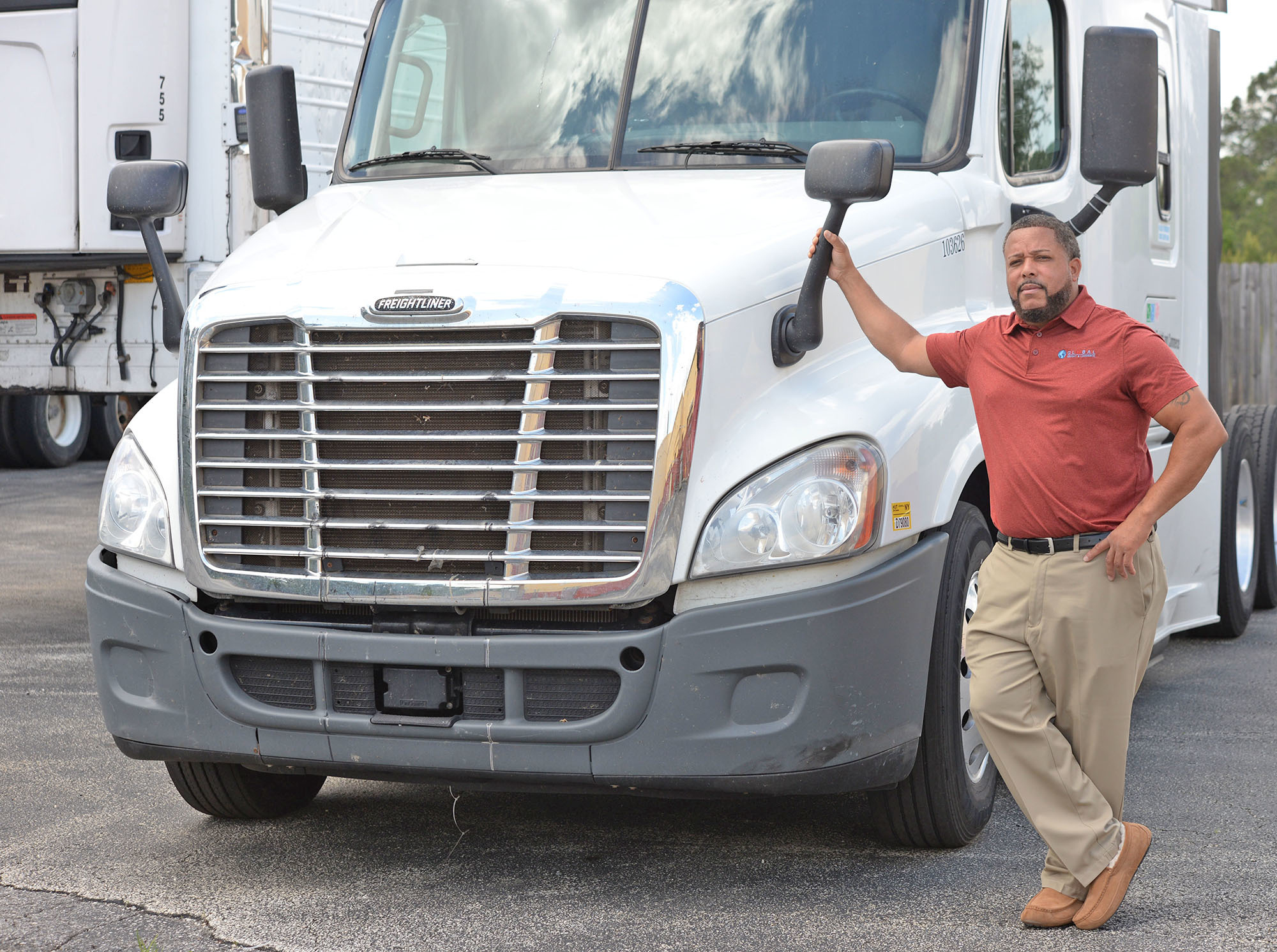 With too many trucks on the road and not enough freight, Garay said hauling rates fell up to 70%, which caused a nearly five-month period where Global Freight could not cover its costs. 
Global Freight didn't fire anyone and took advantage of federal help like the Paycheck Protection Program to make payroll. 
He kept his general manager and logistics coordinator, is training a dispatcher and hiring for a full-time recruiter and accountant/bookkeeper.
Garay credits foresight in personnel needs, training and operational planning for making it through economic slowdowns.
Global Freight had fewer trucks operating in 2020. The company averaged 10 at any given time, down from 20. 
Garay said that for a few weeks last year, he only had four drivers on the road. 
As revenue rebounds, Garay said he expects to have 16 trucks hauling by the end of the second quarter.
"We've got two or three really prominent contracts coming up that we're looking good at," he said.
Garay was the JAX Chamber Transportation & Logistics Council 2021 Small Business Leader of the Year.
Global Freight is working with the chamber to support JaxPort's expansion and its St. Johns River shipping channel deepening to be more competitive with the Georgia Ports Authority's Port of Savannah.
"We probably pick up 90% of our freight out of Savannah," he said. 
"This is why I'm trying to fight so hard to get a Jacksonville-based contract, so I can contribute more revenues to the state of Florida."
Garay said he is positioning Global Freight to diversify its hauls to add more profitable, but higher-risk refrigerated products to its general freight business.
He wouldn't disclose the company, but Garay said he is negotiating to sign a "lucrative" seafood contract with a Jacksonville-based supplier. 
The Global Freight CEO also is the title manager of Spartan Holdings LLC, which does home contracting, roofing and resale to a low-income market, he said.
Garay said he challenges entrepreneurs to adopt a "community-impact statement" and ask themselves, "What problem are you solving with your revenue?"
Garay said his community work includes mentoring "black, brown and poor white kids" in Northeast Florida.
He suggests businesses try to solve one problem.
"If all business owners could do that, we could probably change the face of entrepreneurship and the free market and capitalism," he said.