For the first time in the 53-year history of Jacksonville and Duval County's consolidated government, City Council will be led by two African American lawmakers. 
The 19-member Council chose at-large members Sam Newby and Terrance Freeman on May 25 as president and vice president for its 2021-22 year, starting July 1.
Council members unanimously chose Vice President Newby as president. He ran unopposed.
Newby, 57, is a second-term Republican elected to the Council's Group 5 At-Large seat in 2015 and reelected in March 2020. 
He worked for PepsiCo for 30 years and is a past vice chairman of the Republican Party of Duval County. He also served as president of the Joseph E. Lee Republican Club.
Newby will be the third black Council member to serve as president, after Earl Johnson in 1976 and Warren Jones from 1991-93. 
During an emotional acceptance speech, Newby thanked his mother, Mildred Brown, who died in August. As vice president, he would preside at Council meetings as necessary.
"I remember one of the last words she told me was when I was acting president: 'Mr. President, do your job.' Mama, I promise you with all my heart, that I'm going to do my job," he said.
"Only God can bring a young man from 45th and Cleveland Road to the presidency of City Council. Only God can do that."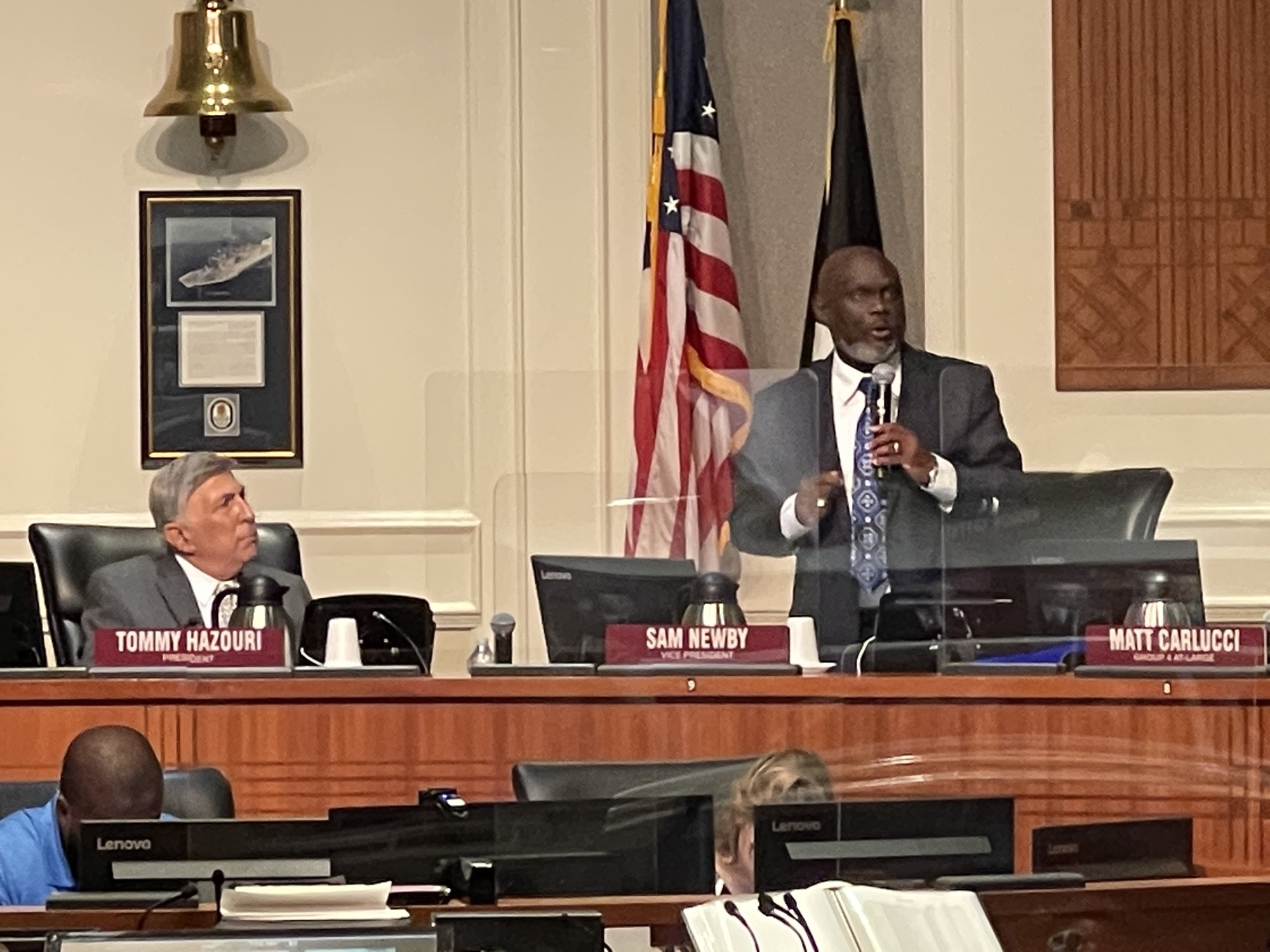 District 10 member Brenda Priestly Jackson, a black Democrat, nominated Newby for position May 25. She said Newby defines himself as a Bush/Reagan Republican and, despite their differences, she considers him as a trustworthy lawmaker.
Freeman, a Republican, won in a 10-9 vote over Council member Randy DeFoor. 
The nonprofit Read USA named the 46-year-old Freeman as CEO in April after he worked in leadership at the Boys & Girls Clubs of Northeast Florida. 
In his speech, Freeman noted the historic nature of the vote.
"I would truly be remiss if I didn't acknowledge a notable, important first today's vote signifies," Freeman said. 
"You see, this will be the first time that two African Americans — black Council members — have been elected to lead this body together as vice president and president.
"We must acknowledge that we have a long way to go as a city. But Jacksonville should take a moment to acknowledge and be proud of this day," Freeman said.
A former minor league baseball player, Freeman also made an unsuccessful bid for Florida House District 12 in 2016 and was an executive Council assistant to Council member Aaron Bowman. 
Council members supporting Freeman were: 
• Bowman; Newby; Rory Diamond; Ron Salem; Michael Boylan; Randy White; Ju'Coby Pittman; Kevin Carrico; Reggie Gaffney; and himself. 
Council members supporting DeFoor: 
• President Tommy Hazouri; Priestly Jackson; Al Ferraro; Garrett Dennis; Matt Carlucci; Joyce Morgan; LeAnna Cumber; Danny Becton; and herself.
Cumber and Morgan also considered a run for vice president, a role that historically is the front-runner for the presidency the following year. 
According to documents provided by the Office of the City Council, Cumber had written support from White, Salem, Diamond and Gaffney.
Cumber told Florida Politics last week that a rare policy split between her and Mayor Lenny Curry in her opposition to his proposed increase to the local option gas tax led her to drop her bid for vice president. 
"I announced my candidacy for vice president of the City Council before the gas tax debate and next year will require spending all the new tax revenue being collected. That requires someone who will be willing to implement the Administration's newest tax," she told Florida Politics. 
"That is not a policy position I am willing to compromise on. Therefore, I respectfully withdraw my candidacy for vice president so I can more successfully fight for the policy positions that are in line with the majority of Jacksonville residents."