Jacksonville's lodging industry continues to lead the rebound from the negative effects of the COVID-19 pandemic, filling rooms faster than the other destinations in Florida.
Local year-to-date occupancy is 71.9%. Statewide occupancy for the first 10 months of 2021 is reported at 62.2%.
Hotel occupancy in Duval County was 70.8% in October, an increase of 26.5% over last year, according to data collected by the STR hotel analysis firm released Nov. 22 by Visit Jacksonville.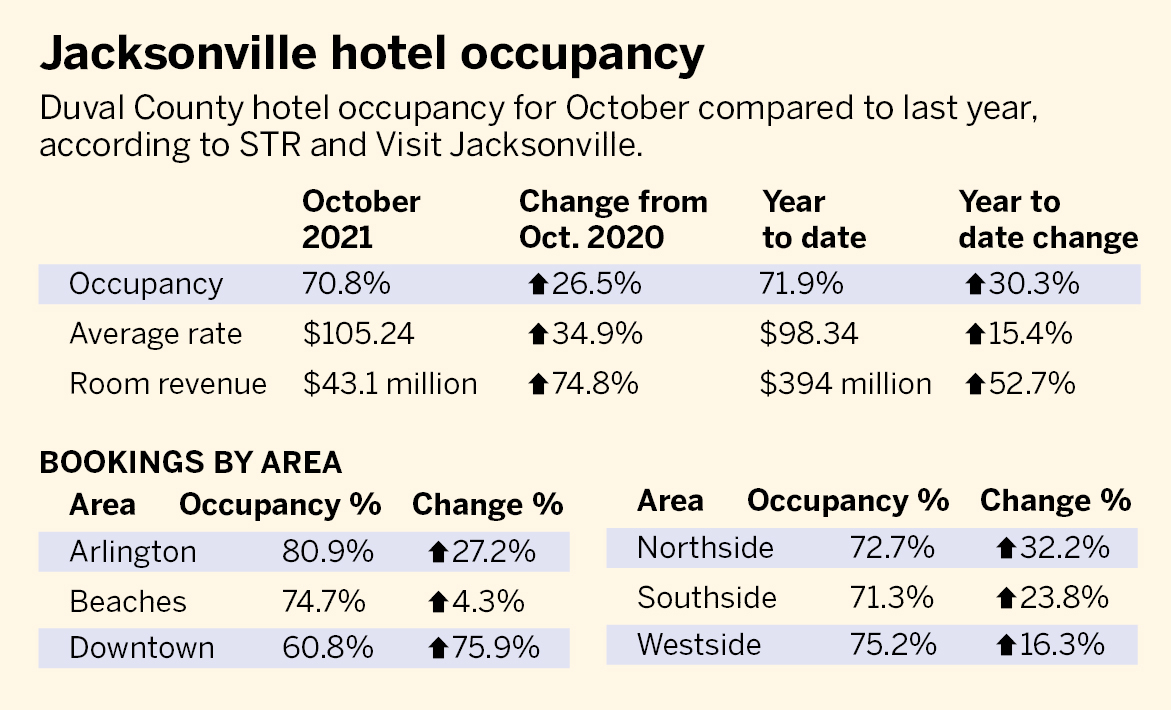 While October 2018 and October 2019 had slightly higher occupancy percentages, there were more rooms sold in Duval County in October 2021.
Additional room inventory added to the Duval County market in 2021 make about 18,000 more room nights available than in 2018 and 2019.
Average rate and room revenue also were higher than in October 2018 and 2019. 
Hotels in most areas of Duval County saw double-digit occupancy growth in October. Downtown hotels have the largest gain, almost doubling the number of rooms booked compared with October 2020.
Hotels at the Beaches were the first to recover when the pandemic shutdown began to wane late last year, reporting an increase of 4.3% in October compared with October 2020. 
Year-to-date room revenue is more than $393 million, nearly 53% ahead of the same period in 2020.