Apartment vacancy is down, average rents are up and the pipeline continues flowing for construction of multifamily units in the Jacksonville area as of the third quarter of 2021.
About 1,300 units were added during the July-September quarter.
"This market is positioned for success as it is supported by the largest population of any city in the state," reported Franklin Street in its Q3-21 Jacksonville Multifamily Report.
Franklin Street said vacancy rates continued to decrease quarter over quarter in Jacksonville.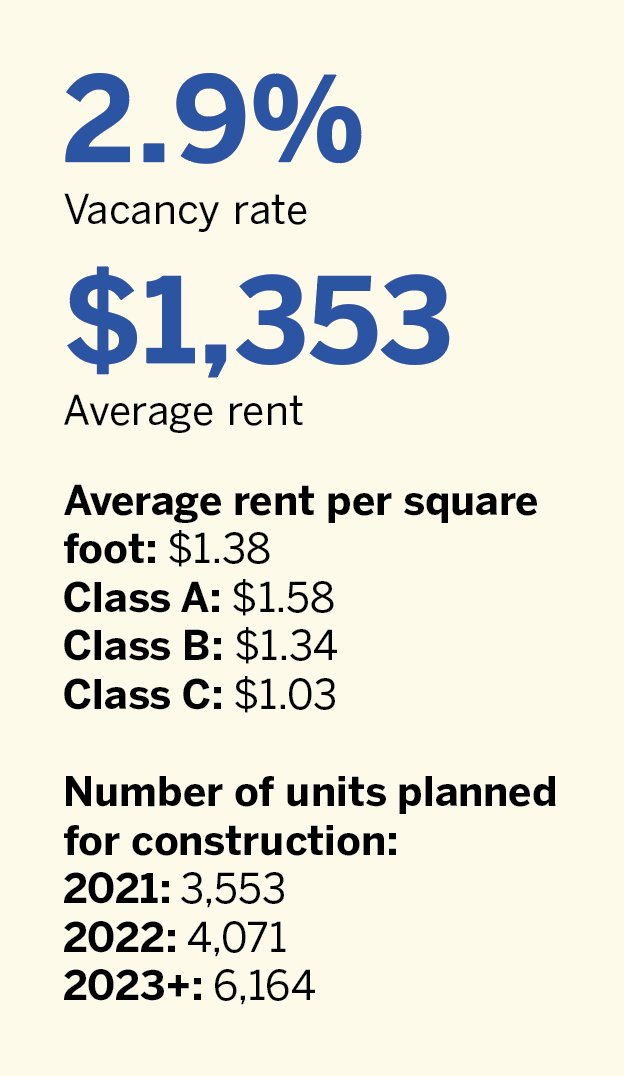 "Strong market fundamentals were displayed as approximately 1,300 units were delivered and vacancy rates still declined," Franklin Street reported.
NAI Hallmark reported in its Q3 2021 Jacksonville Multifamily Market Report rents rose 18.7% on average year-over-year while vacancy dropped almost 1%.
It found vacancy at 2.9%.
"As the MSA continues to see an influx of new jobs, along with the increase in population, rents will continue to rise, while vacancy levels remain at historic lows," it said.
NAI Hallmark reported that vacancy ranged from 1.4% in St. Augustine to 4.1% in Southeast Jacksonville. 
It found average monthly rental rates ranged from $1,157 in Arlington to $1,569 in upper Southside. Rent growth ranged from 9.3% in St. Augustine to 22.5% in Upper Southside.
Apartment projects also are being sold. 
"The capital to the multifamily sector that has inundated Jacksonville has pushed the sales volume to an all-time high," said Brian Moulder, managing director of investment sales with Walker & Dunlop. 
He said the Walker & Dunlop team has brokered nearly 65% of the 2021 transactions.
Walker & Dunlop reported the market had $2.25 billion in sales so far in 2021, up 29% from $1.74 billion in all of 2020.
The number of units sold rose 26% from 12,183 to 15,297, while transactions jumped 48% from 52 to 77.
Walker & Dunlop said the average sales price per unit rose to $146,833.
NAI Hallmark found a similar price at $147,000.
Franklin Street said Duval County represented most of the area investment sales volume.
It said institutional investors were the most active during the quarter, representing more than half of the sales. Private buyers, users and private equity investors constituted the rest.
Class A and Class B projects are selling at record levels. 
Franklin Street said its research found that Class A properties sold for more than $249,000 a unit on average,  with Class B at $168,000 and Class C at $79,000.
Most per-unit prices were up.
Sales are expected to continue.
"As the MSA remains one of the top 25 hottest housing markets in the country, investors maintain their confidence in the multifamily market," NAI Hallmark reported.
"Investors continue the influx of capital into the area."