Development partners Andy Allen and Elias Hionides have faced starts and stops since 2018 in their effort to renovate the historic Jones Bros. Furniture Co. building Downtown.
Allen said Sept. 28 the developers intend to submit their latest plan to the city by year-end.
The plan includes 100 apartments and a new six- to seven-story building. 
It also has 10,000 square feet of commercial space and a parking deck.
"We've been working on it for over three years," Allen said. 
Allen and Hionides co-manage Jones Bros. project development company ACE JAX LLC, which they formed in March 2018.
Hionides is vice president of real estate company and property manager Petra. Allen is CEO of Corner Lot Development Group LLC.
Allen estimates the changes will bring the project cost to an estimated $30 million. 
That's up from the $11.1 million they previously anticipated.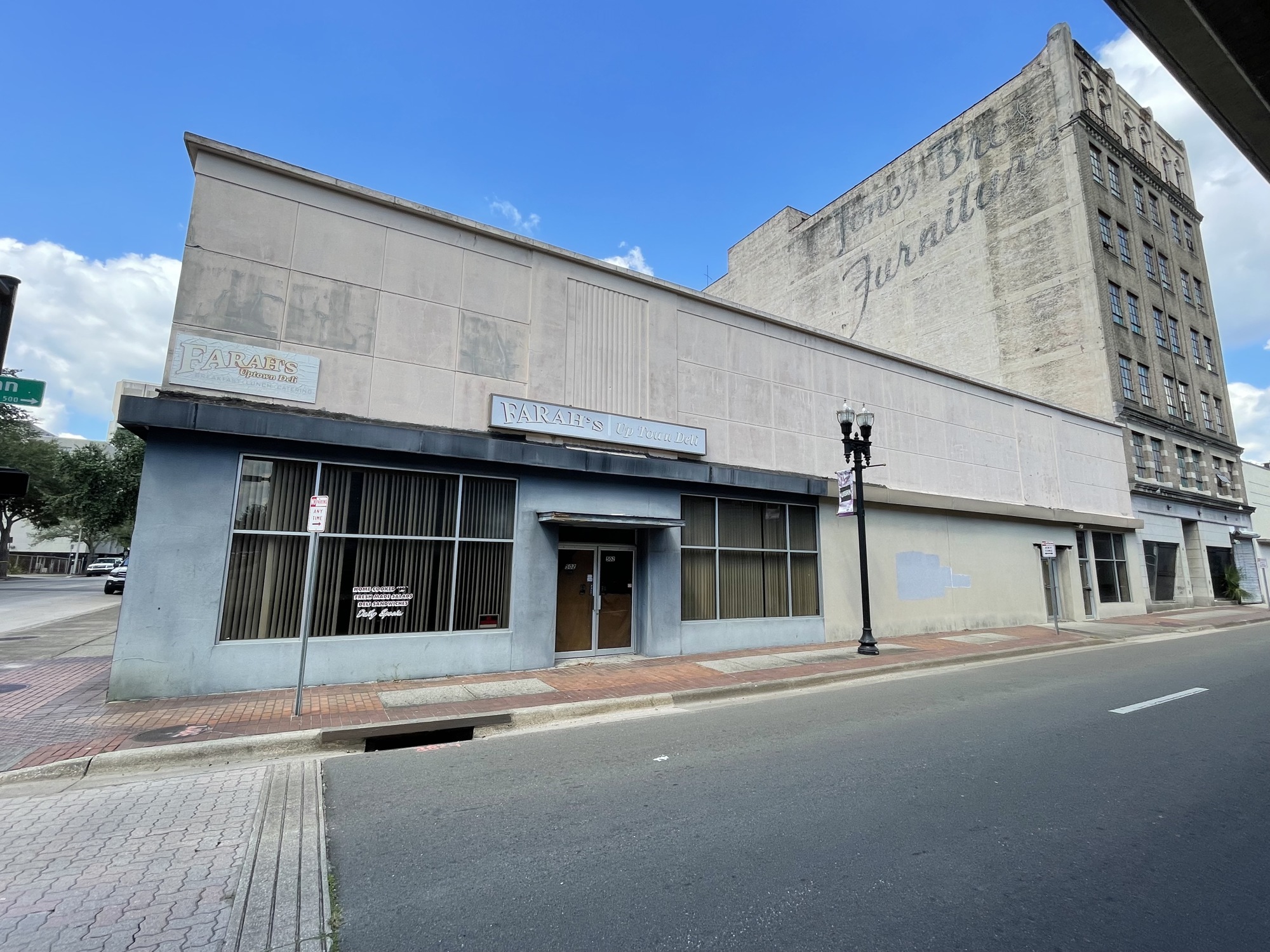 The project will span connected parcels at 502, 520 and 524 N. Hogan St., according to Allen.
The seven-story, almost 38,000-square-foot Jones Bros. building, built in 1926, would have about 30 residential units.
The developers want to demolish the former Farah's Uptown Deli building at Hogan and Church streets and build a six- to seven-story multifamily addition with about 60 units.
Allen said the apartments will have market-rate rents. 
ACE JAX and Corner Lot also plan to renovate the building at 524 N. Hogan St. for 6,000 square feet of retail/office space, he said.
Duval County Clerk of Courts records show ACE JAX bought the property from the neighboring First Baptist Church of Jacksonville for $350,000 in October 2018.
Allen said there would be 1,100 square feet of ground-floor retail inside Jones Bros., with the remaining 2,500 to 3,500 square feet inside the new building.
Allen said half the retail space should be leased by the time they break ground, targeted for 2022.
Hionides said Petra will handle the leasing.
The Jones Bros. building is owned by OUR Properties Inc. and the adjacent building is owned by the Mandarin Emporium Inc.
State corporate records show those companies are owned by Hionides' father, Chris Hionides.
The developers are scaling up the project's residential density to "make the numbers work," Allen said of the financial investment.
The original plan called for 28 apartments in the Jones Bros. building. The former deli would have remained and housed a portion of 11,287 square feet of retail and office space.
Allen and Hionides intend to apply for Downtown Preservation and Revitalization Program incentives through the city Downtown Investment Authority, although the final capital financing plan is not complete.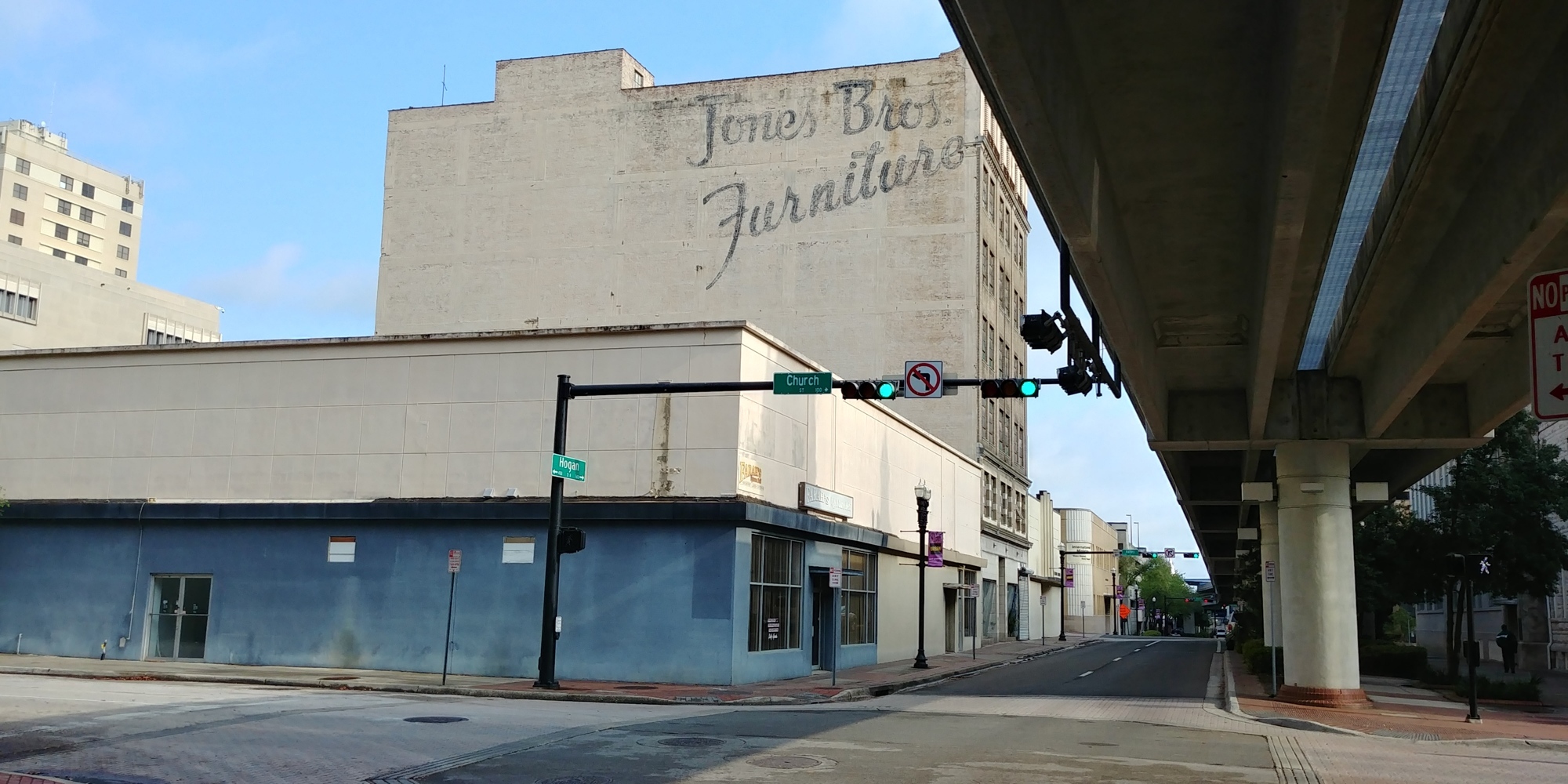 The incentives would be tied to the Jones Bros. and former First Baptist Church building. 
The developers also plan to seek a Recapture Enhanced Value Grant property tax refund from the city on the multifamily construction, Allen said.
According to Hionides, the project would use the city-owned surface parking lot along West Ashley Street. 
The project's previous agreement called for the city to convey the vacant lot to ACE JAX for $1. The Duval County Property Appraiser website says the land is valued at $201,825.
The developers plan to submit the project for city permitting by the end of the first quarter 2022, Allen said. 
Previous deal
At the onset of the coronavirus pandemic in March 2020, DIA CEO Lori Boyer granted ACE JAX's request for a force majeure suspension on its $2.25 million incentives deal approved in 2019 to renovate Jones Bros. 
A force majeure clause protects contract holders from extraordinary events or circumstances beyond their control.
That pause in the performance schedule was set to end when the government COVID-19 emergency order was lifted, Boyer said at the time. 
Florida Gov. Ron DeSantis signed an executive order in May canceling local government states of emergency statewide and the developers have not discussed the status of the project publicly until now.
'On an island' 
Allen said Sept. 28 that the Jones Bros. development team is encouraged by the recent surge of development activity in Downtown's North Core around the property.
The North Core is bounded by Beaver, Hogan, Duval and Clay streets.
Four development companies plan more than $233 million in historic rehabilitation and new construction projects in the area west of City Hall. 
The Corner Lot-ACE JAX partnership is communicating with JWB Real Estate Capital LLC, led by President Alex Sifakis, about other developments in the neighborhood. 
JWB is adapting the historic former Federal Reserve Bank and Florida Baptist Convention buildings south of Jones Bros. into a city block of restaurants, retail and apartments. 
"Jones Bros. has always been a specific property that I've always wanted to develop," Allen said. 
Before the momentum, Allen said the Jones Bros. project was "on an island" in the North Core, which he worried would be exacerbated when First Baptist Church announced in September 2019 it dropped plans to sell 11.29 acres of its Downtown campus.
Developers plan 743 residential units and more than 85,000 square feet of retail space in the North Core. 
Allen said that density helps and he is working with Sifakis to create a "recruitment mechanism" to draw retail tenants to Jones Bros. and other North Core projects. 
"Knowing Alex (Sifakis) is right there alongside us, we think we can make a pretty big difference," Allen said.