SouthEast Development Group Principal Steve Atkins says underwater electricity-producing turbines could be used to power his plan for a $2 billion redevelopment of a mostly city-owned stretch of the Downtown Northbank riverfront. 
At a news conference Oct. 21 at The Barnett, Atkins said he included the turbines, which would be submerged in the St. Johns River, in an unsolicited public-private partnership proposal he submitted to the city Oct. 19. 
Atkins said the privately owned power-generating facility could offset public infrastructure costs in his pitch to build more than 1.8 million square feet of mixed-use commercial, residential, hotel and convention space on 25 acres along the river from the former Jacksonville Landing site to southeast of TIAA Bank Field.
A cover letter in the proposal shows the Riverfront Jacksonville master plan was sent to Mayor Lenny Curry, Downtown Investment Authority CEO Lori Boyer and City Council President Sam Newby.
Atkins said Oct. 21 that SouthEast and its development partners expanded the master plan since it was announced June 1 to include existing amenities and planned projects along the riverfront.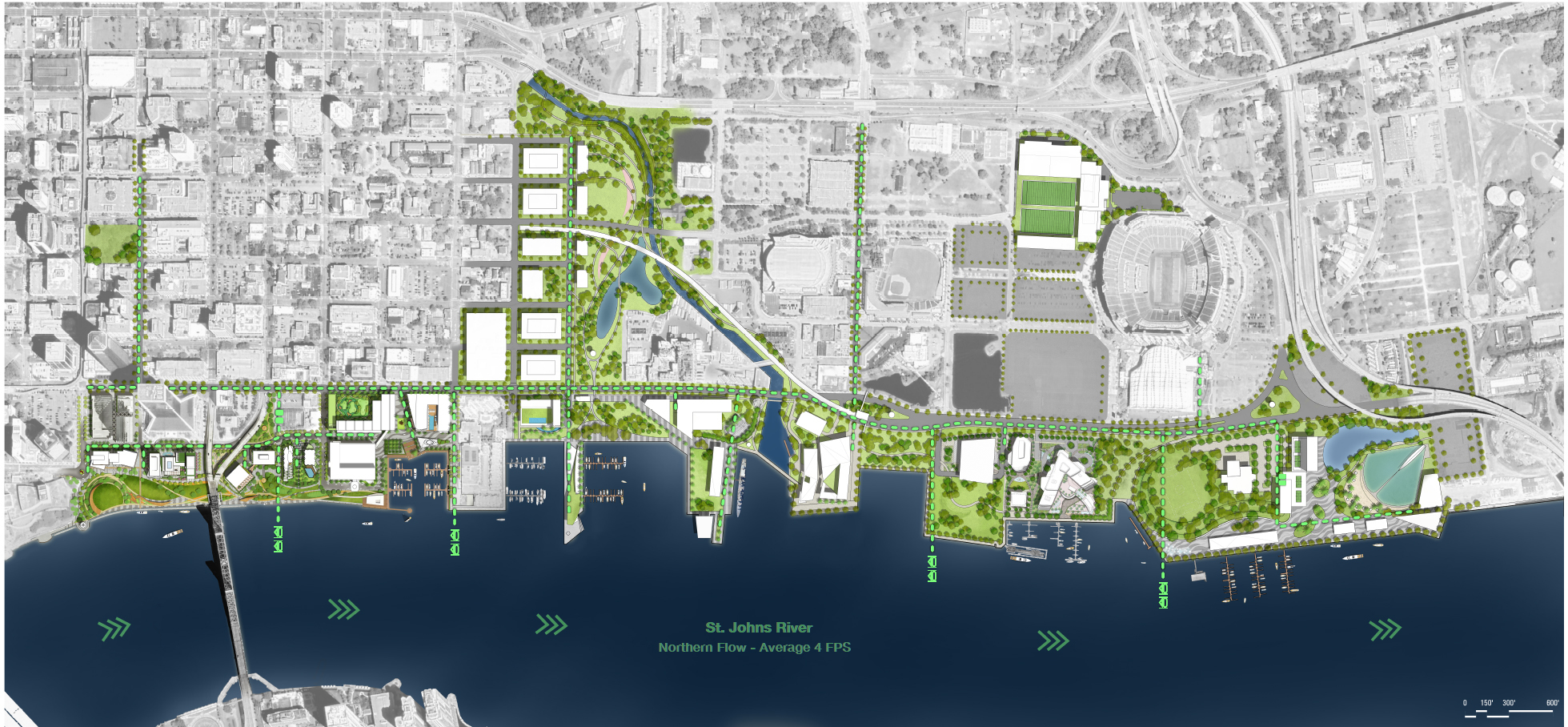 The plan's cost, which has increased from $1.1 billion to $2 billion, has not been publicly discussed by Boyer or DIA leaders, who have their own public park plans and are vetting other private development interests along the riverfront. 
Atkins told reporters he is pushing city and DIA officials to consider the Riverfront Jacksonville master plan and hopes to conclude negotiations by early next year. 
"We need for these things to happen within the next 90 to 120 days," Atkins said. "The capital is at the table now. It's a competitive market. If we can't find a place or a pathway to employ this capital here in Jacksonville, it has to be placed in another market."
Hydrokinetic energy 
The proposal calls for turbines that would generate hydrokinetic electricity and provide power to buildings in the Riverfront Jacksonville development. 
Riverfront Jacksonville plans show SouthEast is working with Herndon, Virginia-based design and consulting firm ATCS and San Francisco-based resiliency infrastructure company Swinerton on the hydro project, which would be owned by private consortium Riverfront Jax LLC.
Any excess electricity would be sold to JEA in a purchase power agreement. 
Atkins said the power project would allow revenue sharing between the developers and city to help offset costs for riverfront parks, green space and resiliency infrastructure. 
The city money would come from ground leases to Jax Riverfront for substation connections, according to Atkins' proposal.
SouthEast's site plan shows 15 acres of public park and plaza space on the riverfront anchoring the private development as well as nine river view corridors from the north and subterranean parking lots that could hold water during a major storm.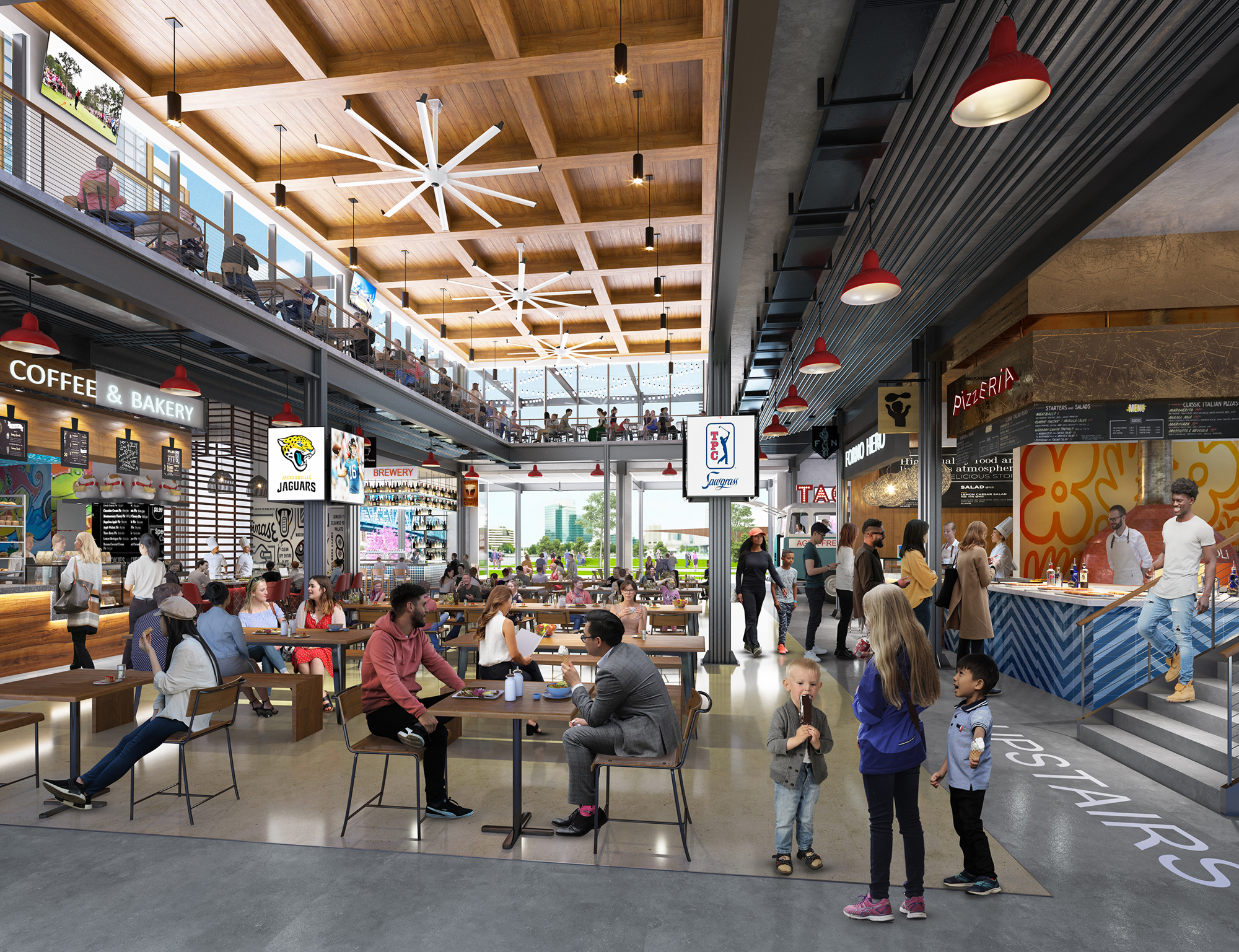 According to Atkins, keeping the hydrokinetic energy generation equipment and facilities privately-owned would make the project's development eligible for tax credit financing and government green energy funding. 
Atkins said the initial private investment in the power plan could be $25 million to $50 million, but he did not have final figures Oct. 20. 
Atkins said his expanded master plan is "everybody's best vision" for the Downtown Northbank. 
The new map combines existing and proposed riverfront developments, including Jacksonville Jaguars owner Shad Khan's Four Seasons hotel, the Museum of Science and History and the USS Orleck warship museum.
"It's an effort so we can show the city, as well as the public, what a collaborative effort looks like in bringing forward a new generation of development for Downtown Jacksonville," Atkins said. 
His proposal would work only as a master-planned development and SouthEast will not bid on piecemeal components as the DIA puts city-owned parcels on the market, Atkins said.
SouthEast's financial partners are investment banking firms Goldman Sachs and Piper Sandler & Co.
He said his Riverfront Jacksonville development partners need a major private sector capital investment opportunity for the project to be worth their time. 
"If you break it up and slice it up into individual small pieces with no guarantee of other investments, it's not enough, frankly, for them to be interested," Atkins said.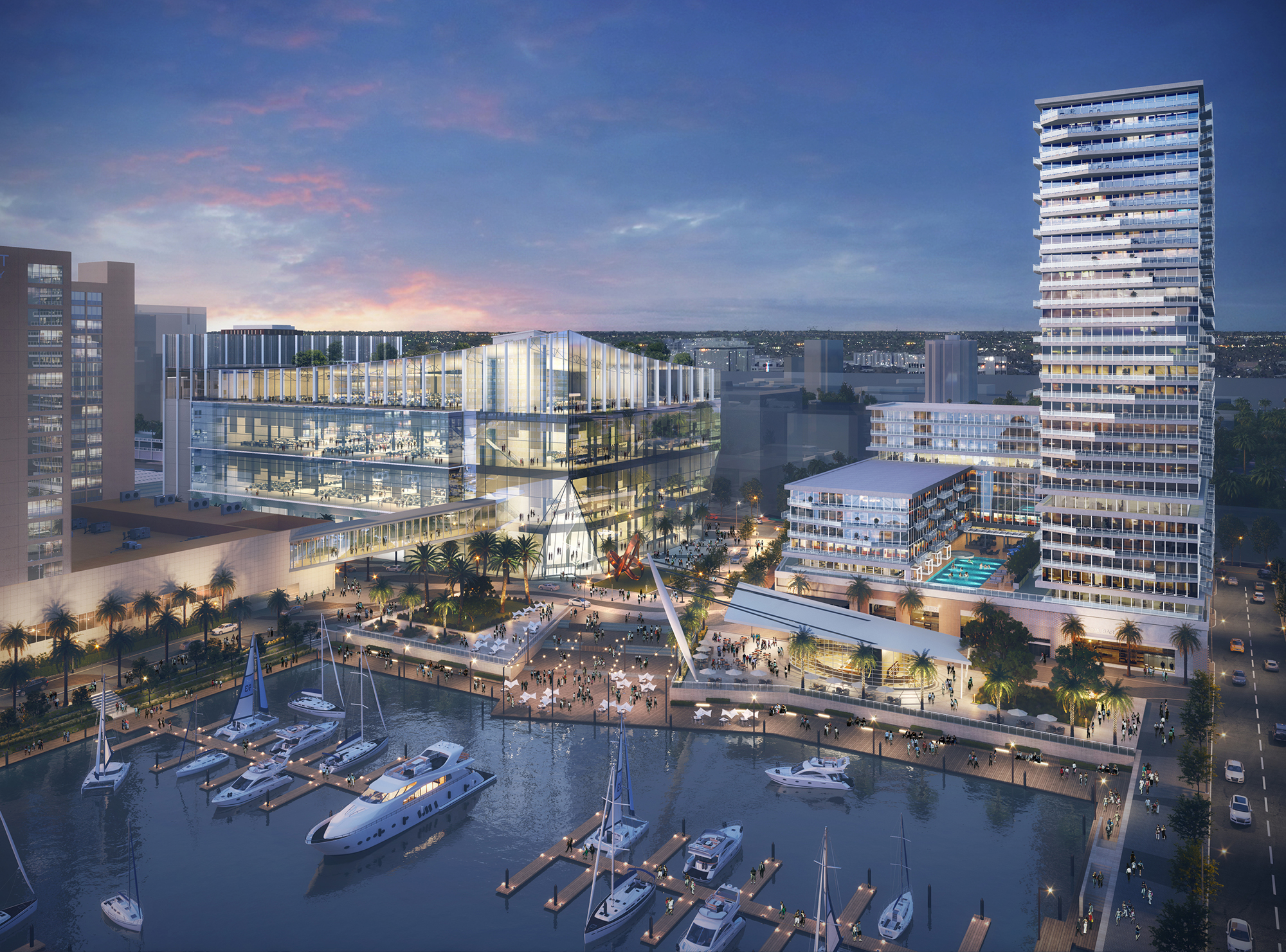 The remainder of the Riverfront Jacksonville consortium includes: 
• Architectural firms Gensler; Nelson Worldwide Inc.; and SWA Architects.
• Civil engineer England-Thims & Miller Inc.
• Danis Construction.
• General contractor Brasfield & Gorrie.
• Civil and coastal engineer Olsen Associates Inc. 
• Parking and planning consultant THA Consulting.
• Legal adviser DLA Piper.
Negotiations
In June, Atkins said the city portion of what was then a $1.1 billion plan would be $536 million. 
Now, Atkins is not committing to a public dollar amount and he said his only request is for the city to vet the proposal.
The DIA board is planning a park at the former Jacksonville Landing site, now Riverfront Plaza. It approved a timeline Oct. 20 to market the former Duval County Courthouse site, called The Ford on Bay.
In SouthEast's master plan, a parcel at 220 E. Bay St. at The Ford on Bay would be used for a 280,000-square-foot exhibition, entertainment and technology center.
In June, Atkins said he's in contact with Hyatt Regency Jacksonville Riverfront parent company Westmont Hospitality Group Inc. that is next to 220 E. Bay St. 
Atkins said his exhibition center concept could solve the hotel group's contractual right of first refusal for the city sale of the vacant property where the Hyatt has shown interest in supporting a convention center.
Atkins said he doesn't plan to submit a bid for the DIA's pending request for proposals for the former Courthouse site.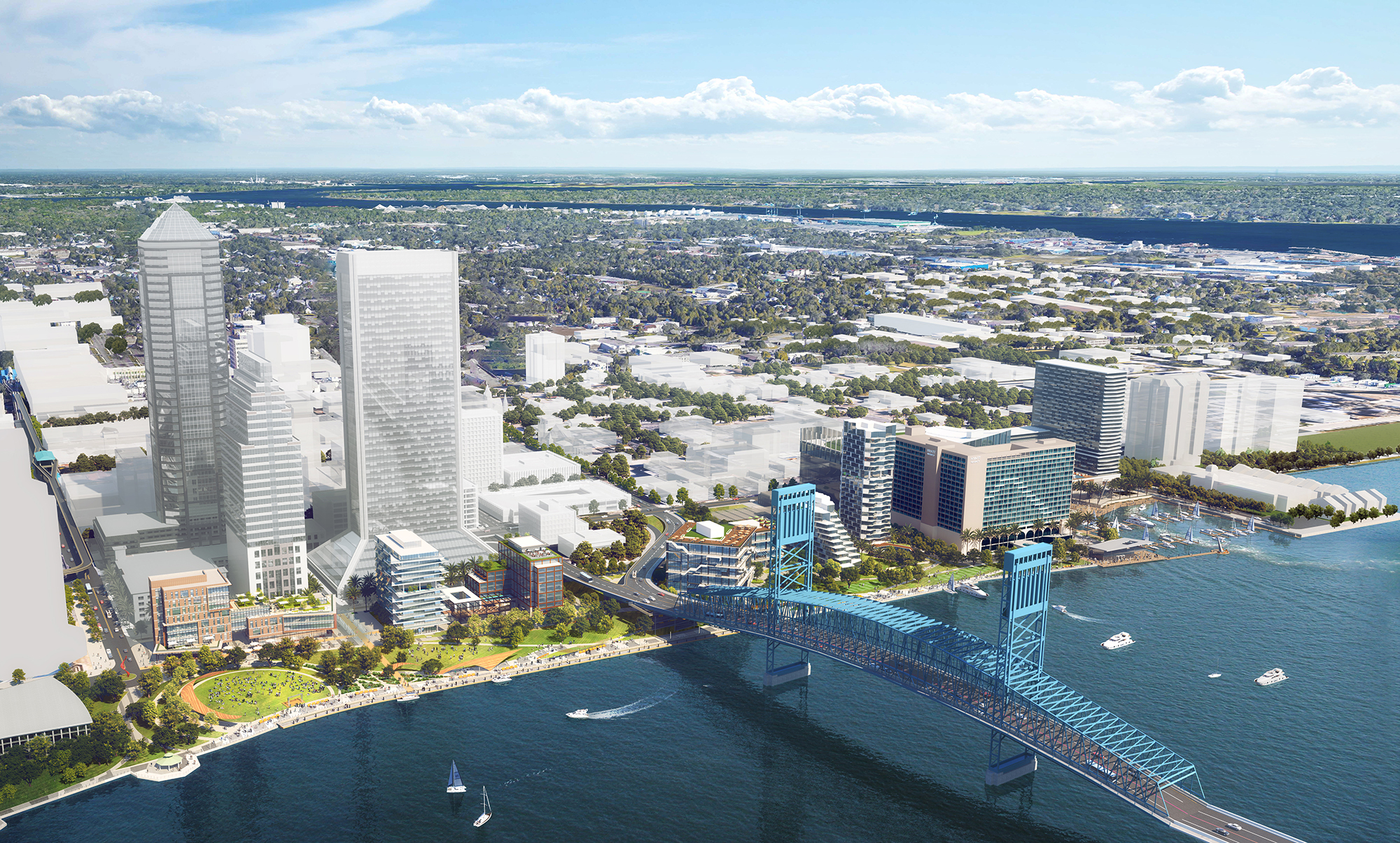 "I think it would be prudent for the city to evaluate our proposal before they take any definitive action on other parcels," he said.
"One of the challenges in going with this piecemeal approach, one parcel at a time, is that you work in silos. And those projects don't necessarily bring the neighboring sites or the riverfront as a whole up to its highest and best use," he said.
In an email Oct. 21, Curry called Atkins' proposal "ambitious" when asked to comment on the Riverfront Jacksonville plan.
"The DIA should hear all proposals from entities who have a willingness to invest in our downtown," Curry said.
Since his June 1 announcement, Atkins has contracted with former city General Counsel, now-Burr & Forman partner Jason Gabriel, as Riverfront Jacksonville's lawyer. 
Gabriel served as the city's top lawyer from 2014 through Aug. 7, when he resigned. 
Boyer did not immediately respond Oct. 21 when asked to comment about the unsolicited master plan proposal.
"I don't really know if it's the public sector's place to decide what goes where and to design the plans for Downtown," Atkins said. "The DIA's role is to vet proposals such as ours as we present them to see if they fit within the goals the DIA has defined." 
The proposal Atkins sent Curry and Boyer includes letters of interest from Hard Rock Hotel North American Hotel Development head Michael Dean and Marriott International.
Statements of support in the package from local builders and developers include Live Oak Contracting LLC; multifamily developer Eastpointe Development Group LLC; and Gulfstream Contracting Group LLC.