Ruby Beach Brewing Co. opened its new location Aug. 5 at 228 E. Forsyth St. because of the owner's belief in Downtown Jacksonville's potential and the continued popularity of craft brewing.
While sitting in his new taproom, watching pedestrians walk by, Ruby Beach owner Mark Vandeloo spoke of how the day was a long time coming.
"Nobody lost more sleep than I did trying to get this place open," he said. 
The pandemic shutdown in March 2020 affected his plans.
Vandeloo and building owner Petra knew it would take time to create a brewery, taproom, event space and patio in the two-story, 3,100-square-foot building that was developed in 1904.
It was not easy, but he considers it worth it.
In December 2019, Vandeloo signed a 10-year lease on the Downtown building.
Plans to move were in the works before the brewery's former Jacksonville Beach location was set to be demolished earlier this year to make way for the Jax Beach Town Center.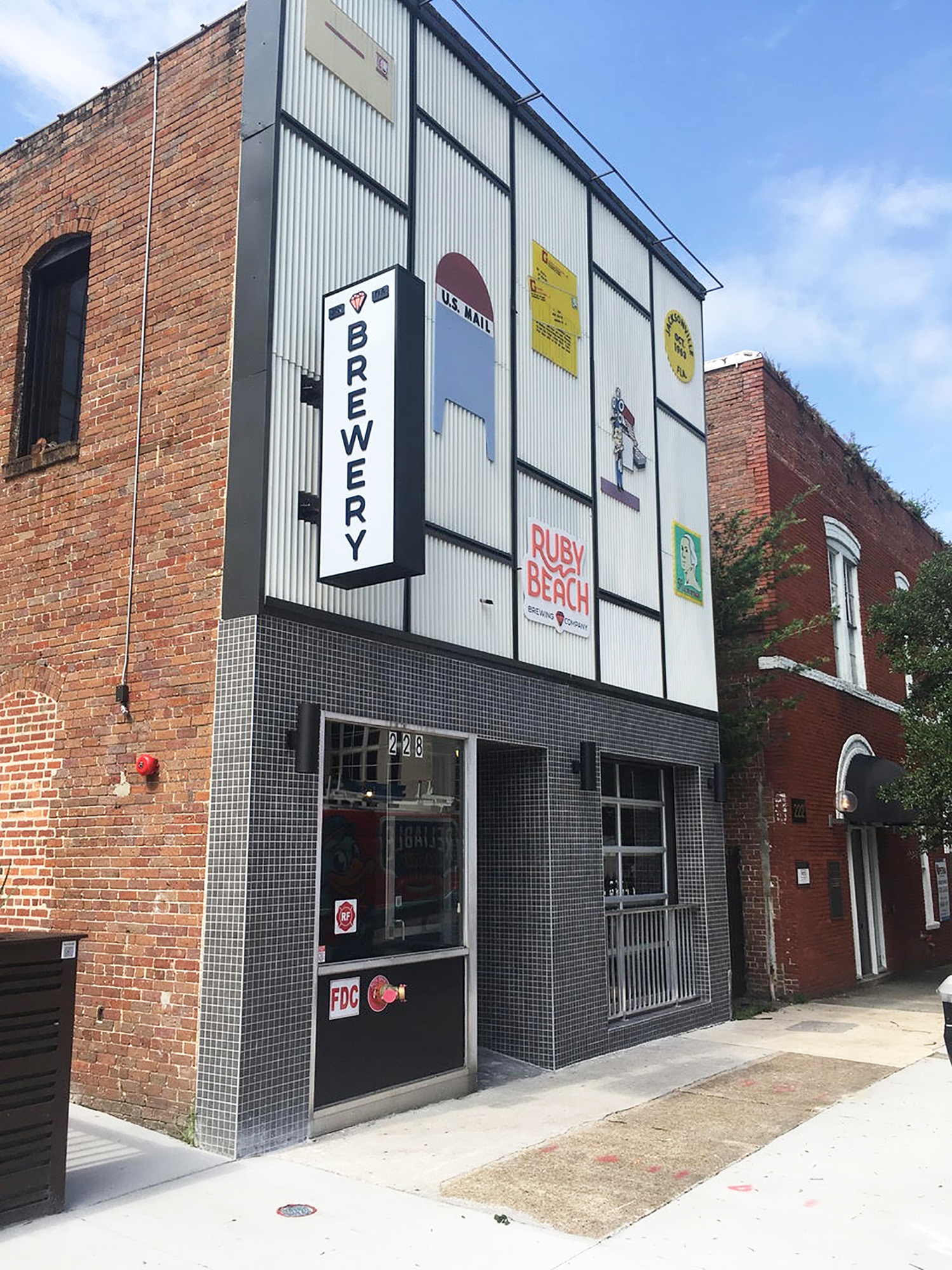 At Jacksonville Beach, Ruby Beach Brewing occupied a restaurant at 131 First Ave. N. that had been known as Zeta and later Zeta Brewing.
The full-service restaurant and brewery was better known for its popular Sunday brunch instead of its beer, much to Vandeloo's frustration.
Zeta Brewing Co. became Ruby Beach Brewing Co. as an attempt to remarket the beer. 
The name came from history. Jacksonville Beach was called Ruby Beach in the late 1800s, named after the daughter of one of the early railroad surveyors, Vandeloo said.
"It needed to identify as a brewery. Beer first. That is a big deal," Vandeloo said.
Construction on the new brewery was planned to start in July 2020, but because of the pandemic shutdown, it was moved up to the spring.
Vandeloo's beer strategy is diversified. In addition to Ruby Beach, it is on tap at area restaurants and sold in cans at Winn-Dixie and Total Wine & More.
"We were open to several areas, not necessarily intentionally leaving the beach. But the more we looked Downtown, the more intriguing it became," he said.
"The location really lends itself to our business model."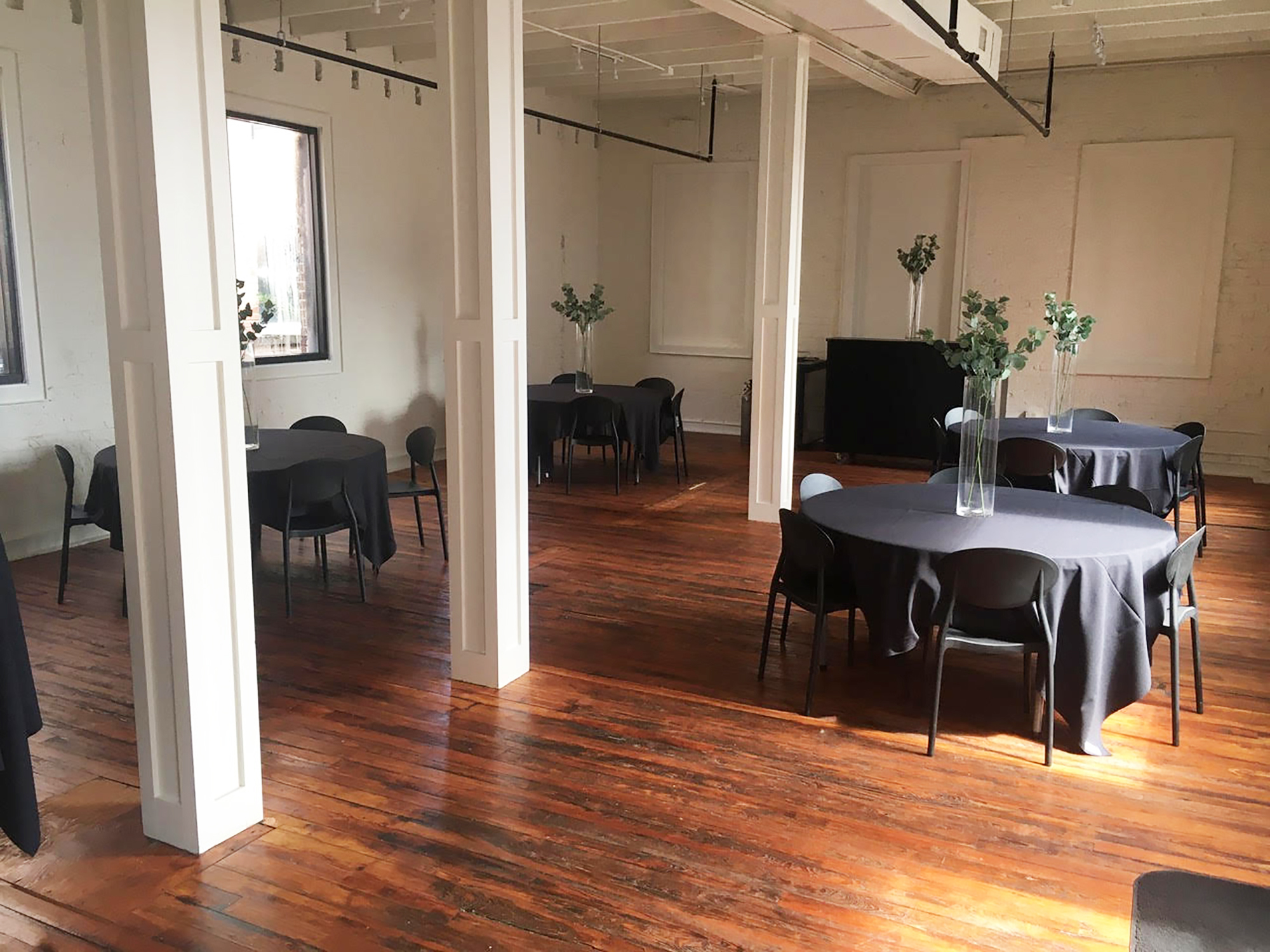 The Downtown renovation
The Downtown building previously was The Letter Shop, a music store that sold vinyl and compact discs. 
Vandeloo removed plaster that was 2 inches thick in places to expose the original brick walls. 
A sprinkler system was installed as well as a support beam that runs the length of the taproom. 
Vertical floor supports were installed in the cellar. 
Vandeloo wants to use the cellar to age stouts in whiskey barrels, a challenge because the ceiling has less than 6 feet of clearance.
On the first floor, the taproom has a small garage door that opens to Forsyth Street. 
The taproom has the capacity for 50 people while the patio can accommodate another 75 customers. 
The patio is a product of COVID. 
Many customers feel comfortable outside relaxing on patio furniture or at several high-top tables. 
The beer garden will expand to have artificial grass and places to play Cornhole and Ladder Golf.
COVID also has changed the way people work. Confident that he'll see more than a couple of laptops on the bar, he installed electrical outlets underneath for easy customer access.
Upstairs, the wood floors are vintage. A drop-down ceiling was removed to add height and show off the original plank wood. 
He estimates the second floor can hold 125 to 150 guests for events.
Vandeloo's experience at his other job makes hosting events at Ruby Beach a natural brand extension. 
Vandeloo is the general manager of Casa Marina Hotel and Restaurant in Jacksonville Beach. 
Petra Vice President Elias Hionides said Corey Brown of CB Creative designed the interior and Ideal Conditions Contracting refurbished the building at an estimated cost of $650,000. 
Vandeloo is partnering with Petra in the Downtown Ruby Beach Brewing Co. location. Setting up the brewery and furnishing and stocking the taproom cost another $40,000-$50,000.
Becoming a local
Ruby Beach Brewing's location is part of the city's Entertainment District known as The Elbow. 
It is a block from the Florida Theatre. When shows return with regularity, Vandeloo expects to be busy before the curtain rises and after the encore.
Several bars, as well as Bold City Downtown, one of t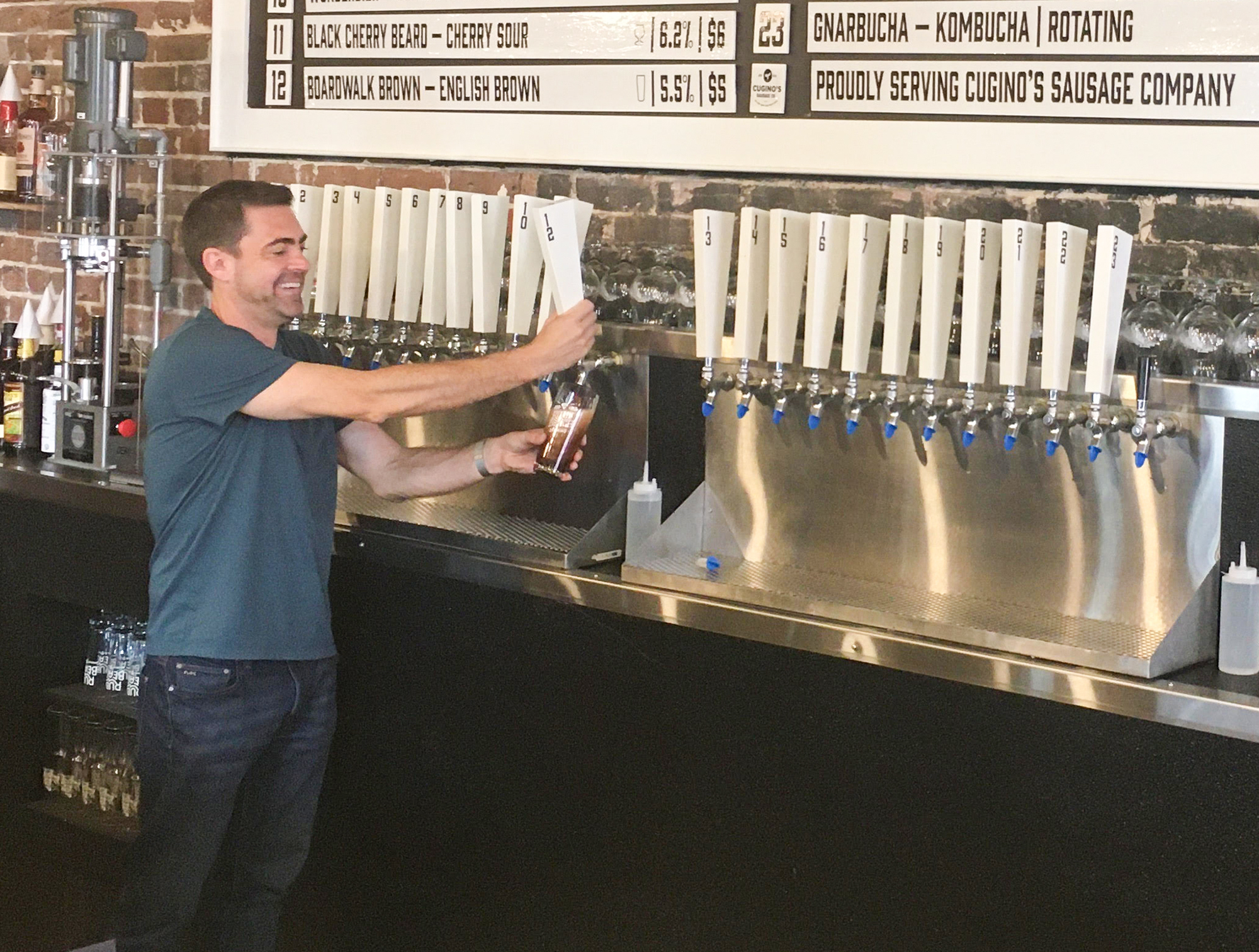 he city's first craft breweries, line Bay Street a block south.
Intuition Ale Works is farther east down Bay Street near the Maxwell House coffee plant. 
Vandeloo considers the other craft brewers as an asset rather than competition.
"It is great what (Intuition and Bold City) have done. They brought the craft beer scene to Jacksonville," Vandeloo said.
"I feel we are a destination. No one is going to come to my place every day. No one is going to sit here for eight hours. I think we compete with other sections of town."
Customers fancying a pub crawl will find the three breweries within walking distance, allowing them to park once and sample a variety of beers.
Ruby Beach Brewing opens at 2 p.m. Monday- Friday and 11 a.m. on weekends. 
Although there is no kitchen, food trucks are on-site regularly even for Sunday brunch. 
While not marketing itself as a sports bar, four TVs will be showing football.
Besides serving its own craft beer, the bar has a full liquor license. With 24 taps, Ruby Beach Brewing can serve a wide array of flavors and styles.
"Craft beer isn't just a lager or a bitter IPA anymore. We have 21-,22-, 23-year-olds who come in willing to pay $8 a pint. They know their beer," he said.
The timing was right to make the Downtown move, Vandeloo said. 
He welcomes the news of riverfront development, more hotels and more Downtown living opportunities. 
He foresees a time when Downtown residents will consider his bar their "local."