When the historic Jacksonville Fire Museum finished its slow roll down Bay Street on March 27 from Kids Kampus to the future Shipyards West Park, it took its place in the city's strategy to make public space on the Downtown riverfront a priority.
The historic building's $1.23 million relocation from 1406 Gator Bowl Blvd. to 620 E. Bay St. is part of the city's $114 million deal to allow Jacksonville Jaguars owner Shad Khan to build his proposed $321 million Four Seasons hotel-anchored development on the 8-acre Kids Kampus site. 
The Downtown Investment Authority plans to swap the former Kids Kampus for 9 acres at Shipyards West, DIA CEO Lori Boyer said in a March 23 email. 

The push for parks started in September 2020 when the DIA board committed to reserve most of the city-owned Shipyards as public park and open space in response to lobbying from community and activist groups.
Two years later, whenever Boyer speaks to Jacksonville business and civic groups her PowerPoint presentation outlines a riverfront vision:
"A series of large signature parks and smaller unique nodes all connected by a welcoming and accessible Riverwalk that together form an extraordinary Riverfront destination for residents and visitors."
The DIA says the park system will be "enhanced by interspersed private developments that bring activity, safety, dining and people to the waterfront and assist with funding of programming and maintenance."
Parks and 'private development surge' 
The DIA, city Department of Public Works and Parks, Recreation and Community Services Department have nine signature riverfront parks on the Downtown Northbank and Southbank in planning, design or construction.
The city is advertising a Request for Proposals to hire a firm to redesign the nearly 16.7-acre Metropolitan Park east of Khan's proposed hotel, Boyer said.
The Museum of Science and History's planned $85 million move to the Northbank Shipyards has about 1½ acres set aside for shared outdoor public space in exchange for a city land lease agreement. 
For Shipyards West, the city is in contract negotiations with Agency Landscape + Planning LLC to design the space that also will be home to the Jacksonville Naval Museum's USS Orleck. The museum ship arrived in Jacksonville on March 26. 
In December, the city finalized a contract with Perkins & Will Inc. to complete designs for a 7-acre public park on the water at Riverfront Plaza —  the former Jacksonville Landing site.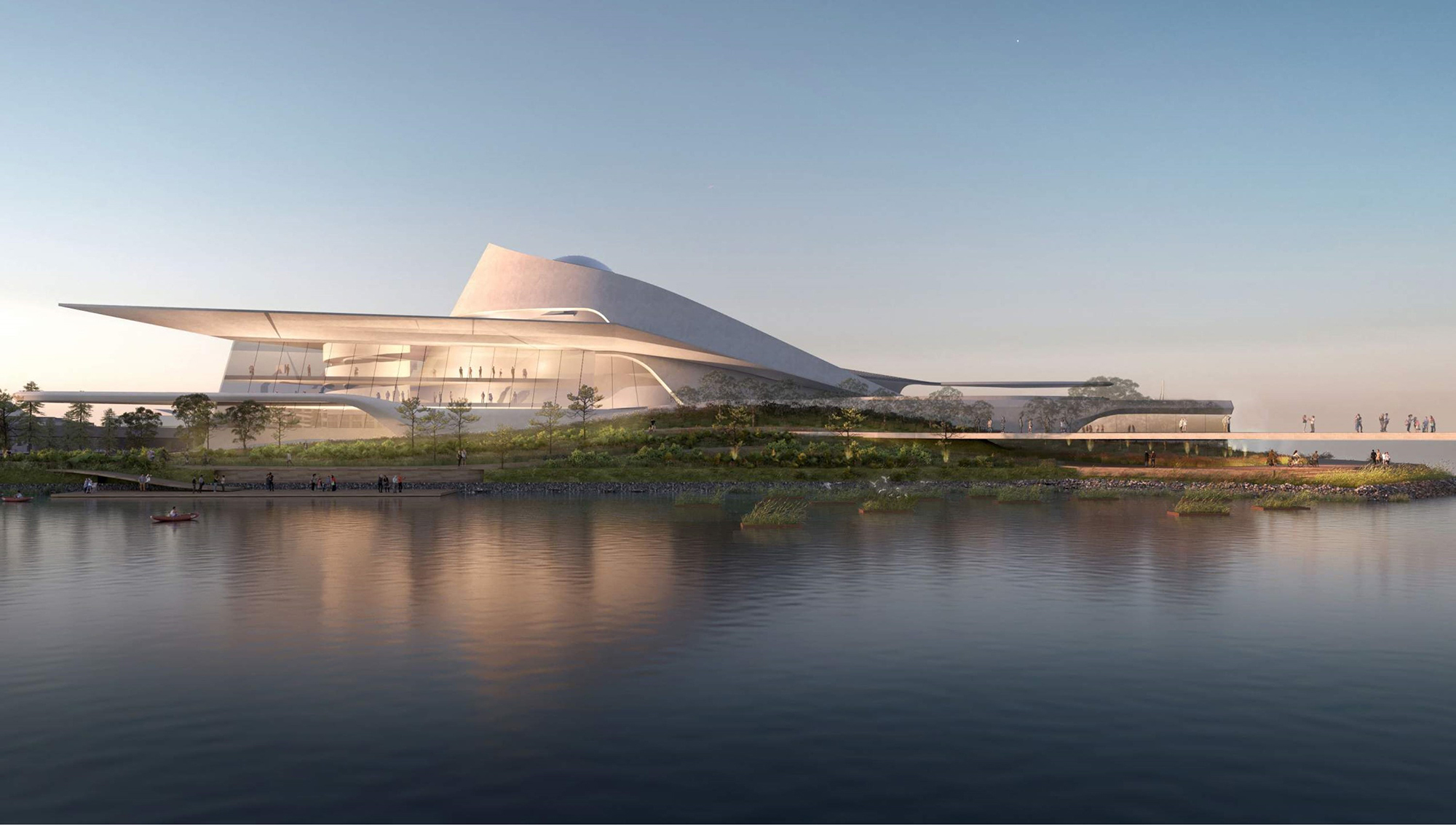 The DIA also has a city park in its plan to restore McCoys Creek on 4.95 acres as part of Fuqua Development's project to redevelop the former Florida Times-Union site in Brooklyn into retail and apartments.
Construction is underway on a Musical Heritage Garden on the Northbank Riverwalk at the Times-Union Center for the Performing Arts, as well as renovation of St. Johns River Park and Friendship Fountain on the Southbank.
The master plan for Preston Hollow Capital's mixed-use RiversEdge project, formerly The District, on the Southbank also shows a park on the river that Boyer said should begin construction in 2022.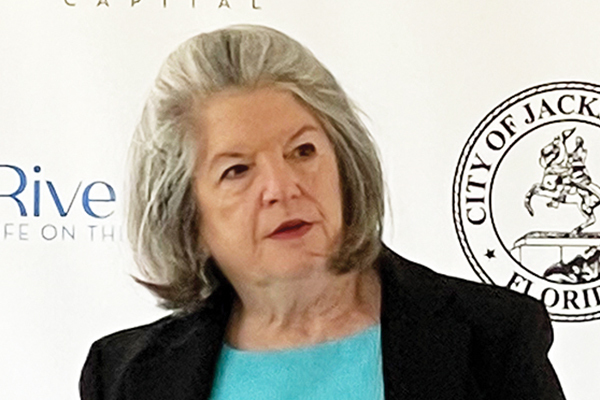 Boyer says there is an economic reason for urgency when it comes to building new parks and improving public space Downtown.
"I think it's important that they are timed to coincide with this private development surge," Boyer said Jan. 24. 
"With the amount of interest and investment we have privately in new construction, accelerating those projects and doing it holistically, I think is really valuable."
In February, the DIA board adopted a Downtown parks master plan into a five-year update of its Business Investment & Development Strategy and Community Redevelopment Area Plan.
The board voted in December to incorporate the nonprofit Jessie Ball duPont Fund's Jacksonville Riverfront Activation Plan as part of the update. 
In Downtown more broadly, the DIA contracted GAI Consultants Community Solutions Group to inventory existing neighborhood parks in Downtown and identify where there is a need for public space and programming. 
Boyer said DIA intends to ask city administration officials April 25 for permission to file legislation with City Council to approve the five-year update.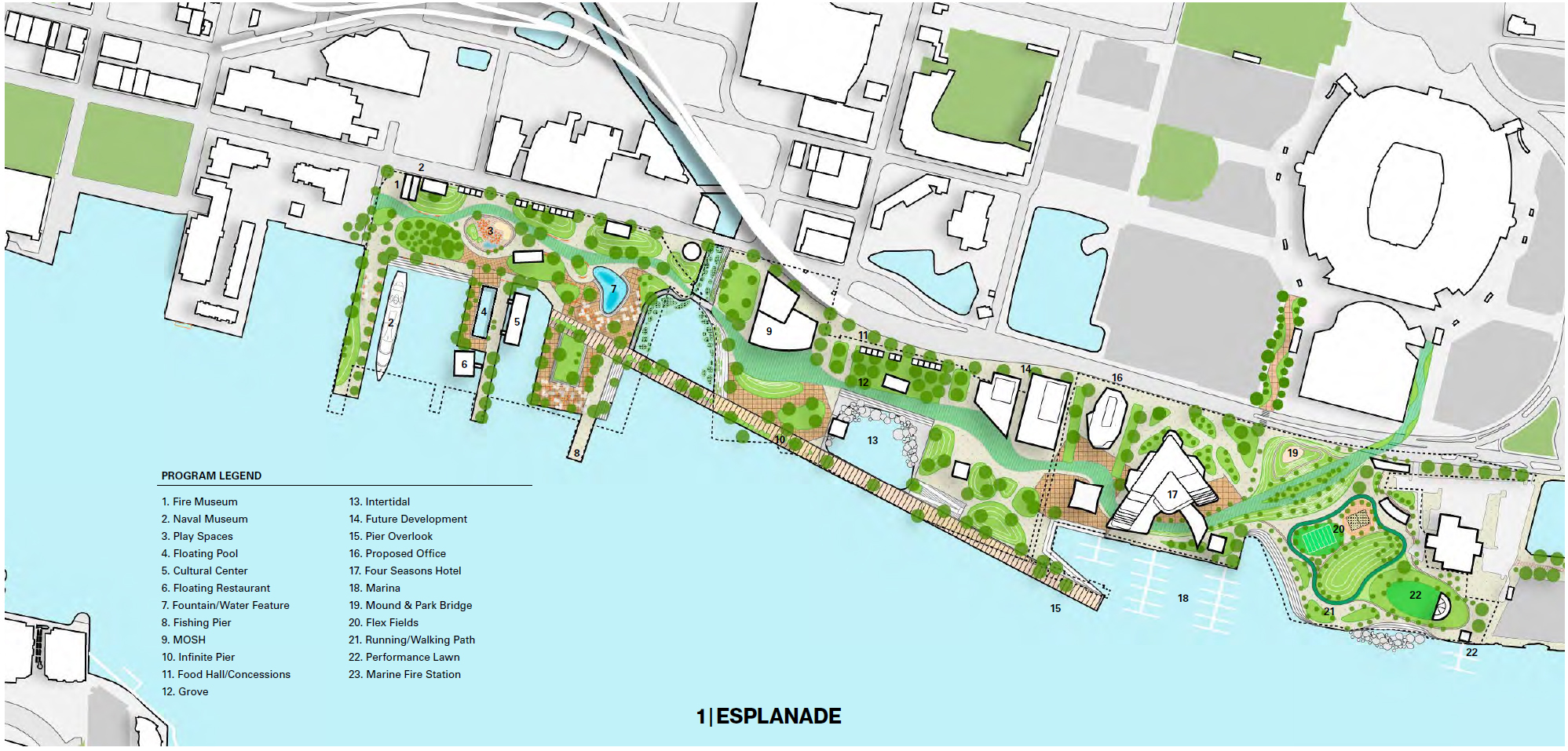 The Esplanade 
The duPont Fund's yearlong study of Jacksonville's Downtown riverfront public spaces took President Mari Kuraishi and her staff to City Council town hall meetings and "a lot of church basements."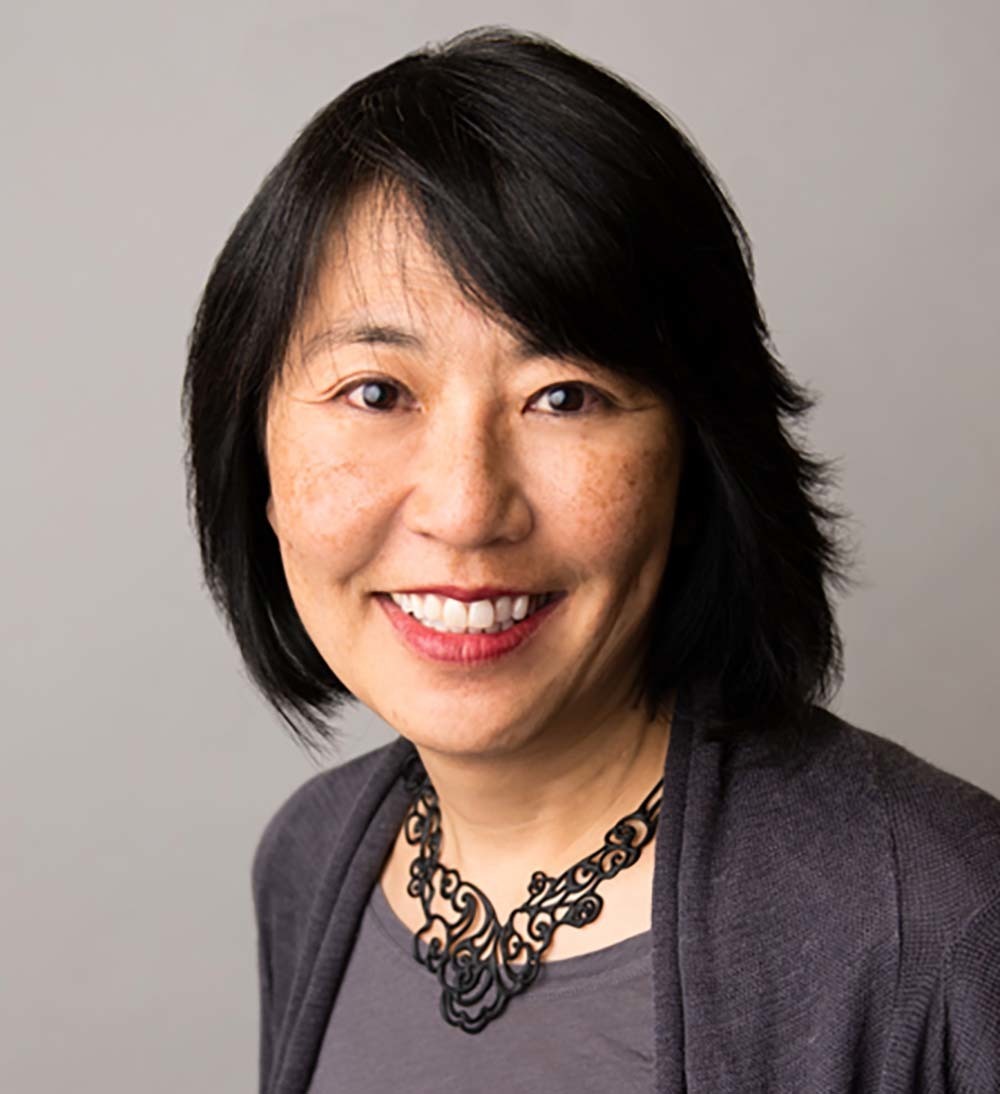 Starting in January 2021, the nonprofit spent nearly $500,000 on a report to give city leaders a better grasp on what is needed to connect and draw people to the Downtown riverfront and create what the duPont Fund calls "inclusive spaces."
Kuraishi said in January duPont Fund staffers and researchers walked the Downtown waterfront, took river taxi tours and asked residents citywide what amenities they want on the Northbank and Southbank of the St. Johns River.
"I feel some obligation having asked their opinion — I mean, I took up their time," Kuraishi said. "So I really do feel an obligation to do whatever we can to be responsive." 
The first part of the study completed was The Esplanade — the stretch of land from Metropolitan Park through the Shipyards to the USS Orleck museum.
The Esplanade incorporates concessions and a food hall; entertainment and activity spaces; the MOSH and Four Seasons public spaces; a riverwalk extension; and Metropolitan Park. 
The DIA contributed $60,000 to the study, which Kuraishi said allowed duPont Fund to "front load" the study and finish The Esplanade plan to allow the city to move on the Four Seasons and MOSH projects.
"We try to create a sense that it all hangs together and you can … walk your way through it," Kuraishi said. 
"If it all comes to pass, that would be the biggest park on the Northbank."
Kuraishi said if the city executes the Esplanade proposal and the more broad signature park plan, it would mean 48 acres of interconnected public land on the Downtown Northbank
Neighborhood parks 
In its report, GAI identified a need for about a dozen new parks and public spaces throughout Downtown. 
They include dog runs or dog parks in LaVilla, Brooklyn, the Cathedral District and the Southbank; a multipurpose sports court and shaded outdoor seating in the LaVilla; a multipurpose lawn and water feature in the Church District; and completing a planned extension of the Southbank Riverwalk to the RiversEdge development.
The report also noted a need to fund maintenance and programming for existing parks and moving forward with planned marsh front and community parks in RiversEdge.
Boyer told board members in December that the report does not land-bank any city-owned parcels for parks beyond what is already planned, but is meant to show city leaders and community members the general area where a park would be most effective.
Trends and talent 
At a JAX Chamber leadership trip to Toronto in 2017, Boyer heard Canadian leaders say they wished the city had addressed parkland and transit issues before it experienced what they saw as a downtown renaissance years earlier.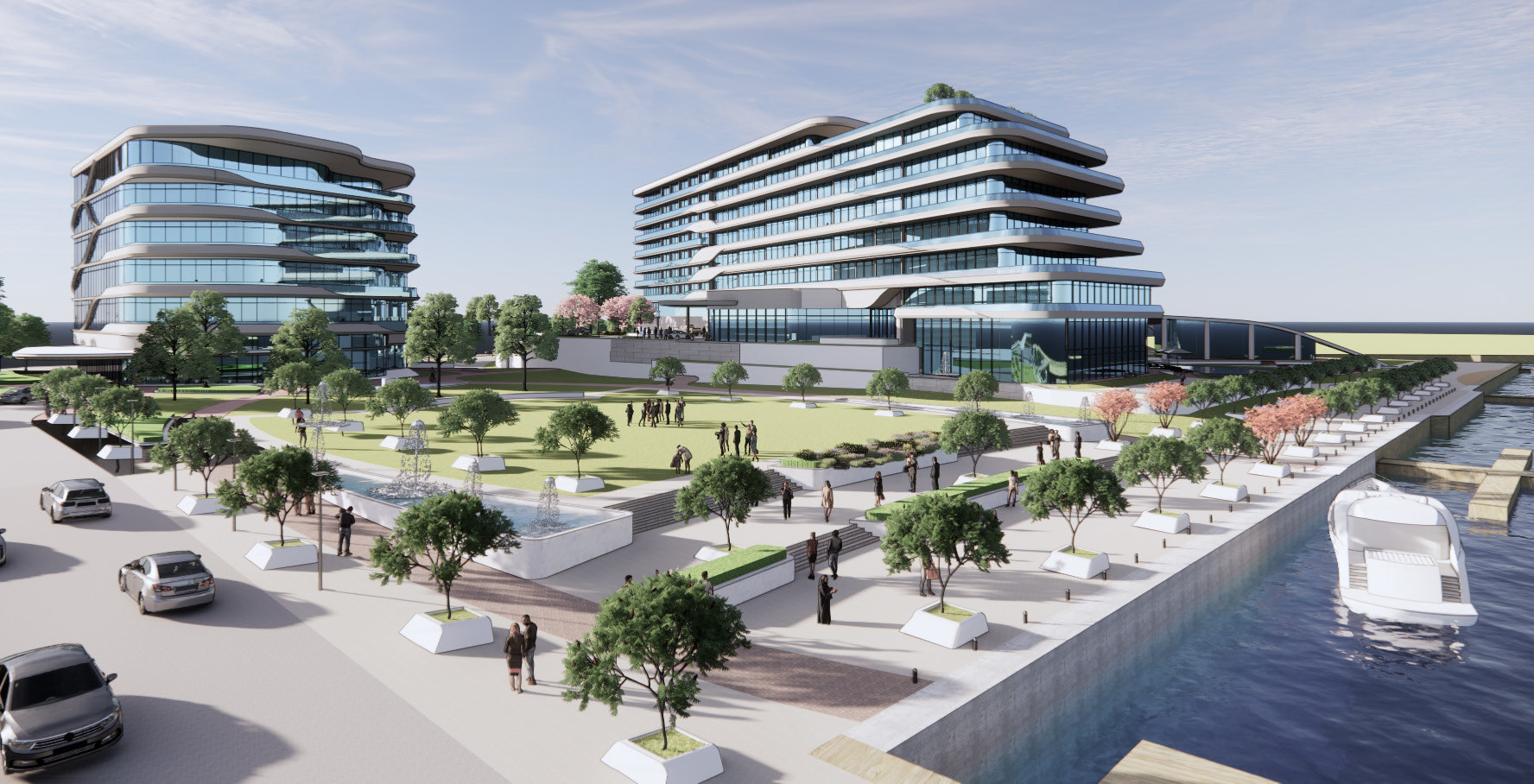 "They said both of those were so hard to retrofit after you already had people (residents) there," Boyer said.
Another Chamber trip to Oklahoma City in 2016 showed Boyer that the trend nationwide is moving from dense private development along urban riverfronts in favor of more publicly accessible green space.
Boyer said parks generate property value for adjacent landowners and businesses and would bring more people to Downtown Jacksonville, impacting retail and restaurant sales and hotel room rates and occupancy.
"I believe the Shipyards West Park will substantially increase the land value of the jail and Police Memorial Building across from the site, which makes it more feasible for its redevelopment to help fund relocation," Boyer said.
Kuraishi says public access to the river Downtown will aid Jacksonville's ability to bring more companies to the urban core by growing the employee talent pool. 
"Absolutely, let's go out there and entice companies to move, but they're going to be persuaded more and more when they see young people flocking to town," Kuraishi said.
Money for plans
The mayor's office is scheduled to have its 2022-23 fiscal year budget kickoff meeting April 1.
It will lead to a five-year Capital Improvement Plan that could determine what the city is willing to spend on the DIA's park plan. 
According to Boyer, the general number for funding construction of a park under prepandemic market conditions was $3 million per acre. 
Boyer said March 23 that the city is directing Agency Landscape + Planning to assume a $2.5 million per acre budget when it designs Shipyards West, not including riverwalk construction. She said that design could take nine months.
Khan has committed $200,000 annually over 20 years for maintenance at Metropolitan Park as part of the Four Seasons deal, but Boyer said the city won't know the cost of construction until the design is ready.
The city has budgeted $15 million for Perkins & Will's "One Park Jax" project at Riverfront Plaza plus $2 million for a pedestrian ramp to the Main Street bridge.
That figure does not include money for the park's proposed centerpiece sculpture.
The DIA's budget could allot $500,000 per year for existing park maintenance and $500,000 for programming, but that is subject to Council approval. More funding also will be needed in future CIPs to execute the DIA's full vision.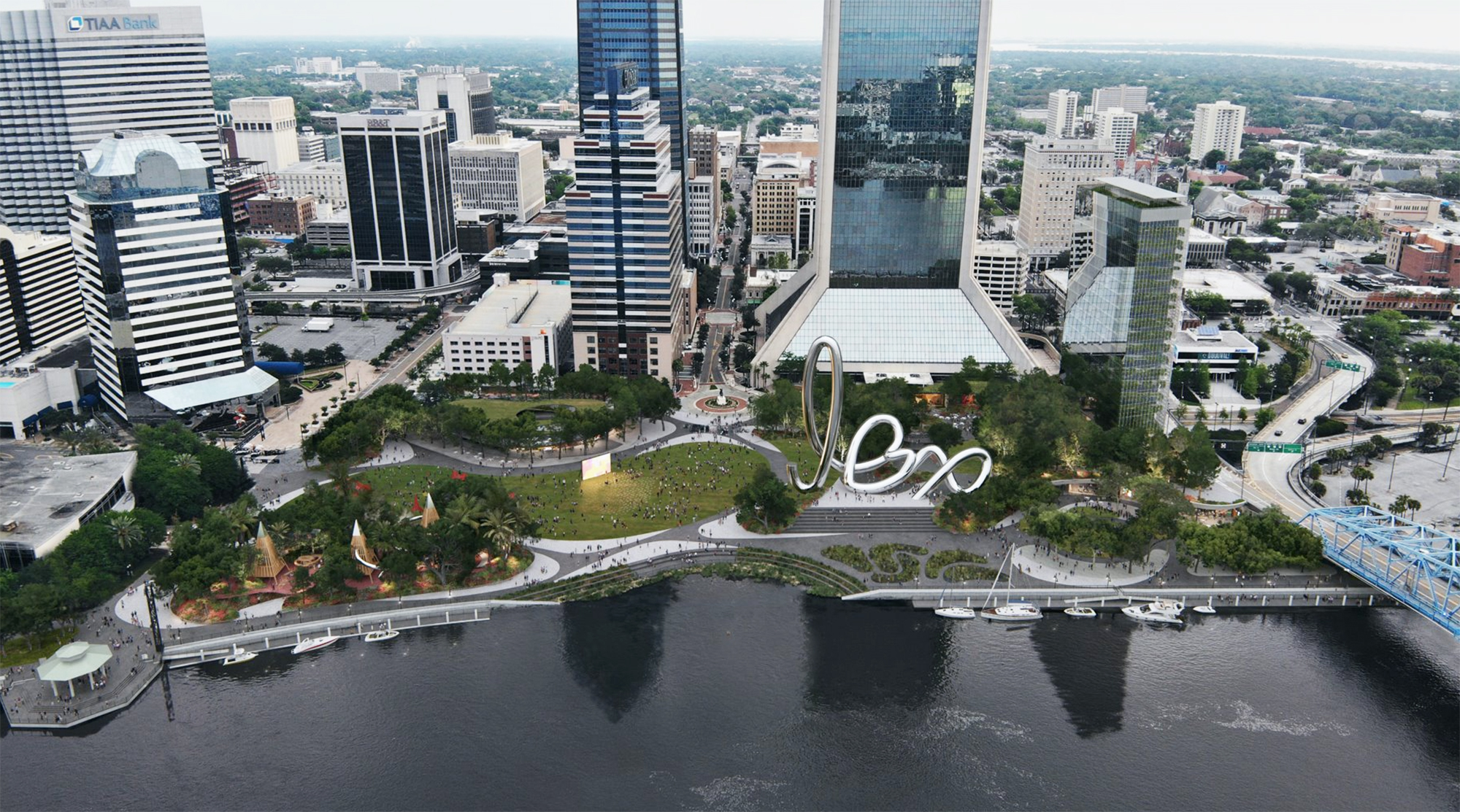 The city's showpiece
Advocacy groups, like the nonprofit Riverfront Parks Now and Scenic Jacksonville, began pressing the issue of public space along the river with the DIA in early 2020.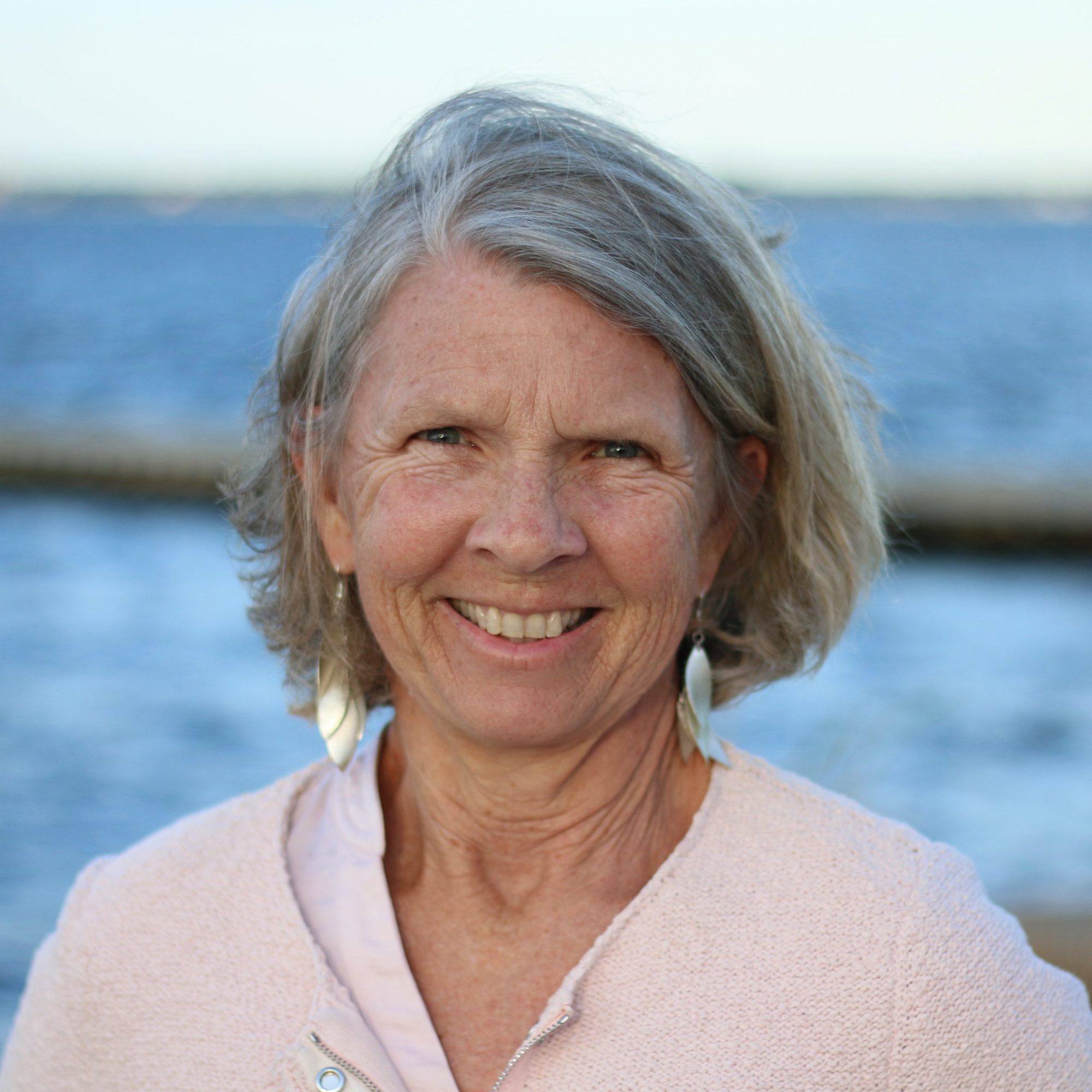 Scenic Jacksonville Executive Director and Riverfront Parks Now member Nancy Powell was a stakeholder group member in the duPont Fund's study.
Powell said Jan. 24 her organization thinks the time is right because Jacksonville has healthy property tax revenue from strong economic growth to pay for Downtown parks and, possibly, more federal money from the $1 trillion bipartisan infrastructure bill approved in January and from the American Rescue Plan. 
"The St. Johns River, of course, is our showpiece," Powell said. 
"Those are opportunities that could be transformative if we invest in them and do it right."
Powell said she has seen signs of a shift in the city's policy in recent years to a more balanced approach between public space and private development along the river.
"They've recognized that the public realm can help support the private realm and overall Downtown," she said.