A subsidiary of Italy-based international shipbuilder Fincantieri Group has asked the city for a $1.5 million tax incentive for its nearly $30 million project at 2060 E. Adams  St. along the St. Johns River.
The Downtown Investment Authority board's Strategic Implementation Committee is scheduled to consider the request at its April 14 meeting, according to the meeting's agenda packet.
Fincantieri Marine Repair LLC, a subsidiary of Fincantieri Marine Systems North America, told city officials it will invest $29 million in the facility between the Mathews and Hart bridges where the company says it will repair and conduct maintenance on ships and large vessels.
According to the DIA term sheet released April 7, Fincantieri Marine Repair is responsible for paying any incremental property tax increases as a condition of its long-term lease agreement with Commodore Point Properties Ltd. for the 31-acre site.
The term sheet says the base property value before the Fincantieri improvements is estimated at almost $5.5 million. 
That makes the marine maintenance company eligible for the city tax incentive.
The Recapture Enhanced Value grant, which is an ad valorem property tax refund, would be 50% over 10 years, the term sheet says.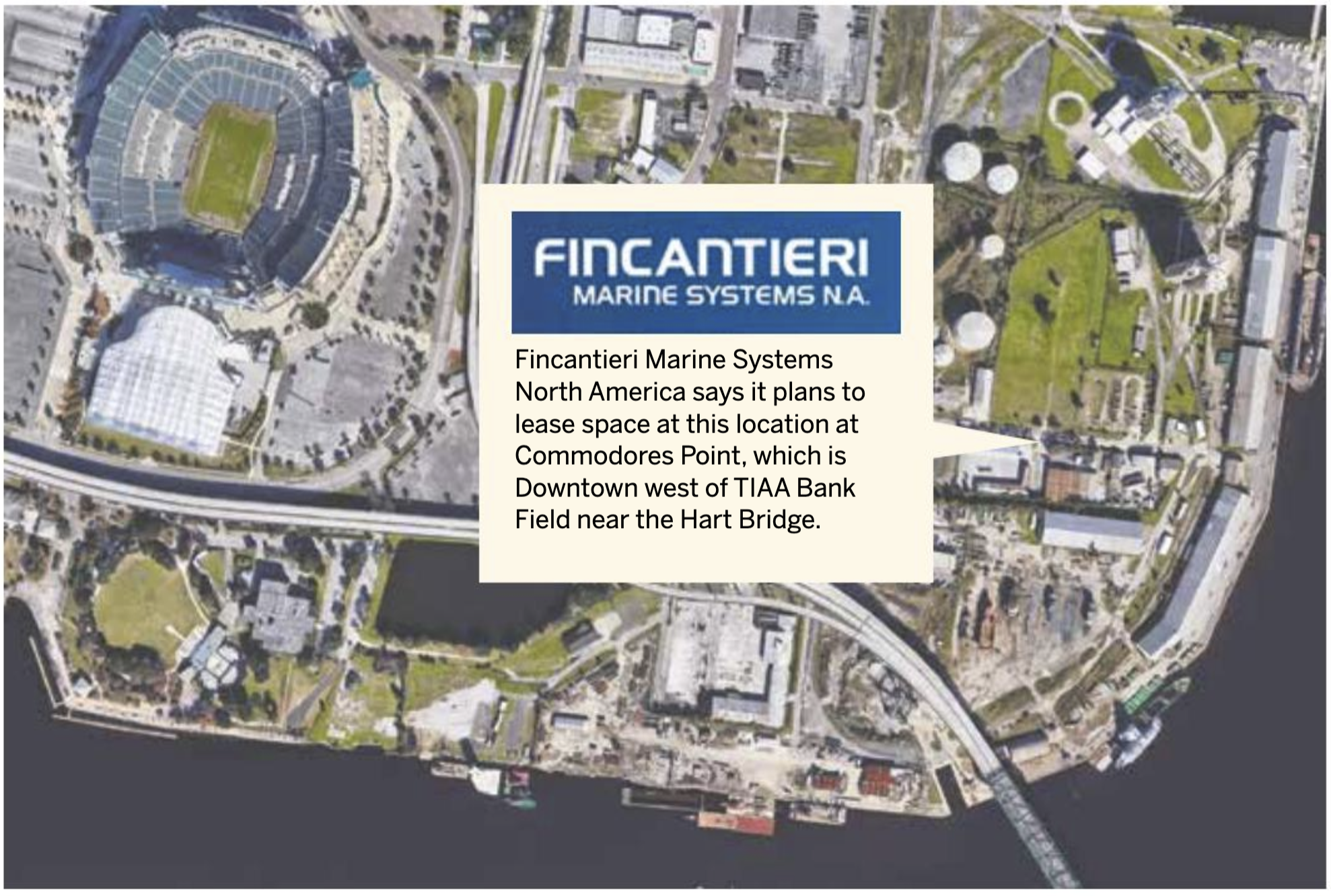 If approved by the committee, the resolution could be sent to the full DIA board for final approval as soon as April 20. 
This would not be the only city incentive awarded to the Fincantieri operation. 
City Council adopted a resolution in May 2020 to execute a development agreement with what was then code-named Project Academy for a Qualified Target Industry Tax Refund grant of $1.5 million, or $5,000 a job. 
The deal had $300,000 from the city and the remainder from the state.
Eric Dent, Fincantieri director of communications, said Jan. 13 that the company will bring more than 300 jobs to Downtown Jacksonville at what is expected to be a $39 million marine repair operation.
William Colledge, vice president of operations at Commodores Point Properties, said in a Jan. 24 email that the two companies will make a joint investment in the waterfront infrastructure.
Fincantieri Marine Systems N.A. Business Development and Sales Coordinator Megan Michal Ehlers said in February that the property has been operating as a shipyard for more than 30 years. 
North Florida Shipyards previously leased and operated the site as a ship repair and conversion since 1977.
"Fincantieri Marine Repair" signs were posted on fences at the property early this year.  
Headquartered in Genova, Italy, Fincantieri Group's U.S. operation is based in Chesapeake, Virginia. 
The company says on its website that it has four service centers close to naval bases in San Diego, Mayport, Bahrain and Japan and serves commercial and government customers in the U.S.
The DIA term sheet says the company has more than 20 locations worldwide.