The Downtown Investment Authority board voted 5-0 on April 20 to approve a combination of forgivable and deferred principal loans totaling $1.23 million to partially finance a $5.133 million headquarters project at 1001 Kings Ave. on the Downtown Southbank.
The taxpayer-backed incentives package is proposed to assist ALE Kings Holdings LLC cover building renovation costs for online furniture dealer Industry West's new showroom and offices and for Breeze Homes.
The deal is headed to City Council. 
If approved by Council, ALE Kings Holdings would receive: 
• A $257,200 Historic Preservation, Restoration and Rehabilitation Forgivable Loan.
• A $728,200 Code Compliance Forgivable Loan.
• A $246,360 Downtown Preservation and Revitalization Program Deferred Principal Loan.  
The DIA staff term sheet shows $4.813 million of the total development costs are eligible for the incentives from the agency's Downtown Preservation and Revitalization Program. 
The city would be financing 23.9% of the project through the incentive deal. 
The developer is putting $705,303 in equity into the project, according to the term sheet.
DIA board Vice Chair Carol Worsham said the project's code compliance costs are an example of why historic redevelopment incentives are needed to rehab vacant landmark buildings Downtown.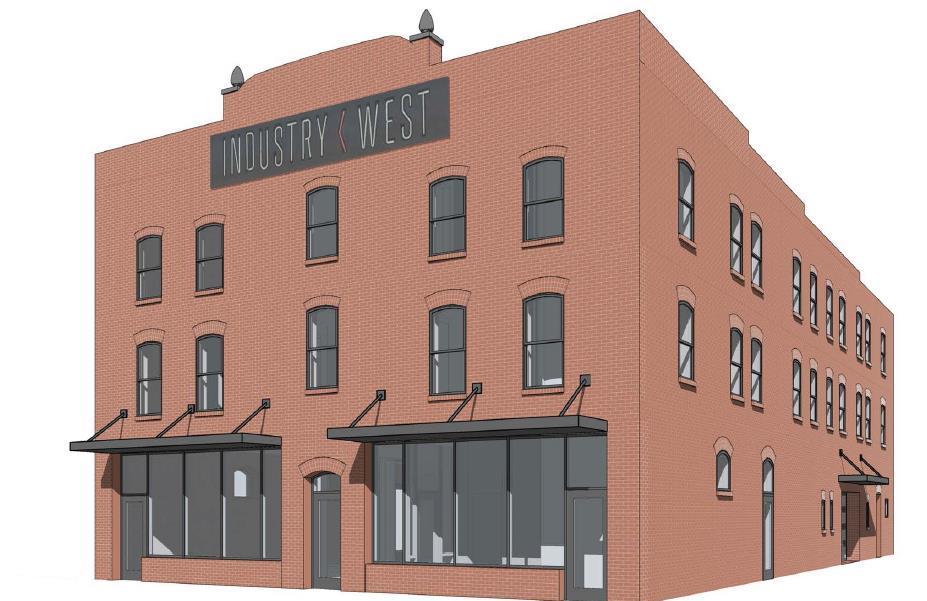 "These buildings have such a difficult time meeting existing code — fire, safety, ADA," Worsham said. "Without it, these buildings would not be being renovated because to meet that code is almost impossible without this program." 
The term sheet shows that $970,999 of the $2.519 million construction budget is to bring the building into code compliance.
"I'll be glad to see this corner developed. It's been pretty vacant for years," said DIA board member Craig Gibbs.
Board member Ron Moody abstained because of a professional relationship with ALE Kings Holdings. 
Board Chair Braxton Gillam, and member Jim Citrano were absent from the meeting.
Industry West co-founders Jordan and Anne England and The Corner Lot Companies CEO Andy Allen and COO George Leone formed ALE Kings Holdings LLC to develop the project.
Industry West moved from its former headquarters 1407 Atlantic Blvd. in nearby San Marco Square and is operating from a temporary office at its warehouse at Cecil Commerce Center, Allen said.
After renovations, Industry West will occupy the first two floors with showroom, office and creative space.
Breeze Homes, part of Corner Lot Development Group, will occupy the third floor with 12 employees.
Allen said April 21 that the companies hope to move into the Kings Avenue building before the fourth quarter of 2022.
The three-story brick building was developed before 1912 and is one of the few remaining commercial buildings reflecting the old City of South Jacksonville of 1907-32.
Council issued the building's historic landmark status in 1999.
The city issued a permit Nov. 12 to River City Contractors for a nearly $1.76 million interior build-out of the building at southeast Kings Avenue and Prudential Drive.
Bold Line Design LLC of Ponte Vedra is the architect.
Plans filed with the permit show alterations of 11,702 square feet, comprising 4,089 square feet on the first floor, about 3,644 square feet on the second level and 3,969 on the third floor.
ALE Kings Holdings bought the Kings Avenue property July 6, 2021, for $2.25 million. South State Bank issued an almost $3.6 million mortgage Sept. 30, 2021.
The Englands and Allen also own Industry West's Atlantic Boulevard headquarters, which is in review for renovations into the Fore Score Golf Tavern.
They bought the 4,300-square-foot San Marco Square building in 2017 and Industry West moved there in 2018 from a smaller leased space nearby.
Jordan and Anne England started the company as an e-commerce venture, moving from home to leased space and then to San Marco Square.
The 11-year-old Industry West has grown to 42 employees and sales in 2021 of $35 million to $40 million.
The e-commerce company describes itself at industrywest.com.
It "curates modern, artisan-crafted furniture and decor, with an emphasis on high-design."
Editor Karen Brune Mathis contributed to this report.