Sellers continued to find the residential real estate market in their favor in the first quarter of 2022.
The median sales price was up, sellers scored their listed price or more, and houses sold on average in less than three weeks.
The Northeast Florida Association of Realtors compiles monthly home sales data for the six-county region of Baker, Clay, Duval, Nassau, Putnam and St. Johns counties.
The median sales price rose 25.1% to $357,000 from $285,400 in the first quarter of 2021.
St. Johns County had the highest median price at $508,500, which is 25.2% higher than $406,000 in the first quarter of 2021. 
Putnam County's median price was $214,500, a 25.4% jump from $171,000.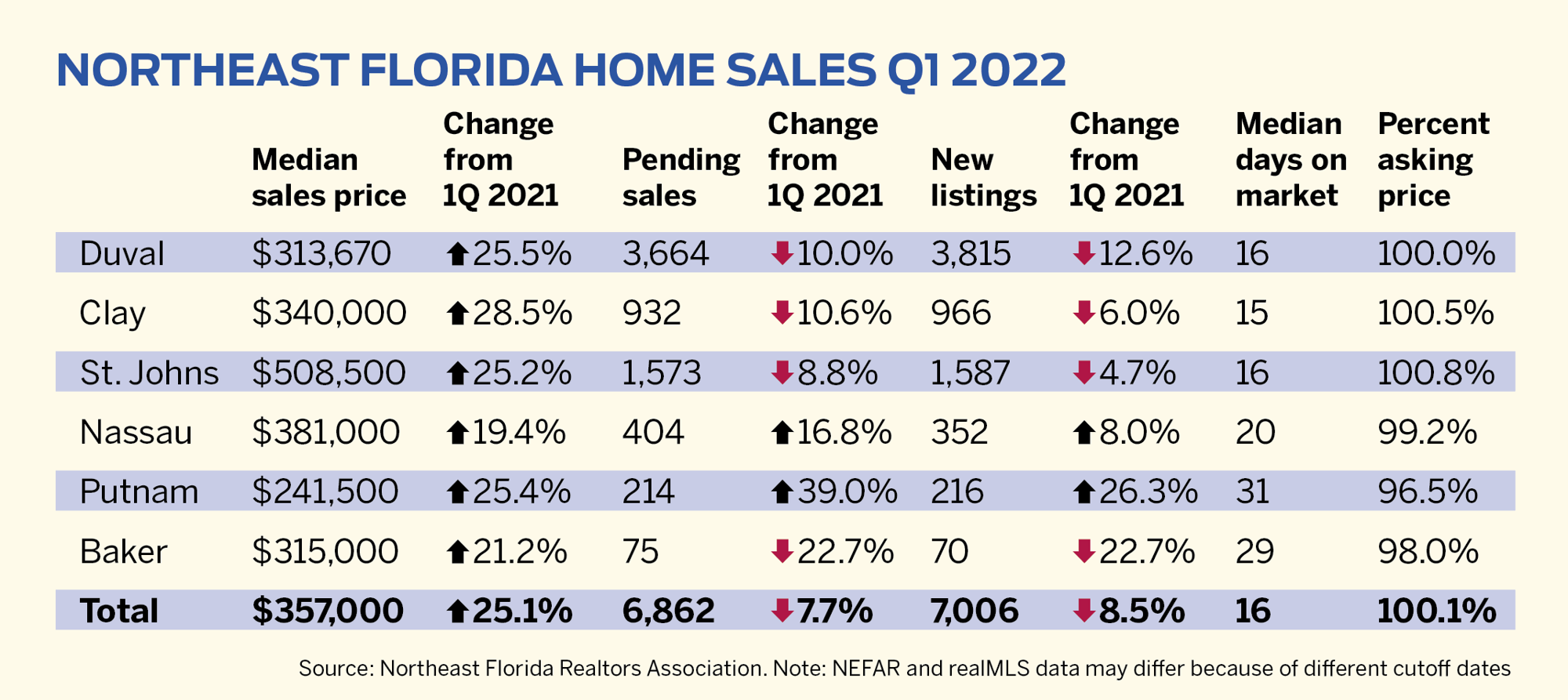 The price increases may not last.
"My projection is that with interest rates increasing due to inflation, there may be a slight drop in the median sales price in the coming months," said Diana Galavis, NEFAR president-elect.
"Inflation will continue to raise interest rates slightly and may pull back the rapid increases in a home sale prices," she said.
Inflation rose from 2.6% in the first quarter of 2021 to 8.5% now, while the interest rate on a 30-year fixed-rate mortgage increased from 3.575% to 4.86%.
So far in the region, most sellers received at least their listing price.   
And 35.2% received more than the asking price, compared with 20.2% in 2021.
The median number of days a house remained on the market was 16 days, similar to 17 days in 2021.
The cost per square foot rose by 27.2% from $151 to $192.
The trend meant that buyers and Realtors found a tight market.
In the first quarter, pending sales fell 7.7% from 7,433 in 2021 to 6,862 this year. New listings dropped 8.5% from 7,655 to 7,006.
The Housing Affordability Index, which measures whether or not a typical family earns enough income to qualify for a mortgage loan on a typical home, fell from 124 last year to 91, a drop of 26.6%.
St. Johns County fell from 86 to 64. 
Duval County dropped from 141 to 104.