With the COVID pandemic, workers were no longer tied to their offices, so many decided to move.
Florida's climate, affordability and less stringent masking rules made the market attractive.
Even with increasing interest rates and inflation, which previously would slow homebuying, low inventory is keeping the market brisk.
Due to work stoppages and supply chain interruptions caused by the pandemic, new housing starts and more importantly, completions, are fewer and taking longer. 
Houses that used to be completed in nine months now can take almost twice that long.
Necessities like windows, doors and garage doors are in short supply. 
Appliances are another holdup with a shortage of components to make them, said Kris Cook, vice president of construction for the MasterCraft Builder Group of St. Augustine.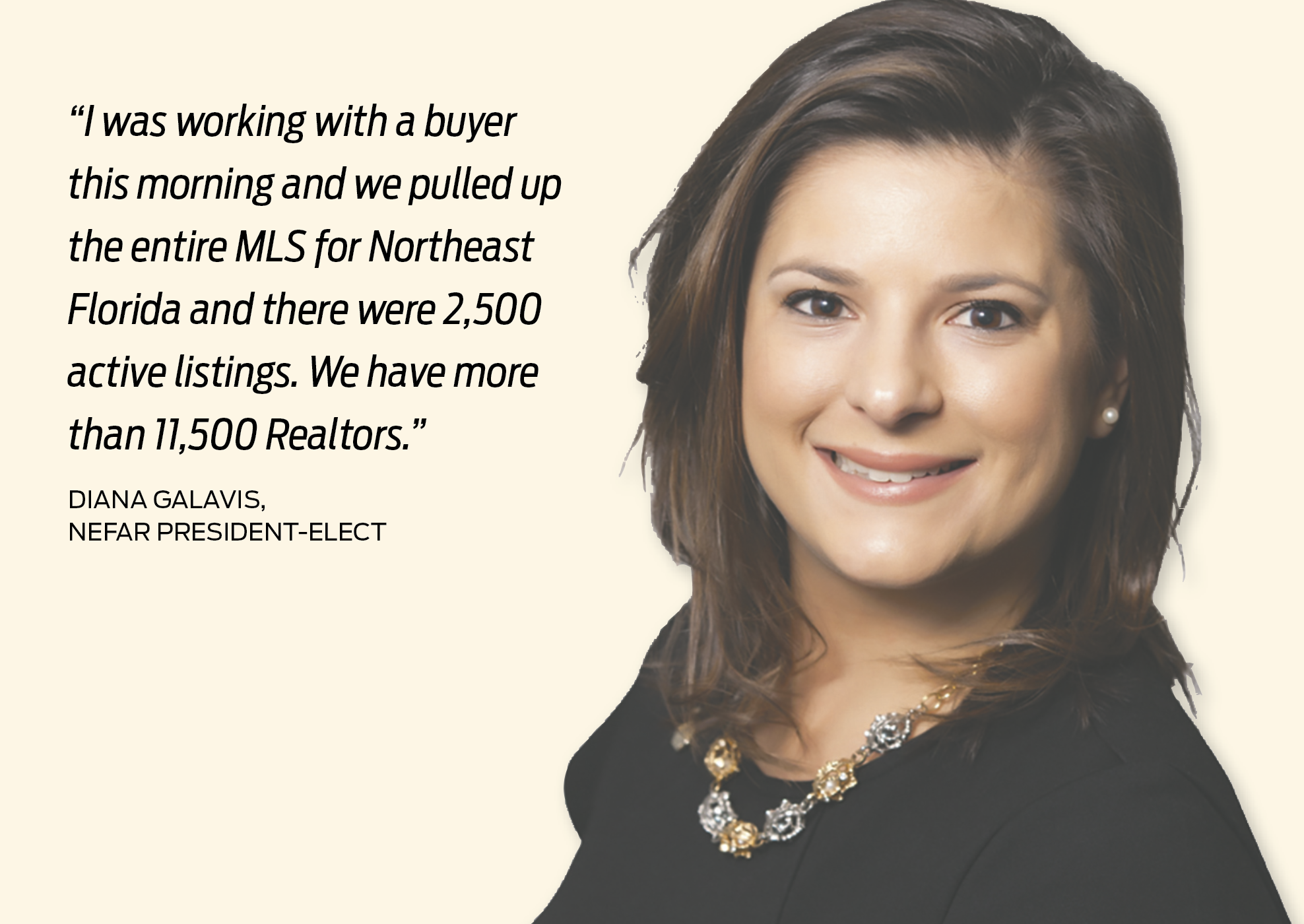 Stocking up doesn't help. Because of warranty concerns it's not practical for builders to buy and horde them in a warehouse.
"We can hold them for 30 days. After that, if they are scratched or dented, that's on us," Cook said.
The housing shortage is a national problem, said Nadia Evangelou, senior economist and director of forecasting at the National Association of Realtors in Washington, D.C. 
In 2019, pre-pandemic, competition for a home in Jacksonville was less aggressive, according to the National Association of Realtors.
Then, for example, there would be one $320,000 home available for every 36 buyers. Last year that was one for every 133 buyers. 
Nationally the 2021 rate was one home for every 125 households.
"We want to have a more predictable housing market. Back in April 2020, no one expected such a booming housing market," Angelou said.
Realtors are hard-pressed to find properties to sell, said Diana Galavis, Northeast Florida Association of Realtors president-elect.
"I was working with a buyer this morning and we pulled up the entire MLS for Northeast Florida and there were 2,500 active listings. We have more than 11,500 Realtors," she said.
Her colleagues are struggling to find listings. They are soliciting buyers by sending mailers to addresses in attractive neighborhoods. Some are knocking on doors.
While the NEFAR research shows that listings last a median of 15 days, houses can sell in one or two days and for more than the asking price, said Victor Ramos, association executive and CEO of the St. Augustine & St. Johns County Board of Realtors.
"A person living in my neighborhood listed the home at $599,000 and sold it for $675,000. It was sold within 24 to 36 hours. There was an offer of $700,000 but that buyer didn't have proof he could make up the difference between the asking price and the $700,000 they were offering," he said.
Many houses are being bought by large investment firms who can pay above the asking price in cash. They recoup the costs by renting at higher rates before selling in a few years.
"It doesn't affect them. They have deep pockets. They are able to buy these homes as long as the investment profile works for them," Milnes said.
Out-of-state buyers are in good shape, while local first-time buyers are in a pinch.
Rising mortgage rates coupled with higher inflation is reducing buying power. Where a few years ago a starter home was about $200,000, Galavis is showing first-time buyers houses costing twice that.
"They are having to put more money down and look outside their original shopping area," Galavis said.
"They may have to settle for condos or townhouses rather than a single-family home in order to be a homeowner."
Saving that extra money is a greater challenge for renters as a new lease usually comes with a rent increase, sometimes several hundred dollars.