Auld & White Constructors LLC has completed a seven-year process to change its leadership and management style as it looks to the future of the construction industry in Northeast Florida.
The 35-year-old company was founded by Steve Auld and Ed White.
It is now led by CEO Nate Marty, COO Justin Maryak, Director of Business Development Buck Smoak, Division Leader of Interiors/Special Projects Billy-Dale Tyson and Director of Estimating Jared Vincent. 
Two other top managers include HR Director Courtney Rutgens and Project Development Manager for the Public Sector Cindy Reis.
Marty described his leadership style as linear rather than from the top down.
Decisions are made by gathering those most closely involved and hearing ideas and opinions about the right direction, he said. It affords better buy-in for the final decision.
"I believe that style allows for growth, because we're relying on many other team members. The philosophy is whoever's closest to the decision or situation, they have the most information and details and at the end of the day, they should make the decision," Marty said.
The change is a natural evolution in the foundation Auld & White created using a traditional vertical leadership model common in the early 1980s.
Today, leadership is spread among department managers. It is a more comfortable style for today's employee, Smoak said.
"I see my role more as a collaborator, strategic thinker and mentor," Marty said.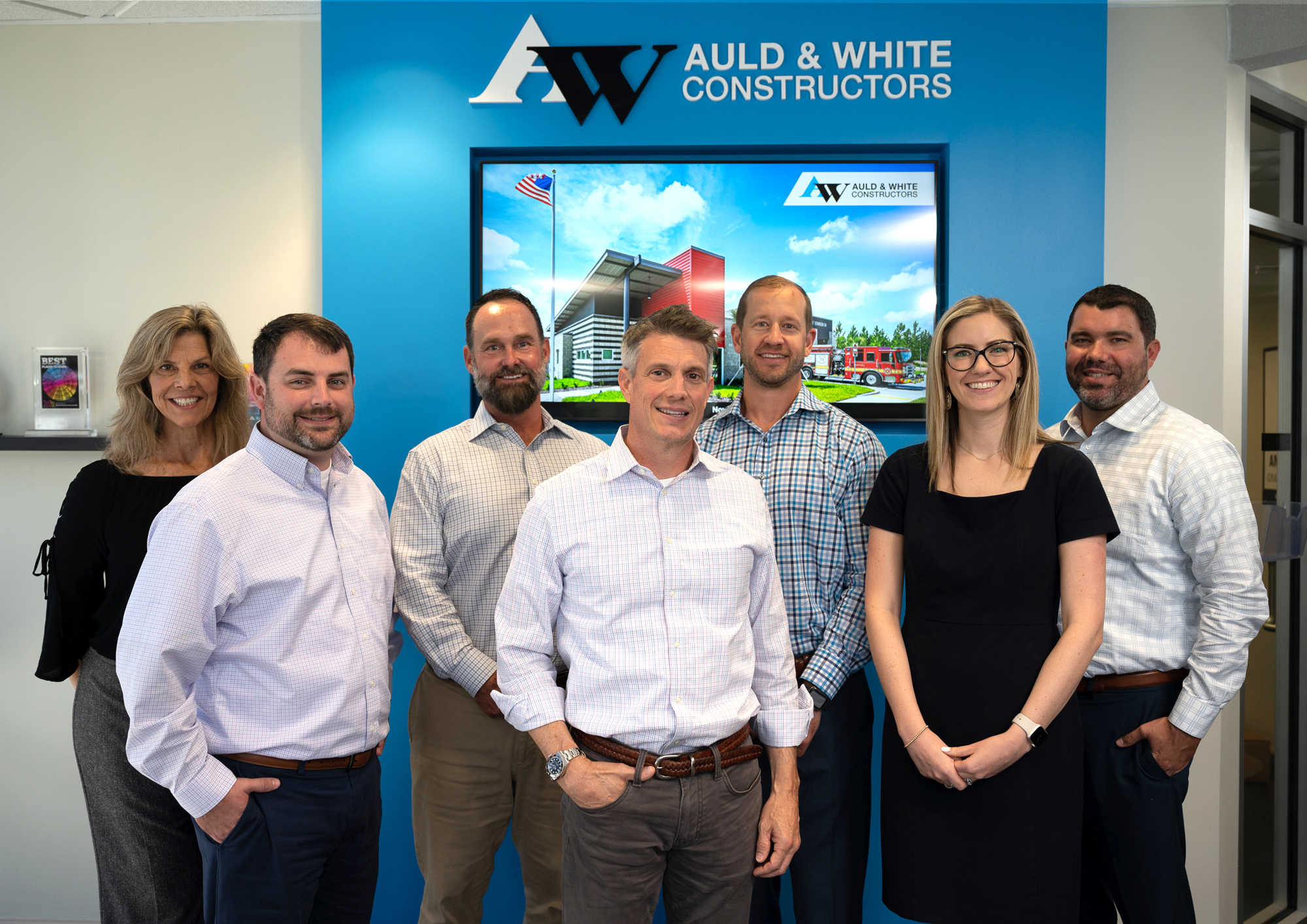 "My goal is to put our talented team in positions to be successful. Our philosophy has evolved into more decentralized decision-making."
Marty estimated Auld & White will earn $155 million this year, and increase of 12% to 17% from 2021.
The company has nearly 150 full-time employees. 
Steve Auld and Ed White also sold company shares to 10 employees, but they are not all leadership team members.
Longtime superintendents and other managers were invited to buy into the company based on length of service and job performance, Marty said.
Becoming a shareholder is not part of the recruitment process, Smoak said. Instead, it is a reward for proven success and longevity with Auld & White.
The founders are semiretired but remain as advisers. When they decided to step down seven years ago, the time seemed right to adjust management practices.
What hasn't changed is the company's scope of work. It takes on only commercial projects in Duval, Clay, St. Johns, Nassau and Baker counties, which allows the company to create a work-life balance. Instead of team leaders traveling around the country on jobs, they can be home at night.
Auld & White is a commercial contractor whose projects include warehouses, offices, medical facilities, fire stations and country clubs. Hotels may be the only commercial projects they don't build, Smoak said.
At a time when finding laborers is challenging, Smoak has more than 70 tradespeople on staff. Subcontractors also are used.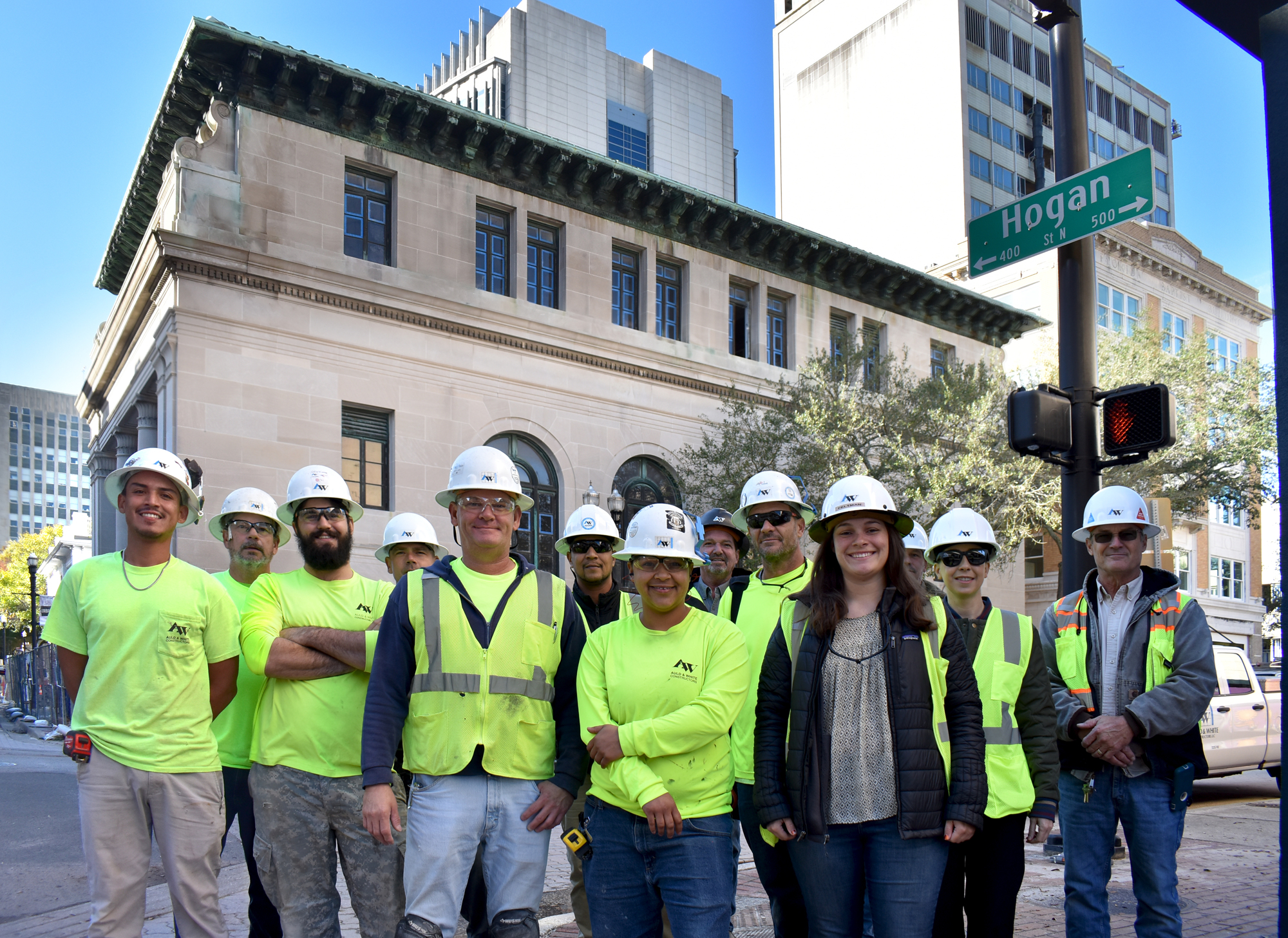 Over the years the company has built a core of companies it uses regularly. 
The company knows which firms are the best fit for a customer's needs, Smoak said.
Though many companies are having labor difficulties, Marty said Auld & White's apprentice program continually supplies the company with prepared and trained crews. Many young people come to the company out of high school. They not only learn on the job but take classes after work to learn new skills as well.
"We find that if after the first two years, if someone stays with us, they're here for the long haul," Marty said.
Finding quality applicants hasn't been difficult. Many Auld & White employees recommend friends and family members to work there as well.
There also are physical changes underway at the company. 
It is undergoing a $2.5 million expansion of its offices at 4168 Southpoint Parkway. There was no thought of moving to a new location. The offices are in the epicenter of the counties where Auld & White builds.
The company leases 16,000 square feet of office space. It will take on an additional 10,000 square feet, most of it for an instructional center.
Despite the management changes, rebranding the name was not part of the discussion, Smoak said. The Auld & White name represents 35 years of building confidence in the community, and nearly 80% of its work comes from referrals and repeat customers, he said.
"Auld & White are more than just a couple of last names. Auld & White Constructors is a brand on its own," Smoak said.
"What we have proven out over the last seven years is that this is not necessarily about last names. It's the brand of our company and the culture that we are."