There is a common thread among the six development companies that bid to build on the city-owned riverfront The Ford on Bay site Downtown. 
All have a regional and national reach.
That means they consider the Jacksonville Downtown Northbank worth the risk.
"The cost to enter the market is much lower than markets like Miami, Tampa and other popular cities in the Sun Belt," said Colliers Northeast Florida Senior Director Matthew Clark.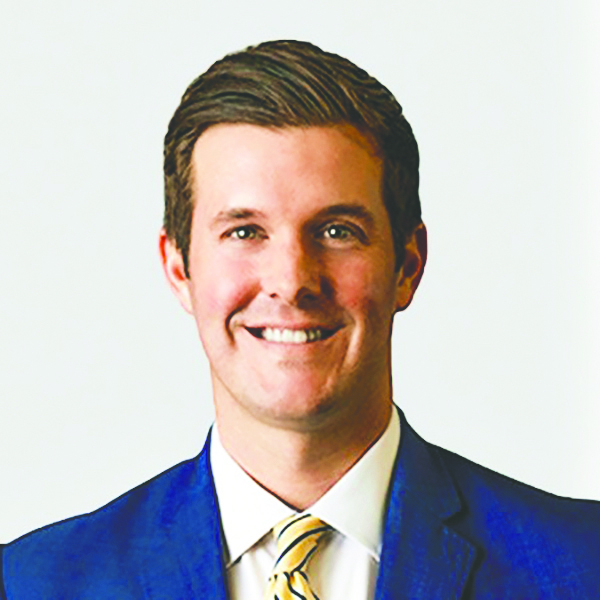 Clark, who is not directly connected to The Ford on Bay project, focuses on retail, office, mixed-use and "new urbanism" developments in Northeast Florida.
He said The Ford on Bay's St. Johns River location and connection to the Northbank Riverwalk make it desirable to residential and hotel developers outside of Jacksonville.
"Overall, we are seeing an influx of this outside investment," he said. 
Clark said there was a jump in investment Downtown at the end of 2021. 
"We are seeing a lot of out-of-market investors flooding the Downtown and urban neighborhoods."
It also indicates an attitude.
"What we find most refreshing is they don't have the same negative stigma on Downtown as most local developers do."
A string of residential developments is bringing the regional development interest in Downtown, he said.
"The amount of residential being developed is starting to trigger the threshold needed by retail and (The Ford on Bay) users to start planting their flag Downtown," Clark said. 
The proposed deals
The city Downtown Investment Authority's request for proposals for the former Duval County Courthouse parcel at 330 E. Bay St. attracted interest from developers throughout the U.S. Southeast and Midwest. 
The DIA branded the former courthouse site The Ford on Bay in 2019. It included the adjacent 2.39-acre former City Hall Annex site at 220 E. Bay St. and 3.1 acres of submerged land in the St. Johns.
The board voted in August to end an 18-month negotiation with New York City-based Spandrel Development Partners LLC for a $136 million mixed-use multifamily retail project when both sides could not agree on a capital investment or retail density for the site. 
The latest effort pertains only to 330 E. Bay St.
A Jan. 12 memo from DIA CEO Lori Boyer shows the four-member review committee scored Atlanta-based developer Carter as the highest of the six projects.
A DIA committee is scheduled to recommend a winning project Jan. 18 followed by a final board vote Jan. 19 before starting negotiations with the chosen developer.
DIA contracted real estate firm CBRE Jacksonville to market The Ford on Bay. 
The six development teams gave oral presentations to the committee Jan. 5. 
Germantown, Tennessee-based bidder Mid-America Apartments L.P. and Kansas City, Missouri-based VanTrust Real Estate have regional offices in Jacksonville. 
Carter and Shaker Heights, Ohio-based Silver Hills Development Inc. and Edwards Cos. also made presentations.
They specialize in mixed-use multifamily, office and student-housing project development.
Related Development, a subsidiary of Miami-based condominium developer The Related Group, is active in Jacksonville and has been interested in Downtown riverfront development for years. 
The company is developing the 335-unit RD River City Brewery apartments and restaurant on the Southbank and applied to develop The Ford on Bay in 2019. 
Clark's team at Colliers is the broker marketing the lease for The Related Group restaurant product at RD River City.
Jacksonville-based SouthEast Development LLC partnered with Nashville-based City Development Co. for its bid through Jax Riverfront LLC. 
That proposal is a piece of a broader $1.9 billion riverfront master plan that SouthEast Principal Steve Atkins is pushing the city and DIA to adopt.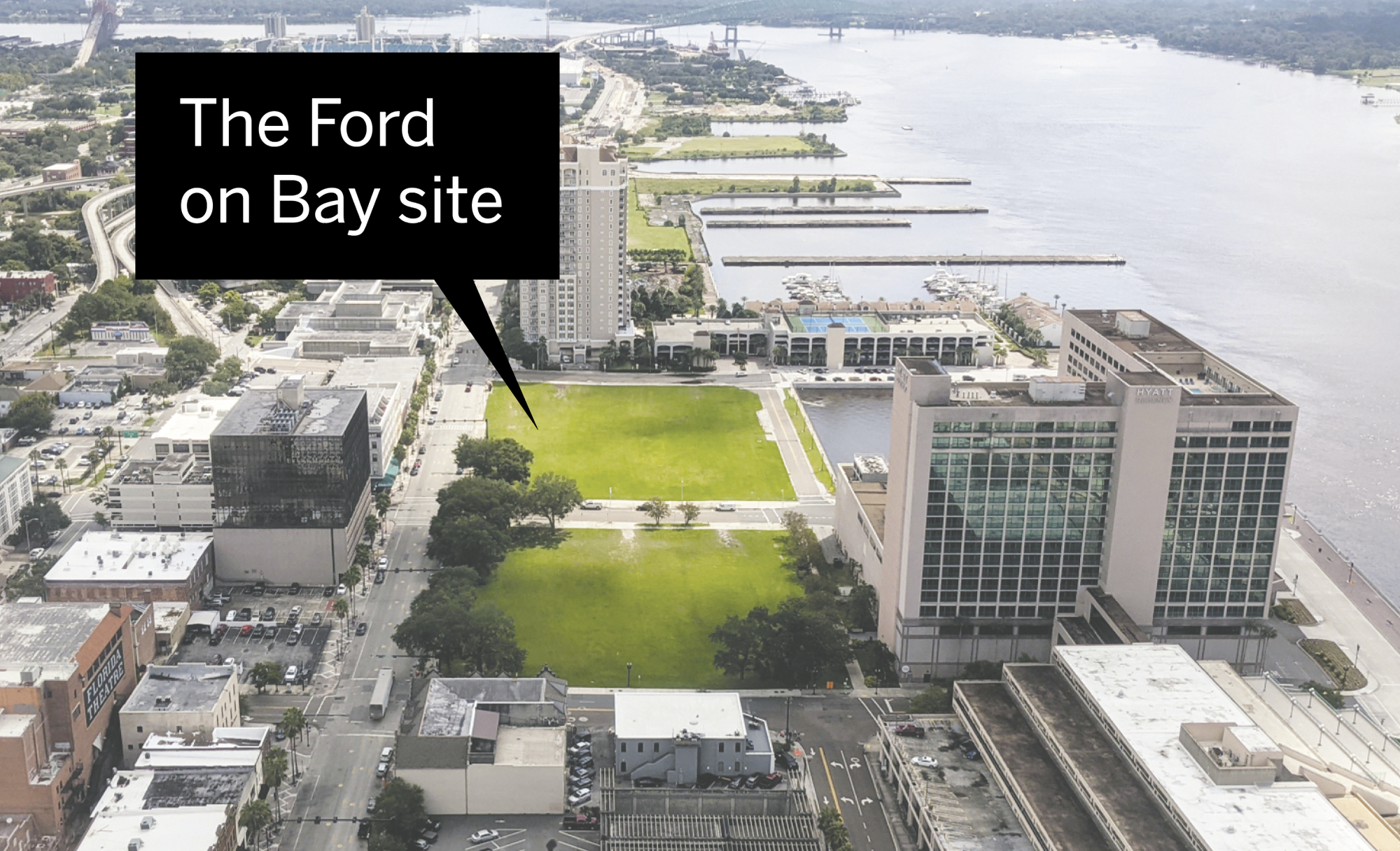 Push for retail
The DIA is emphasizing retail density at The Ford on Bay in scoring the proposals. 
The winning project will need 10,000 square feet of restaurant/bar space on the riverfront with 7,500 square feet of it on the ground floor. 
In its criteria approved in October, the DIA board encouraged a free-standing restaurant or entertainment venue along Bay Street. The DIA is requiring projects to devote at least 30% of Bay Street ground-floor space to retail.
Clark said that without the requirement, retail space at The Ford on Bay likely would have been an afterthought.
"If there were no parameters set by the DIA it would probably be very heavy on the residential component," Clark said. 
After the public presentations Jan. 5, it was unclear if all the bids will meet that requirement.
For example, Silver Hills and Edwards Cos. representatives told the scoring committee that at least 5,000 square feet of the 20,000 square feet of retail in its plan is outdoor patio space and not dedicated retail bays.  
DIA CEO Lori Boyer said that gave her "a lot of pause." 
"There is also room for more hospitality options in the market, which probably would have ended up being a component as well," Clark said.
The SouthEast and City Development Co. partnership is the only proposal that includes a hotel. 
The companies say they are in talks to include a Reverb by Hard Rock.
SouthEast has letters of interest from Hard Rock Hotel North American Hotel Development head Michael Dean and Marriott International that it sent to Mayor Lenny Curry and Boyer in October as part of its broader Downtown riverfront master plan. 
The letters did not say a deal was imminent.
Last call for convention center
While the DIA prepares to make its final decision on The Ford on Bay, another developer made a separate play for the property Jan. 6.
Jacobs Development presented an unsolicited proposal to the City Council Special Committee on Downtown Development to build a convention center that would span 330 and 220 E. Bay St.
It's the third time since 2018 the Jacobs team, led locally by KBJ Architects and Signature Land Inc., has tried to convince city leaders that a convention center is the best use for The Ford on Bay.
It appears Jacobs' pitch may be out. 
Boyer told the Council committee that Downtown's ability to support a new convention center was at least five to 10 years away and that Downtown needs more retail and restaurant options like those proposed by the other developers.
Committee Chair and District 7 Council member Reggie Gaffney, who represents the Downtown Northbank, said he supported the convention center proposal but will defer to The Ford on Bay process.
Council member Aaron Bowman said Jan. 6 that Boyer and the DIA should decide where and when a convention center would fit into the Downtown master plan.
"I think it's not now," Bowman said.
"I hope that in my lifetime we see a convention center in Jacksonville but not at the expense of everything else going on."