In less than 24 hours last week, Elizabeth O'Steen sold a house between two trips to the airport. 
A property became available. The buyer booked a flight to Jacksonville.
O'Steen picked up the customer at Jacksonville International Airport, showed the home and the next day took the customer back to the airport. 
While the plane was in flight, O'Steen had landed the sale.
It is a seller's market and top producers understand they need to be nimble to make a sale. 
Last year, O'Steen, who primarily sells in Ortega and Avondale for Berkshire Hathaway HomeServices Florida Network Realty, had a $27.2 million year, topping the $17 million in sales the year before. 
In March she marks her 20th year as a Realtor.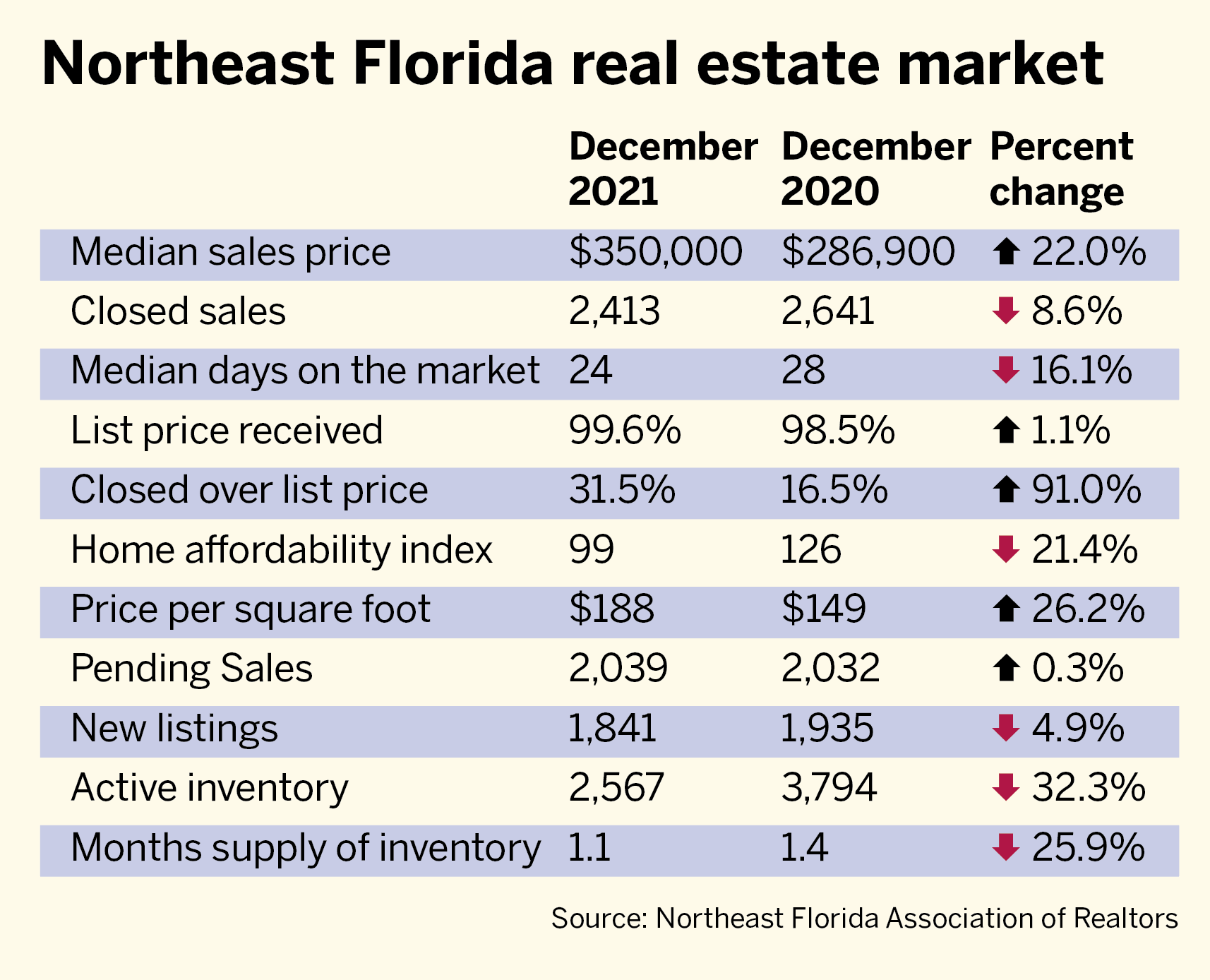 She said the market surged about three weeks after the pandemic struck in March 2020.
"We got our feet on the ground and started running and we haven't stopped since," she said.
Priscilla Johnson, also with Berkshire Hathaway, specializes in property in Ponte Vedra Beach and St. Johns County. 
She had the best year of her career last year since she started in 2004, having sold $40.1 million in 2021 and $30 million in 2020. 
The highlight last year was selling a home for $2.8 million.
She agreed that the coronavirus pandemic was the game-changer. People no longer were locked into working in the office.
"The bulk of our sales have from been out of the area, out of state. New York, Boston, Virginia, Ohio, Seattle, from all over," Johnson said.
The out-of-state customers are finding that when they sell their home in higher-priced states, they have cash and Jacksonville prices are lower than other Florida cities.
"There are more cash buyers than I have ever seen in my career," Johnson said.
There is another selling point to Jacksonville. While new residents want the Florida experience, they also want some seasonality. 
Jacksonville experiences a few weeks of winter weather in January,  enough to break out a winter coat but not a shovel.
"Mainly in the Northeast, people were stuck inside throughout the winter. Their worst season is much longer than ours," Johnson said.
"Realistically, it only gets hot here in July and August. There, the cold months go on and on."
Over the past two years, the Realtors' role has changed. Prospective buyers outnumber available sales.
 O'Steen said experience is on her side. Through constant networking, she may have heard of a family thinking about selling. She will approach them and ask.
"I'm not afraid to write a letter or knock on a door. I'll ask if they have ever considered selling. You have to reach out to that sphere of influence and find who is willing to really sell," O'Steen said.
"All they can say is 'no.' I understand."
More phenomena is that houses are on the market sometimes less than two weeks and sellers are receiving almost 100% of their asking price. 
"There is no room to dicker. It is rare you go much below the asking price in this market," O'Steen said.
Houses that are priced right will sell. If priced too high, it may take longer and it may require negotiating, she said.
Adding to the tight market is a shortage of new home inventory as pandemic issues stymied builders. 
Projects were put on hold as construction and supply-side workers were quarantined, supply orders went unfilled and material prices spiked. 
Delivery dates of new homes were delayed 12 to 18 months in some cases, Johnson said.
Then when homeowners sell, where do they live?
It's not unusual now for contracts to stipulate that the seller can lease the home for several months while they find a new place to live.
The hot market also is making it difficult for first-time buyers and those who need a mortgage.
Even with good credit and a sizable down payment, buyers may watch the home of their dreams disappear to an all-cash offer.
"The first-time homebuyers are more affected in this market than anyone else. I don't even know if I have an answer. They might not be able to buy where they grew up," O'Steen said.
"They may have to find an area that's more affordable."
In such a strong seller's market, some ask why an owner needs a Realtor.
The two Realtors said selling a house is complicated. 
A Realtor can help determine the most profitable asking price, navigate the paperwork, smooth out negotiations, and steer a seller clear of potential buyers who may not be able to afford the house.
They also vet those who have no intention of buying, and only want to investigate a seller's home.