When Mayor Lenny Curry releases the final city budget proposal July 21, it likely will include $484.9 million in capital improvement spending with a list of projects heavy on Downtown infrastructure, countywide park improvements, road resurfacing and city facilities.
That Capital Improvement Plan will be part of an estimated $1.55 billion fiscal year 2022-23 budget, according to city Chief Administrative Office Brian Hughes and CFO Joey Greive.
The Mayor's Budget Review Committee released a draft of the CIP during a meeting July 7 at City Hall.
The seven-page document, which officials say is not final, includes $108 million for parks; $86 million for drainage, septic tank and storm surge resiliency improvements; $26.5 million in road resurfacing; and $28.3 million on waterway bulkheads, an $18 million increase over the current fiscal year.
The city also continues pay for a $120 million multiyear commitment to UF Health with $20 million in facilities funding. The draft shows $24 million of the city's $60 million portion to build the Jacksonville Jaguars training and practice facility, the Miller Electric Center.
If the numbers hold, Curry's total budget proposal would be about a 10% increase over last year's $1.41 billion budget.
The CIP would be a slight drop from fiscal 2021-22 that was $494.7 million.
"So, this will be about half-a-billion (dollars) in parks, sidewalks, roads, septic tanks (phaseout). In every corner of the city, we're investing in much-needed infrastructure," Curry told Daily Record news partner News4Jax.
Downtown, the CIP shows a focus on riverfront parks as well as St. Johns River bulkheads.
The Downtown Investment Authority's plan to transform the former Jacksonville Landing into a destination park called Riverfront Plaza has $12.5 million in this CIP  proposal with another $12.5 million for fiscal year 2023-24.
The DIA also aims to add to Downtown's riverfront park system on the Shipyards property, which would receive $5 million in the CIP proposal with another $10 million for fiscal year 2023-24.
There are other Downtown infrastructure projects:
• $7 million to replace the Metropolitan Park Marine Fire Station
• $7.2 million for the Museum of Science and History relocation to the Shipyards
•$16 million for Northbank river bulkhead replacements and repairs
• $15 million for a Northbank Central Marina on Bay Street
• $6 million for Southbank bulkhead repairs
• $5 million for Northbank Riverwalk extension from Catherine Street to Metropolitan Park
• $2 million for Northbank Riverwalk maintenance
According to Hughes, the Downtown spending is about "fortifying" the riverfront, increasing public access to the river and quality of life.
"There are investments in here, for example Met Park, which are about creating the riverfront park system that moves throughout new developable properties so that we have a strong and consistent series of riverfront parks that are all interconnected by public space away from the roadways," Hughes said.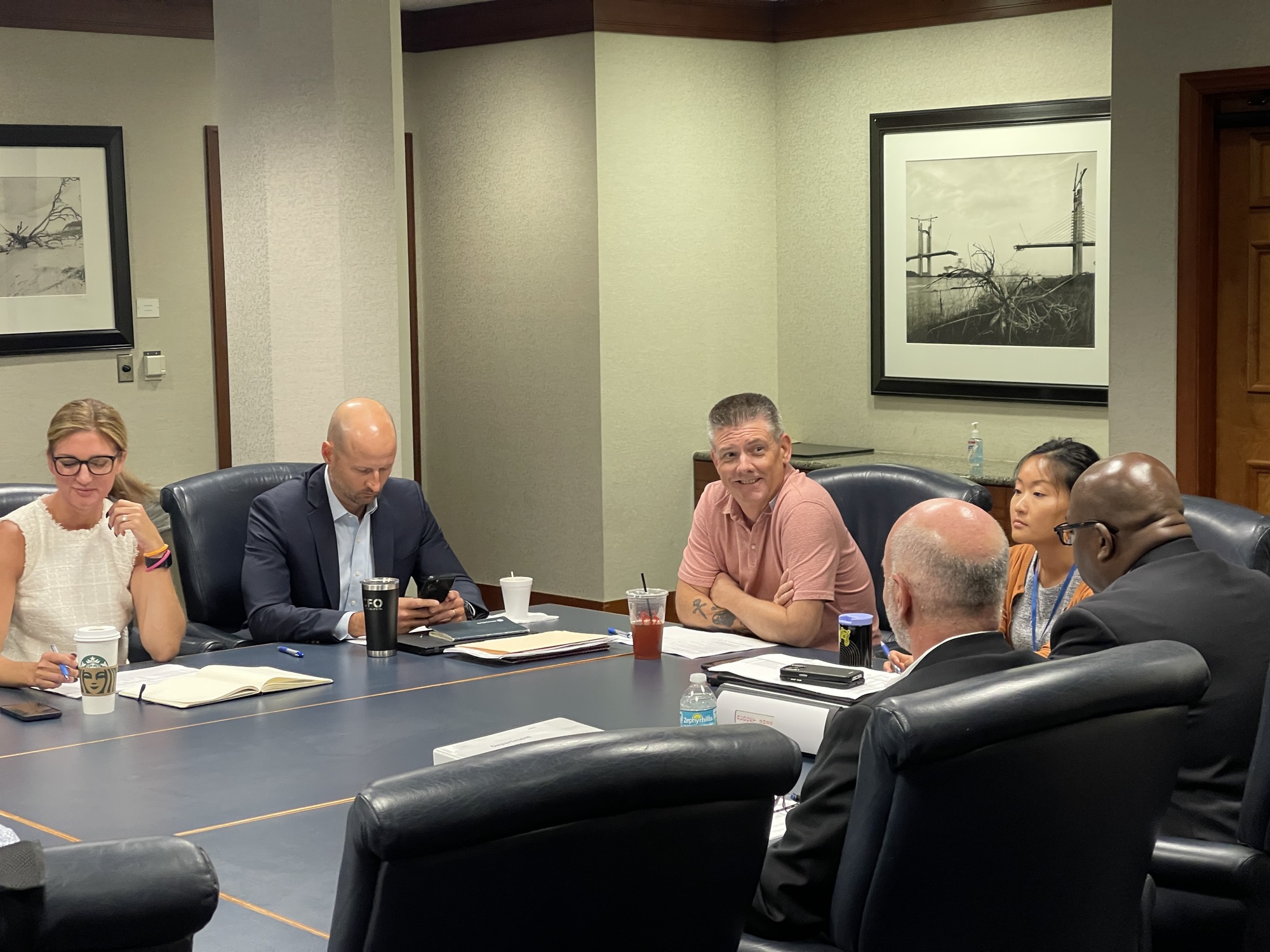 The Mayor's office wants to spend $20.1 million set aside for McCoys Creek outfall and Riverwalk improvements and $6 million to restore the McCoys Creek Greenway.
The project will restore greenways and shift the creek flow to allow Atlanta-based Fuqua Development and TriBridge Residential to build an estimated $250 million One Riverside mixed-use project at the former Florida Times-Union property.
It also will benefit the Emerald Trail, which has $2 million budgeted to finish its Hogan Street Connector, with $30 million tentatively planned from 2023 through 2028 to complete the 30-mile multiuse trail along Hogan Street to the Downtown Riverwalk.
The city is in discussions with the Jacksonville Jumbo Shrimp minor league baseball team to budget $10 million for upgrades to the city-owned 121 Financial Ballpark for what Hughes said would help the team meet facilities standards required by Major League Baseball.
The five-year CIP shows an additional $14.8 million for the facility over the following two years.
The Jumbo Shrimp became the AAA affiliate to the Miami Marlins in February 2021.
How to pay
The draft shows about $457.1 million of the CIP spending coming from debt spending, although Hughes and other officials told City Council Auditor Kim Taylor the final budget likely would show more of the plan funded by cash.
Hughes declined to elaborate July 7 on how much those numbers would change.
The city expects to receive about $90 million more from property tax revenue than it did in the current fiscal year, Hughes said.
The city also will receive a second round of federal American Rescue Plan funding next year totaling $171 million that is meant to be used by cities for fiscal recovery from the pandemic.
The city would use $25 million of that toward its septic tank phaseout program under the CIP. Hughes said the remaining federal dollars would be used in other areas of the budget that he did not detail.
Hughes said the budget might leave contingency money for the next mayoral administration but he said that amount is being finalized.
Curry is term-limited in 2023.