Single-family home sales in June showed the first signs of leveling out after steady monthly increases for more than a year.
The Northeast Florida Association of Realtors cites inflation and rising mortgage rates as reasons for the slowing sales.
While median home prices rose in June in Putnam, Clay and Baker counties, they fell $28,050 in St. Johns and $18,975 in Nassau. 
The median price in Duval County rose $673.
The median price of a single-family home in the six-county region is now at a record high of $400,000.

Sellers received 100.6% of asking price in June compared with 101% in May. The asking price fell slightly in Duval, Clay, St. Johns and Nassau counties.
Active inventory increased in all six counties as did the month's supply. For the first time this year, there is a three-month supply in Baker and Putnam counties.
"This is good news for both buyers and sellers as we move into the third and fourth quarters of 2022," said Mark Rosener, 2022 NEFAR president, in a news release.
"It's encouraging for buyers, as they now have more homes from which to choose."
He tells sellers that there still is money to be made, but prices need to be attractive to buyers.
Sales fell 4.1% in June to 2,336. Pending sales dropped 13.2% to 2,077.
NEFAR reports sales of condominiums and town houses rose by 46% to 1,090 units.
The Affordability Index dropped 1.3% to 78 from 79. 
The index measures the likelihood of a family making the mean, or average, income having the funds to qualify for a home loan. A score of 100 means those making the mean income can afford a home loan. 
The Affordability Index was 97 in January and has declined each month in 2022.
Building permits stalled
For the third consecutive month, the number of single-family building permits declined.
Data from the Northeast Florida Builders Association shows Duval, Clay, Nassau and St. Johns counties issued 1,193 permits in June, down from 1,195 in May and 1,208 in April.
There were 3,596 permits issued in the second quarter, down 14.9% from 4,226 in the first quarter.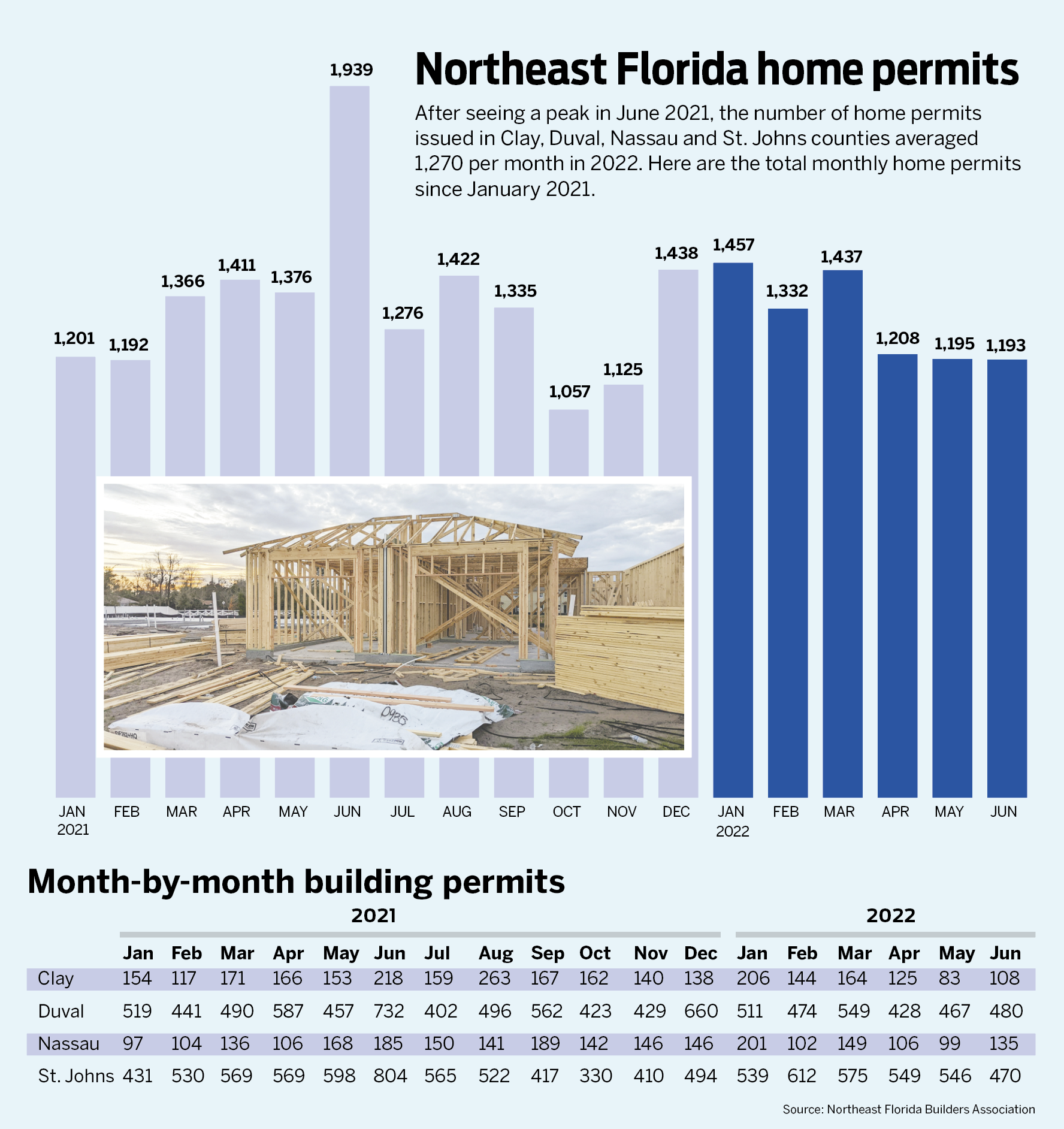 So far in 2022, building permits in Duval total 2,909; Clay, 830; Nassau, 792; and St. Johns, 3,291.
That totals 7,822 permits.
To meet demand, 10,000 to 12,000 single-family homes need to be built annually in the four counties, NEFBA Executive Officer Jessie Spradley said.
In 2021, there were 16,138 permits issued in the four-county area, with 6,198 in Duval. 
June 2021 was the most active month that year with 1,939 permits issued in the four counties.
This year permits are 663 behind the 2021 pace.
Despite the slowdown in permits, 2022 is an active year, Spradley said, saying the number is 31% higher than in 2020. 
In what he calls "the last normal year we've had," 2019 numbers were 34% below 2022. 
Spradley said the reduction is not an indicator of a slowing economy. Rather, it reflects problems with supply chains and worker shortages.
"Builders couldn't serve all of the permits they pulled last year," Spradley said.
"Every month a new product becomes a challenge. Currently, it is the glue used for installing subfloors. It's out of stock nationwide."
Developers are reporting that approval of new communities is taking longer, Spradley said.
Counties still are trying to catch up from work slowdowns during the height of the coronavirus pandemic. 
Also, neighboring communities are showing greater interest when plans for new subdivisions come before planning and zoning committees.
"What was once one community meeting has now turned into eight," Spradley said.