Restaurateur and chef Dennis Chan is the 2022 North Florida and the state of Florida Small Business Person of the year. 
He was honored May 25 at the 30th Annual Small Business Week awards event at the University of North Florida. 
The Florida Small Business Development Center, in conjunction with the U.S. Small Business Administration, presented the awards.
Chan's family has about 70 years of experience in the restaurant industry in Jacksonville. 
He might have relied only on that foundation when he relocated his Blue Bamboo Canton Bistro & Bar in 2021 from near Tinseltown in Southside to San Jose Boulevard in Mandarin.
Instead, he worked with mentors at the Small Business Development Center at UNF to gain advice and funding to open a new venture in the thick of the coronavirus pandemic.
He partnered with the SBDC for a $50,000 Florida Small Business Emergency Bridge Loan that allowed him to open the restaurant while operating at the original location.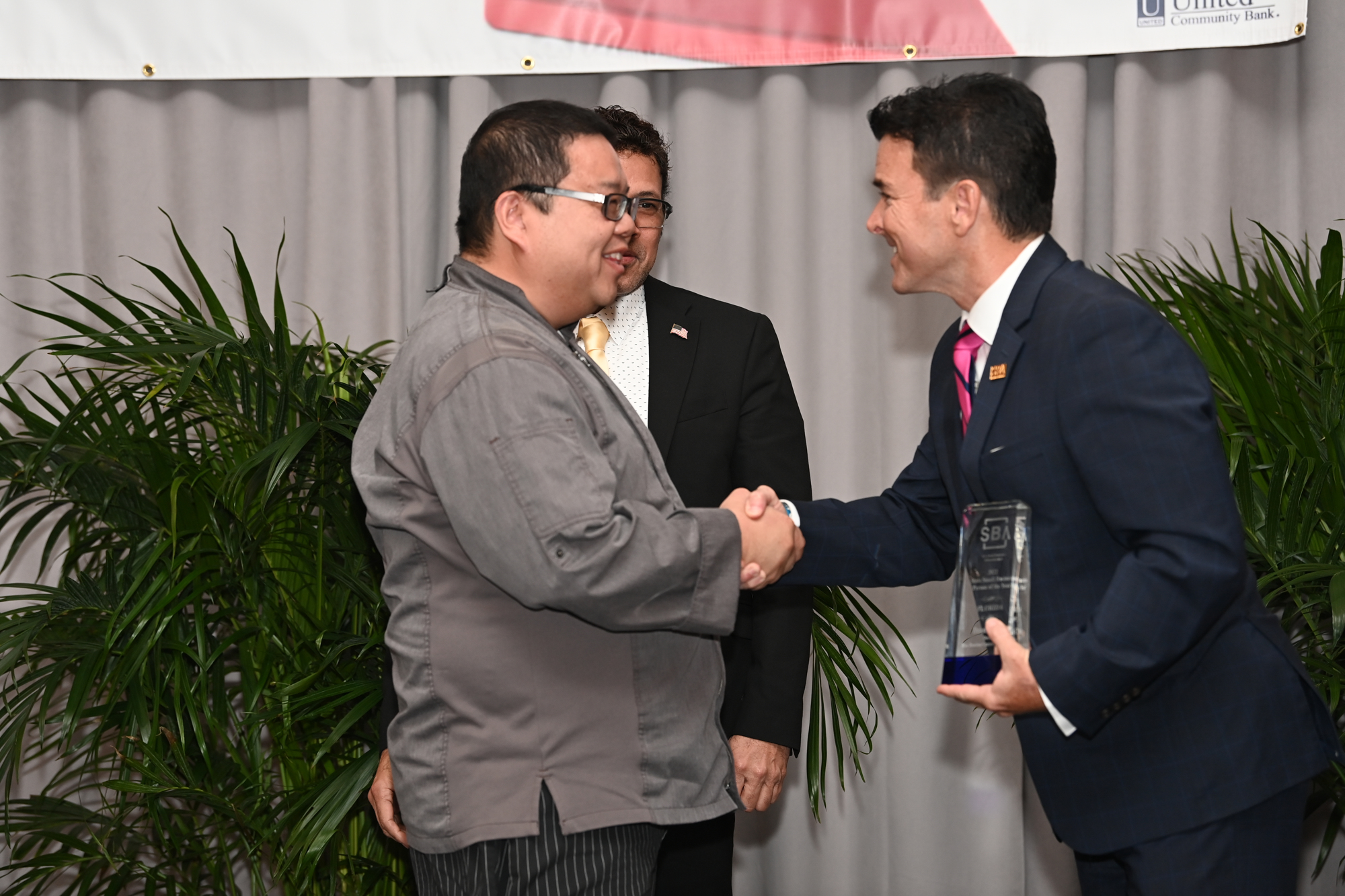 That took him through the early stages of near quarantine conditions that closed many restaurants throughout the country.
"As a small business owner there are so many things we can do wrong without guidance. This award gives me the confidence to keep growing and keep doing what we are doing," Chan said.
"It tells me we are on the right path."
Chan is a graduate of the Culinary Institute of America and specializes in modern interpretations of traditional Cantonese comfort food. He combines Asian, Italian and French cooking techniques to prepare his dishes. 
Several times a year he opens his restaurant on Sunday to serve dim sum, a version of Asian tapas.
Before opening his own business he worked in guest relations at the Walt Disney World Resort, managed restaurants and interned under celebrity chef Ming Tsai at Blue Ginger in Boston. He opened the original Blue Bamboo in 2005.
Chan, 49, is an author, having written the cookbook "Hip Asian Comfort Food."
He won the 2018 General Mills Neighborhood to Nation recipe contest. Rather than entering an Asian recipe, his entry was for his Sunshine State Orange Crunch Cake dessert.
He has called his restaurant a "cooking lab," citing his enjoyment of recreating traditional recipes for current tastes. Examples include Red Curry Shrimp and Grits and Indonesian Curry Pasta.
Chan grew up in the restaurant business. His mother taught him cooking basics when he was a boy. One of his first jobs was working as a cashier at the family restaurant.
Chan worked with SBDC mentors and financial partners to create a business plan and secure the funding to build the stand-alone restaurant.