Supply chain disruptions caused by the pandemic and natural disasters have slowed JEA's ability to source materials and components. 
Utility officials say that led to $40 million in cost increases last year to deliver capital projects on time.
At JEA's Feb. 22 board meeting, Managing Director and CEO Jay Stowe and Chief Procurement Officer Jenny McCollum said it is taking more time to receive materials like steel, copper, resin, aluminum, brass and components like transformers, PVC and iron pipes, valves and fittings. 
It is not just parts and components.
According to Stowe, conflict in Ukraine likely will impact worldwide natural gas supplies. Other natural disasters and problems with Indonesian coal exports caused price uncertainty and put pressure on JEA's fuel purchases.
Stowe's comments came one day before Russia invaded Ukraine.
The JEA executives anticipate project delays that will become longer and more frequent while materials costs and lead times remain high.
"These issues have resulted in an extremely unstable market where lead times and costs are changing daily and pricing and schedules presented for capital projects are being affected," McCollum said.
Rising costs and delays
In a Feb. 23 email, a JEA spokesperson said construction bids are coming in 10% to 50% higher than pre-pandemic levels because of longer lead times and supplier price increases. Previously, increases matched inflation between 2% and 8% annually.
JEA started seeing major disruptions in early 2021. McCollum said specialized electric items were the hardest hit at first, then lead times for water and wastewater materials and personal protective equipment for employees started to widen.
For example, a chart provided by JEA shows the utility's price for padmount transformers increased 40% in the past year.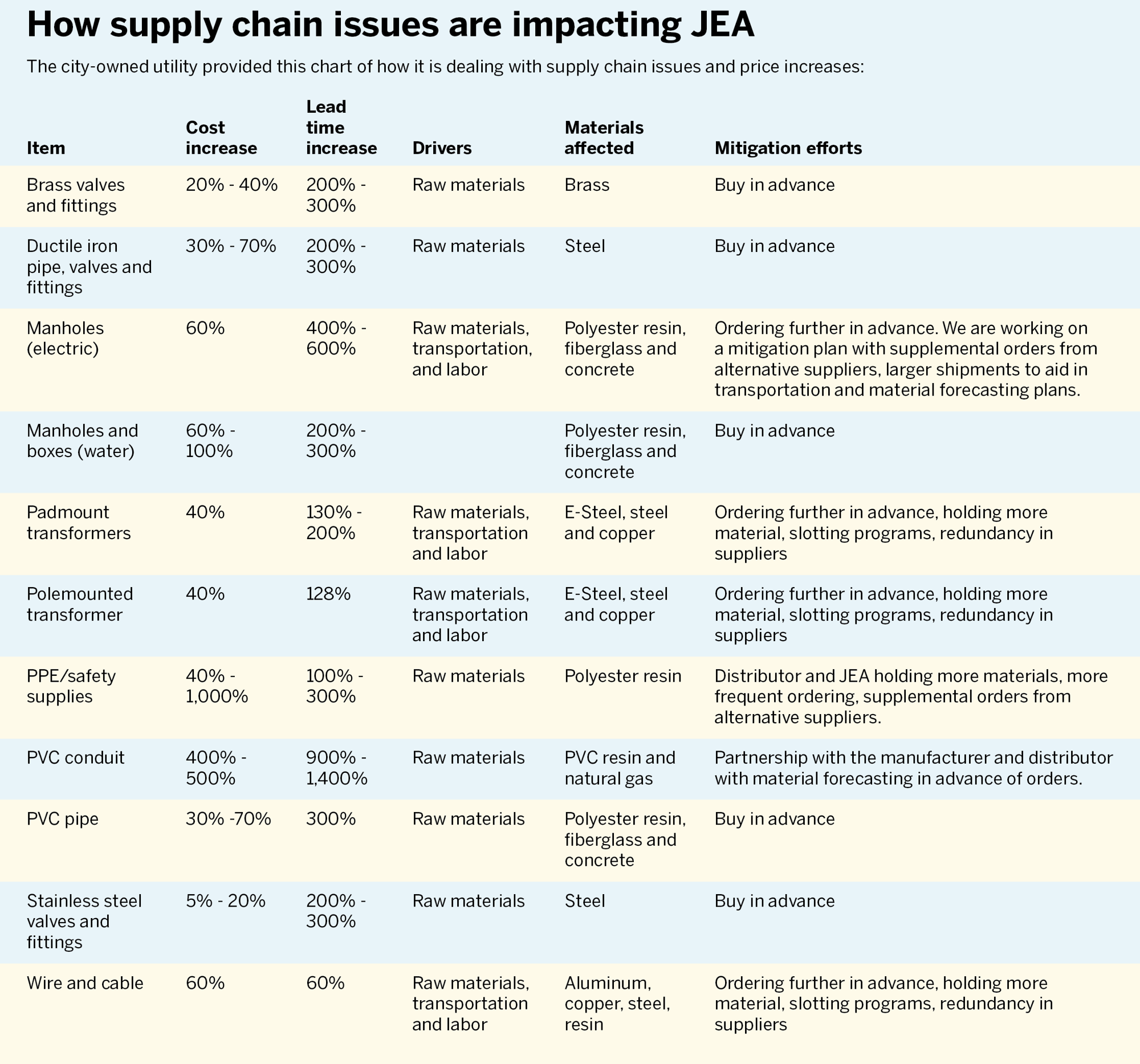 McCollum said it took 12 weeks to deliver a transformer order before the pandemic. Now it is stretching to 52 weeks. 
Materials costs are rising, but Stowe said delays can be just as costly and eventually the increases are passed on to JEA commercial and residential customers.
"I'm more concerned about the delays in getting materials than I am the cost of getting materials, because a delay causes a long-term, ripple effect for our customers. A delay in itself drives up costs as well," Stowe said after the meeting.
McCollum said JEA's suppliers also are seeing labor shortages and transportation delays like other sectors across the globe. 
She cites the pandemic, Gulf Coast storms and the February 2021 winter storm that hit most of Texas as the primary drivers. 
Stowe said the supply chain problems are not slowing electric and water connections for private development projects or JEA's role in Jacksonville's economic development.
Stowe said he wanted to let the board and area developers know it could happen.
"There's likely going to come a time when we are not going to be able to meet some deadlines on some schedules. I suspect when that happens, you all will get phone calls, and I want to assure you and reassure you we are doing everything we can on our side to do this," he told the board.
McCollum said JEA has started working with private developers to plan phased utility infrastructure to bring service to projects as they are ready for tenants.
"We don't usually engage projects in phases, but where they might have multiple buildings that need power and only one has tenants ready to occupy it, we'll prioritize that building with a partial transformer order to get those tenants moved in," she said.
Builders' take 
Northeast Florida Builders Association President Joshua Garrison said his members have not seen delays from JEA but builders also are experiencing supply chain challenges. 
He wants JEA to consider temporarily loosening its component specification requirements so the utility can source from more suppliers and shorten lead times. 
Garrison cited a water meter vault required by JEA that is made by one company in California. He said a different style of vault could be sourced elsewhere.
Garrison said builders are not asking to change specifications at the expense of safety.
"As always, all these things are affecting affordable housing, so if there's anything any of us can do in these times to loosen up the specifications within reason, we should. Because that cost ultimately gets passed on to the homebuyer," Garrison said. 
JEA is considering similar solutions. 
McCollum and Stowe said the utility is refurbishing transformers to keep up with the demand and circumvent supply chain constraints.
JEA is asking its contractors who are overseeing separate projects to loan each other critical materials to make sure priority infrastructure is completed.
"Part of the reason I wanted to bring it up to the board today is that I want to be sure the public, developers, the board and the community are aware that it's stressful for us like it is stressful for all industries right now," Stowe said.
Fuel costs
Geopolitical issues are making JEA's fuel costs more volatile. 
Stowe said natural gas prices in late January and early February spiked by nearly 50% and that uncertainty continues.
He said because Russia supplies 30% of the European Union's natural gas, other global producers will have to move product to the region to compensate for losses created by the conflict in Ukraine.
"(With) the shortage of supply in Europe, liquefied natural gas will get moved to Europe and that will drive up prices here," Stowe said.
There were other international strains. Stowe cited a dip in the global coal supply caused by Indonesia's decision to temporarily stop exporting the fuel that is affecting JEA.
JEA buys its coal from Colombia, which is diverting some shipments to Asia to make up for the lost Indonesian fuel. 
A CNBC.com report says the Indonesia Coordinating Ministry for Maritime and Investment Affairs eased the coal export ban Jan. 12 after about two weeks. 
Customers have been feeling the real-time market fluctuations of JEA fuel costs in late 2021.
That's when rising natural gas prices threatened to push the utility's fuel stabilization fund into the red. The fund keeps customer fuel charges steady and provides rebates if costs were lower than projected.
The JEA board voted unanimously in October to eliminate the fund and adjust customer fuel charges monthly as the utility's costs rise and fall. 
Stowe said higher bills in February were a result of fuel costs and higher usage because of cold weather. 
JEA expects the average bill to decline in March.
After the meeting, utility leadership appeared skeptical that the customers will see a return to the low baseline fuel prices of the last decade. 
"We've had 10 years of historically low natural gas prices and historically low fuel costs, and over the last six months in general (the cost) has changed and the world related to natural gas has changed," Stowe said.
"So it will be higher than it used to be."