VIZERGY  |  2021 REVENUE: $9.5 MILLION
Joe Hyman fought computerizing his job in the 1990s when he was selling orthopedic implants, a sales and marketing path that led to forming a hospitality company, Vizergy.
"My boss said, 'Listen, you've got to get a computer. You have to fax your orders in. You have to read email,'" Hyman said.
Hyman, now 60, had not read an email before that and figured he could use the fax machines at the hospitals where he sold the products.
He bought the computer, learned how to use it while his wife and children were on vacation and hired a tutor to teach him Excel.  
"The first thing I did was I built an Excel spreadsheet and I learned how to do a mail merge. I put every orthopedic doctor in Northeast Florida in the spreadsheet and then I took some of our new products and did a mail merge, put them in a letter and sent them," he said.
It created leads. He did well. 
Hyman even tried selling items that he hadn't sold before, like "cool" operating room glasses made popular on the NBC medical drama, ER, which debuted in 1994.
He created and distributed flyers at hospitals, realizing they were $15 products "versus a $10,000 new hip."
"I sold $25,000 worth of these silly glasses that I would've never mentioned to anybody," he said. 
Hyman was sold.
He discovered the power of using data and target marketing. 
"That very first computer that I bought, maybe 18 months or two years before I started the business, became a very powerful tool," Hyman said.
Friends cautioned him against giving up a lucrative medical sales rep job for what some considered a fad, but he heeded his instinct.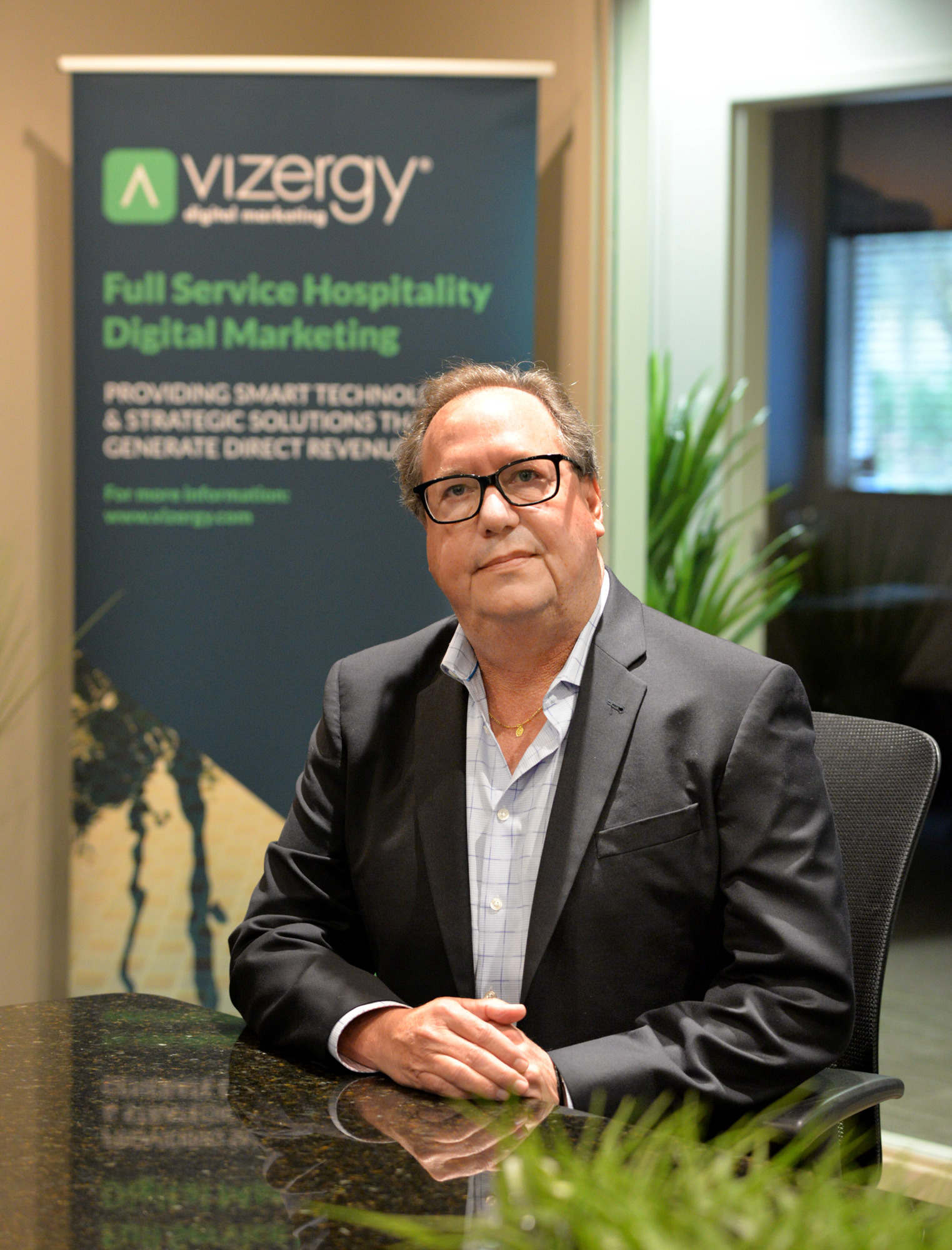 In 1998, Hyman started SECURE-RES, a hotel reservation service. It launched in 1999.
Hotels found it revolutionary, he said. They put a link on their websites, "and money is just flowing in."
SECURE-RES collected a flat monthly licensing fee.
Within five years, SECURE-RES operated more than 1,100 booking engines for 800 hotel and 40 destination websites.
Vizergy emerges
Hyman then began to focus on helping hotels find and service new guests online through their websites.
He changed the company name in 2007 to Vizergy – the customers' vision and the company's energy to help them expand their footprint online.
Vizergy builds websites for hotels and puts them on the Vizergy marketing system, which optimizes the sites for search engines and conversions.
"We help them with the monitoring of their reputation, the business intelligence that comes along with who's shopping on their site. And then we use that intelligence to reverse engineer," Hyman said.
Vizery then deploys media strategies based on where and why people are shopping.
For example, if people from New York and New Jersey are shopping for hotels in Miami, Vizergy would deploy more media toward those source areas and help the hotels with email marketing.
Hyman said Vizergy works with more than 1,200 hotels.
Revenue for the privately held company grew to $11.1 million in 2019, then dipped to $7.4 million in 2020 as the pandemic hit the hotel industry hard. 
"When your entire business is focused on hospitality, you're in the bull's-eye of a global pandemic and government regulations and mandates," Hyman said.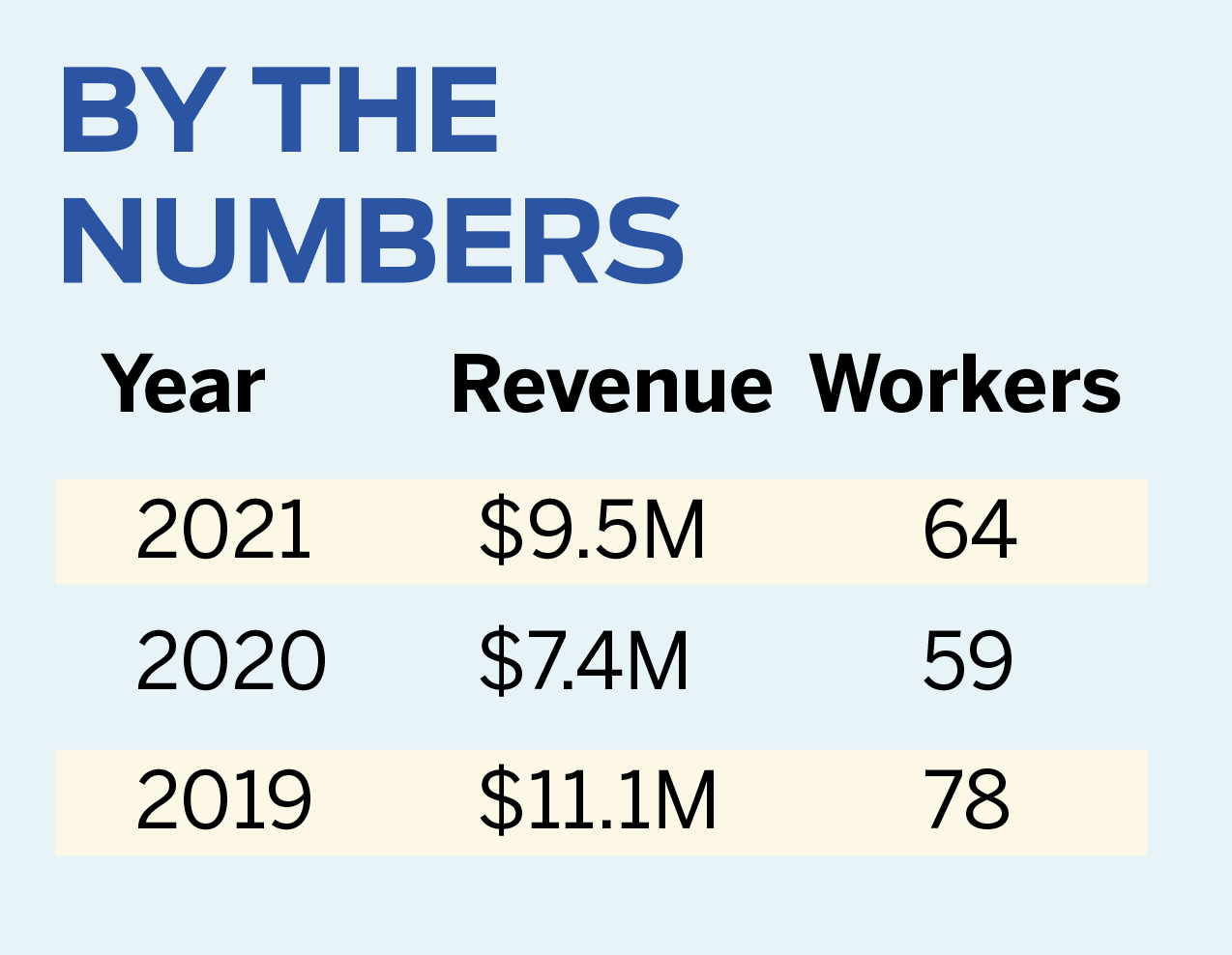 Vizery decided to step back and work closely with its customers.
"They were going through trauma, we were going through trauma, and all of our resources were focused on supporting and helping our clients through their trauma," Hyman said.
Vizergy helped customers preserve the business they could capture online, work with them on their monthly contracts and "just do anything you could to partner with our resources to help them."
The company needed to innovate during the pandemic to meet the clients' evolving needs, so Vizergy private-labeled its software so that hotels and even competitors could buy the service.
It also created a specialized group to help big customers who had to furlough their digital marketing departments.
Hyman said the new solution has "really taken off" as MaaS, or marketing as a service, customizes programs to help large hotel brands augment their existing marketing.
Hyman had to adjust Vizergy's workforce as well.
It had 78 employees in 2019 and had to cut to 59 in 2020, a decision announced on his birthday. "It wasn't a good birthday present," he said.
Employees worked remotely and some still do, although they can report to the offices at 4237 Salisbury Road in Southpoint. 
The workforce is back to about 70.
Evolving to succeed
While Hyman says his greatest business challenge was COVID, his biggest success is "getting to work with great people every day."
The 2021 revenue rebounded to $9.5 million. Vizergy said it has seen record sales growth in the past six months as hotels retool their digital strategies to account for changes in buyer behavior.
Vizergy's customer footprint primarily is North America and it has some international clients. Hard Rock, Hyatt and Marriott are among its customers.
Hyman graduated from the University of Florida with a degree in business administration.
His early business training was working with his father, Henry, who imported and sold wicker furniture throughout the Southeast.
His mother, Ann, was an author and an arts and features writer at The Florida Times-Union.
Hyman grew up with a sister in the Venetia area of Jacksonville. 
He now is married with three grown children and twin 5-year-old grandchildren, a boy and a girl.
Vizergy has more than 100 computers plus servers at the office and in the cloud.
"Over the last 20 years, I hate to count all the computers that I bought," Hyman said.
"It all started with that first cheap Dell computer that I bought under duress because my boss felt I needed one."