New York City-based American Lions LLC and the city are ready to start discussing terms of a possible incentives and real estate deal for an estimated $166.6 million residential high-rise at Riverfront Plaza, the former Jacksonville Landing.
The Downtown Investment Authority board voted 9-0 on May 19 to direct DIA CEO Lori Boyer to start negotiations with American Lions to redevelop 1 acre of the 7-acre parcel at 2 Independent Drive.
The city plans for the remainder of the site to be a public park.
On April 26, the developer outlined its conceptual plan for a tower with 332 apartments, a 330-space parking garage and a 7,500-square-foot restaurant on the 44th floor. The design is by the Bjarke Ingels Group architecture firm.
The design integrates the building's proposed sky garden terrace and ground-floor retail into the park's landscaping as well as connect with a future pedestrian walkway to the Main Street bridge.
American Lions LLC is a joint venture of Fetner Properties and the Lions Group. The companies individually own, manage and build large-scale developments and residential properties throughout New York City.
Bjarke Ingels Group has headquarters in Copenhagen; New York; London; Barcelona, Spain; and Shenzhen, China.
The companies would coordinate the high-rise design and construction schedule with architect Perkins & Will, the firm chosen by the city to design the Riverfront Plaza park.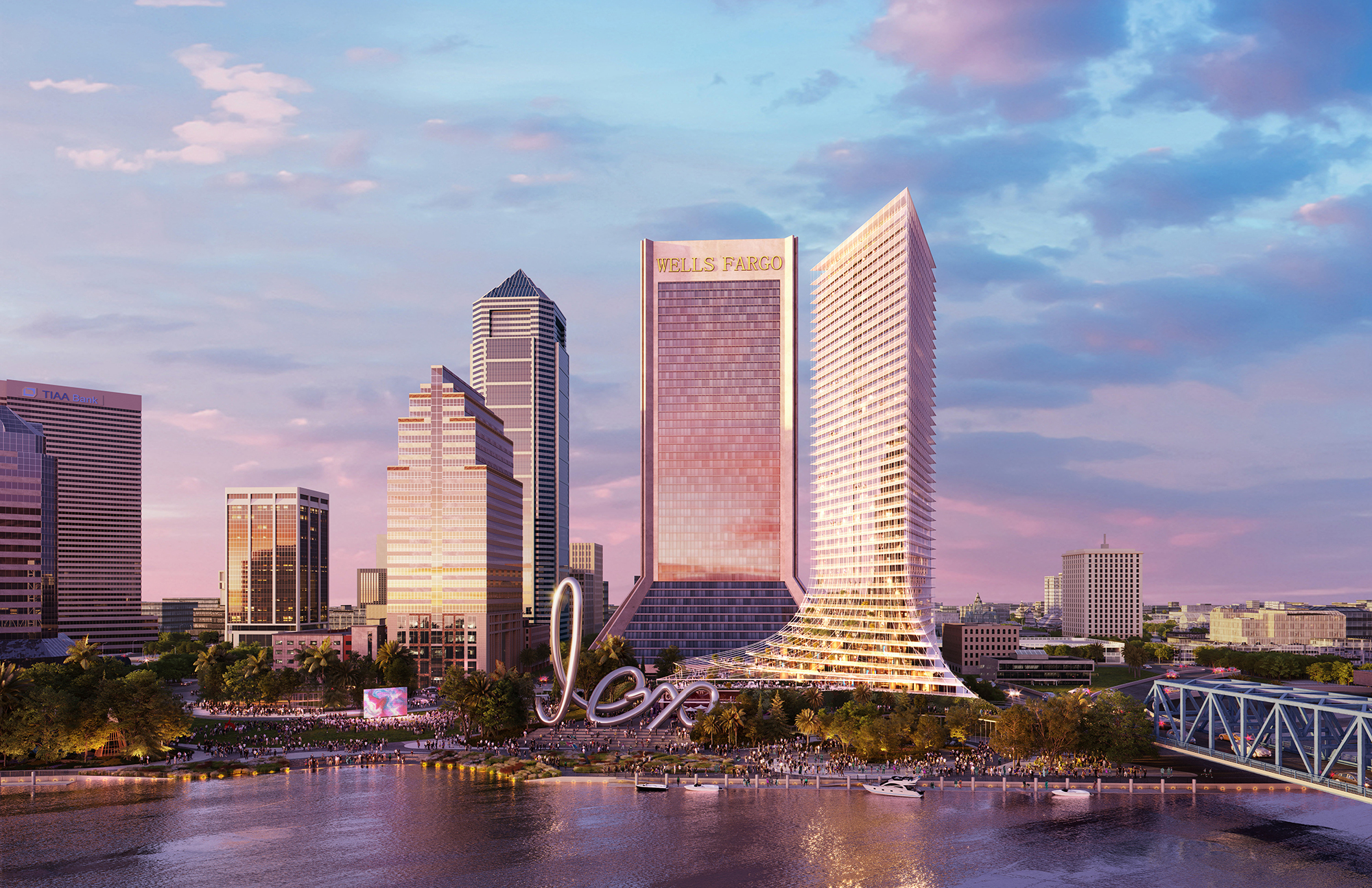 Boyer and DIA staff will have 105 days to complete deal terms. Board member Todd Froats called the architecture and level of amenities in the 44- to 45-story high-rise significant.
He asked Boyer to consider requiring the New York developer to keep those amenities the same size and scope in the final term sheet.
"I think we just need to remember that this is the crown jewel of Downtown. It's got to be right. And it certainly looks like it's a really cool-looking building," board member Ron Moody said.
That sheet would come back before the board for a vote before sent to City Council.
In a report dated May 16, Boyer acknowledged American Lions is asking for more taxpayer investment than many other private development projects.
"The financial terms proposed by American Lion(s) are considered to be aggressive in comparison with incentive programs established by the BID Strategy and compared with other incentive packages previously approved for development activity of similar scope," the report says.
"Preliminary conversations with the applicant following the presentation of their proposal suggest that continued negotiation may result in a favorable outcome."
According to Boyer, American Lions is asking for more incentives than real estate developer Carter wants for The Hardwick, a proposed $150 million residential/retail project at the former Duval County Courthouse site on Bay Street.
Carter is asking for more than $41 million in incentives through property tax rebates, a cash completion grant and a discounted purchase price on the city-owned land.
Board member Jim Citrano said during the May 16 committee meeting that it needs to be reasonable and "palatable" for taxpayers.
"I would not have voted for the economic package that they are asking for," said Citrano, who was on the scoring committee.