London-based Paysafe Ltd., a financial technology company that offers payment services, announced Nov. 14 it will open its North American headquarters in Jacksonville and hire 600 workers.
Paysafe is seeking $10 million in city incentives and $3 million in state assistance as part of the deal. The state money is from the High-Impact Performance Incentive program.
"Paysafe's decision to establish its headquarters in Jacksonville further solidifies Florida as the top destination to grow a business," Gov. Ron DeSantis said in a news release. 
At a news conference at the JAX Chamber headquarters, Paysafe said some jobs will be created and some employees will transfer from other offices over the next three years. It expects to have 200 employees by the end of 2023.
Paysafe CEO Bruce Lowthers said the company is in negotiations for office space.
"The decision to expand our presence in the US with a new North American headquarters in Jacksonville was a logical step in our business growth strategy," Lowthers said in a news release.
"Jacksonville is a vibrant business hub and rich with diverse talent from well-known academic institutions, as well as a number of high-profile Fortune 500 companies," he said. "We look forward to building a high-performing team here over the next few years and becoming an active member of the local community."
Before becoming Paysafe CEO in May, Lowthers spent 15 years at Jacksonville-based Fidelity National Information Services.
There are more Paysafe connections to Jacksonville.
In March 2021, Paysafe merged with Foley Trasimene Acquisition Corp. II.
Foley Trasimene is a special purpose acquisition company, or SPAC, that was founded by Bill Foley, chairman of Fidelity National Financial Inc.
"We are thrilled to complete this business combination with Paysafe," Foley said in a news release about the deal in 2021.
"Paysafe has the right assets, team and strategy in place to capitalize on a tremendous opportunity for long-term value creation in the payments industry."
Foley relocated from Jacksonville to Las Vegas when he was awarded the NHL's Vegas Golden Knights expansion team in 2016.
Also, Black Knight CEO Anthony Jabbour, who is on the board of Jacksonville-based Dun & Bradstreet, is on the Paysafe board of directors.
Founded in 1996, Paysafe offers payment processing, digital wallet and online cash solutions.
Paysafe says it has annualized transactional volume of $120 billion as of 2021 and about 3,500 employees in more than 10 countries.
It says it connects businesses and consumers across 100 payment types in more than 40 currencies around the world. 
Paysafe is traded on the New York Stock Exchange at PSFE. It closed Nov. 11 at $1.47 a share.
According to its website, it has U.S. offices in Atlanta, Miami, Houston, Irving and Westlake Village, California, Minden, Nevada and Tampa/Clearwater.
The announcement was attended by Florida Department of Economic Opportunity Secretary Dane Eagle, Florida Deputy Secretary of Commerce Laura DiBella, JAX Chamber Chair Ray Driver, JAX Chamber CEO Daniel Davis and Paysafe executives.
"It is an honor to welcome Paysafe's North American headquarters to Jacksonville," Jacksonville Mayor Lenny Curry said in a news release. "This addition is just another example of Jacksonville's growing reputation as a global leader in fintech. We remain committed to setting the stage for Jacksonville's continued economic success."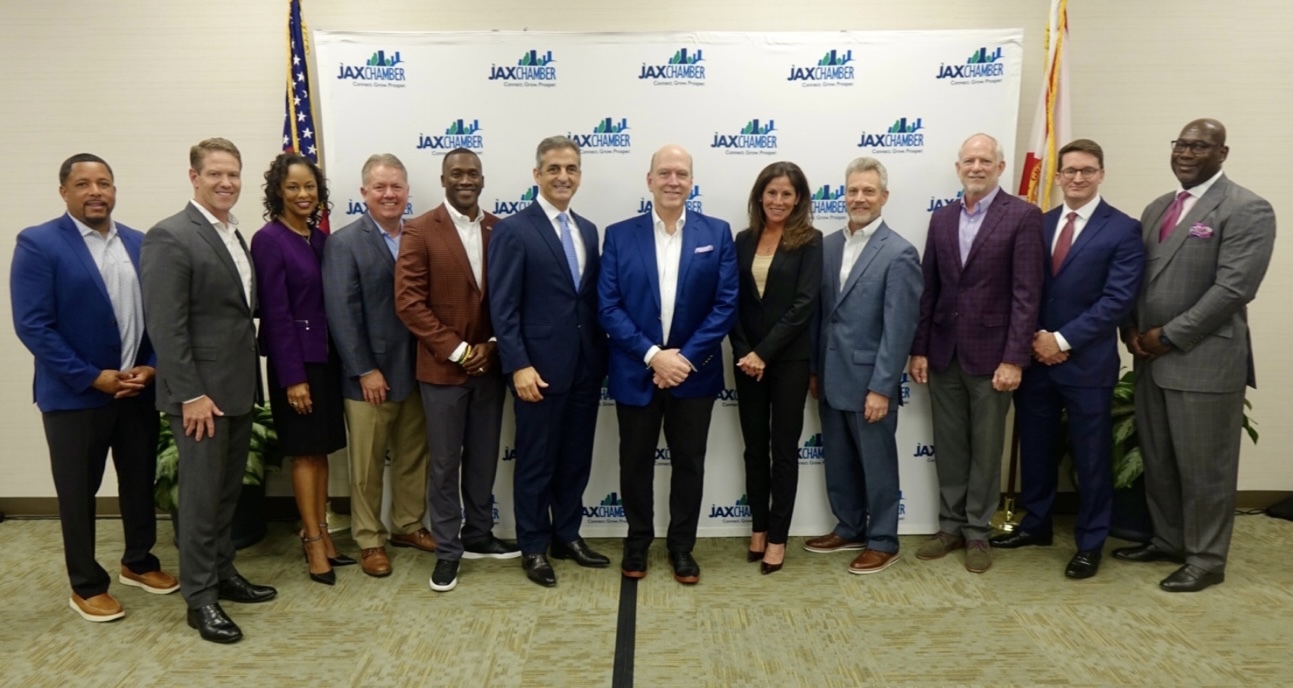 Photo from left: Global Freight and Commerce CEO and JAX Chamber Board Member Jesus Garay; JAX Chamber President and CEO Daniel Davis; JAX Chamber Board Member Shantel Davis; JAX Chamber Chair Ray Driver; Jacksonville City Council President Terrance Freeman; Dun & Bradstreet CEO Anthony Jabbour; Paysafe CEO Bruce Lowthers; Florida Deputy Secretary of Commerce Laura DiBella; Jacksonville Office of Economic Development Executive Director Kirk Wendland; JAXUSA Partnership Senior Vice President Aaron Bowman; Florida Department of Economic Opportunity Secretary Dane Eagle; and JAXUSA Partnership President Aundra Wallace.