For VyStar Credit Union's chief executive, the summer 2022 online banking outage and canceled deal to buy a Georgia commercial bank were lessons learned. 
"An experience like this summer definitely humbles myself and others in our institution and makes sure that we slow down and check to make sure we're doing what's best for our members," President and CEO Brian Wolfburg said in a Sept. 12 interview. 
"And I truly believe we are." 
Wolfburg said VyStar is moving forward, focused on a 26-branch expansion in Georgia over the next three years and becoming "the credit union of the Southeast."
The Jacksonville-based credit union's online and mobile banking systems went down for more than a month this summer. 
It started May 13 with what was supposed to be a 48-hour planned outage as VyStar worked with its new software vendor, Nymbus Inc., to upgrade its digital banking products.
The system has been operational since June, but users told Daily Record news partner News4Jax.com in May they were unable to log in to by desktop or mobile app or see transactions online and had to go to brick-and-mortar branches to pay bills and do their banking. 
Some told News4Jax that they still saw long log-in times for days after fixes were put in place. Others said they were considering leaving VyStar after years of membership.
Wolfburg said there was an increase in closed memberships and a slowdown in new ones around the time of the outage.
In the second quarter of 2022 that includes the time of the outage, VyStar reported growing by 6,832 members, according to a VyStar spokesperson and documents the credit union filed with the National Credit Union Association.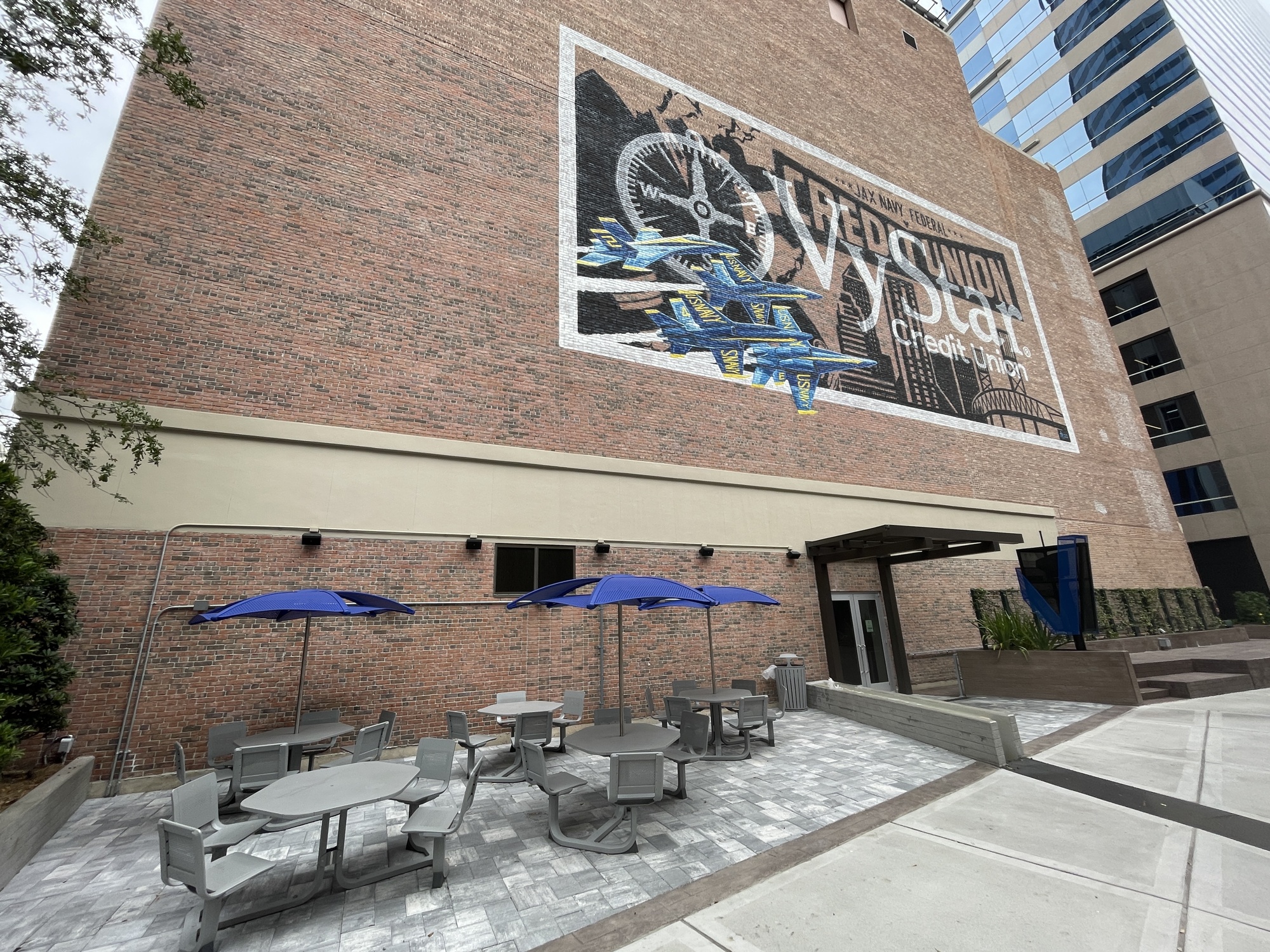 That slowdown appears to be reversed.
The credit union says it grew by more than 18,000 members in the third quarter 2022.
That's 22% more than the third quarter 2021 and the second-highest member growth month in the history of the credit union, according to VyStar Vice President of Communications Pauline Gerry. 
From the fourth quarter 2021 through the first quarter of 2022, VyStar grew by 15,921 members.
Wolfburg said that as of Sept. 12, the credit union is growing at an average rate of 250 new members per day and adding 5,000 to 7,000 per month.
VyStar recorded 829,287 members in its last report to the NCUA, certified July 26.
Based on its performance, marketing and advertising spending and how its rates and fees compare with competitors, Wolfburg said VyStar projects it will reach 850,000 to 860,000 members by the end of 2022. 
Wolfburg acknowledges the outage caused "challenges" for VyStar's customers and he is "not looking for a pass."
But he said its members are "loyal and resilient" and "stood by us." 
Georgia and beyond 
In August, VyStar opened its first Georgia branch in Thomasville, about 35 miles northeast of Tallahassee. It was the credit union's 65th full-service branch. 
Wolfburg said it is the first of 26 branches planned for the state in an expanded field that includes 26 counties in the South, Southeast and Metro Atlanta regions.
The move follows VyStar pushing south into the Florida Peninsula and over into the Panhandle in recent years opening locations in Titusville, Melbourne, The Villages and Tallahassee and expanding its membership reach into St. Petersburg and Tampa.
Wolfburg said he sees more market and branch expansion opportunities in Orlando and toward Florida's Gulf Coast.
VyStar's desire is to become more regional and "best-in-class," he said. 
As of June 30, VyStar has about $13.03 billion in assets. 
To be competitive with national and regional commercial banks, Wolfburg says VyStar created new products including military and everyday heroes mortgages; launched adoption loans; expanded auto lending; purchased insurance agencies; and eliminated about 75% of its fees.
"A lot of the large, regional and national banks just keep getting bigger and to remain relevant to compete, to win, to make sure we're able to be around and to do good for our communities is going to take gaining that scale and gaining that efficiency and driving that back into our business," Wolfburg said.
The CEO said states like Alabama, Tennessee and the Carolinas "wouldn't be out of our line of sight" long term. 
Wolfburg said VyStar is streamlining its community giving by launching the VyStar Foundation. It will start accepting grant requests from nonprofits in early 2023. 
VyStar says it gave more than $6.8 million to more than 300 nonprofits in 2021.
HQ and Downtown development
VyStar added 150 positions in 2021 and now has about 2,000 employees. 
Wolfburg said VyStar will keep a hybrid work model and will have 600 to 700 employees at its headquarters at 76 S. Laura St. most days. 
In March 2021, Wolfburg said that up to 1,200 of the credit union's employees could eventually be working Downtown, and he said Sept. 12 that he expects to hit that target.  
"I'm a big in-office person, and I definitely see the benefit to it (hybrid work model) versus a fully remote environment. But I can see the benefit, even for myself and my family, as well as what I hear from my employees about the remote portions of our hybrid work model," he said. 
When VyStar bought the Downtown properties for its heaquarters,  it retained tenants that were leasing there.
As leases expired and tenants left the VyStar Tower at 76 S. Laura St. and its adjacent office building at 100 W. Bay St., Wolfburg said it has been able to absorb that space with its own personnel. 
The credit union's latest Downtown campus expansion is a $21 million, 807-space parking garage at 28 W. Forsyth St. Wolfburg said it should be completed by the end of the year.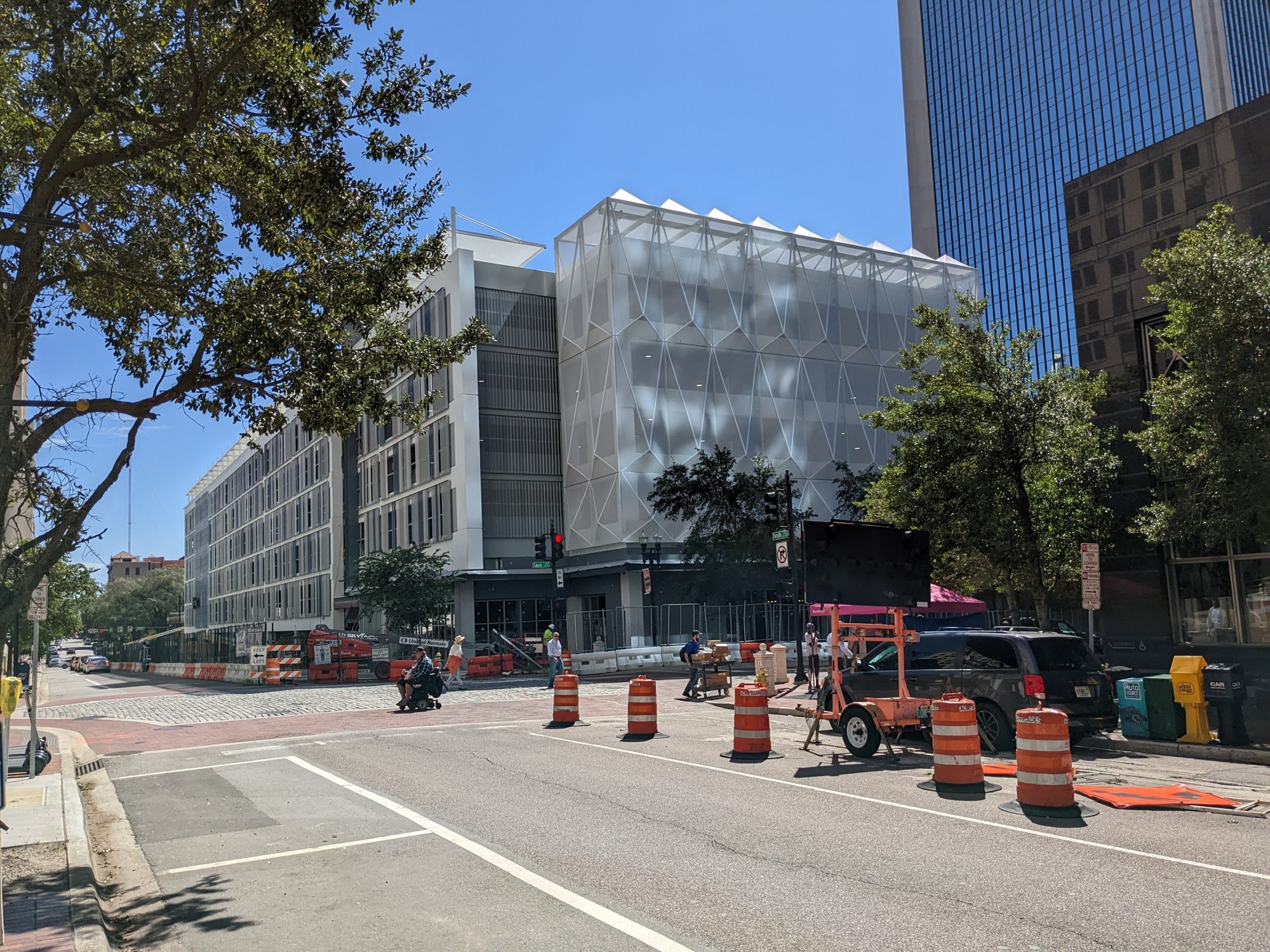 VyStar is talking with a couple of retailers to fill ground-floor retail space on the building's Laura Street side that Wolfburg said will bring life to that corridor and Laura and Hogan streets.
Wolfburg said VyStar has not signed a deal for that space but expects it will be a business that brings people Downtown and gives patrons day and evening options, as well as more places to visit before and after events. 
"We're working with local individuals and leaning in to make sure people can get the spaces they need and to bring more vitality to Downtown," he said.
Wolfburg dispelled rumors that the space would become a pharmacy or another "daily driver" type of service. 
The search for tenants follows VyStar's announcement in July that the Jacksonville Children's Chorus would move its headquarters into space on the garage's Main Street side.
In total, the garage will have 19,516 square feet of retail space.
Wolfburg said two 350-square-foot bays on Forsyth Street could be leased to nonprofits for office space and tutoring or retail use.
For VyStar, making a profit from rent isn't its primary goal.
"These aren't normal retail relationships where we're looking to get the highest level of rent on it or make sure that it's national brands," Wolfburg said.
VyStar contributed nearly $500,000 last year to assist the development of the 30-mile Emerald Trail multiuse path that will connect urban core neighborhoods with the Downtown Riverwalk and includes a cycle track on Hogan Street.
The credit union also offered a $1.5 million line of credit to the Jacksonville Historic Naval Ships Association to bring the USS Orleck warship museum to the Northbank.
Nymbus
Despite the problems implementing VyStar's online banking products, Wolfburg said Nymbus remains as the credit union's business partner and moved its headquarters to the VyStar Tower from Miami Beach.
"We continue to move forward with them and the technology we've purchased from them," Wolfburg said.
"We still believe we made the right choice going with Nymbus and we're going to partner with Nymbus in the future," he said.
In 2021, City Council and the state approved a combined $4.53 million in grant funding for Nymbus to relocate to Jacksonville and create 673 full-time jobs by year-end 2024. 
The city portion was $1.83 million. 
Nymbus did not respond to requests for a current employee headcount in Jacksonville. 
VyStar invested $20 million in the Nymbus Credit Union Service Organization. Nymbus lists it as a lead investor in Nymbus CUSO. 
The financial software company will occupy about 15,000 to 17,000 square feet of the tower's 13th floor, VyStar COO Chad Meadows said in October 2021.
Wolfburg said VyStar will continue to improve its digital product offerings as it grows and is confident in Nymbus.
"I think they've had some learning," he said. "And I think that makes us both better and stronger for the future."