More than three years after the city began to search for a developer to build for-sale town houses in LaVilla, Corner Lot Development Group and JWB Real Estate Johnson Commons LLC broke ground Oct. 18 on a 91-unit project.
Representatives of the Johnson Common partnership joined city officials for a ceremony at the 3.45-acre site in the historic Downtown neighborhood near the future Lift Ev'ry Voice and Sing Park and the JTA Jacksonville Regional Transportation Center.
Corner Lot COO George Leone said the three-story town houses will be priced in the mid-to-high-$300,000s and will be "a little higher end" than the multifamily affordable and workforce housing built in LaVilla in recent years, primarily by The Vestcor Companies Inc. 
"We're going to drive some price points in the area," Leone told reporters after the groundbreaking.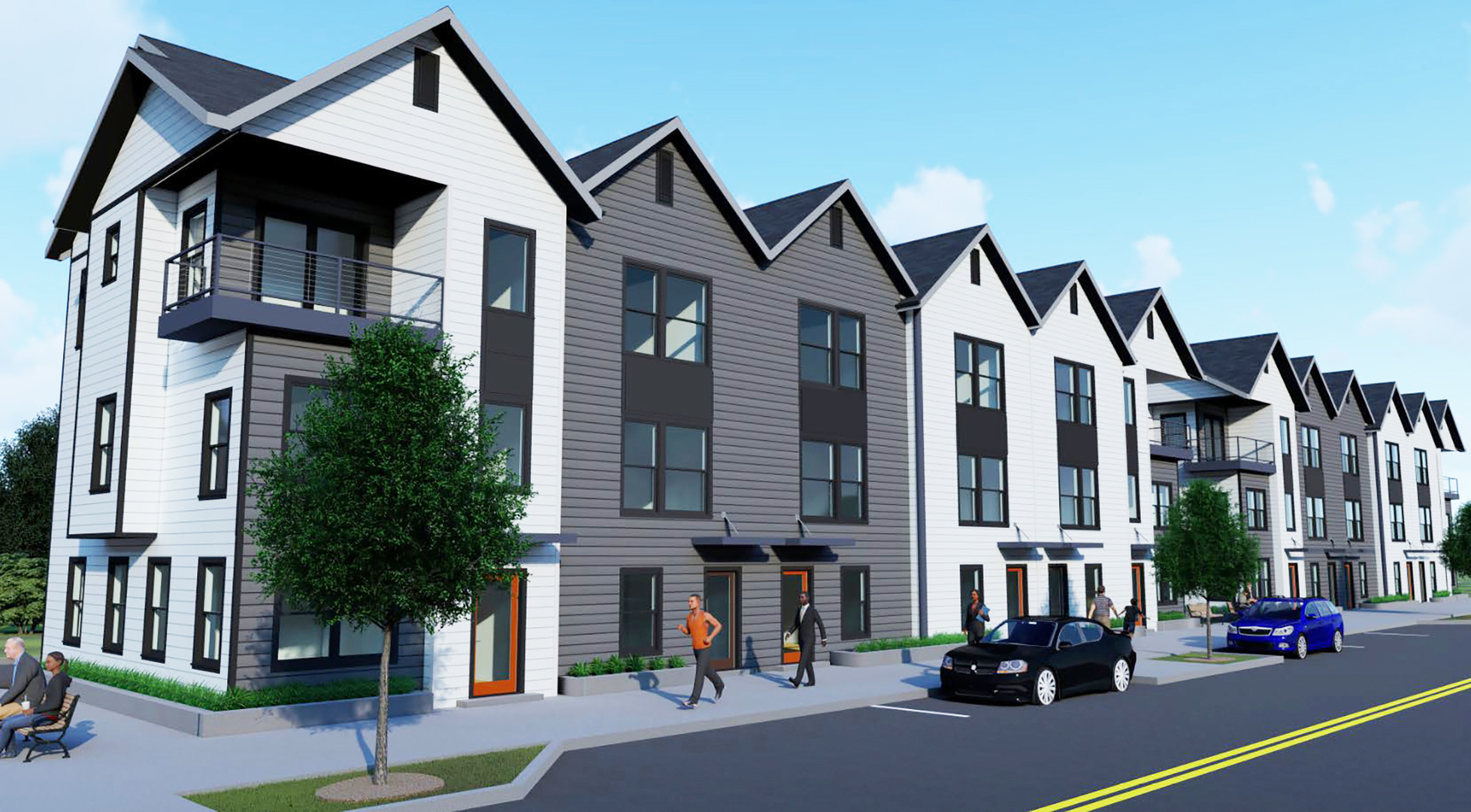 "Development so far in LaVilla is a little bit more on the affordable side. Well, now we're going to bring a little nicer product and try to get people that live and want to work in Downtown Jacksonville."
Corner Lot and JWB have been working with the Jacksonville Downtown Investment Authority since March 2021 to build what Leone estimates will be an $18 million to $20 million project. 
City Council agreed to convey the land, appraised in 2019 at $3.58 million, to the Johnson Commons partnership for $100 in exchange for keeping the prices affordable for middle-income buyers— what the city considers "the missing middle."
It will be the first large-scale, single-family home project built in Downtown Jacksonville's historic black neighborhood since much of LaVilla's housing was acquired and demolished by the city in the 1980s and '90s. 
Designs approved by the Downtown Development Review Board in September 2021 show the town houses will feature a shotgun-style design with gabled roofs.
Johnson Commons representatives said the design is inspired by LaVilla's architecture of the late 19th and early 20th centuries when the neighborhood was thriving.
"To get to this point, it's just very fulfilling," Leone said. "Especially to be a part of what's going on in LaVilla. LaVilla is on a great trajectory."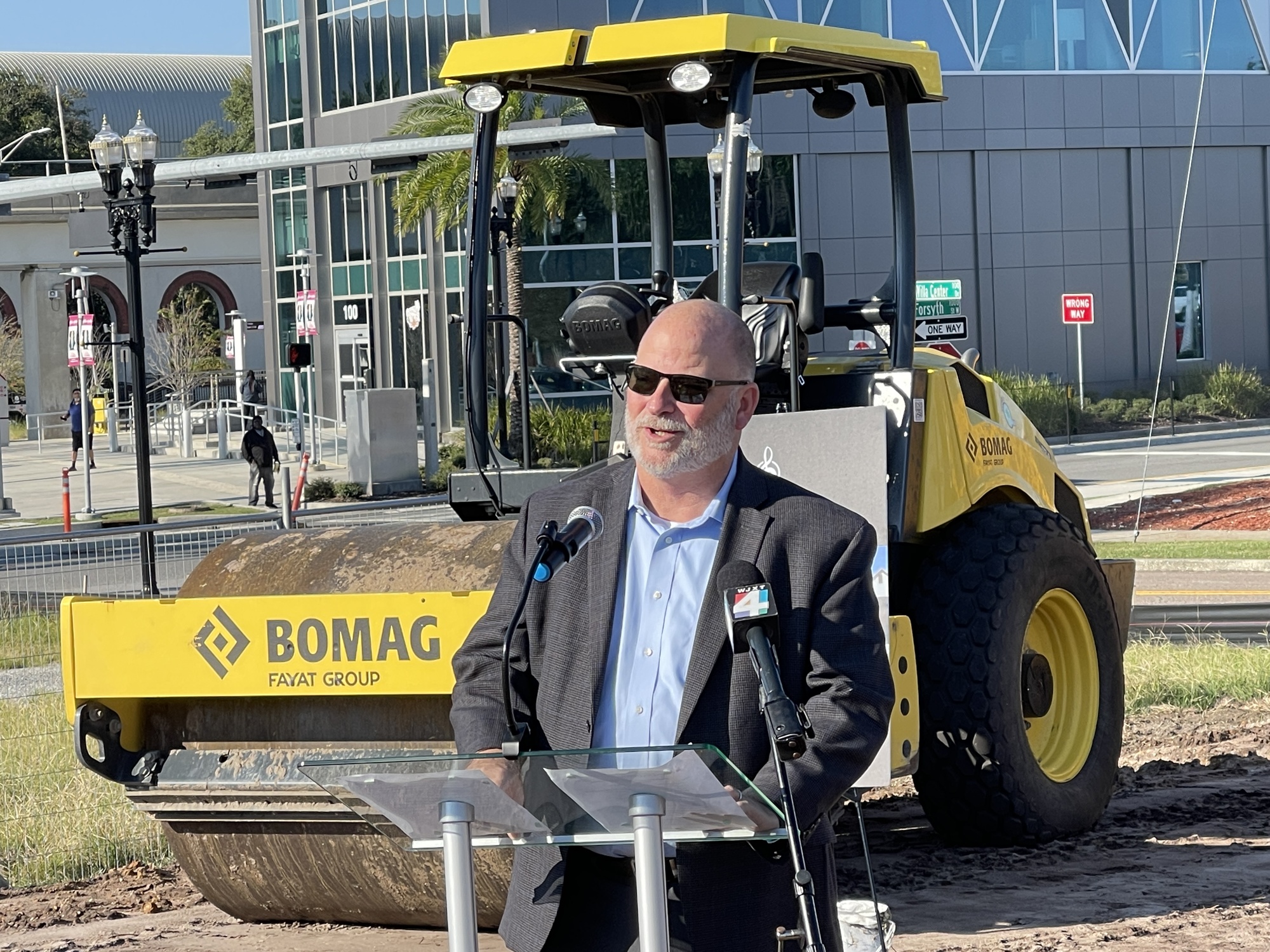 Leone said Corner Lot and JWB plan to create a waitlist and start gauging market interest to allow some lot selections in the next few months. 
He said the first town houses will be ready for move-in by summer 2023, and the entire 91-unit project will take two years to complete.
The homes will be about 1,800 square feet. There will be two models — a three-bedroom, 2½-bathroom and a two-bedroom, 2½-bathroom. 
Each town house will have a one-car garage, and the community will have additional surface parking, a pool and cabana, he said.
According to Leone, a timeline to build a second phase with commercial and retail space and for-rent multifamily housing will be determined by market demand and how quickly Johnson Commons can sell the town houses.
"We need to get people living here," he said.
Steve Kelley, DIA director of Downtown development and real estate, said other than some multifamily housing, LaVilla has sat as "a blank slate" for decades. 
"When these town homes come into place, and phase two happens across the street over there, this is going to be a game changer for one of the most historic areas of our Downtown," Kelley said.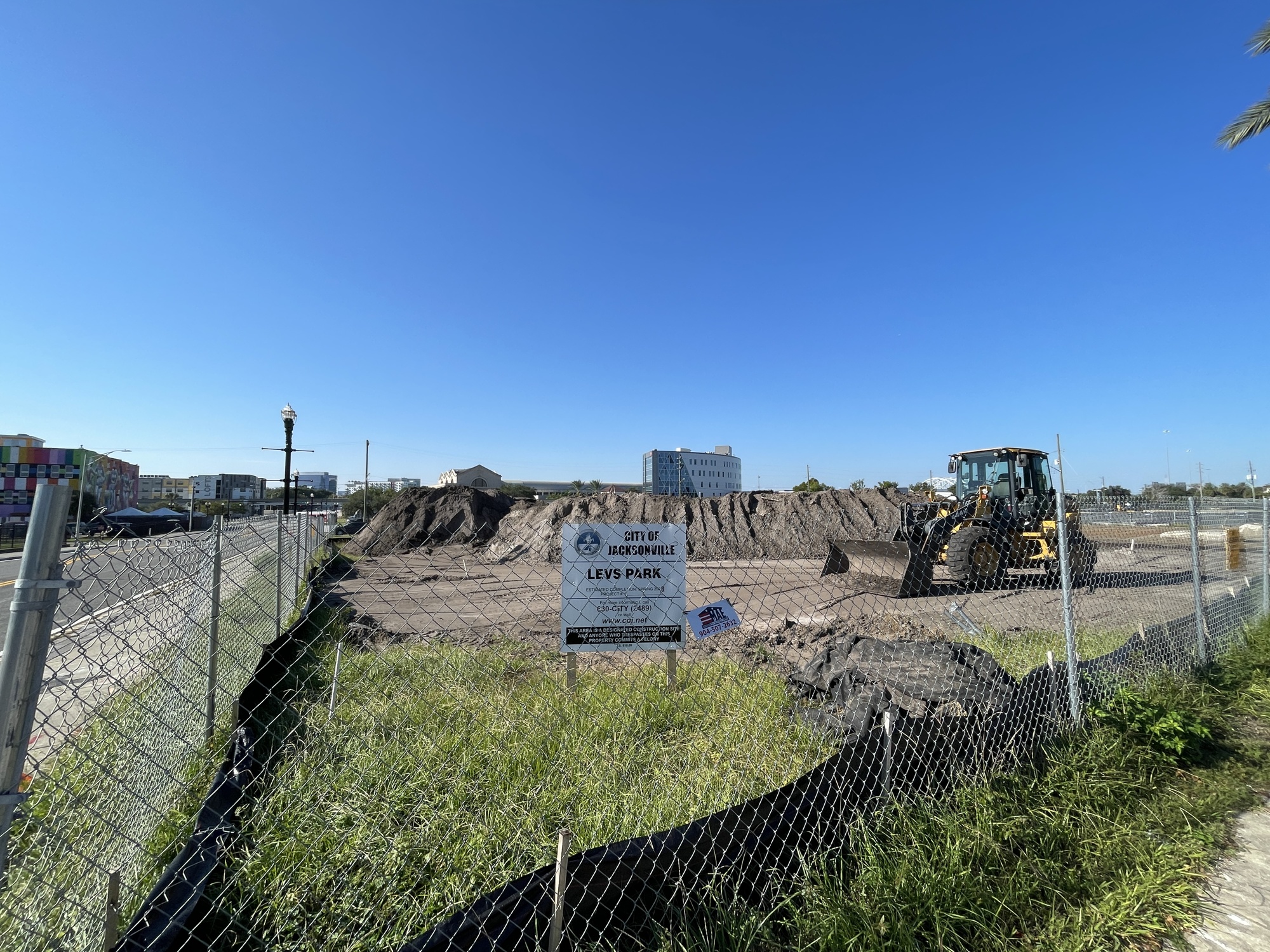 Lift Ev'ry Voice and Sing Park
As part of its deal with the city, Johnson Commons donated $150,000 to the construction of the adjacent park named after the black national anthem composed and written by Jacksonville resident James Weldon Johnson and J. Rosamond Johnson. 
City Parks, Recreation and Community Services Director Daryl Joesph said in an email Oct. 17 that work should be completed on the park by summer 2023.
Joseph said the estimated $1.8 million facility will be a "destination park" for LaVilla designed by landscape architect Walter Hood of Hood Design Studio in Oakland, California.
On Oct. 18, skid loaders were moving dirt at the park site to build up the "lifted lawn" that will overlook a performance stage in the park. 
Joseph said a shotgun house, traditional to LaVilla, is being restored with three glass walls featuring imagery and quotes from the Johnson brothers. It will be placed in the park. 
He said underground infrastructure work will begin in the next few weeks. The park also is along the 30-mile Emerald Trail that will encircle the city and connect neighborhoods.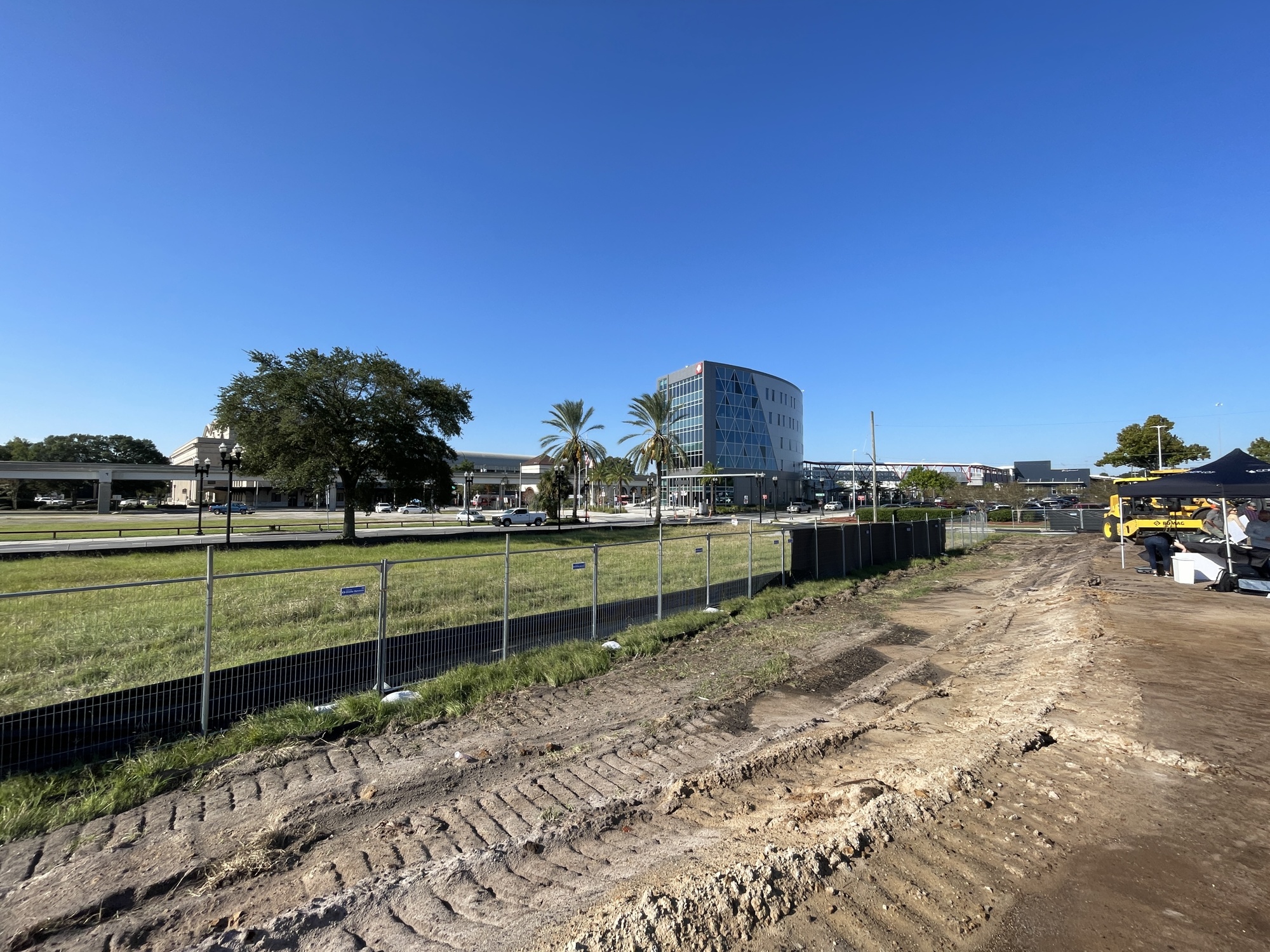 Revenue sharing
The town house project has faced starts and stops since it was proposed in 2019.
Johnson Commons finished second to Vestcor Companies Inc. in a 2019 request for proposals issued by the DIA to develop the site, bounded by Adams, Lee, Houston and Forsyth streets.
Council signed off on the redevelopment agreement with Vestcor in January 2020.
The DIA allowed JWB and Corner Lot to take over the project in March 2021 after Vestcor subsidiary VC LaVilla Townhomes Ltd. abandoned the project due to what the company cited as market uncertainty because of the pandemic and returned the land to the city.
In August, at the recommendation of the DIA board, Council agreed to increase the threshold price that would trigger a revenue-sharing deal between the developer and the city from $250,250 to $320,000. 
Johnson Commons will split the net revenue from the town house sales with the city beyond $320,000. 
JWB President Alex Sifakis said Aug. 23 the cost to build a town house is up 50% since the lower price for the project 2½ years ago and the developer would lose money on the investment. 
Despite increasing the revenue-sharing threshold, Kelley told Council in August he estimates the city still will receive up to $1.3 million from the deal and generate a $1.38 return for every $1 invested by the city. 
For example, under the previous deal, a LaVilla town house that sold for $400,000 would net the city $74,875. Under the change, that same sale would net the city $40,000.
"This is the culmination of that give and take," Leone said. "You have to extend your arms out and figure out ways to work together."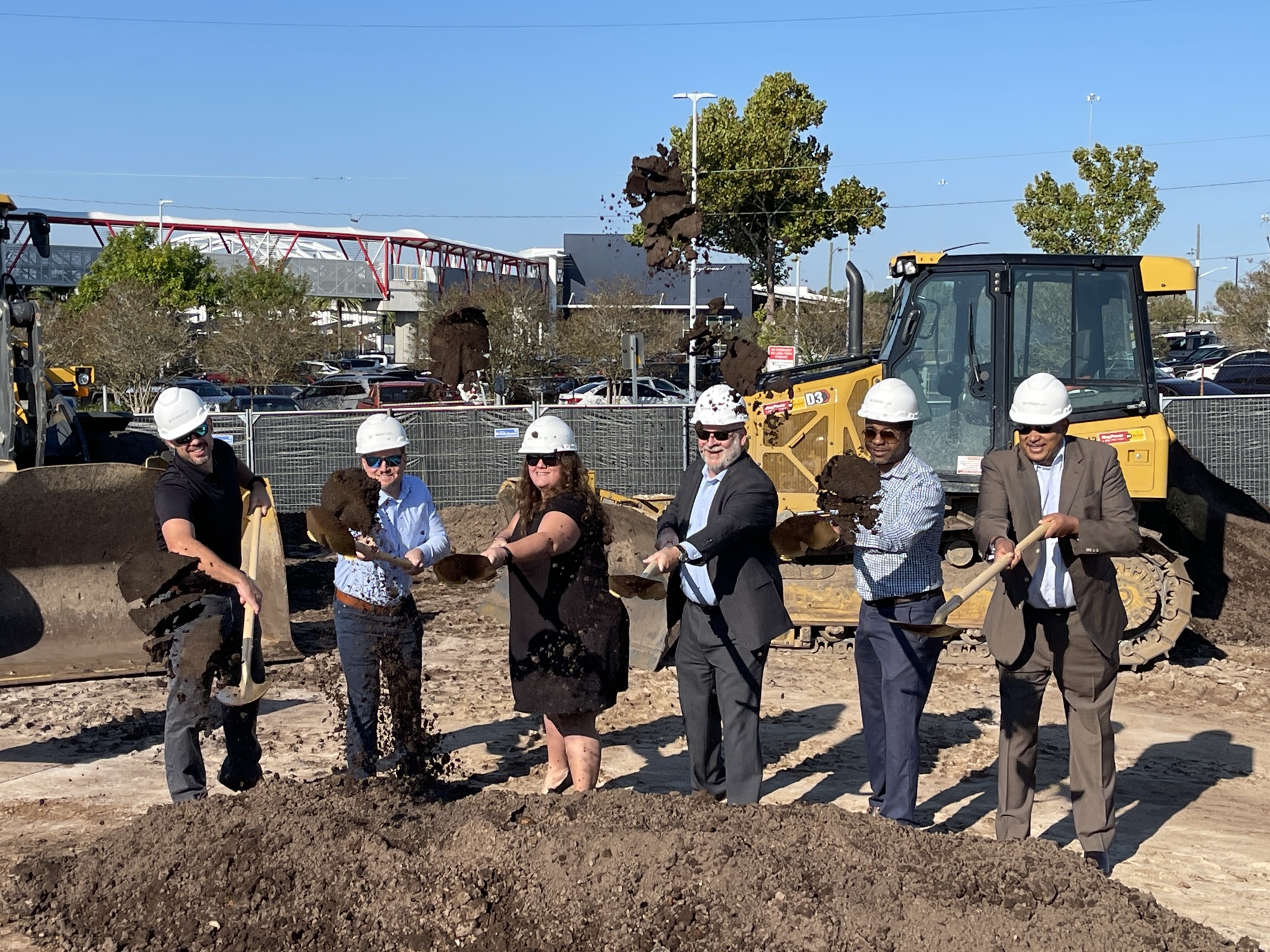 Photo above from left: Marquis Latimer & Halback Arborist, COO and Principal Fremont Latimer; Corner Lot COO George Leone; Driver, McAfee, Hawthorne & Diebenow partner attorney Cyndy Trimmer; DIA Director of Downtown Real Estate and Development Steve Kelley; City Parks, Recreation and Community Services Director Daryl Joseph; and JTA Senior Vice President and Chief Administrative Officer Cleveland Ferguson III.