The price spikes in single-family homes earlier this year have settled into mild fluctuations at the close of the third quarter, according to market research provided by the Northeast Florida Association of Realtors.
The median price of a single-family home fell 2.6% in September to $380,000 in the Northeast Florida market comprising Duval, Clay, St. Johns, Baker, Putnam and Nassau counties. It's the first price decline in the market this year.
In Duval County, the September median price fell 1.5% to $335,000. In Clay, it fell 2.9% to $355,990. Baker fell 9.5% to $305,000. Putnam dropped 10.3% to $210,725. 
Not all markets declined.
The median sales price in St. Johns County increased 1.2% to $561,495 and Nassau increased 0.2% to $408,990.
"While still in a 'sellers' market the trend continues to move toward a more balanced market," NEFAR President Mark Rosener said in a news release.
"Weakening demand due to affordability issues – mainly higher mortgage rates – and growing inventory points in that direction."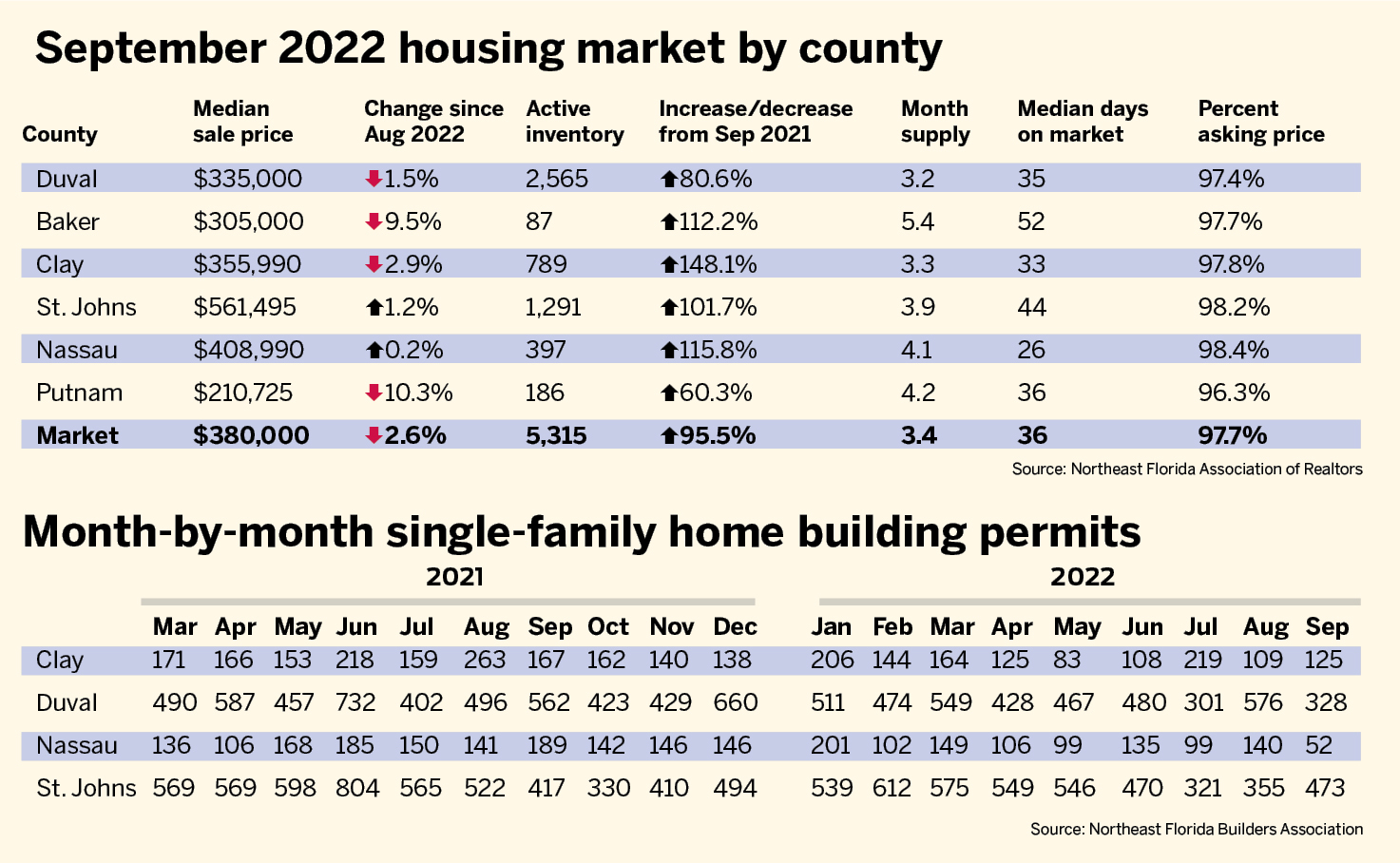 Affordability continues to be low. The Housing Affordability Index calculates whether a typical family earns enough to qualify for a typical home based on current interest rates, median income and home prices.
According to NEFAR, ideally that number would be 100 or higher.
In September, the Affordability Index for single-family homes, condominiums and town homes fell to 74 from 77, a 3.9% drop. The index for single-family homes alone dropped 4.2% from 72 to 69.
Inventory, which was measured by weeks earlier in the year, rose to 3.4 months in September from 2.3 months in August. 
The report also saw the days on the market rise from 30 to 36. By comparison, homes were lasting on the market just 12 days in April.
September showed an inventory of 5,315 houses, up 12.8% from 4,711 in August.
September sales were affected by Hurricane Ian, according to the report.
"Closed and pending unit sales suffered from Hurricane Ian's impact when the powerful storm interrupted services during the last week of the month, a time when many properties close and/or go under contract," Rosener said.
"Many of the properties scheduled to close in that last week should shift to close in the first half of October."
The average median price of a single-family home in the six-county market in the third quarter was $389,816. 
The average median in the first quarter was $355,413 and $389,442 in the second quarter.
In January, the median price was $341,245.
"I anticipate that the median price will continue to fluctuate month to month in the 3 to 5% range in either direction for the balance of the year," Rosener said.
According to the National Association of Realtors, the median price nationwide is $384,800, up 8.4% from a year ago. 
Sales of existing homes in the U.S.  fell in September for the eighth consecutive month, dropping 1.5% to 4.71 million.
Building permits fall in September
September building permits for single-family homes in Clay, Duval, Nassau and St. Johns counties fell to 978 in September, a 17.12% decline from the 1,180 issued in August, according to the Northeast Florida Builders Association. 
Issued permits have declined in five of the past six months.
The monthly report found that 3,098 permits were issued in the third quarter in the four-county area. In the third quarter of 2021, 4,033 were issued.
So far this year 10,920 permits have been issued compared with 12,518 in 2021.
In 2021, a total of 16,138 permits were issued.
Continuing supply chain problems have dampened the pace of building in 2022, said Jessie Spradley, NEFBA executive officer.
"JEA is reporting that the delivery of transformers are 120 weeks out," Spradley said.
Without the electric infrastructure, land cannot be properly prepared for construction.
Builders are reporting to Spradley that in many cases they are four to six weeks behind in the lot preparation stage.
Permitting traditionally slows heading into and through the fourth quarter, Spradley said. This year, builders are even more cautious.
"You know, some of it is folks dialing back on what they're doing and trying to figure out where the economy is heading."
The county breakdown shows that Duval dropped from 576 issued permits in August to 328 last month. 
Nassau fell from 140 to 52.
 However, permits rose in Clay from 109 to 125 and in St. Johns County from 355 to 473.
Spradley refers to 2019, the year before the pandemic, as the last "normal year" for area construction.
During that time, inflation was low and mortgage rates were at historic lows. 
The year-end total for 2019 was 10,345 permits. After just three quarters in 2022 it is 575 permits ahead of the 2019 total.
"We're 25% over what we were in 2019," Spradley said.
NEFBA delivers $30,000 of supplies
Earlier this month, Spradley drove a 24-foot trailer filled with $30,000 of tarps and roofing materials to Charlotte County and Sarasota to help in Hurricane Ian repairs.
The materials were donated by local builders and the Florida Home Builders Association. The NEFBA Foundation donated $10,000 to purchase supplies.