Imagine if days before an operation, surgeons could hold in their hands the body part they were repairing. 
Surgeons at Mayo Clinic in Florida's Jacksonville campus are doing that with 3D modeling.
The technology is used to research the development of 3D-printed human organs.
By combining data from X-rays, MRIs and CT scans, 3D printers can create a model of the body part involved in the operation.
 The models are so detailed they can be created using different colors to represent blood vessels, nerves and tumors.
This technology has been used in the Mayo system since 2016 and at the Jacksonville clinic for the past six years. 
The technology is being taken a step further with creation of 3D body replacement parts that can be implanted in a patient's body.
Dr. Mathew Thomas, director of thoracic surgery at Mayo Clinic in Jacksonville, is working with Techfit Digital Surgery of Daytona Beach to create safe bone replacement parts for the chest.
What started with one small 3D printer, Mayo in Jacksonville is opening a dedicated 3D Anatomic Modeling Unit with nine 3D printers of different sizes and the hospital is hiring its first full-time biomedical engineer.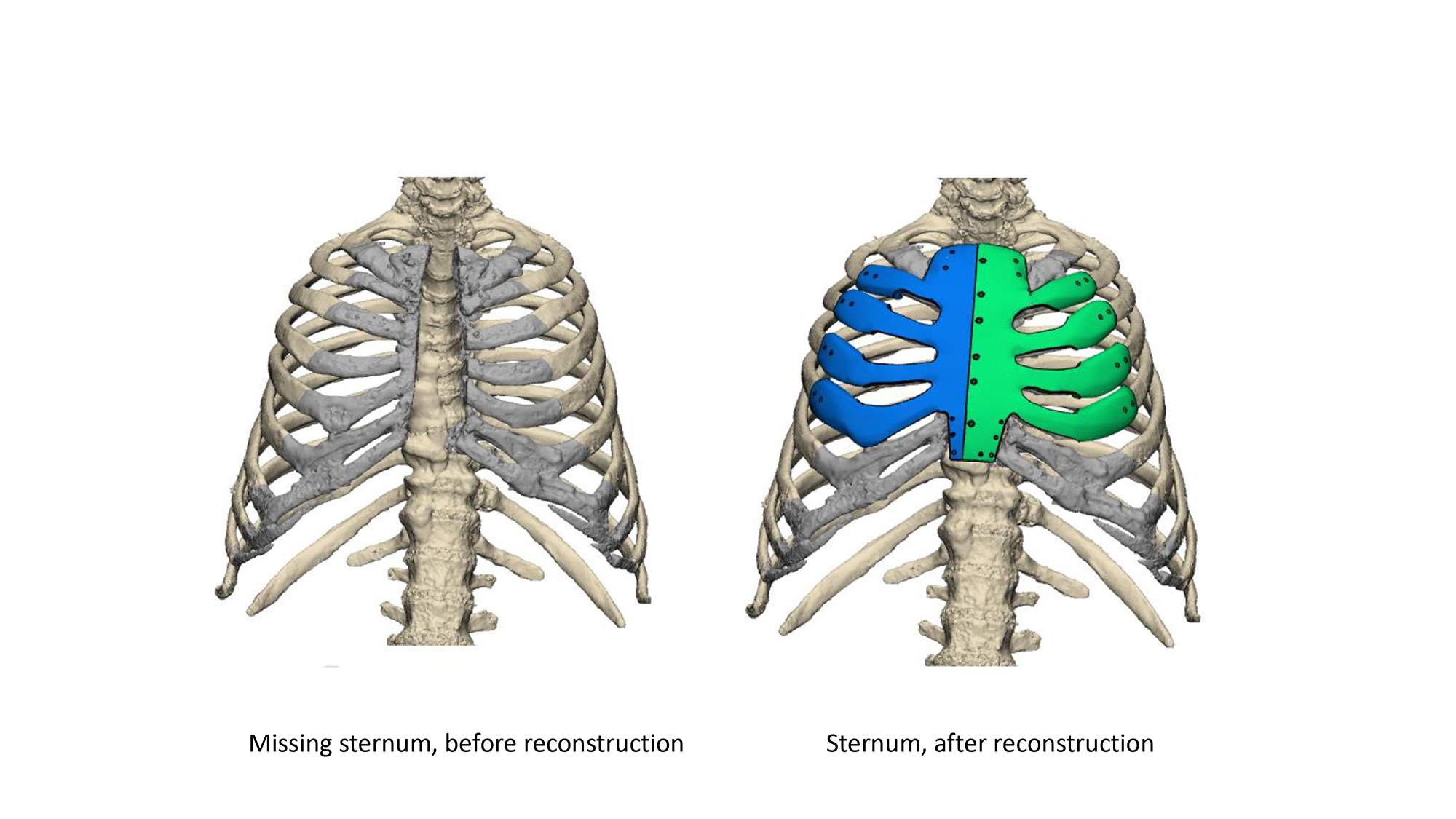 The cost of the workspace and printers is less than $1 million, said Robert Pooley, a medical physicist at Mayo.
"Our least expensive printers cost $3,500, the next size up may be $5,000 to $6,000 then our largest printer is about $500,000," he said.
This printer is the Stratasys J750, which has seven printer heads and can print with different materials and colors.
The most detailed and expensive models are reserved for the rarest and most difficult operations.
"Even for a seasoned surgeon and this is a case I haven't done in a long time, I can take the model at my own leisure," Thomas said.
"I can even take it home, and sit and practice with it until I am more comfortable. The next day I can come in knowing exactly what I am going to do because I have run through it over and over."
Young surgeons can experience less stressful training working on models of human body parts. 
Because the models can be made in a variety of textures, they can mimic the softness of tissue. Trainees can hold an organ model and practice inserting stents into blood vessels and a heart.
The models also are used to explain a procedure to a patient and the family. Thomas said he often wonders how much a patient understands when looking at a two-dimensional MRI or CT scan. 
Being able to hold a model of the patient's specific body part makes a big difference.
"In terms of discussion with the patients and obtaining their consent for a big operation, it's very, very helpful," Thomas said.
Thomas is on the front end of creating 3D body parts for transplantation.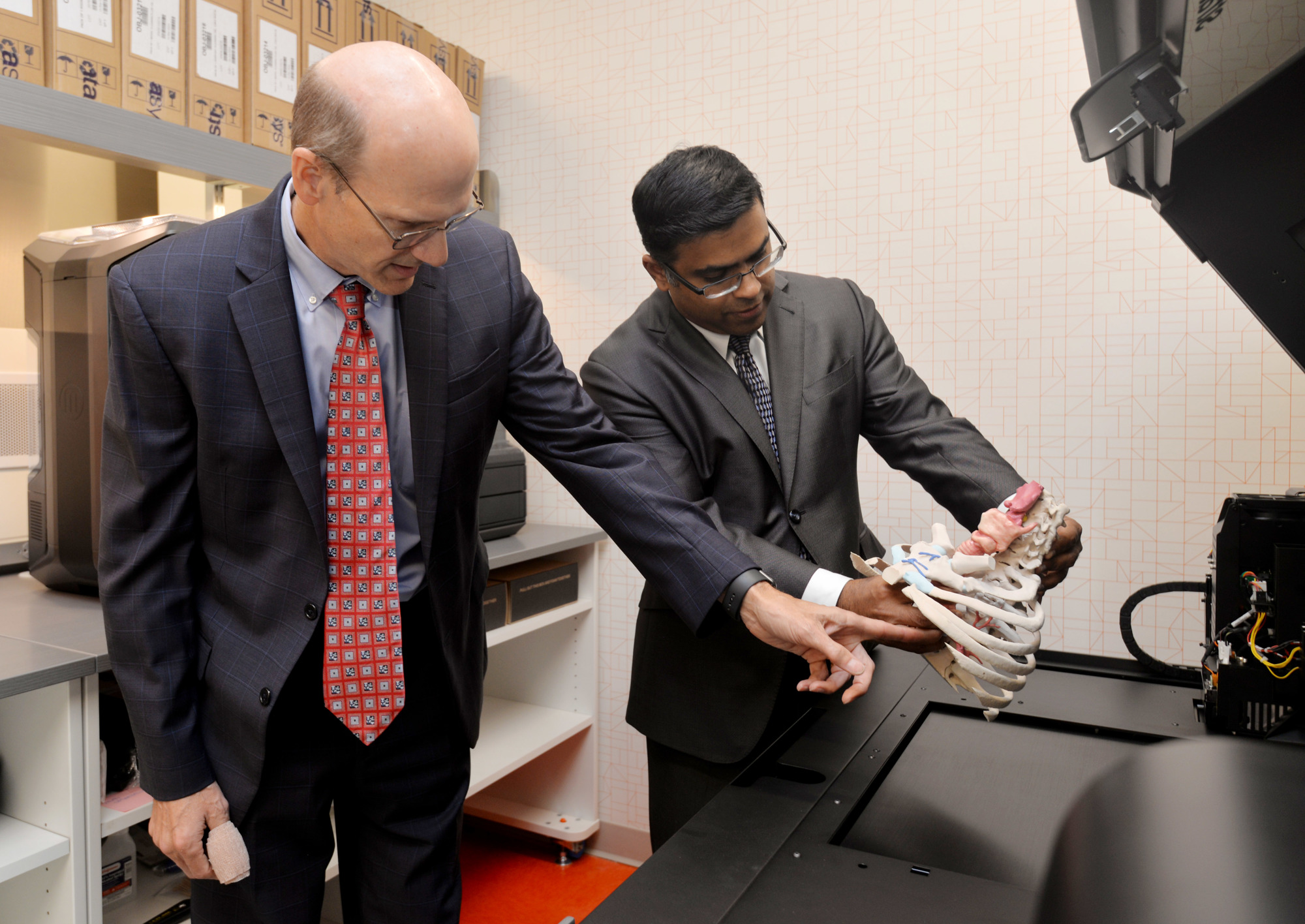 Working with Techfit Digital Surgery, Thomas has made exact replicas of the chest plate and ribs that were implanted after the chest had to be opened to perform an operation. 
He has performed two such operations at Mayo Clinic in Florida.
"We don't have any good materials to replace the chest. So far the standard care has been using muscle flaps, which are not bony materials. Patients are left with a lax chest wall that is improperly protected," he said.
"Sometimes we don't do the operations because we are worried if that we remove a part of the chest there is nothing to replace it."
The creation of 3D bone is so new that the FDA had to approve a compassionate use provision for Thomas to use the materials.
While it may be 10 or 15 years away, Thomas estimated, the next step is to be able to implant 3D-generated hearts, lungs and other transplantable organs. 
Research has been able to create a working heart about the size of a quarter. The miniature model operates by being immersed in fluid, which allows it to work but is not a suitable solution for real-life transplants, Thomas said.
The challenge is developing a way for blood vessels to be attached so that it can fully function in a human body. 
It is the same for lungs
"It will be amazing to say that we have a 3D print of your lungs and that they will perfectly match this person's chest."
When developed, he said, two of the biggest challenges of transplants may be greatly eliminated. The need for humor organ donors will decrease and rejection of a transplanted part will be reduced.
Because the 3D body part is made of inert materials, there is nothing for the patient's body to reject. 
However, there always is the concern of infection and allergies.
"Anybody can develop allergies to any material. Somebody can have a specific allergy that is unknown to the patient," Thomas said.
"It's a foreign body so there is always the risk of having an infection associated with it like any implant we put in the body whether it is a hip or a knee."
The 3D body part can be made to fit the patient's body and will be available on demand. One day a heart transplant could be as routine as a knee replacement is today, Thomas said.