Building permits for single-family homes and town homes increased to 873 in March compared with 664 in February, giving a boost to the first quarter of 2023, according to the Northeast Florida Builders Association.
But permitting lagged compared with the first quarter of 2022.
In the first three months this year, 2,384 permits were issued in Clay, Duval, Nassau and St. Johns counties. That's down 44% from last year, when 4,226 permits were issued.
The numbers in all the counties were higher in March than in February.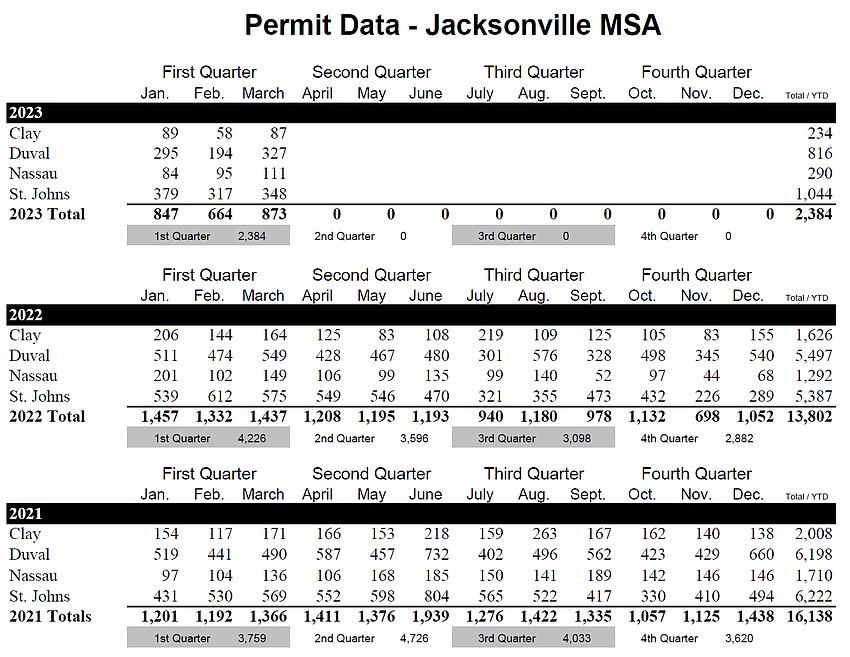 In March, 87 permits were issued in Clay, up from 58 in February; in Duval, 327, up from 194; in Nassau, 111, up from 95; and in St. Johns County, 348, up from 317.
While numbers were up in March, the market did not cross the 1,000 in any month in the first quarter.
In 2022, permits topped 1,000 nine times.
In the first quarter of 2023. there were 151 permits issued, 5% below the first quarter of 2019, which was benchmarked in the construction industry as the last year before the economy was affected by the coronavirus pandemic.
The permitting slowdown comes as demand for single-family housing remains high, but also along with consumer hesitancy fueled by higher interest rates and inflation coupled with increasing builder costs.
Permit slowdowns may also be caused by a lack of lots, said Jessie Spradley, NEFBA executive officer.
"I've talked with some developers who are telling me they are having a hard time finding lots. If local governments are not approving lots then there are no lots to be purchased," he said.
Spradley said Clay County's slow start may be because of the county's new permitting process.