Corner Lot Development Group and the Jacksonville Transportation Authority broke ground April 6 on the Artea apartments on the Downtown Southbank.
The real estate company's $93 multifamily project is part of the Jacksonville Transportation Authority Transit Oriented Development Program. 
It is under development on 3.87 acres owned by JTA near the Kings Avenue parking garage and Skyway station. 
In October, Corner Lot entered into a 99-year lease with JTA for the site.
In February, the Downtown Investment Authority approved a $6.3 million property tax break.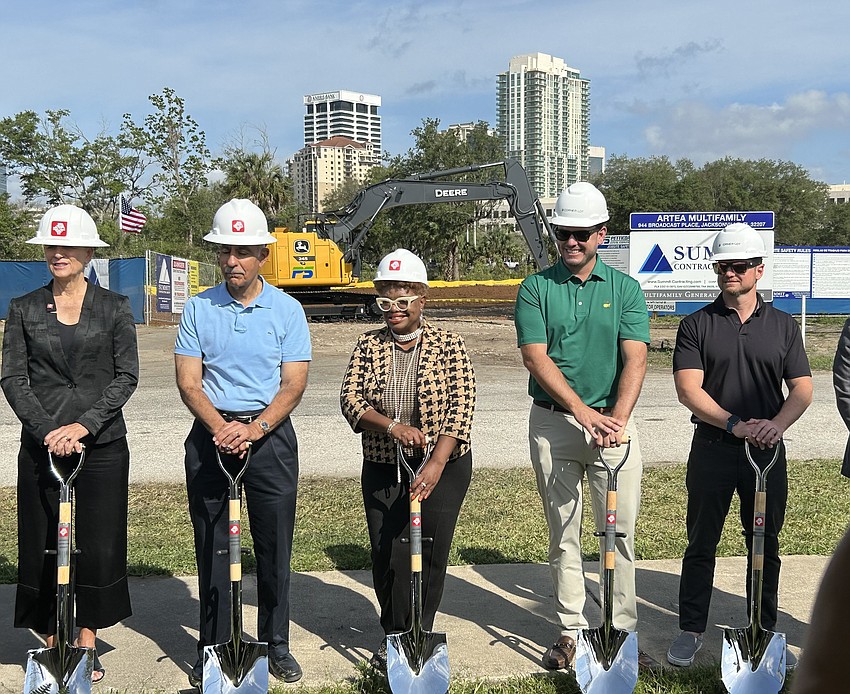 The four-story, 340-unit Artea will have studio, one- and two-bedroom floor plans and balconies. 
Exterior features will include a saltwater pool, clubhouse, 24-hour fitness center, indoor/outdoor rooftop lounge, three courtyards and a multilevel covered parking garage. 
Interior amenities will include an urban interior design scheme with wood-style flooring, quartz countertops, upgraded stainless steel appliances, modular closets and walk-in glass showers.
Artea will include private workspaces and weekday happy hour service, and residents will have access to a 425-space structured garage.
In addition to bringing more housing and "creating infill," JTA CEO Nathaniel Ford said the Artea project serves as a "meaningful" representation of JTA's goal to partner with developers to plan and build more projects around existing transit infrastructures.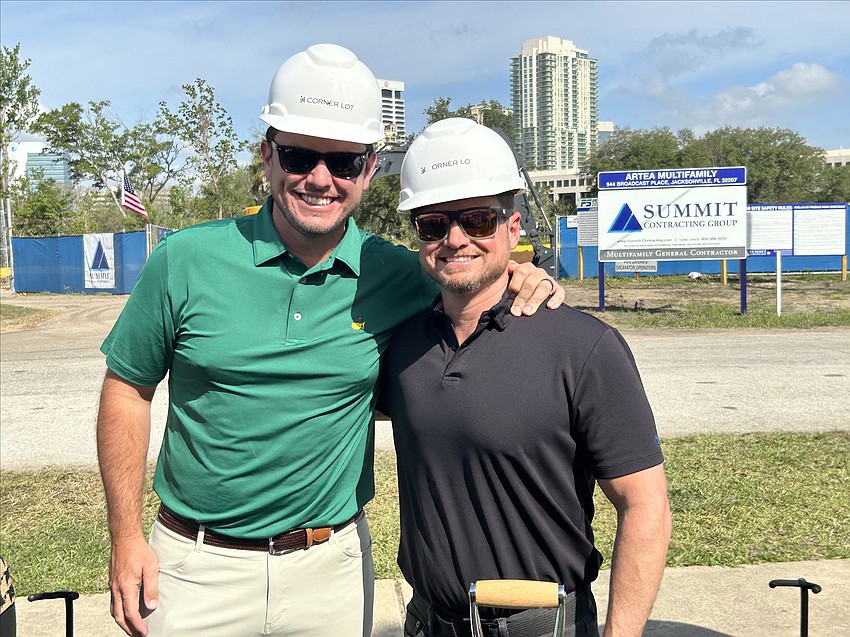 "Clearly with the population growth happening in Jacksonville and the redevelopment of downtown, there is a critical nexus, which is transportation, and we've got to get it right," Ford said. 
"It is making sure these developments consider transportation from the beginning. Not after the fact and frankly leverage transportation. That's what it's all about."
Ford said he rode the Skyway to the event. 
"Projects like this are really changing the trajectory of the development of our city," he said. 
Corner Lot CEO Andy Allen said that while the coronavirus pandemic put the project "on pause" for 18 months, the project has since gained traction.
"This project means public-private partnerships are necessary and wonderful for our community," Allen said.
"It means a transit-oriented development right on the Southbank is really happening. The fact the project is coming to fruition speaks volumes for our city."
George Leone, Corner Lot COO, said the company has been working on the project for four years.
"Yes, we had a delay, but we have a great partner with JTA and we were able to work things out and keep the project moving forward. 
"We've seen some great things in Atlanta and other metropolitan areas that have had a boom of transit-oriented developments and it's been a great part of building their cities. We want to build our city and we think this is the next step towards doing that."
Artea is scheduled for completion in the second quarter of 2025, according to Corner Lot Director of Marketing Michael Ryan.
Summit Contracting Group is the contractor and Dynamik Design is the architect.