The city issued a permit April 7 for Tenant Contractors Inc. to build-out the second floor for Ponte Vedra-based Treace Medical Concepts Inc. at its four-story headquarters building in Nocatee at a project cost of $2.34 million.
Treace occupies the first and fourth floors and is building-out about 31,000 square feet on the second of the 125,000-square-foot Park Place One at 100 Palmetto Place in Nocatee. 
Nocatee straddles southern Duval and northern St. Johns counties.
Tenant Contractors built-out the 30,260-square-foot fourth floor for Treace at a cost of $2 million in early 2022. The first-floor build-out was approved in April 2022 at $200,000.
Treace opened that space in July 2022.
Connie Turner Interiors is the space designer.
Treace previously leased 23,060 square feet for its headquarters at 203 Fort Wade Road in the Fort Wade Road Office Park in Nocatee under a lease that expires in August 2026.
The company's annual report in February 2022 said Treace entered into a 10-year triple-net lease agreement for a new 125,562-square-foot headquarters building in Ponte Vedra. 
The report said it will move into the new building in phases and occupy the full building by the second anniversary of the lease's commencement.
Nine years ago, John Treace set up in an office to develop plans for a medical products company.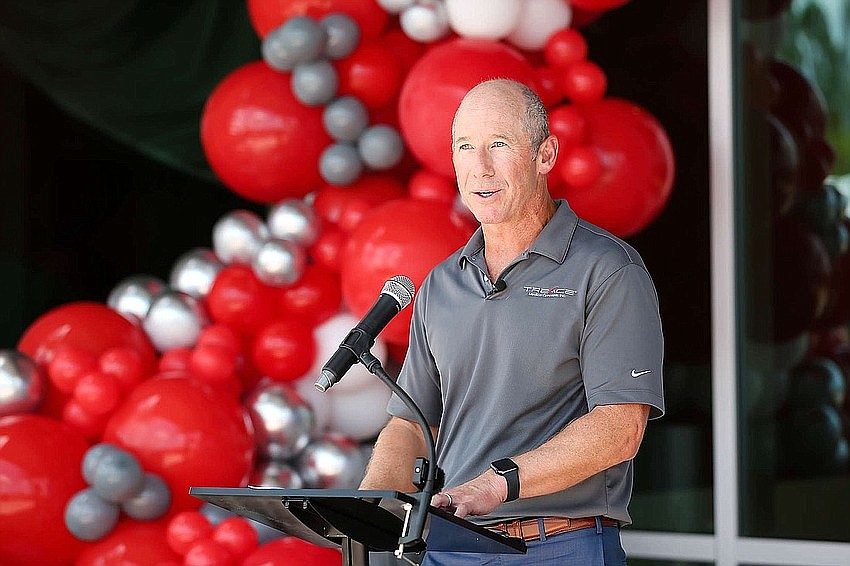 After deciding to focus on surgical treatments for bunions and seeing a large potential market, in 2017 he moved Treace Medical Concepts Inc. and its 25 employees into a 9,000-square-foot office in the Nocatee development in Ponte Vedra.
Treace thought that was all the space his company would need for the foreseeable future.
At that time, Treace Medical, which is marketing its bunion treatment to surgeons around the country, had about 350 employees and about 125 are moving into the four-story building at Park Place One.
The building includes office space as well as research and development and training facilities and advanced features such as 10 charging stations for employees who have electric vehicles.
VanTrust Real Estate developed Park Place One at Nocatee as part of a 675,000-square-foot Class A office park and build-to-suit opportunities.
Marc Munago, executive vice president of landlord VanTrust Real Estate LLC, said March 10 that Treace has built-out the first and fourth floors. He said work is starting on the second floor with the third to follow.
Treace founded the company after leaving his role of senior vice president at medical products company Wright Medical Group Inc. to strike out on his own.
He homed in on the treatment of bunions, a condition described on medical websites as a "bony bump" that forms on the big toe.
Consulting with surgeons led to a procedure the company calls Lapiplasty, which corrects the foot deformity and helps patients get back on their feet relatively quickly, Treace said.
The first Lapiplasty surgery was done in 2015.
Treace Medical Concepts, which completed its initial public offering in April 2021, priced a secondary offering of about 4.8 million shares Feb. 7, 2023, at $21 each.
It said net proceeds after expenses from the $100 million stock sale will be about $94 million.
Treace will use the proceeds for general corporate purposes, including research and development and sales and marketing activities.
Treace sold 11.25 million shares at $17 each in its 2021 IPO, including 6.25 million new shares and 5 million shares sold by existing stockholders.
There were no existing shares sold in the secondary offering.