Operators of a proposed fantasy novel-inspired speakeasy restaurant and a pub-style nightclub planned for vacant space Downtown along Bay Street are asking the city for $271,170 to help with build-out costs. 
The Downtown Investment Authority is considering incentive requests from its Food and Beverage Retail Enhancement Program to help finance construction costs for Waypoint Liquors & Pub and Pagemaster Inn and Tavern in a historic building at 333 and 327 E. Bay St.
The bar concepts are linked to investor Jon Mroz, the managing partner 327 E. Bay LLC, which owns the commercial storefronts comprising Live Bar, Myth Nightclub and Element Bistro + Bar.
A DIA board Retail Enhancement and Property Disposition Committee is scheduled April 17 to consider a $100,000 grant for Waypoint owner Liberty Bay Operations LLC and landlord Liberty Bay Properties LLC for build-out costs for the pub portion of the project.
A DIA staff report says the pub will include pool tables, a bar and open seating.
Waypoint will include a packaged to-go beer and spirits sales floor, the report says.
In a separate vote, the DIA committee will consider a $171,700 grant for Pagemaster Inn LLC and landlord Liberty Bay. 
The full DIA board could consider the deals April 19. 
The staff report and state records show Mroz is the managing partner of the Waypoint landlord and tenant companies.
According to the report, Pagemaster will be owned and operated by business manager Jordan Creel and kitchen lead Vanizia Wilson, who is co-owner of Jacksonville-based Food Addictz on the Run. 
Pagemaster will comprise a retail storefront "that specializes in selling fantasy novels, games, and memorabilia with an attached speakeasy that will sell beverages and liquor along with unique food pairings," the report says.
If approved, the deals would be the second round of city incentives linked to the 333 and 327 E. Bay St. property.
In March, the DIA board voted 6-0 for a $1.655 million forgivable and deferred principal loan package to 327 E. Bay LLC to complete a $7.412 million structural and code compliance rehab of the historic building. 
That deal needs City Council approval before the Mroz company is awarded the incentives.
Mroz is co-owner of Nightlife Innovations Inc. formed in 2016. "(Jon Mroz) and his partners have a combined 80 years of experience in the restaurant and bar industry, and they specialize in management and marketing," said a DIA staff report in March.
Requirements and exclusions
Package sales do not qualify for DIA food and beverage program incentives, so the business owners and city compliance staff will have to show that the taxpayer money for Waypoint are used only for build-out expenses related to the pub portion of the facility, the report says.
Waypoint project construction manager Emerald C's Development  Inc. estimates build-out costs for the pub and packaged liquor store will be $1.056 million.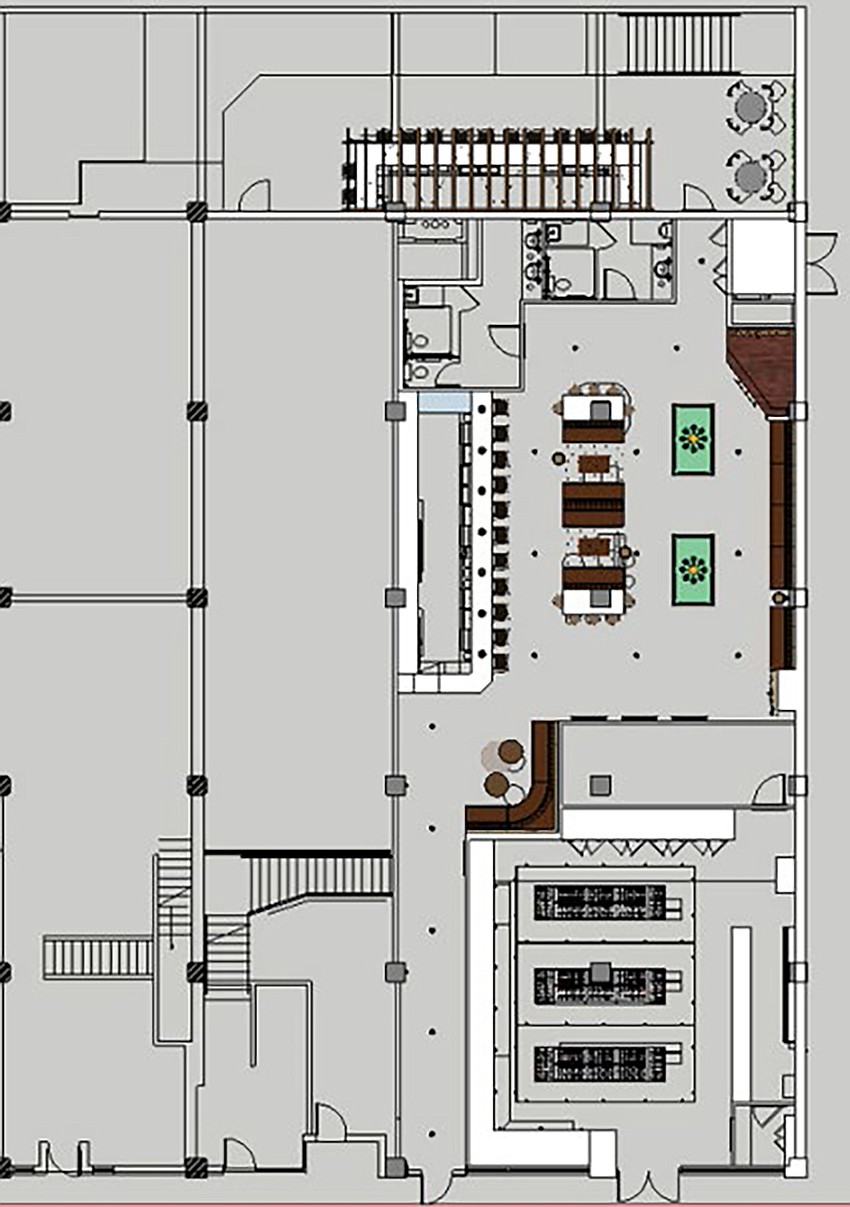 DIA staff says the pub bar space will cost about $821,359 to build-out with $653,890 of that eligible for city incentives.
The DIA report says Mroz specializes in management, marketing and training staff. He will manage sound, lighting, inventory, finance and licensing at Waypoint. 
His business partners, Madison Ferra and Blake Henderson, will serve as general managers, handling inventory and day-to-day operations.
For Pagemaster, plans show an 850-square-foot portion of the 3,303-square-foot space will be sectioned off to serve as a bookstore and entrance to the speakeasy. 
"The entrance to the speakeasy will be lined with floating bookshelves covering many of the walls, tavern-style chandeliers hanging from the ceiling, and natural wood and brick accents that will be visible throughout the space," the DIA report says. 
Pagemaster plans
The report says Pagemaster will have a 10-seat bar and high-top tables, dining and open areas and a private room. 
Hota Design Studio LLC of Jacksonville told DIA staff the project's estimated build-out will cost $638,242, of which $521,868 are eligible for DIA incentives. 
Only the speakeasy/restaurant portion of the project is eligible for the DIA food and beverage incentives. The bookstore is not.
The deals require Waypoint to be operate 6 p.m. - 12 a.m. Tuesday through Sunday, and Pagemaster from 10 a.m. to 10 p.m. Tuesday through Thursday and 10 a.m. to midnight Friday and Saturday.   
Waypoint plans to employ up to 25 full- and part-time workers in the pub and package store, according to the report. 
Pagemaster owners say the speakeasy will have 13 workers including three management employees.
The agreements would require each project to have no fewer than two full-time employees while the agreement is active. 
According to the DIA, grants will be secured by a "personal guarantee"from Mroz of payment and performance obligations in the event the tenant and landlord companies default on either agreement. 
Creel is also listed as a personal guarantor for the Pagemaster incentives. 
If approved, Waypoint and Pagemaster must to be under construction within six months of finalizing city permit approval and obtaining financing. 
The projects will have to be completed within 18 months of signing the redevelopment agreements with the city.