Hours after naming her selection to lead the Office of General Counsel, Mayor Donna Deegan announced six more administrative appointments Aug. 10 that include changes at the top of the Department of Public Works and the Division of Sports & Entertainment.
In a news conference at City Hall, Deegan named engineer and River City Development Group Senior Vice President Nina Sickler to replace Steve Long as director of Public Works. 
Alex Alston, managing director of sports and entertainment at Fidelity National Information Services Inc. and ASM Global sales and marketing director, was appointed chief of Sports & Entertainment replacing Chandler Fussell. 
Deegan's appointee for city general counsel, former City Council member Randy DeFoor, was at the news conference. 
It was her first official appearance after General Counsel Qualification Review Committee voted 5–0 on Aug. 9 to recommend her for the job after Deegan told committee Chair Jason Gabriel she wanted DeFoor in the role. 
"They are dedicated to the belief that every person should have their voice heard and with a seat at the table," Deegan said of her appointees.
"Each of these leaders brings a wealth of knowledge, expertise and a unique perspective."
The chief and director positions and general counsel must be confirmed by the Council.
On Aug. 8, Council voted 18-0 to confirm Deegan's selection of Ed Randolph as executive director of the Office of Economic Development. 
Sickler has more than 30 years of design, management and leadership experience working on infrastructure projects for government agencies, including the 30-mile Emerald Trail park system under construction. She spent January 2017 through April 2023 as a vice president and principal at Pond & Company. 
According to Deegan officials, Sickler will be the first woman to be director of Public Works.
Alston was an executive at the Sports Commissions in Gainesville and in Tulsa, Oklahoma, according to a news release. He is the Jacksonville Police Athletic League board president and a board member of Visit Jacksonville.
Deegan also appointed:
• Rudy Jamison Jr., director and professor at the University of North Florida Institute for the Study of Race & Ethnic Relations, as executive director of the Jacksonville Human Rights Commission. At UNF, he focused on race relations, urban education, community partnerships and leadership development, according to the release. 
• Jimmy Midyette as diversity manager for the Jacksonville Human Rights Commission. Deegan called Midyette "a staunch human rights advocate for over 20 years."
An attorney, Midyette has provided legal expertise and advocacy support for the American Civil Liberties Union, Equality Florida Institute, Jacksonville Coalition for Equality and Jacksonville Area Legal Aid, the release says. 
• Bill Delaney, UNF's director of strategy and project management, is Deegan's choice as a second City Council liaison. 
Delaney, son of former Jacksonville Mayor John Delaney, is a writer on Jacksonville culture, history and public policy as the co-owner and editor of The Jaxson, Modern Cities and Edible Northeast Florida. The mayor announced in June that Republican and former Council President Scott Wilson also will serve as a liaison for her administration to the Council.
•  Gregory Grant, UNF Small Business Development Center assistant director and adjunct professor, was named Jacksonville Small and Emerging Businesses administrator. 
Grant also is an adjunct professor at Florida State College at Jacksonville and Trinity Baptist College and is a small business owner and U.S. Army veteran. 
Council to vet DeFoor
DeFoor, a corporate attorney and senior vice president with Fidelity National Title Group, said she is no longer a policymaker like when she served on Council. She said her focus will be representing the city's elected officials and independent authorities as legal clients.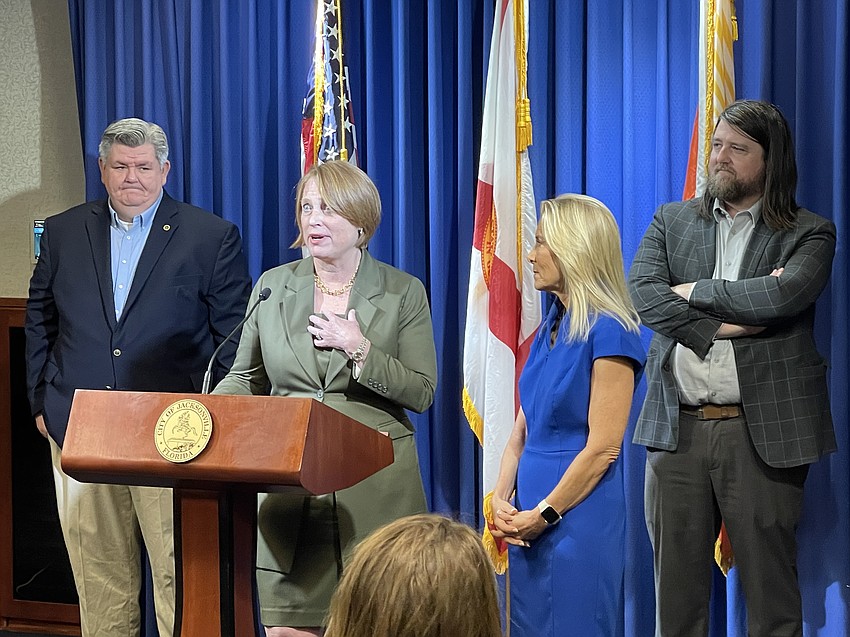 "You just heard this mayor and how she talks about unification and bringing Jacksonville to the next level. That's why I'm willing to leave my corporate job, which makes a heck of lot of money, to work with her and with the Council," DeFoor said. "We are in a new day."
Council President Ron Salem, who attended the news conference, said he will speak with all of the Office of General Counsel's clients to gather their opinions on DeFoor and encourage the 18 other Council members to do the same before her appointment comes up for confirmation.
"She clearly has a tremendous legal background," he said. 
"I want to explore more her relationship with the Council and the other entities that she'll be serving to make sure those are solid," he said.
"All of us rely on that office. So this is not just someone the mayor picks and we vote on. There's a lot of thought that goes into this position."
No word on planning director
The administration has not reached a decision on Planning and Development Director Bill Killingsworth's future with the city. 
The administration began advertising for the position in mid-July. 
Deegan said Aug. 10 that Killingsworth, who was planning director under former Mayor Lenny Curry, is "doing a great job and we are also continuing to interview folks that are interested in that position."
She also said there is a list of candidates interested in being the city's next chief of Fire and Rescue, although she didn't name them. The mayor said Chief Keith Powers, another Curry holdover, is still in the position.
Alston and the stadium 
Deegan said she could not provide additional information on the Jacksonville Jaguars' proposed stadium renovations or whether Alston, in his role of sports and entertainment chief, would be part of those negotiations. 
The Jaguars have proposed a $1.2 billion to $1.4 billion renovated "stadium of the future" and a $550 million to $668 million mixed-use neighborhood around the stadium with the city contributing at least half the cost.
"We are in the process of selecting a (law) firm to help us to start to craft that deal. And when we have more information on that I will certainly let you know," Deegan told reporters.
City interim Chief Financial Officer Mike Weinstein told Council in late July that the Deegan administration plans to request the first formal stadium renovation meeting with the team by the end of August.
City Hall diversity 
After the announcement, Deegan read a breakdown of the racial and ethnic diversity of her new appointments by percentage.
According to Deegan, her hires are: 
• 26% African American 
• 9% Asian American 
• 6% Other ethnicities 
• 3% Native Hawaiian or Pacific Islander 
• 9% are members of the LGBTQ+ Community 
Across city departments and agencies, Deegan said the workforce includes 5% Hispanic employees.
The Deegan administration says the mayor's office is 15% more diverse than under Curry. 
Diversity within government was one of Deegan's 2023 campaign promises