Wild Pie, Jacksonville's first 100% plant-based pizza restaurant, is preparing for a fall opening at Hodges Pointe Plaza at Hodges and Beach boulevards.
"The original goal is to unleash the power of plant-based pizza," said Wild Pie LLC President Bart Ortiz.
"To create a concept like Wild Pie with amazing indulgent food that is plant-based is unique," he said.
It may not have been possible until now, he said.
"The ingredients weren't available even two or three years ago," Ortiz said.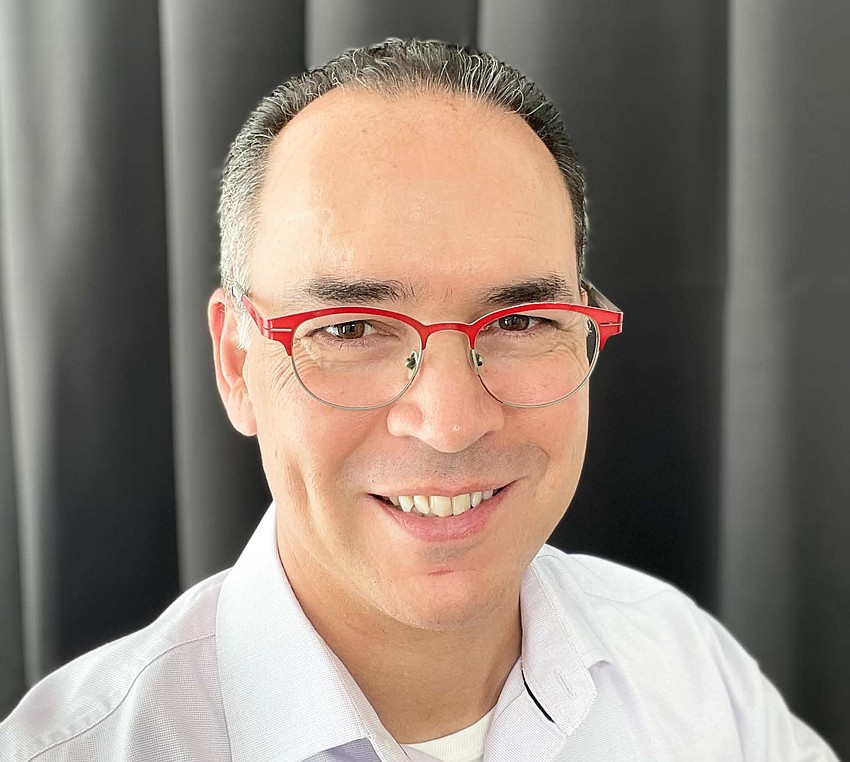 The menu includes "nibbles," salads, sweets and beverages, and at least 11 varieties of Wild Pies as well as a build-your-own option.
All menu items are 100% plant-based.
Pizza examples include "Kale Me Maybe," "Power to the Pesto," "Phony Pepperoni," "The Meatless Lovers," "BBQ Chick'n," "No Cheese Please" and the seasonal "Taco 'Bout it."
The meat substitutes include Happy Little Plants pepperoni and sausage by Hormel Foods; Daring Plant Chicken; Impossible meatballs; and Beyond Sausage.
Examples of other menu items are garlic parm monkey bread, "chickpea chop" salad, oat milk soft serve and dark chocolate brownies.
Beverages include canned and fountain drinks, bottled water and single-serve containers of beer and wine.
"We are making the last revisions and tweaks," Ortiz said Aug. 24.
"We are 95 or 96% there."
The where and the what
The city issued a permit July 5 for tenant build-out for Wild Pie in the space vacated in December 2022 by Brucci's Pizza West Beaches.
Brucci's closed after 15 years, citing increased costs of food, utilities, gas and rent.
Jacksonville-based Osterer Construction Co. is building out the 2,329-square-foot space for Wild Pie at a cost of $550,000 at 13500 Beach Blvd. for Wild Pie LLC of Neptune Beach.
The Hodges Pointe Plaza site plan by landlord Sleiman Enterprises shows Wild Pie at 13500-36 Beach Blvd.
M. Todd Osburn Architect LLC of Jacksonville is the architect.
Ortiz declined Aug. 24 to estimate the current total investment, other than calling it significant. January estimates of $2 million are outdated.
Ortiz said the restaurant will seat 38 inside and 20 on a patio.
Wild Pie is hiring 50 people to start and bringing in experienced operators.
"We have an opening team with 60 years of restaurant experience," he said. "We really can take good care of things out of the box."
The restaurant will offer counter service. Customers can order in person, at kiosks, by handheld devices by staff, by phone or by app.
Customers can dine in or take out, and to-go orders will have a convenient pickup station.
Hours will be 11 a.m. to 10 p.m. daily for lunch and dinner.
The 11- and 14-inch pizzas will cost $15 to $25, but will not be available by the slice.
It is Wild Pie's first lease for a brick-and-mortar restaurant. 
Wild Pie describes the design as:
"Copper accents, white subway tile, and softly lit lighting fixtures above the main seating area work together to create a cozy atmosphere, essential for eating pizza."
To date, Wild Pie has reached its customers and kicked off sales through pop-ups around the Jacksonville area starting in January 2023 with its vibrant green food truck to introduce the concept and brand.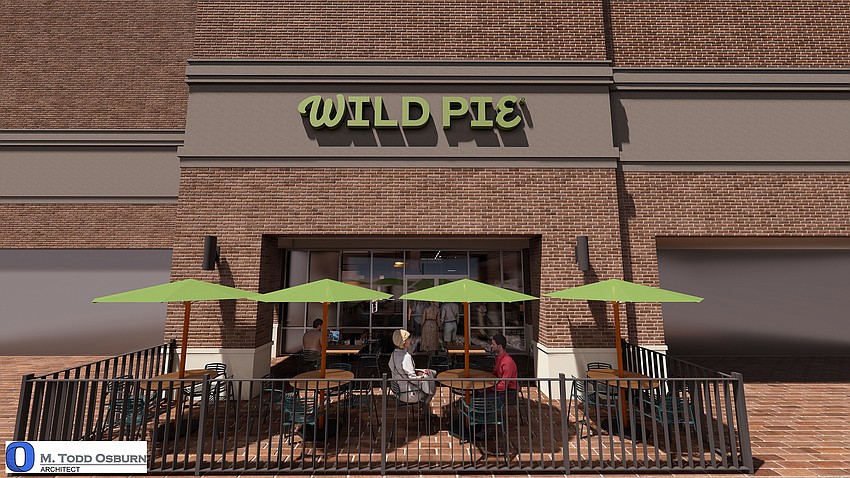 Ortiz said the group wanted to find a location readily available and accessible, with "an easy jaunt to the beach and to the neighborhoods, and next to several schools, and it is a shopping hub."
Nearby University of North Florida, and the traditional consumption of pizza by college students, reinforced the site.
"That sort of checked a lot of boxes for us and we felt it would be a great way to introduce Wild Pie in the market."
Kate Clifford, founder of Strategic Sites Clifford Commercial, represented Wild Pie in the site and lease negotiations.
The ingredients
The menu is designed to appeal to those following plant-based diets and those who are flexitarians, meaning they also eat meat.
"Over 60% of people in our research are looking for plant-based options some of the time," Ortiz said.
That is what created demand for the Impossible, Beyond and Daring Chicken brands.
The products have been evolving.
For example, a "pepperoni" tasted like it but didn't look like it. 
Wild Pie said its team wanted to source pepperoni "that cooks and tastes exactly like traditional pepperoni, so who better than Hormel Foods, the makers of America's No. 1 selling pepperoni, to provide Wild Pie with their Happy Little Plants line, which includes soy pea-protein based pizza toppings."
"When those ingredients are available, people see that as an opportunity to bring it to the community," Ortiz said.
He said a taste-tester did not believe the Impossible meatballs with marinara were plant-based.
Ortiz said Wild Pie wanted to provide a dining option "that is without sacrifice or comparison."
"The food first and foremost has to taste great," he said.
"It has to be indulgent."
"Indulgence" is that "satisfying feeling you get when you eat pizza and other comfort foods," Ortiz said.
"Food you relax with and unwind with."
Wild Pie's pizza toppings include mushrooms, roasted broccoli, cherry tomatoes, marinated artichokes, caramelized onions and pickled jalapenos as well as dairy-free cheeses.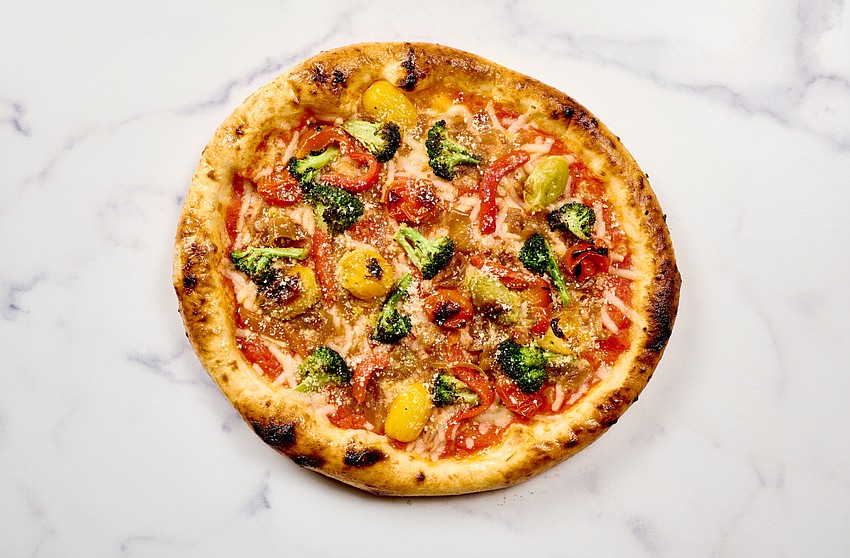 The pizza dough will be made fresh daily. Ortiz said there also will be a gluten-free crust available.
The "Power to the Pesto" signature pizza is made with a base of Yukon gold potatoes.
The plant-based ricotta is made in-house with tofu.
The shareable plates include "Sweet Miso Brussels Sprouts" and roasted shishito peppers.
Ortiz said the salads are good lunch options, "loaded and chock-full" of ingredients that bring flavor and texture.
Ortiz is a flexitarian.
"I am a great test audience for that because I am a tough cookie," he said.
"If it doesn't meet my standards, it doesn't fly."
The seeds of the idea
Ortiz said the original idea was to open a cafe similar to Panera Bread with just plant-based food, but there already were plant-based burgers and bowls.
"That pivoted to pizza because we found there was a gap in the market for pizza," he said.
"Who doesn't love pizza?"
The restaurant took root with area investor John Eckstein, sparked by health motivations.
Ortiz said Eckstein took on a plant-based lifestyle more than a decade ago, "and it was transformative for him."
Eckstein is a founding member of OSO Capital Management LLC, the parent company of Wild Pie LLC.
"He found it really difficult to find good, quality plant-based foods. They weren't readily available," Ortiz said.
He said OSO Capital Management LLC focuses on investing in new ventures. 
"For this, they decided to lead it themselves and launch it here in our backyard," Ortiz said.
Ortiz said the group is working toward   the future and has expansion plans, including exploring more concepts.
A second Wild Pie restaurant will soon be under construction in Gainesville near the University of Florida campus, the company said.
For Wild Pie, Ortiz said the group worked with The Culinary Edge research, strategy and operations company in San Francisco to develop the menu, brand and design.
OSO Capital Management, The Culinary Edge and the Wild Pie team together created the concept.
"This was a collaboration with our founder and folks at Culinary Edge and our team and the investment team as well, so everyone has had some input," Ortiz said.
He said research included identifying the available ingredients, traveling to test plant-based pizza and understanding the market, "so we can make sure our offerings will stand out in the crowd."
Culinary Edge developed the recipes, followed by tastings and revisions.
Ortiz said the group wants to "nail this first opening so that is where the majority of our energy" is.
"We also know that it is all about execution," he said.
"We want to make sure we have it right and we are able to manage that concept and do a great job before we take it on the road."
For more information about Wild Pie, visit wildpie.com or @wild_pie_pizza on Instagram.