City Council President Terrance Freeman named the four members of a Special Investigatory Committee that will probe Council member LeAnna Cumber's possible links to the 2019 attempt to sell JEA. 
Council member Rory Diamond will chair the committee with Vice Chair Nick Howland and members Sam Newby and Michael Boylan, according to a news release Feb. 2 from Freeman's office. 
The committee's first meeting will be at 8:30 a.m. Feb. 8 in Council Chambers at Jacksonville City Hall, 117 W. Duval St.
Freeman announced Feb. 1 that he would reopen the Council Special Investigatory Committee on JEA Matters after media reports detailed emails that appear to contradict Cumber's public disclosures during the original committee's yearlong investigation in 2020. 
Emails obtained by The Florida Times-Union show Cumber's husband, Husein Cumber, met and communicated with people working to advance what became a proposal by JEA Public Power Partners to pay a concession fee for the contract to manage JEA while it remained publicly owned.
Husein Cumber, the chief strategy officer at Florida East Coast Industries, resigned from the JEA board in January 2019 after his wife was elected to Council.
Cumber was doing unpaid advising work for JEA Public Power Partners, the Florida Times-Union reported. 
JEA Public Power Partners, which was a consortium of Bernhard Capital Partners, Emera Inc. and Suez SA, was one of nine companies that negotiated with JEA and city officials during the failed invitation to negotiate that was launched in July 2019.
Cumber, a Republican 2023 mayoral candidate, denied that she deceived the Council in her disclosure form filed March 2, 2021, three months after the committee's final report.
In it, Cumber said she had no conflicts regarding JEA and the ITN.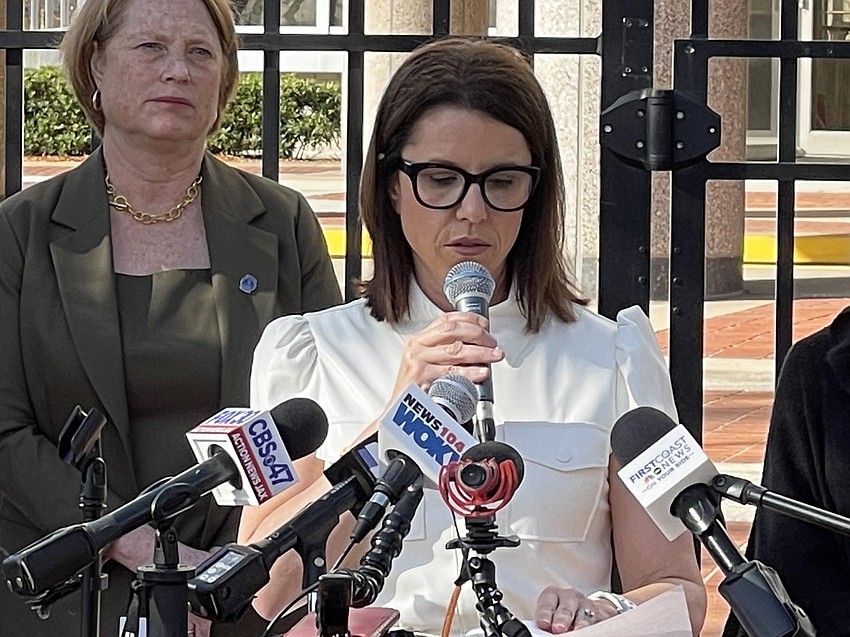 According to the release, the Committee is charged with investigating the following:
• Whether the 2020 committee was deceived or misled by Council Member Cumber of JEA Public Power Partners responding to subpoenas or making disclosures.
• Ascertain whether Cumber attempted to use her official position to influence the ITN process for personal gain; and
• Propose legislation to ensure that such deceptions, if any, do not impede the work of any future investigatory committee.
A written statement Feb. 1 by Cumber's attorney Daniel Nunn called the reopened committee probe a "manufactured controversy" that "exposes the lengths to which Mayor (Lenny) Curry and his chosen successor will go to win."
"As a lawyer who investigated the JEA scandal, I found no misconduct by any member of the City Council," Nunn said in the statement. 
Nunn, with Nelson Mullins Riley & Scarborough, provided research and testimony to the first Council JEA investigative committee.
Allegations that Cumber did not disclose her husband's work related to the JEA sale is the focus of a recent campaign ad released by Building a Better Economy, the political committee of her GOP rival and JAX Chamber CEO Daniel Davis.
Cumber's political committee JAX First has a competing campaign ad claiming Davis took money from JEA to push privatization, a reference to a 2018 JAX Infrastructure Innovation Summit that featured former JEA Managing Director and CEO Aaron Zahn and that the chamber helped organize.
The attempt to privatize Jacksonville's municipal electric and water utility sparked an FBI investigation that resulted in federal conspiracy and wire fraud charges in March 2022 against Zahn and JEA CFO Ryan Wannemacher. Both were fired by the JEA board in December 2019. 
Diamond was selected by Council President Scott Wilson to chair the original committee from Jan. 20 through Sept. 30, 2020, with Council members Brenda Priestly Jackson and Randy DeFoor. 
Diamond stepped down after Council President Tommy Hazouri extended the investigation through Dec. 31, 2020. 
Diamond partnered with Council member Ron Salem in December 2019 to chair public hearings on a canceled bonus plan that tied its value to the sale of the city-owned utility. 
Salem and Diamond questioned Zahn, Wannemacher, former JEA Chief Administrative Officer Herschel Vinyard and others before their terminations by the JEA board just weeks later.
Howland was not on the Council at the time of the JEA sale attempt or investigation. 
Council member Boylan led a review of JEA's charter after the 2020 investigation.