Jackie Rowland, president and CEO of the Russell Rowland Inc. engineering firm, was named overall Small Business Leader of the Year of 2023 by JAX Chamber at a Feb. 7 breakfast event.
Rowland accepted the award on her second day back at work from maternity leave. She gave birth to a daughter in mid-December.
Rowland was one of 11 nominees honored at the University of North Florida's Adam W. Herbert University Center.
The Daily Record featured her company last March in its annual Top Entrepreneurs feature.
Rowland and Vice President of Engineering Adam Russell founded the firm four years ago. Jackie Rowland is married to the company's CFO, Parker Rowland.
Starting from scratch
The three started the company from scratch in 2018 after Rowland and Russell met at another engineering firm. Not willing to poach anyone from their former company, they began without a single client, she said.
Before starting Russell Rowland, the Rowlands worked for almost a year developing the business plan.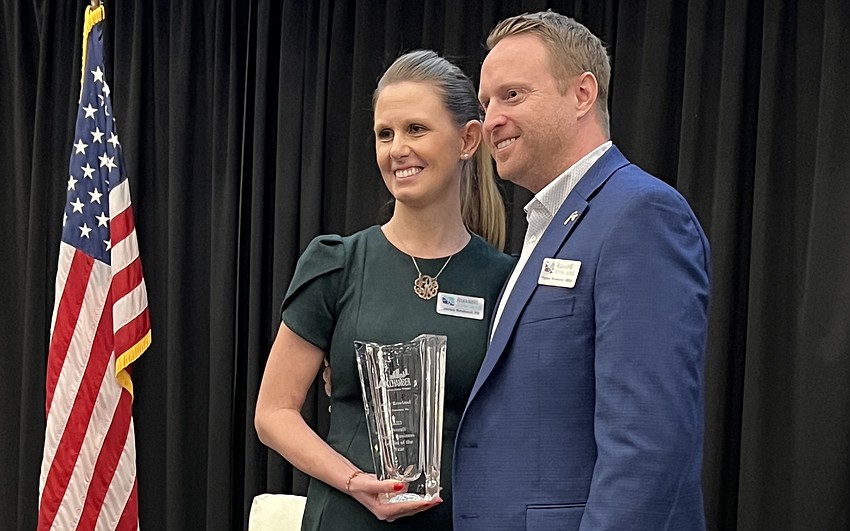 Startup costs were about $120,000. In 2022, the company grossed $1.47 million.
Networking built their business, Jackie Rowland said. She became involved with the JAX Chamber and the Northeast Florida Builders Association.
Jackie Rowland was JAX Chamber's Hightower Emerging Leaders Fellow in 2021. She is an active member of the Chamber and NextUp JAX. She was named Rookie Board Member of the Year in 2022 by the St. Johns County Building Council and was a finalist for the NEFBA Associate of the Year in 2021 and 2022, according to a JAX Chamber news release.
Jackie Rowland thanked the chamber for its support.
"Each of us have worked extremely hard in our industries to create something," she said.
"To have a place like the Chamber to meet other business owners and learn from them is extremely incredible."
Russell Rowland is licensed in 10 states and expects the number to grow to 15 by the end of this year. It has 13 employees, including an engineer working out of the Tampa area.
Jackie Rowland grew up in Orange Park and appreciates how Jacksonville continues to grow while retaining its sense of community.
"Jacksonville is the biggest small town. If you talk to anybody, especially in the construction industry, everyone knows everyone," she said.
"To be able to grow my business here, teach my employees it's an honor to give back to our community. It's very important to us."
She concluded her acceptance speech with advice she received at start of her career.
"Your reputation is everything. I have really taken that to heart and built our company based on reputation. Teach your employees that with every interaction you are either enhancing or diminishing your reputation."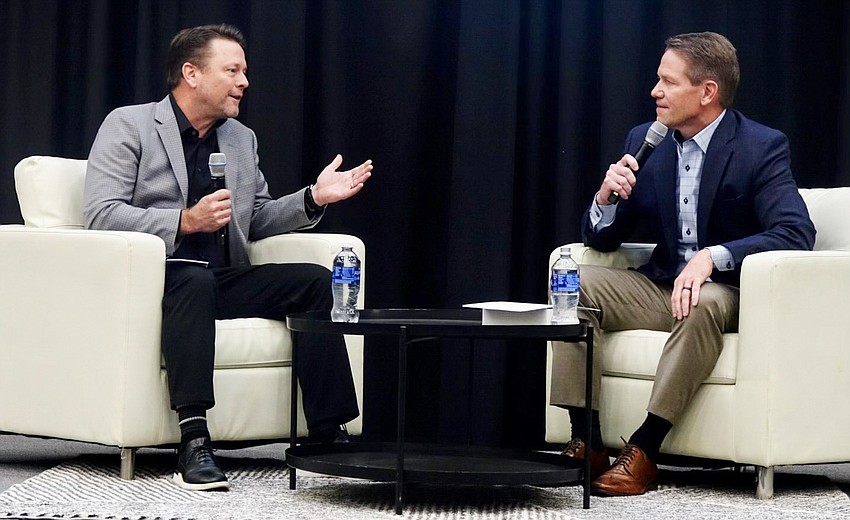 Fanatics was once small as well
The event's fireside chat featured Fanatics Global Co-President Jack Boyle in a conversation with Chamber President Daniel Davis. 
Fanatics started in a storefront in the Orange Park Mall in 1995 selling team apparel.
It has grown to selling $5 billion of merchandise worldwide annually.
It licenses and sells not only professional and college jerseys and merchandise in the United States, but  rugby, cricket, English and European soccer and Japanese baseball apparel as well.
Boyle said the small company grew by starting a small e-commerce company. It soon sold more merchandise online than in the brick-and-mortar store.
The company has invested heavily in production. It is able to meet customer demand overnight.
He cited as an example Buffalo Bills player Damar Hamlin, who almost died during a game in January when he went into cardiac arrest after a tackle. 
Before to the game, his jersey ranked around 500 on the list of NFL sales. After Hamlin's injury, worldwide demand from people showing support made it the top-selling jersey.
"It wasn't because we pushed anything. We actually did the opposite," Boyle said.
"When he was in recovery, in real time, the fans came on our site to buy more Hamlin jerseys to show support and be part of his recovery."
Fanatics, a leader in sports apparel, is now branching out into other sports ventures like sports gambling and collectibles. He told the audience of the company's mantra.
"We are just getting started. We are not at the finish line."