Tim Cost marked his 10th anniversary as president of his undergraduate alma mater, Jacksonville University, on Feb. 1.
In the decade since February 2013, the university grew to comprise five colleges, 11 schools and four institutes and established nearly 500 partnerships with local and global corporations, health care providers and community organizations.
Since 2013, JU has created 52 new major fields of study including financial technology, speech language pathology, clinical mental health counseling, occupational therapy, respiratory care, physical therapy, an accelerated bachelor's degree in nursing program, business analytics, health informatics, engineering, law, cybersecurity, data science and robotics.
"The time has gone fast. It has been a great experience," Cost said.
The university also opened new classroom sites in Downtown Jacksonville and Palm Coast and opened its 32,000-square-foot Healthcare Simulation Center in Southside.
Cost led the founding of the JU College of Law which began teaching future lawyers in August, and announced a medical school partnership in November with Lake Erie College of Osteopathic Medicine, the largest medical school in the U.S.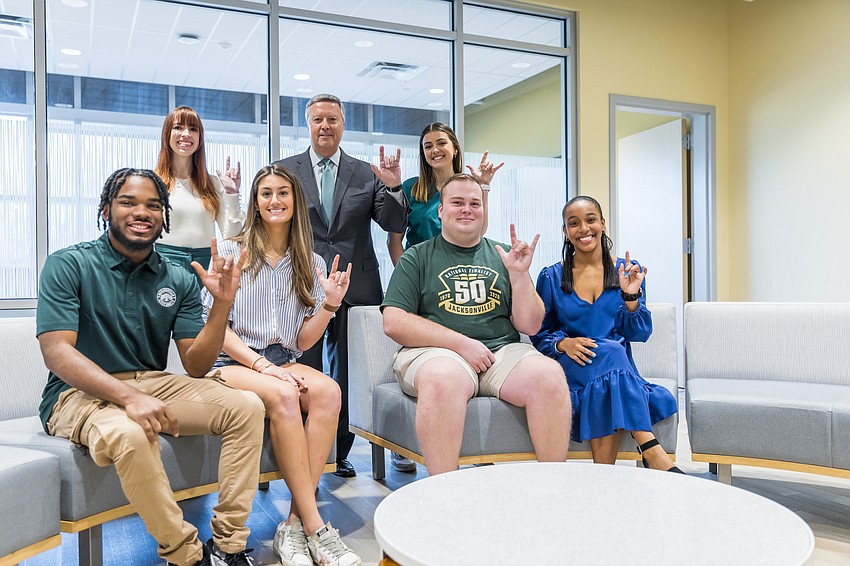 Cost led the effort for the ASPIRE capital campaign, helping to raise more than $121 million for the university and he directed more than $100 million in renovations, technology upgrades and new construction on the campus between University Boulevard North and the St. Johns River.
Cost, 63, serves on regional business and civic and community boards of directors including GuideWell/Florida Blue, the Federal Reserve Bank of Atlanta, Brooks Rehabilitation and the Jacksonville Civic Council, among others.
He is a member of the World Affairs Council, Florida Council of 100 and Florida Chamber of Commerce and served on the boards of directors of the NCAA, Jacksonville Symphony Orchestra, WJCT Public Broadcasting, JAX Chamber's JAXUSA Partnership business development division, Web.com and Stein Mart.
From the baseball mound to the boardroom
Cost grew up near Syracuse, New York, and enrolled at JU in 1977 with an athletic scholarship after being recruited by several Florida colleges including the University of Miami, Stetson University and Rollins College.
A self-described "pretty good pitcher and shortstop," Cost said his only familiarity with JU was watching television when the Dolphins played UCLA in the final game of the 1970 NCAA Men's Basketball Championship.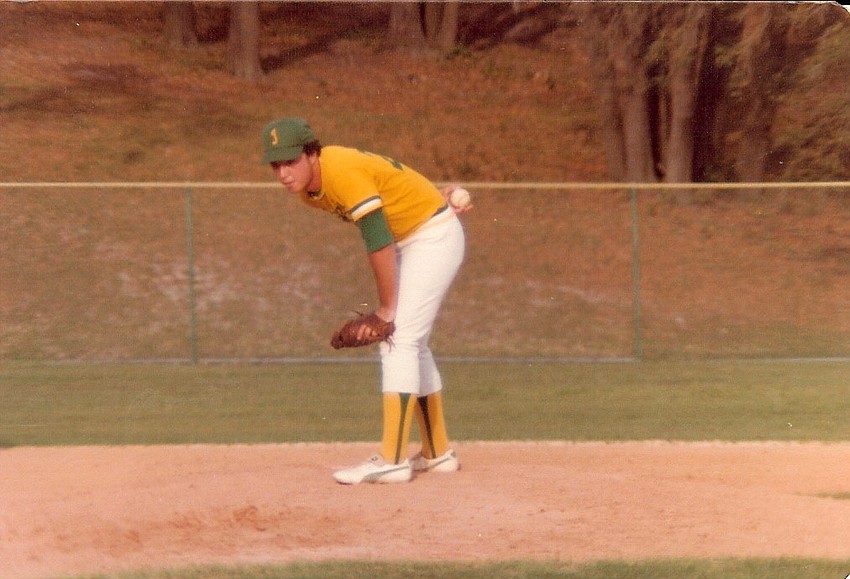 "I came to JU sight unseen. My dad drove me down, wished me well and then turned around and went back home," Cost said.
It didn't take long for him to make an impact as a Dolphin.
On May 24, 1978, in his first appearance on the mound at Alexander Brest Field, Cost pitched the only nine-inning no-hitter in JU baseball history.
Cost said he decided to major in business because his father owned a restaurant supply company in Syracuse.
"It was the most natural path for me," Cost said.
"JU transformed my life. It opened my eyes to what I could do."
After graduating in 1981, Cost went to work at Eastman Kodak Co. headquarters in Rochester, New York. Seven years after joining Kodak, he was director of strategic planning and later director of investor relations.
In 1990, Cost received an MBA from the University of Rochester, leading to senior executive positions after Kodak with global companies including Bristol-Myers Squibb, Aramark, Centocor/Johnson & Johnson and Wyeth Pharmaceuticals/Pfizer.
Cost was an executive vice president assisting the CEO at PepsiCo when he was chosen to become JU's 12th president.
"I had more than 30 years of experience with worldwide responsibilities in government affairs, strategic planning, investor relations, communications, marketing and partnership agreements," Cost said.
The clear choice
Matt Kane, chair of the university's board of trustees, graduated from JU in 2001. He was a trustee when Cost was selected to be president in late 2012.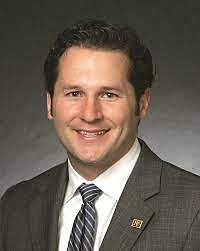 Kane said Cost, who became a trustee in 2009, was asked by the board to add his name to those to be considered for the job.
Cost agreed because becoming president of JU would give him the opportunity to help younger people succeed, something that was missing in his career in the C-suite.
"I had a great job that I loved, but there was an overwhelming sense of potential at JU," he said.
After a 12-month search, then interviews and site visits with the finalists, the trustees chose Cost.
"We conducted a national search and had more than 100 qualified candidates. Tim was the clear choice. As an alum and trustees chair, I cannot imagine more impactful leadership for our university," Kane said.
He recalls that one of Cost's first acts as president was to host a series of meetings with students allowing them the opportunity to ask the new president questions about any topic.
That philosophy continues.
"Every incoming freshman has Tim's cellphone number. That sets the culture for the university – students first," Kane said.
Influence beyond campus
Soon after becoming JU's president, Cost joined the Jacksonville Civic Council, a nonpartisan local CEO group that identifies important local issues and suggests and advocates for solutions.
He led the civic council's planning in 2016-17 and was its chair in 2017-19.
Jeanne Miller was named CEO of the nonprofit in 2013 and remains interim CEO as the group searches for her successor.
"Tim Cost led the Jacksonville Civic Council through a pivotal time in the organization's development," Miller said.
"He not only led the first strategic planning process, he also led some of JCC's most important work to date. Under his term as chairman, JCC completed in-depth work on public education reform, an analysis of Jacksonville's public finance structure and JCC's inquiry into the potential sale of JEA. "
Miller said Cost was not afraid to challenge the status quo and take action when needed.
"Tim has made an incredible impact on Jacksonville University and the city of Jacksonville in a relatively short time. I attribute much of that to his orientation toward action," she said.
"He gets results."
An economic catalyst
Under Cost's leadership, JU is a partner in the city's Renew Arlington initiative.
The effort is designed to revitalize Arlington along University Boulevard from the Arlington Expressway north to Fort Caroline Road and east of the JU campus along Merrill Road to Interstate 295.
"We did an economic impact study a few years ago that determined JU is a $400 million to $500 million economic engine. We have the opportunity to be a catalyst," Cost said.
JU is anchored at 2800 University Blvd. N. along the St. Johns River.
The university worked with investors and developers to build the Dolphin Pointe skilled nursing center at JU's Medical Mall north of the campus and Jackson Commons, 66 rental town homes at Fort Caroline Road and University Boulevard North designed to appeal to faculty and students.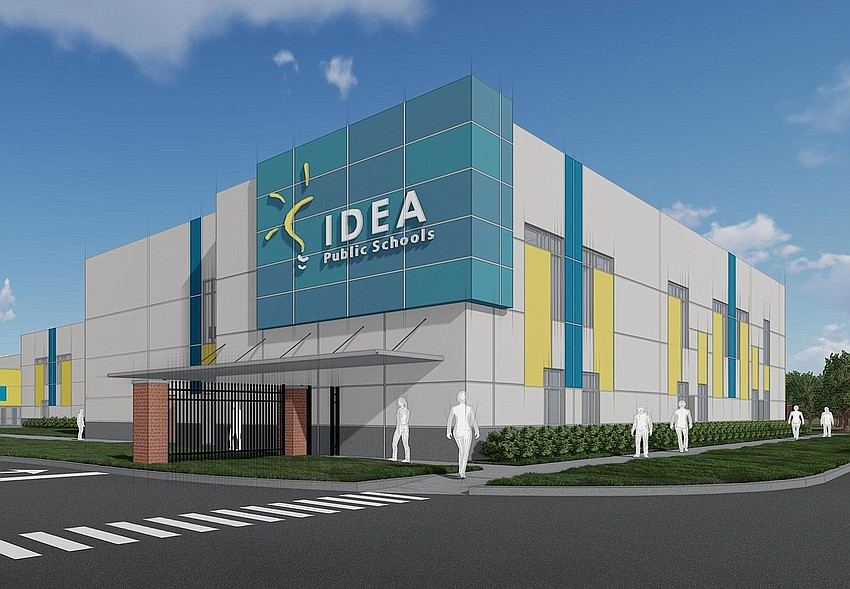 An IDEA Public Schools K-8 charter school that will expand to K-12 by 2028 is nearing completion on a site south of the campus on property that JU sold before Cost became president.
The Jacksonville Transportation Authority built a roundabout at JU's main entrance at Merrill Road that will soon add a public art installation, Cost said.
The former Town & Country Shopping Center along University Boulevard at the Arlington Expressway is being transformed into the "College Park" residential, retail and commercial center by JWB Real Estate Capital.
"JU is a great partner for us and what we are doing at College Park. The university is a driving force in improving Arlington," said JWB President Alex Sifakis.
"We are lucky to have someone of Tim's caliber running JU. We are in constant communication.
Before the medical school was announced, Cost said students and staff will need housing and services such as restaurants, retail and entertainment.
LECOM at Jacksonville University is planned to begin classes in 2026 and expected to grow to more than 600 students, faculty and staff by its fourth year.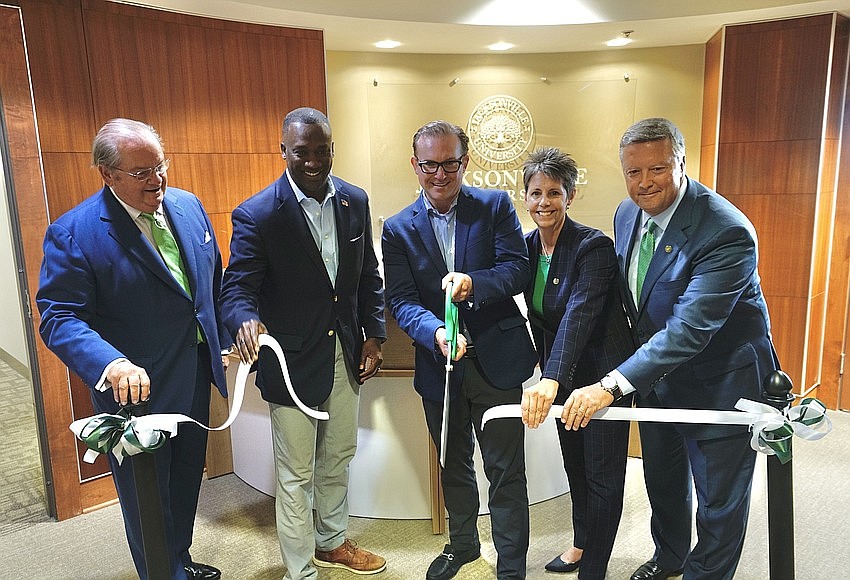 "We are in meetings with all the major developers in Jacksonville. We believe there should be a collegiate village around a university like JU," Cost said in November.
"That doesn't currently exist in Arlington. We want the people who drive economic activity to understand where we are going."
Accelerating JU's ascent
In December, the trustees and Cost agreed to extend his contract through 2027.
Cost says JU will continue to focus first on student success while continuing to be active in developing the Arlington neighborhood near the campus.
He does not anticipate growth in enrollment beyond the current about 3,800 full-and part-time students, favoring JU's small student-to-faculty ratio.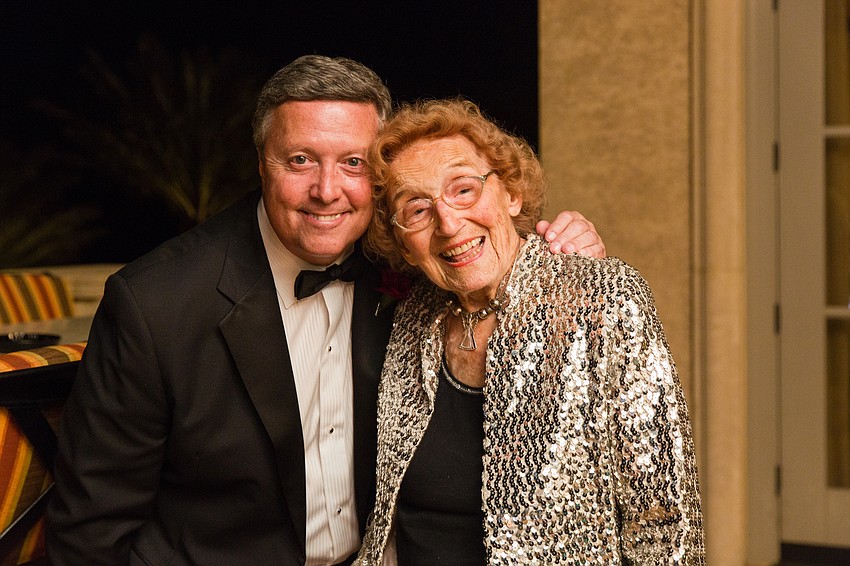 Cost said another of his priorities is sustaining the culture at the university fostered by two of Cost's mentors as a student and as president, the late Chancellor Emeritus Frances Bartlett Kinne and the late Robert Shircliff, who was a JU trustee for 23 years.
"They were community stewards and created the culture of service, excellence and dedication to our students and their families," Cost said.
He said it is "all about making the students as successful as possible by being relevant and providing an excellent education experience."
"There is a lot more good stuff ahead of us. We plan to accelerate the ascent of the university as much in the next five years as we have in the past 10."
---
The Cost era at Jacksonville University
February 2013
• Tim Cost becomes Jacksonville University's 12th president.
August 2013
• The JU Public Policy Institute opens, offering at the time the first and only Master in Public Policy degree program in Florida.
• The Master of Science in Speech Language Pathology program begins.
March 2014
• The Defenders' Den, a study space and lounge for students who are military veterans, opens. 
April 2014
• The River House, the former president's residence on campus, is renovated and opens as a meeting space and pub.
May 2014
• Jacksonville University acquires 40 acres of riverfront property south of campus.
• The Marine Science Research Institute's floating classroom and docks open for students.
August 2014
• The $8 million Brooks College of Health Sciences building opens, housing programs including nursing, speech pathology and orthodontics.
• The Doctor of Business Administration launches, the second terminal degree offered at JU. The first, the Doctor of Nursing Practice, began in 2012.
November 2014
• PepsiCo CEO Indra Nooyi receives the inaugural Jacksonville University Presidential Global Citizen Award.
August 2015
• The $12 million, 277-bed North Campus Residence Hall opens.
January 2016
•  The Clinical Mental Health Counseling program begins.
September 2016
• Starbucks replaces Einstein Bros. Bagels in the Kinne Student Center.
February 2017
• JU houses OCEARCH, one of the world's largest marine science research groups that tag and track large marine animals.
October 2017
• JU's Downtown campus opens, offering graduate degrees in education, business and health care.
February 2018
• The former Alumni House becomes the OT House, used as a homelike-setting applied learning center for occupational therapy students.
August 2018
• The Doctorate of Occupational Therapy program launches.
April 2019
• The $4.5 million Frisch Family Welcome Center, a space that introduces prospective students and families to Jacksonville, officially opens.
August 2019
• Delta Air Lines partners with JU to launch commercial aviation education through the Delta Propel Pilot career path program.
September 2019
• JU's Healthcare Simulation Center opens at Beach and University boulevards.
November 2019
• The $1.8 million Rock Lacrosse Center, the first NCAA Division I lacrosse-only facility in the nation, opens.
January 2020
• The Health Sciences Complex opens, comprising the Student Health Center, the Mental Health Counseling Center, the Dental Implantology program, the Orthodontics Clinic and health sciences graduate programs and labs.
October 2020
• UpSkill Institute is launched to help area professionals improve their career skills.
February 2021
• JU and Baptist Health launch the inaugural 12-month Accelerated Bachelor of Science in Nursing program for second degree students.
August 2021
• Classes begin at JU's Palm Coast health care education facility.
• In response to COVID-19, JU begins Florida's first and the nation's ninth Master of Science in Respiratory Care program.
September 2021
• JU expands its partnership with Brooks Rehabilitation to host the Doctoral Physical Therapy program.
November 2021
• JU and the Jacksonville Port Authority begin an educational initiative, "Connected," created to raise awareness about the St. Johns River.
January 2022
• The two-story, 26,000-square-foot Basketball Performance Center opens with coaching staff offices, weight and training rooms, a full court and a half court of playing surface and a 24-hour fitness center.
February 2022
• The Practical Nurse certification program launches.
April 2022
• The IDEA Schools River Bluff charter school breaks ground on property south of the main campus.
August 2022
• The inaugural cohort of the JU College of Law, Florida's first law school in more than 20 years, begins classes.
• The interdisciplinary Financial Technology major launches, the first of its kind in Northeast Florida.
• The Game Design major begins, combining the disciplines of media arts and computer sciences.
• The Moran Center opens, named after alumnus Francis Andrew Moran.
November 2022
• JU announces a partnership with Lake Erie College of Medicine to establish the region's first four-year medical school at the JU Medical Mall on the north end of campus.
• The Wolfson Student Lounge opens in the Kinne University Center.
December 2022
• JU expands the Accelerated Bachelor of Science in Nursing program to include students at the Palm Coast location.