Florida House Rep. Wyman Duggan says at least two Downtown sites are being considered for the University of Florida's proposed Health and Financial Technology Graduate Education Center in Jacksonville.
According to Duggan, people close to the project say UF is reviewing land that's part of Florida State College at Jacksonville's Downtown Campus and the fairgrounds near TIAA Bank Field. 
Duggan filed a $50 million appropriations request Feb. 13 in the Florida House that would be added to $100 million in proposed city and private sector contributions for the graduate center.
The Jacksonville Republican, who represents House District 12, said Feb. 21 it's possible the state appropriation could reach $100 million as his bill is heard in subcommittees.
That could make the Jacksonville UF center's budget about $200 million.
He said UF would decide on the location.
"Fintech is a major economic sector and an area of emphasis for our business community. And it is growing. Companies want to come here (Jacksonville) for that," Duggan said. "This (center) would be a fantastic pipeline to create a skilled workforce. … This would, obviously, serve a need."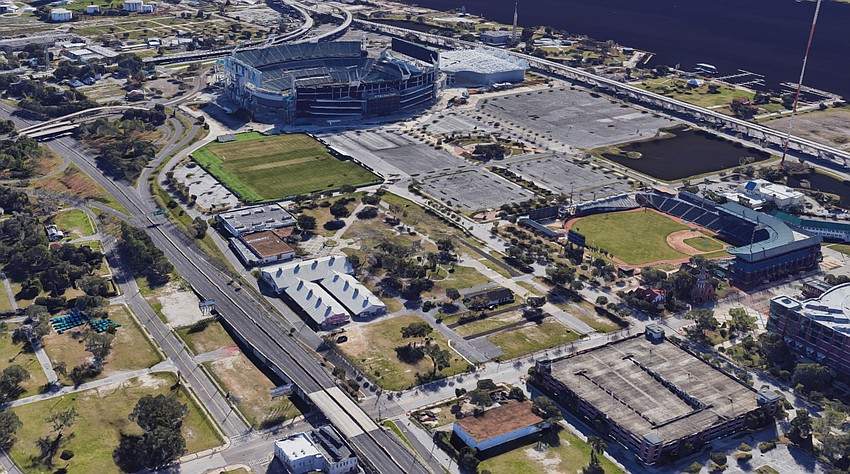 Iguana Investments Florida LLC, the economic development company controlled by Jacksonville Jaguars owner Shad Khan, entered into an agreement in April 2022 with the nonprofit Greater Jacksonville Agricultural Fair Association to buy the 14.1-acre fairgrounds at 510 Fairgrounds Place in Downtown's Sports and Entertainment District near TIAA Bank Field.
When asked Feb. 21 if the Jaguars/Iguana and UF have been talking about the fairgrounds property, a spokesperson said in an email:
"The Jacksonville Jaguars support the concept of a graduate-level education center being located in downtown Jacksonville, regardless of its location. That is a decision that will ultimately be made by the University of Florida."
The email says the sale process "is ongoing per the terms of the deal."
The fair association is working with the city to build new fairgrounds adjacent to the Jacksonville Equestrian Center on Normandy Boulevard. 
FSCJ's Downtown campus at 101 W. State St. is next to JEA's Main Street Water Plant and laboratory, which UF officials might want to connect to a graduate campus.
A Feb. 2 letter to UF Vice President Thomas Mitchell from JEA Managing Director and CEO Jay Stowe says the utility would commit $10 million in in-kind services that would include access to a trail to the project through the water plant parcel through a purchase/lease/easement.
State appropriations 
Duggan's appropriations request makes public a few more details about the project since Jacksonville Mayor Lenny Curry, UF President Ben Sasse and university Board of Trustees Chair Mori Hosseini announced Feb. 7 that the city and university would "explore opportunities" for a Jacksonville graduate extension. 
The funding request asks that $50 million be included in the state's fiscal 2023-24 budget for the state university's Board of Governors to put toward the project.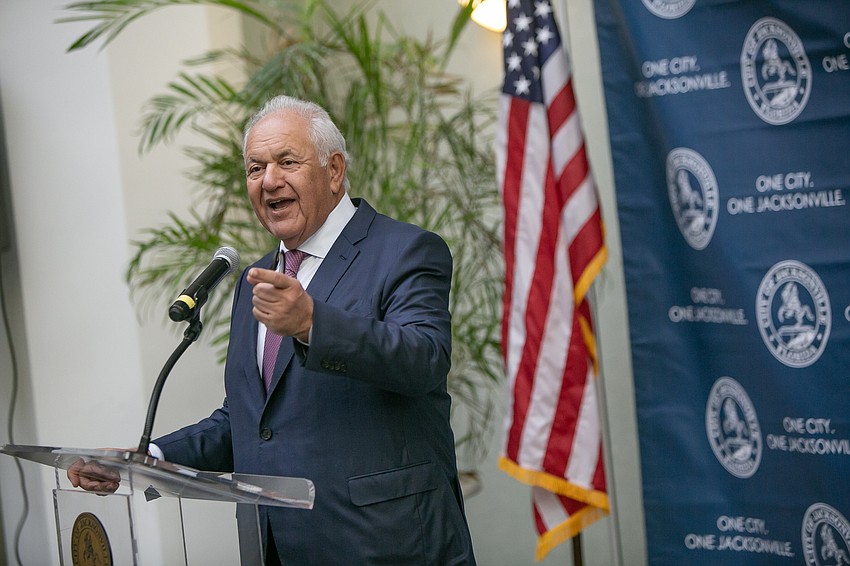 The Legislature will work through funding requests and approve the budget during the legislative session that begins March 7.
The filing says UF would request an additional $10 million or more over the next five years for the graduate center's development. 
Officials have said since Feb. 7 that the center would support local workforce demand in biomedical technology, health applications of artificial intelligence, patient quality and safety, health care administration and fintech.
Curry and other officials say Jacksonville's growing fintech sector, with corporations like Fidelity National Information Services Inc. and Black Knight, and the city's status as a healt hcare hub with Mayo Clinic, UF Health and others justify the investment. 
The house filing says the state's $50 million and the center would support "Florida's high-tech economy; local economic impact; workforce development."
Duggan said the center would have master's and "presumably" doctoral programs.
His appropriations request form says the UF center "will cultivate a critical mass of biomedical, fintech, cybersecurity, venture capital, and data analytics expertise; corporate and start-up CEOs will be motivated to relocate operations to the region in pursuit of a workforce that will thrive in the future economy; business migration will directly impact tourist sector." 
The request form says some of the state funding could help UF pay to lease facilities in Downtown Jacksonville in the initial phase, "hire additional experts and faculty, and begin offering part-time programs in 2025, as plans move forward to build a new campus over a multi-year period." 
4,000 people could populate center
According to Duggan, the center as proposed would house a combined 800 students, faculty and staff. 
He said he has heard officials estimate 2,000 to 4,000 people could populate the center "when it's fully built-out and fully staffed up." 
The curriculum would be developed through public-private partnerships, like the center itself, according to the appropriations request.
City Council introduced legislation Feb. 14 at the request of Curry that could lead to $50 million in financing for a proposal — $20 million in short-term or bond debt this year with possibly $30 million more in fiscal years 2024 and 2025.
This investment was noted in Duggan's filing as local support for the project.
Duggan compared the UF request to a filing he made in 2022 to fund the UF Health Dr. Leon Haley Trauma Center. 
Initially, that request started at $6 million. Duggan said when it was voted out of the House health care subcommittee it had doubled to $12 million. 
In the final budget, the Legislature and Gov. Ron DeSantis approved the project's full $80 million funding. 
The $50 million in city support could be up for a final Council vote by mid-March.
Council Vice President Ron Salem said he was briefed about the project Feb. 21 by the Curry administration but as of 6 p.m. was not ready to discuss it in detail.