Bubbakoo's Burritos announced it will open its first Jacksonville location March 8 in Baymeadows.
Businessman Shashi Patel will own and operate the restaurant at 9810 Baymeadows Road in the Baymeadows Village shopping center.
"I knew that the next step in my career would be within the restaurant industry," Patel said in the Feb. 27 news release.
He said the menu and "skater-surf atmosphere" drew him to the brand.
It will offer the brand's classic menu items such as hibachi steak and shrimp burritos, Sriracha shredded pork nachos, Nashville hot chicken burritos, customizable entrees and more. 
"Florida has proven to be a key market for our brand, as we've seen new locations gain major traction since opening," said Paul Altero, co-founder of Bubbakoo's Burritos, in the release.
"We're confident that this new location in Jacksonville will continue this trend."
Patel said Bubbakoo's environment "resonates with both customers and operators alike."
The release said Bubbakoo's Burritos has been a Mexican-fusion staple since the brand's inception in 2008. 
Altero and Bill Hart founded Bubbakoo's Burritos in 2008 with their first store in Point Pleasant, New Jersey.
In 15 years, it has expanded to more than 100 locations in 16 states this year.
Bubbakoo's Burritos said it recently ranked No. 238 on Entrepreneur's Franchise 500 list, rising nearly 100 places from the year before.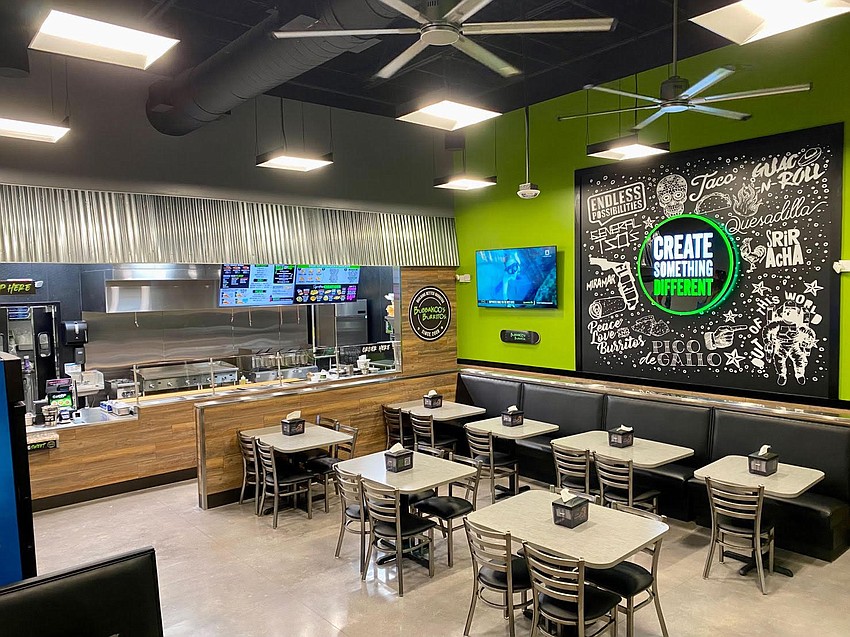 It is the brand's highest ranking for the award and its third consecutive year being named.
The city issued a permit Dec. 12 for Adkins Construction LLC to build-out Bubbakoo's Burritos in Baymeadows Village.
Adkins renovated the 1,886-square-foot space at 9810 Baymeadows Road, No. 10, at a cost of $291,836.
Gregory Ralph Architect of Bound Brook, New Jersey, is the architect.
The city issued a permit Aug. 12 for Heritage Signs Inc. to put up the name at a cost of $7,001.
Spouses Shashi and Swity Patel invested in the franchise as a family decision.
"This is my first business to try for myself and my family," Shashi Patel, a physical therapist, said Aug. 3.
He said the restaurant will seat 36 and operate 11 a.m.-9 p.m. daily.
Patel said Feb. 27 he has hired 15 people and will add five more.
The Patels have been living in Jacksonville about five years, and Swity Patel has more than seven years of experience working as a manager with Subway.
They have a 1-year-old daughter, Aadhya.
Swity Patel will be the day-to-day operator of Bubbakoo's, while Shashi Patel and his father will help.
Shashi Patel said his cousin owns locations in the Northeast and has provided guidance. 
"We were looking for a fast-food casual restaurant for about two years, and we found Bubbakoo's," he said.
"They have a very unique concept, fresh ingredients and a variety of food options."
The 16 Bubbakoo's locations listed in Florida include four coming soon in Jacksonville, Cape Coral, Estero and Stuart. The closest open is in Melbourne.
Bubbakoo's Director of Marketing Ben Grannick said Aug. 6 that development in the Jacksonville area is part of the brand's overall growth strategy to open 25 locations in the Southeast market.
"Jacksonville's market is primed for more growth and consumers are increasingly ditching traditional fast-food options in favor of better-for-you alternatives," he said.
Grannick said the Bubbakoo's name came from Altero. 
"It was Paul's nickname in college while he attended the University of Delaware. He used the name Bubbakoo's for a mock business plan in college," he said.
Grannick said Bubbakoo's did not have a set number of restaurants planned in Northeast Florida, but looked forward to "large growth in the area."
Shashi Patel said he hopes for more locations.