The Jacksonville City Council approved bills Feb. 28 that allow Mayo Clinic in Florida to expand its campus; provide about $2.4 million in historic incentives to The Vestcor Companies' Lofts at Cathedral adaptive reuse residential project; a grant for a health care clinic in Northwest Jacksonville; and a resolution honoring Jacobs Jewelers:  
210 more acres for Mayo Clinic 
Council approved Mayo Clinic in Florida's request to add a 210-acre North Campus to its development of regional impact along San Pablo Road. 
The Council voted 17-0 to expand the boundaries of the development of regional impact, or DRI, that made up the 392-acre medical campus.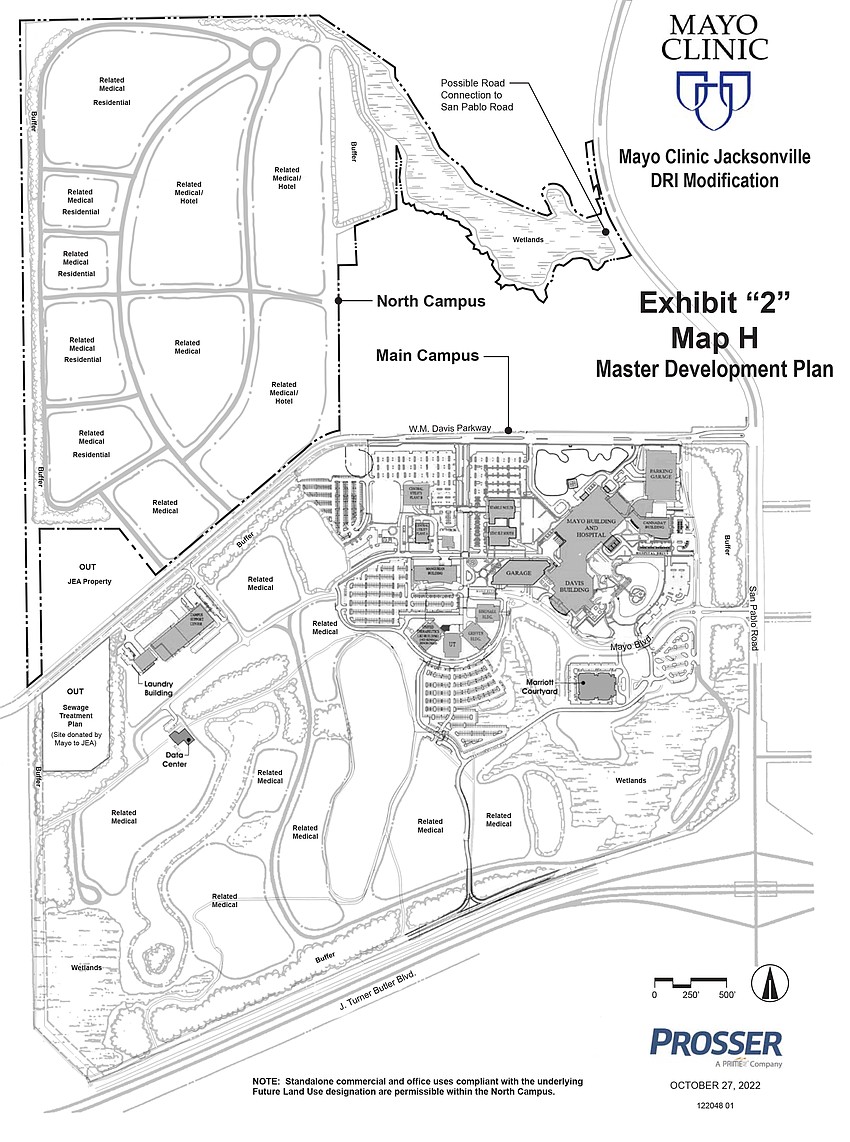 Mayo's application to the city says stand-alone commercial, office or residential uses will be permitted within the North Campus through converted related medical and support facilities or hotel facilities.
With the 210 additional acres, Mayo will need to amend the land use and rezone the property. 
The build-out is extended to 2045 with a total 7.5 million square feet of primarily medical-related facilities, along with hotel rooms.
"Mayo Clinic in Florida plans to strategically grow across our 602 acres over several decades, spurring significant economic development and creating thousands of new jobs in the medical sector," Mayo Clinic Florida communications manager Kevin Punsky said in an email Jan. 31.
Duval County property records show that an entity of the Davis family conveyed the additional 210 acres to Mayo Clinic Jacksonville on Oct. 25, 2022.
The Jacksonville clinic was Mayo's first facility opened outside of its home base in Rochester, Minnesota. It opened an Arizona campus in 1987.
Council members Brenda Priestly Jackson and Rory Diamond were absent for the vote.  
Lofts at Cathedral 
Council signed off on nearly $2.4 million in forgivable and deferred principal loans for Vestcor's proposed mixed-income multifamily renovation of the former Community Connections/YWCA building at 325 E. Duval St. in the Downtown Cathedral District.
Council voted 17-1 to approve the emergency bill, Ordinance 2023-0088, to award the funds through the Downtown Investment Authority's Downtown Preservation and Revitalization Program.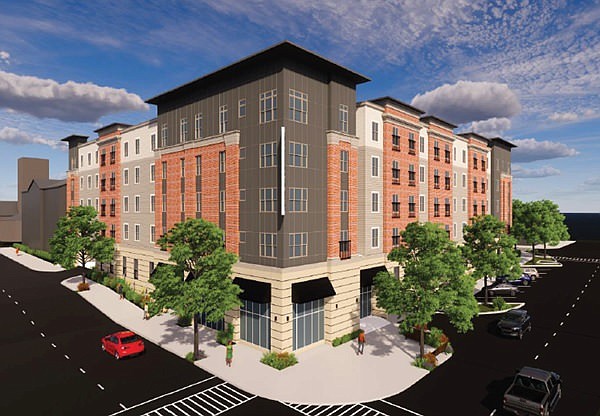 The historic incentives were fast-tracked so Vestcor could have local support in place and close on the remainder of the project financing before the Florida Housing Finance Corp.'s March 10 deadline.
Council member LeAnna Cumber was the sole no vote, and Rory Diamond was absent Feb. 28. There was no Council discussion before the vote. 
A majority of the $39 million redevelopment — $22,789,721 — will be paid for by equity from Low Income Housing Tax Credits awarded by the state.
Built in 1949, the Community Connections building was part of the Florence Davis YWCA. Council awarded the building local landmark status in June 2017.
The 120-unit housing project will have studio, one- and two-bedroom units and include affordable and workforce housing, according to DIA documents. 
Wolfson, Kappa Alpha Psi clinic partnership 
A joint project between the Kappa Alpha Psi Jacksonville Foundation and Wolfson Children's Hospital of Jacksonville to build an $8.3 million health care facility on Moncrief Road will receive $500,000 in city funding.
Council voted 17-0 to approve Resolution 2023-0077 that awards grant money from the Northwest Jacksonville Economic Development Fund to establish the clinic as part of the Dr. C.B. McIntosh Community Achievement Center in Northwest Jacksonville. 
The community center and health care facility are planned on 2.19 acres at 3717 Moncrief Road that Duval County property records show the Kappa Alpha Psi Jacksonville Foundation bought in 2019.
Wolfson plans to relocate its patient and family-centered care from Ribault High School to a 4,500-square-foot space in the facility. Homelessness services provider Sulzbacher will operate the clinic. 
According to a bill summary, Kappa Alpha Psi told the city that it projects an estimated 3,300 primary visits and to service 1,100 patients annually when the medical facility is fully operational.
Honoring Jacobs Jewelers
Council members honored a Downtown Jacksonville business that traces its roots to soon after the Civil War and has been owned and operated by Roy and Delorise Thomas for 37 years.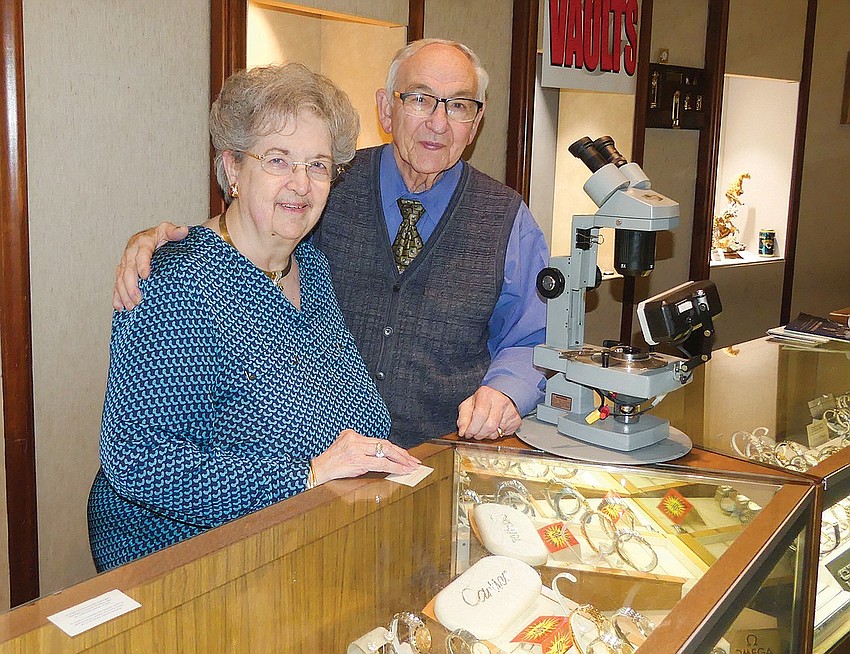 Council voted 17-0 as part of the meeting's consent agenda to approve Resolution 2023-0099 to commemorate the legacy of Jacobs Jewelers, Florida's oldest jewelry store, as it prepares to close March 10. 
Roy Thomas, 83, and Delorise Thomas, 79, announced in January they intended to retire. 
The jewelry store at 204 N. Laura St. was established along Bay Street in 1867 by Damon Greenleaf. He was joined by J.H. Crosby in 1890 and the jewelry store became Greenleaf & Crosby.
The partners constructed the Greenleaf & Crosby Building and moved the jewelry store to its current location in 1927. They sold the business in 1930 to V.E. Jacobs, who then changed the name.
The Thomases began working in the store together in 1968 and bought the store on the ground floor at the northwest corner of Adams and Laura streets in 1986.
Building owners are marketing the space to tenants.
Associate Editor Max Marbut contributed to this report.