In an all-around awful year for the markets, two of the 20 public companies headquartered in the Jacksonville area managed to finish the year ahead, including one that has piled up losses in recent years.
Rayonier Advanced Materials Inc., or RYAM, reached a 52-week high on the last trading day of 2022 and finished the year 68% higher.
RYAM's stock rose despite three straight years of losses from continuing operations, additional losses in the first two quarters of 2022, and two CEO changes in the first half of the year.
Vito Consiglio left in May after five months on the job and was succeeded as CEO by De Lyle W. Bloomquist.
The stock has been beaten down by a string of disappointing financial reports since the cellulose specialties products company split up with Rayonier Inc. in mid-2014, falling from the $30s shortly after the split to $2.62 at midyear 2022.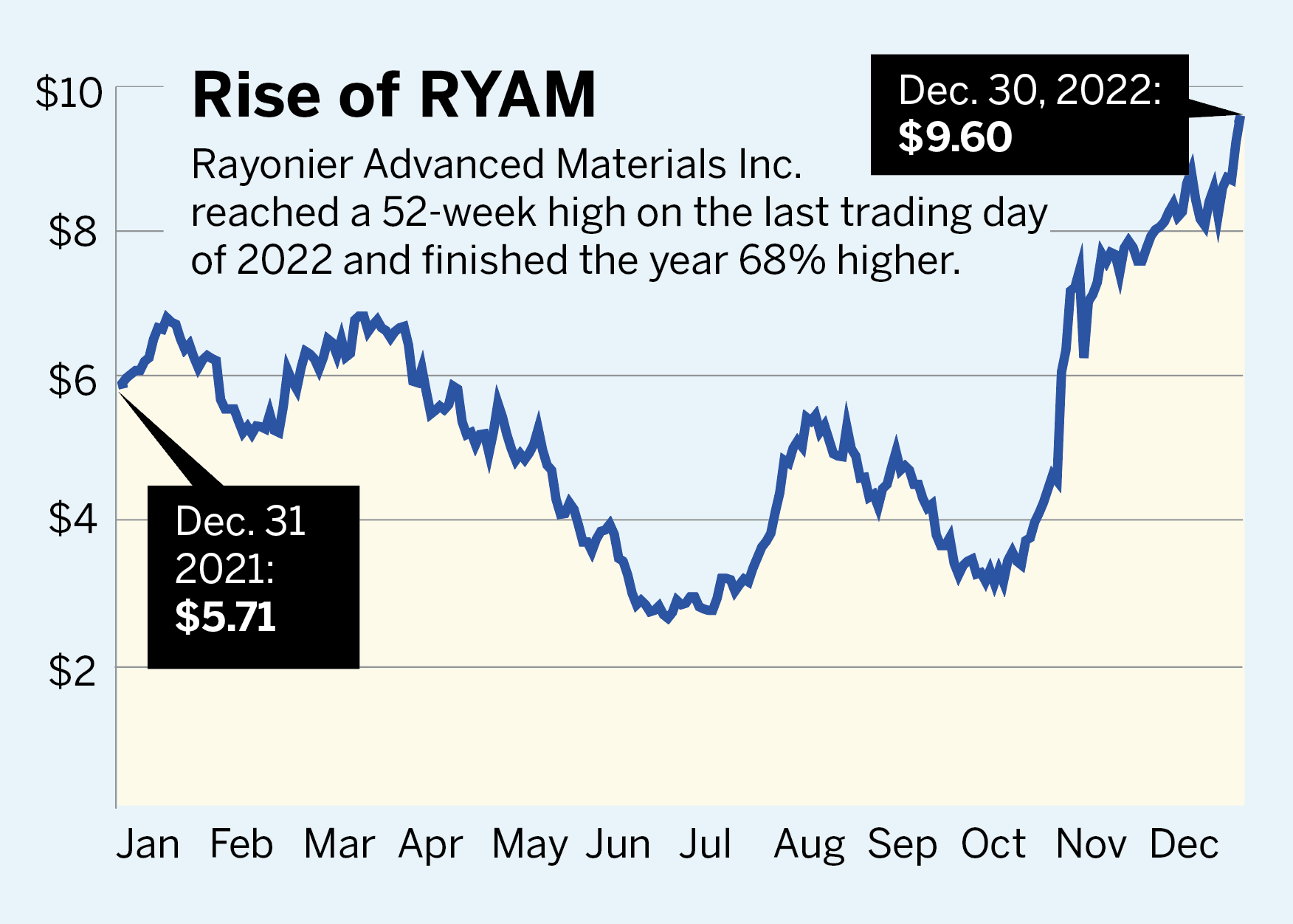 At that point, the stock was down 54% for 2022.
However, the stock surged in the last two months of the year after reporting a better-than-expected profit for the third quarter and it reached a 52-week high of $9.65 on Dec. 30.
The stock even overcame some negative news in the final week of the year.
RYAM said Dec. 27 that Southern Natural Gas Co. declared a force majeure event during the recent cold snap and imposed limits on gas use by RYAM's Jesup, Georgia, plant.
RYAM said it was taking actions, including using alternative energy sources, to minimize natural gas use while maintaining operations of its facilities.
However, it said Southern was imposing financial penalties for exceeding the limits that would reduce RYAM's earnings before interest, taxes, depreciation and amortization by $4 million. 
The company has been projecting adjusted EBITDA of at least $175 million for 2022.
RYAM said it might contest the validity of the penalties.
Treace Medical Concepts also gains
The only other company to finish ahead in 2022 was Treace Medical Concepts Inc., which rose 23% to $23.99.
The Ponte Vedra Beach-based company, which markets a surgical procedure to treat bunions, went public in April 2021 at $17 a share.
Beyond Treace and RYAM, there wasn't much good news among Jacksonville-based companies.
Although the entire market tanked, 10 of the 20 companies finished with losses bigger than the Standard & Poor's 500 index loss of 19% for the year.
The Dow Jones industrial average outperformed the S&P 500 index, falling 8.8%.
Only one company, besides RYAM and Treace, beat the Dow. Real estate development company FRP Holdings Inc. fell 7%.
CNBC: Bad year for space companies like Redwire
Space technology company Redwire Corp. was the worst performer among stocks trading above $1, dropping 71% to $1.98.
According to a Dec. 29 report by CNBC, Redwire was just following an industry trend.
The report, which didn't mention Redwire, said seven space stocks that went public by merging with special purpose acquisition companies "ran into a wall" in 2022.
It said the seven companies were trading at about $10 when they completed the SPAC deals and they all now trade under $2.
Redwire merged with a SPAC called Genesis Park Acquisition Corp. and was trading at $10.50 when the deal was closed in September 2021.
Redwire's results have been below expectations since it became public. It was projecting revenue of $237 million for 2022 when it first announced the merger with Genesis Park but it said in November it expects revenue of $140 million to $155 million for the year.
Safe & Green appraisal shows value in spinoff
Safe & Green Holdings Corp. said an independent appraisal of its real estate development subsidiary demonstrates the value of its business.
Safe & Green, a modular building company that converts shipping containers for structures, moved its headquarters to Jacksonville in early 2022.
The company recently changed its name from SG Blocks Inc. and announced plans to spin off 30% of its real estate business to its shareholders.
Safe & Green said an advisory firm estimated the fair market value of the real estate subsidiary at $74.3 million. 
The company listed about 12 million shares outstanding as of Nov. 14, meaning the real estate unit alone is worth more than $6 a share.
However, Safe & Green's stock closed at $1.08 the day before the Dec. 28 valuation announcement.
"After receiving this fairness opinion, we are confident that the intended spin-off is the right course of action for shareholders and all parties involved," CEO Paul Galvin said in a news release.
SG Blocks reported revenue of $20.3 million in the first nine months of 2022 but the company did not break out revenue for just the real estate development unit.