Investing in stocks can be a roller coaster ride, especially prior to and during a recession. Inflation, pandemic-related concerns and supply chain issues, contentious world events, and a looming recession can all make it difficult to preserve your capital, let alone make money investing in stocks.
How nice would it be to not have your peace of mind wrapped around the stock price ticker? How comforting would it be to know that your retirement plan doesn't have to change if a world leader decides to invade a far-off country? What if you could get paid every month without having to think about it? These are the types of advantages that real estate investors have over stock investors.
Since 1978, the S&P 500 stock market index has lost value for the year 8 times, with an average loss in value of 13%. Since 2002, the S&P 500 has seen a decline of at least 10% in 10 out of the last 20 years. That is a lot of variability and sleepless nights for stock investors.
Now, let's look at our current situation. Inflation is currently at a 40 year high in the US. Russia and Ukraine are at war. The Fed is raising interest rates at the fastest pace in over 40 years. China has a zero-Covid policy which is slowing down production of goods for the world. And there are continued lingering supply chain issues from Covid in the US. Any of these issues would lead to recessionary times in the US. Put them all together and this signals an even rougher roller coaster ride for stock market investors.
If we're not in a recession currently, most economists predict we will be in one soon. Looking at how the stock market performed during past recessions, the S&P 500 has lost its value during a recession 7 out of 11 times since 1953.
Under normal circumstances, it's widely known that real estate is a steadier asset class due to it fulfilling basic human needs regardless of the market (shelter). Not only does it function as an individual necessity, but governments also require its stability. Real estate is a physical asset, meaning it can't disappear into thin air like a stock can.
With the exception of The Great Recession, the Jacksonville real estate market has not lost its value once since 1978. In fact, in 5 out of the last 6 recessions, home values have actually gone up in value in Jacksonville. The only recession where home values did decline was The Great Recession, which was caused by real estate.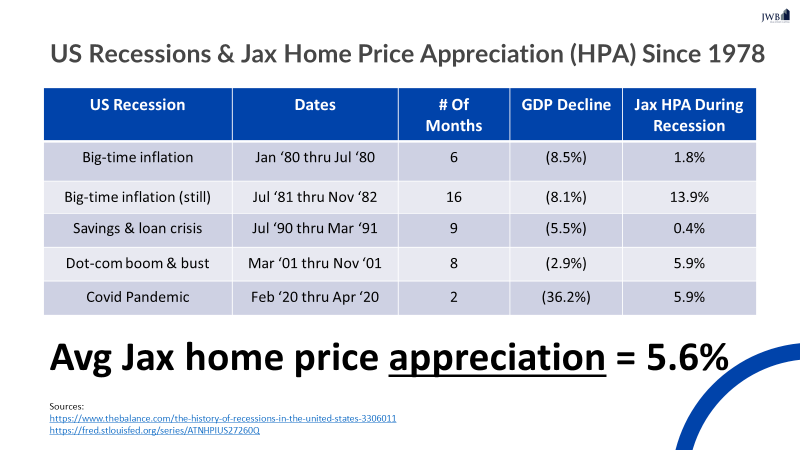 While stocks may be more traditional and generally accepted by average investors, they are also much more volatile and can be incredibly risky. In contrast, single-family rental homes provide consistent income and stability for investors, making them a more reliable choice in the long run.
Locally, JWB Real Estate Capital is able to produce investments that have estimated returns of investment between 11-12%. The key to this success has been high home price appreciation (4.6% currently), higher rents (.3% higher than the national average), and an expert team managing the properties with long-term residents in place.
If you're thinking about investing in Jacksonville real estate, now is a great time to do so. JWB Real Estate Capital is the nation's only vertically-integrated real estate investment company, helping busy professionals from across the world invest in real estate in Jacksonville, FL. From sourcing turnkey rental properties to finding long-term residents, and comprehensive property management, our expert team offers a full-service solution for a truly stress-free investing experience. Because of our vertically-integrated experience, JWB clients have earned 79% home price appreciation more than the average Jacksonville investor since 2013. Check out our available properties and learn more here.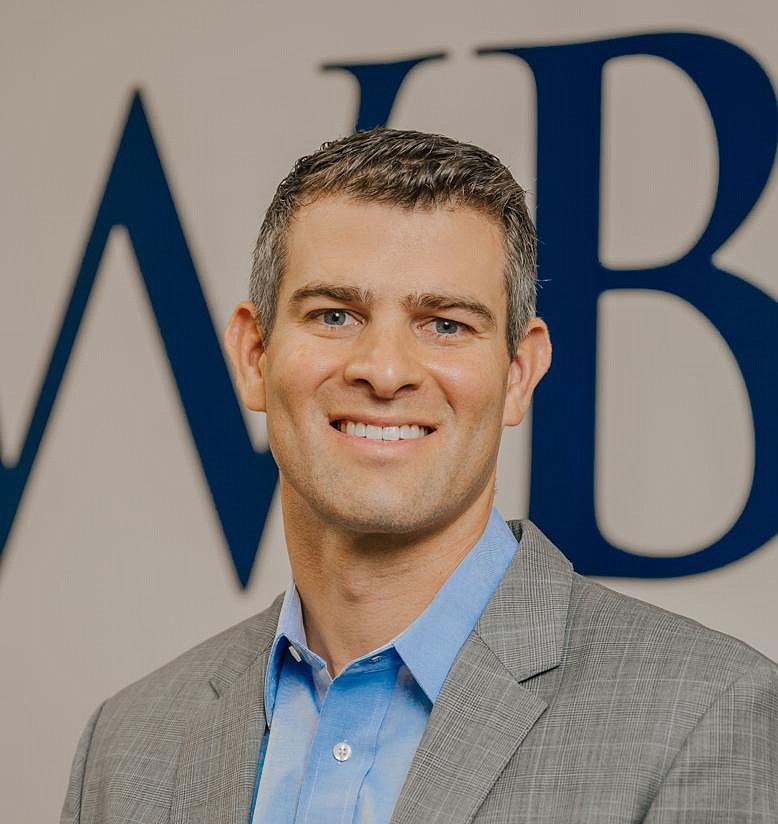 I love to talk about investing in rental properties! You'll often find me hosting the weekly Not Your Average Investor Show, contributing to the JWB Real Estate Capital blog, and in our Facebook group connecting with the community & sharing insights.