Investors are always looking for new hot markets to invest in, and you may be surprised to find out that Jacksonville is a prime city for better risk-adjusted returns on investment with single-family rental homes. Jacksonville, Florida is home to the perfect combination of low home prices, high rental rates, and high property appreciation- making investing here so appealing. According to Redfin data, Jacksonville is considered one of the top 5 hottest real estate markets for investors.
1.) 25% more appreciation
Many investors are unaware that home price appreciation levels are quite steady when measured over multiple market cycles- yielding the best opportunity for higher returns on investment. Since 1982, Jacksonville's house prices have risen 4.6% on average each year, which is roughly 25% more than an average of comparable cash flow markets (Dallas, Kansas City, Memphis, Birmingham, and Cleveland). 
Population growth is an indicator of rent price and home price appreciation in the long-run. According to recently released U.S. Census Reports, from 2017-2019, Jacksonville's metro population grew 3.6% over the previous year, which made it the 5th fastest growing large metro (with at least 1 million residents) in the country. During this same time, the U.S. population growth rate was 1 percent. Adding over 54,000 people, Jacksonville welcomed approximately 75 new residents per day from 2017 to 2019.
2.) Ranked in Fastest Growing Florida Neighborhoods
To earn the best risk-adjusted returns, you want to be investing in affordable neighborhoods in affordable real estate markets. According to John Burns Real Estate Consulting, Florida leads the nation in home price appreciation over the last decade, and Duval County is leading the state. Of the 21 fastest-growing neighborhoods in Florida, nine of the top 21 are in Duval County, including the No. 1 neighborhood in the state with more than 47% growth year-over-year, according to new data from Zillow Research. The top 9 neighborhoods in Duval County included on this list were: Lackawanna, Mixon Town, Magnolia Gardens, Kennel Club, New Town, College Gardens, Robinson's Addition, Woodstock, and Grand Park.
3.) Higher potential returns than in other cities
We ran a comparison of a home in Jacksonville to a home in a similar market investors frequent, Cleveland, and here's what we found: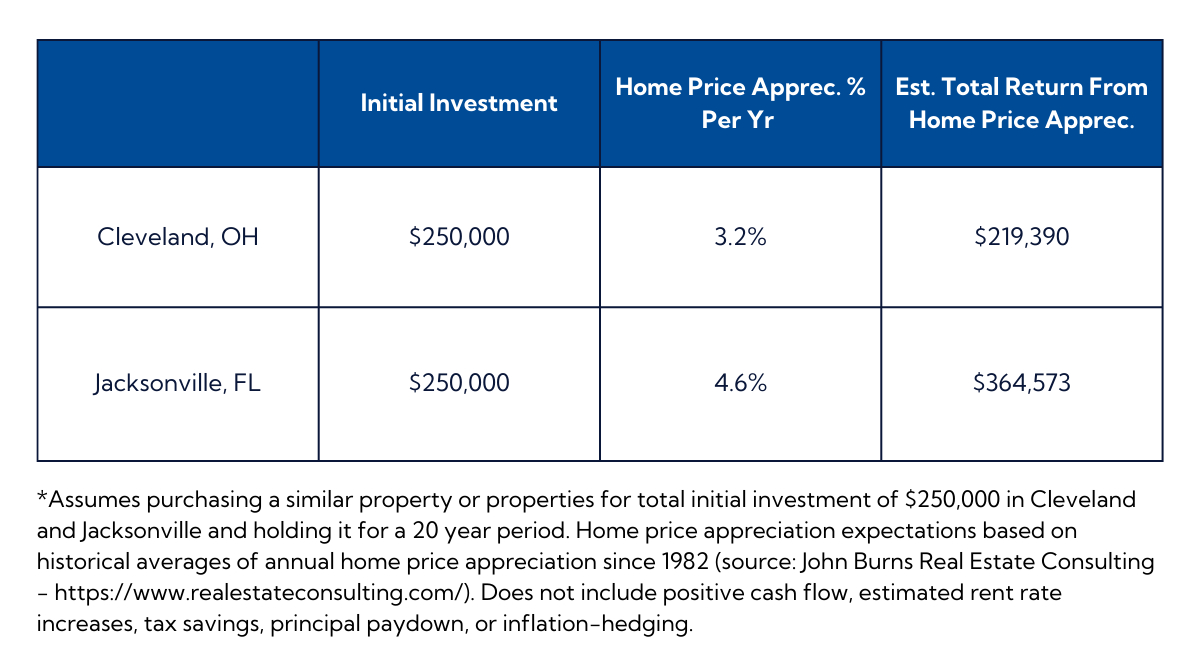 In Cleveland, investing in $250,000 worth of properties might earn you slightly more in positive cash flow on average compared to Jacksonville. However, Cleveland's historical average home price appreciation rate is only 3.2% per year. For $250,000 worth of properties in Cleveland, that means you would've earned $8,000 in home price appreciation per year on average, or $219,390 in additional value over a 20 year holding period. 
Jacksonville has low home prices and high rents which allow for positive cash flow for rental property investors, although it may be slightly less than what you'll find in Cleveland or in the midwest.  However, Jacksonville really starts to shine when you look at the growth of home prices. Jacksonville's historical average for home price appreciation is 4.6% per year, a whopping 44% more than the Cleveland market.  For that same $250,000 property, investing in Jacksonville means you would've earned $11,500 in home price appreciation per year on average. Over a 20 year holding period, that equals an additional $364,573 in return.
At the end of a 20 year hold, the investor who bought his property in Cleveland would've earned a total return on investment of $219,390 from home price appreciation.  However, the Jacksonville investor would have earned $364,573.  The Jacksonville investor earns over $100,000 more simply by choosing the right market!
4.) The future is bright
In addition to all of the current data showing how Jacksonville single-family rentals can be a great investment for passive income in the current market, we also see a bright future for our city. With massive expansions in suburban neighborhoods, large corporations building headquarters, and a huge focus on downtown revitalization, we will continue to experience population growth, higher rental rates, and more opportunities for investments.
If you want to save yourself hours of research and headaches of sorting through bad data, we cover pro tips for ROI-increasing market research in this recent episode of the Not Your Average Investor Show:

How can I start to invest in Jacksonville, Florida's real estate?
Managing rental properties can be time-consuming, especially if you don't have the time or experience. JWB can help! JWB Real Estate Capital is the nation's only vertically-integrated real estate investment company, helping busy professionals from across the world invest in real estate in Jacksonville, FL. From sourcing turnkey rental properties to finding long-term residents, and comprehensive property management, our expert team offers a full-service solution for a truly stress-free investing experience.  Because of our vertically-integrated experience, JWB clients have earned 79% home price appreciation than the average Jacksonville investor since 2013.  Check out our available properties and learn more here.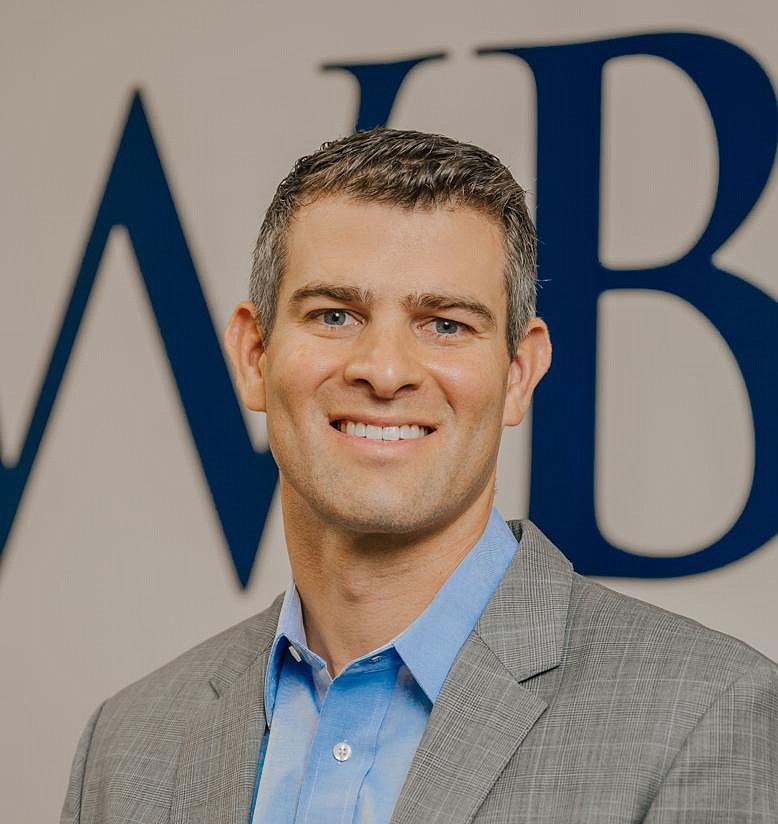 I love to talk about investing in rental properties! You'll often find me hosting the weekly Not Your Average Investor Show, contributing to the JWB Real Estate Capital blog, and in our Facebook group connecting with the community & sharing insights.